Stevie Salas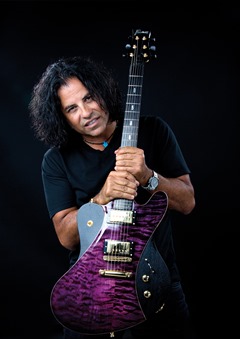 Photo by Framus
Stevie Salas is well known among Japanese music fans for the project INABA/SALAS with Koshi Inaba from B'z. The Japanese edition of his book "When We Were the Boys: Coming of Age on Rod Stewart's Out of Order Tour", which was originally released in US in 2014, was out now and the book contains full of interesting episodes in his career from his tour to auditions to works for Rod Stewart and it is not only for Stevie Salas supporters, but also for Rod Stewart and Rock fans. We had a chat with Stevie himself about the book, his music production and Japanese musicians in world-wide Rock market.
Interview / Text  Mamoru Moriyama
Translation         Hiroshi Takakura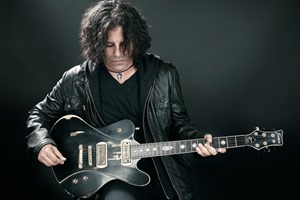 Photo by Framus
Muse On Muse : The spread of Covid-19 in this planet is still present. How have you been these days?
Stevie Salas : My family and I are all fine. I think I already caught it in Jan 2020 when I was at the Namm show.
I was in Japan a lot 2 times in Dec2019 1 time in Jan 2020 1 time in Feb 2020 and 1 time in March 2020 recording with Koshi Inaba and I was VERY impressed how Japan and the Japanese people handled the Covid problem. I felt very safe in Japan. BUT I was very sad to have to cancel the INABA/SALAS sold out Maximum Huavo tour.
MM : I would imagine your stress easily because you were constantly touring all over the world.
SS : I am older now and not so worried about myself or any stress on me when it came to not traveling. It is a global problem and I just wanted to help any way I can.
I am bummed for the 90 thousand fans who bought tickets but didn't get to see the INABA/SALAS tour plus I was a little bummed for me to not get to rock Japan with Koshi. We have so much fun making music and playing shows.
MM : Your autobiography "When We Were the Boys: Coming of Age on Rod Stewart's Out of Order Tour", which was released in 2014 in US, will be translated and out in Japan. Please let us know the back ground story of the release for Japanese edition.
SS : It's not and Autobiography…It's a memoir about the year my life changed in a BIG way. 1988 I went from only playing really in my San Diego high school band called THIS KIDS to playing stadiums with Rod Stewart. It was a giant jump for a boy to a man in the music business.
MM : What do you want to tell to the people through this book?
SS : The biggest thing I learned while writing this book is that I shouldn't worry about every problem in my life because many things that were a problem like me becoming homeless actually lead to things that changed my life. For Instance, if I wasn't homeless sleeping on a studio couch at Baby O studio in Hollywood I would have never met George Clinton and got my first big break. So being homeless was bad but it led to something that would change my life forever.
MM : You have worked with Rock giants like Rod Stewart and Mick Jagger. I think there were so many skilled musicians who wanted to work with such legends. Do you think why those stars chose you to work with?
SS : Ha! I LOVE working with the greatest musicians in the world and the greatest singers in the world too like Terrence Trent Darby, Koshi Inaba, Steven Tyler, Bernard Fowler, Mick Jagger, Michael Hutchence, Perry Farrell, Rod Stewart and so many others. You might have to ask them why they all picked me. Steven Tyler once told me that Rod and Mick wanted to work with me because they wanted my Native American Apache Indian Power!! I think Rod loved my young energy that I was bringing to the band that made up for my lack of experience. I had also heard that Rod wanted a more modern guitar player like Steve Stevens from Billy Idol. That's why I think he worked on the Out Of Order tour with Andy Taylor from Duran Duran. I had that style and funny thing is Andy Taylor hired me as his guitar player when he left Duran Duran but fired me and that's how Rod knew about me. See a bad thing like being fired from Andy Taylor in 1987 lead to a GIANT opportunity with Rod Stewart so sometimes bad things are just part of the journey in life.
MM : How have you tried producing and playing guitar to keep your strong originality?
SS : I use the force like the Jedi. I do not think but I visualize a sound or song in my mind then I just try to let the energy flow through me.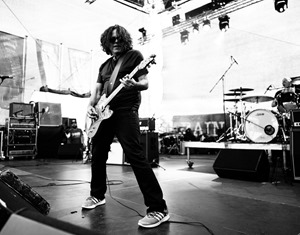 Photo by Marc Mennigmann
MM : How do you stock up ideas for production? Do you record it on tape? Do you write sheet? Do you record on DAW? Please tell us how do you usually make music.
SS : I sing or play ideas into and app on my phone. Just small bits that I save. I will get an idea and say Koshi groove…Then when Koshi and I meet up to write songs we will listen to those ideas and when it inspires him we write. When I was young, I used to keep a cassette recorder with me all the time and record my ideas. Its super important that I have a devise for my ideas next to my bed cuz I get most of my ideas in my sleep or right when I wake up and if I don't record them I will forget them.
MM : Did you set aside some time to play guitar apart from recording and gigs before this covid-19 outbreak when you were always busy and traveling around the world? How long do you normally play guitar in a day?
SS : Sometimes I play a lot and sometimes I never play. I am very busy writing and producing TV and Film. It is sometimes no fun for me to sit around and play by myself. I like playing with other musicians. When I play by myself its mostly to write songs.
MM : Even though there are many good musicians have made great tunes and albums n Japan, there is nobody who became world-famous as a Rock musician. Of course, some musicians were well known within core music lovers. What do you think about this fact?
SS : Hmm I think that the global business is drivin by singers and when you don't sing in English it is hard to cross over to a global market since most people listen to international English speaking singers. I hope that one day INABA/SALAS will record some of our cool songs in English. Koshi has the most amazing voice that jumps out of the speaker and our writing style for our songs is in a universal style that fits well around the world. Lots of fans in Europe write me loving songs like Overdrive even though Koshi sings in Japanese.
MM : Do you have any favourite new musicians caught your attention?
SS : I love Phil X the guitar player and I love a girl from Rome Italy that I produced recently named Anais Noir and her band Poison Garden. I think she can be BIG in Japan.
MM : You are working with Koshi Inaba as a unit INABA/SALAS and making albums but you have not made your solo album for a while. Will you consider making your solo albums again?
SS : I will make a new solo record when I feel I have something to say. I have a new record contract with Warner music for the world so I might have some cool stuff coming out in 2021. I LOVE working with Inaba on INABA/SALAS music so for now that has been my inspiration between the grooves and melodies. But when Koshi works with the B'z, I take that time to do other things like making films and writing new songs. I would like to play some big Festivals again with my Trio when the time is right.
MM : Please leave a message to your fans.
SS : I love Japan! The fans always made me feel like I was family.
Stevie Salas official site  http://www.steviesalas.com/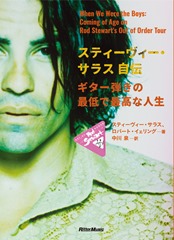 When We Were the Boys: Coming of Age on Rod Stewart's Out of Order Tour
RittorMusic