Kris Barras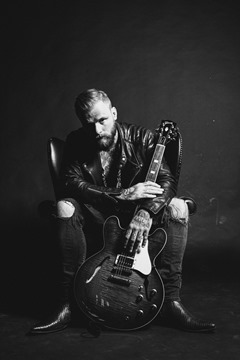 Photo by Rob Blackham
An ex Muay Thai fighter Kris Barras is now chasing his other dream Blues Rock musician, Kris has released a superb Blues Rock album "Light It Up". He has proven his musical skills by being responsible for Guitar and vocal in the big Blues project Supersonic Blues Machine alongside legendary players like Billy Gibbons, Steve Lukather, Eric Gales, Warren Haynes and more. And he matched them in skills. This crucial brand new album displays not only his ability as a singer and a guitarist, but also a melody maker and a producer by showcasing rich melodies and arrangements which have sophisticated and updated blues feeling, essential guitar play and his vocal magic. Muse on Muse had a chat with Kris Barras himself about this new set "Light It Up"
Interview / Text  Mamoru Moriyama
Translation         Hiroshi Takakura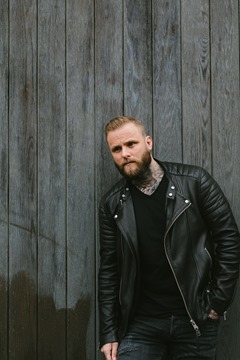 Photo by Rob Blackham
Muse On Muse : Please tell us about yourself briefly for people who never heard you before. How did you start playing a guitar and which artists and guitarists are your influences?
Kris Barras : I started playing guitar at the age of 5. My Dad was a Guitar player and my first teacher. My first guitar hero was Gary Moore, but I've been influenced by tons of bands and players over the years. Everything from The Rolling Stones to Deep Purple to Steve Vai, Richie Kotzen, Satriani etc.
MM : You are not only a great guitarist, but also a fantastic vocalist and a songwriter. Which vocalists and songwriter were inspirations to you?
KB : David Coverdale of Whitesnake and Paul Rodgers from Free have always been two of my favorite vocalists. Also, a guy called Danny Bowes from British Rock band Thunder. They were first big band I ever saw live and his voice is incredible.
MM : You are a professional musician but you used to be MMA fighter, is that correct?
KB : Yeah and Muay Thai fighter. I had my first fight in 2005 and retired from competition in 2014 after a couple of fights in Singapore and Thailand. I remained involved in fight sports, coaching other fighter's up until last year. Now I'm just too busy with the music stuff.
MM : How did you get involved in Supersonic Blues Machine which is a project by fabrizion Grossi and Kenny Arnoff? You have played stage shows with guitar legends like Billy Gibbons and Steve Lukather as Supersonic Blues Machine. How were those experiences?
KB : Yeah joining those guys was a dream come true. I was a big fan of the band and originally got put forward to support them on a London show. We didn't know at the time that they were looking for a new singer/guitar player and when they saw some videos of me, they offered me the job! Playing with those guys is inspirational.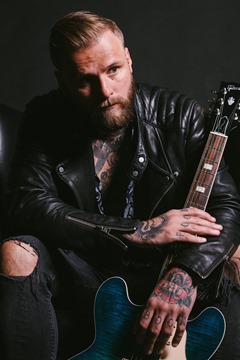 Photo by Rob Blackham
MM : Your crucial brand-new set "Light It Up" displays rich vocal melodies, sophisticated arrangements which has an updated blues feeling and your true guitar play and vocal. Please tell us about this essential album.
KB : When I was writing the album, I didn't want to conform to any one genre. I wanted it to sound like a continuous work, but not necessarily just a Blues album. We've gone a bit heavier with some of the tracks, which I feel reflects the live sound of the band a lot more than previous albums. It was great fun to record and we're proud of the outcome.
MM : Please tell us the details of production process for this album.
KB : We did a lot of pre-production for this album which meant when we finally got in to the studio to do it for real, we were really prepared. The songs always start life as little demos that I record in my home studio. I usually send those out to the guys in the band then we get together and jam them out. Each guy puts their own little flavor on to their parts. The album was recorded over a period of around 4 weeks and all went smoothly. This was a longer period than we had done in a studio before and it meant we could really work on getting the right sounds and tones. We had a lot of fun experimenting with different guitar tones and amps.
MM : We can feel live recording sound and vibes by real musicians on the album. How was the recording process?
KB : Yeah all tracks started life with the band all playing together live in the room. Then we would add overdubs and layers from there. I think the band really comes to life when we perform live, it's my favourite thing, so we really wanted to capture that energy.
MM : All tracks of the album especially "What you get" (Its music video is out now!), "Ignite (Light It Up)" and "Vegas Son" are based on Blues Rock style but have rich and catchy vocal melodies so it sounds your original style. Therefore, this album approaches to not only Blues lovers, but also generic Rock & Pop people. What do you reckon about this point of view?
KB : Yeah I think that's true. I'm not a pure Blues guy, I love a lot of different styles of music and I'm influenced by all sorts!
MM : Background voices by female vocalists emphasize and brighten up the band sounds through the album.
KB : Yeah they are great. The album features three girls and they were all recorded live together in the same room. Really helped to give it that Gospel choir type sound. They're called Alex Hart, Phoebe Jane and Joanna Cooke. I'm currently on tour with Alex and Phoebe joining me. It's really enhanced the live sound.
MM : A heart-warming tune "Rain" is very touching.
KB : It's just a typical love song. I haven't really written anything like that before and it's become one of my favorite's from the album. It's got that country-rock ballad vibe to it. I love the Hammond Organ sound on that track.
MM : The cool guitar riff and emotional and exciting solo on "Not Fading" proves your skills and potential as a guitarist.
KB : Yeah it's probably the heaviest track on the album and I love playing it live. I love chromatic style riffs, especially when you sync it up with the Bass and Keys players so that you all play in Unison. With the solo I just wanted it to be really 'full-on' and 'in your face'. I think it suits the style and theme of the song.
MM : You pushed the boundaries of Blues Rock by keeping traditional style with emotional melodies and adopting contemporary style which I can hear in the guitar solo on "6am", then it sounds very unique and different from other Blues Rock guitarists in my opinion.
KB : Yeah, as I mentioned previously, I grew up listening to guys like Steve Vai, Joe Satriani, Richie Kotzen and even more Jazzy/Fusion guys like Greg Howe. I've always been a big fan of these instrumental guitar wizards and used to learn a lot of their licks when I was in my teens. With the 6am solo, we wanted to put something a little bit different in there. So I came up with the syncopated, finger tapping idea, not something that I had ever done on an album before.
MM : Lyrics are also very important for vocalists to reach listeners. What does inspire your lyrics and how did you get ideas for lyrics?
KB : I find inspiration from anywhere really. Lots of the songs are about things that I have experienced in my life. Some songs are more story-based, written about something that maybe a friend has experienced or inspired by something I read in the news.
MM : Please tell us about your gears. What kind of guitars, amps and pedals did you use for this album?
KB : Most of the guitar sounds came from a Kemper Profiler. I use profiles created by Nashville session player Michael Britt and they sound so good. Guitar wise, it was a mix between my custom made Seth Baccus Guitar, Fender Telecaster USA custom shop relic and a Gibson ES 335.
MM : Please leave a message to your fans.
KB : I love all of you guys and I hope we get to play live in Japan one day soon!
Kris Barras official site  https://www.krisbarrasband.com/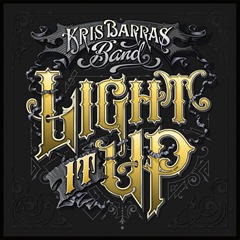 Kris Barras Band / Light It Up
01. What You Get
02. Broken Teeth
03. Vegas Son
04. Ignite (Light It Up)
05. 6AM
06. Rain
07. Counterfeit People
08. Let The River Run
09. Bullet
10. Wound Up
11. What A Way To Go
12. Not Fading
13. Pride Is Forever