Steve Lukather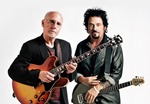 Steve Lukather and Larry Carlton will be performing in Japan, 15 years after their last performance together in Japan. Their last collaboration 15 years ago was recorded and released as a live album titled "No Substitutions – Live In Osaka" which won a Grammy Award for Best Pop Instrumental Album in 2002. The Japanese audience will definitely be able to expect quality music by some top-notch musicians at this upcoming concert. Steve Lukather took some time to answer a short interview with MUSE ON MUSE about the upcoming shows in Japan, as well as about the new TOTO album.

Photo by Rob Shanahan
Interview / Text Mamoru Moriyama
Translation Louis Sesto (EAGLETAIL MUSIC)
Muse On Muse : You are scheduled to do a show with in Japan Larry Carlton in January. What can the fans expect to see for this upcoming show?
Steve Lukather : Well.. we are just starting to talk about that. What music we want to play.I think we will do some stuff off record we won a Grammy for .. 3 of those and then some fresh material as well. I am writing a piece with Jeff Babko,we are doing a little tribute to Joe Sample and Jeff Porcaro and some vocal tunes this time. Some blues stuff.. no pop music per se. It is gonna be a good show I know that. Killer band and Larry and I have not played together in 15 years so.. I can't believe it has been that long but I am a different person in every way now so I look forward to playing these shows with a clear mind body and spirit. It will be much different this time. Better!
MM : Do you plan to do any live recordings for the shows in Japan?
SL : Yes a live DVD is planned. We shall see how it turns out. Probably recording in Tokyo this time. We shall see..
MM : We heard that the new TOTO album is done. What's it going to sound like?
SL : New Toto is done and will be out around March 24 with a 2 year world tour to starting in May in Europe, then USA then in 2016 we will be all over the world. The new music is very fresh and exciting. I am so spud of it and we worked SO hard on it. It is more the floor up to Toto IV than any other record since. It is a real ' band record' in that everyone sings and writes and gets to shine. The music is strong and classic Toto with a 2015 vibe to it. You will be the judge.
MM : When do you plan to tour Japan with TOTO?
SL : 2016 for sure. NO dates yet but we will be back for sure!
MM : Please give a message to your Japanese fans who are looking forward to seeing your show in January.
SL : SO excited to come back to Japan. I love it so much in your country. Larry and I are bringing a kick ass show that will be diverse and show the many sides we have musically and will surely be a blast. It is all but sold out so get your tix now while there are still a few left! Thesis a one of a kind show and we dontknow when or if we will ever do it again so.. BE there! I also want to thank all the Japanese fans and friends for the good vibe and well wishes and wish you all very best new year and I will see you soon!
Larry Carlton & Steve Lukather Japan Tour 2015
January 25 Sapporo Zepp Sapporo
January 26 Osaka Sankei Hall Breeze
January 28 Nagoya Nagoya Blue Note
January 29 Fukuoka Zepp Fukuoka
January 30 Tokyo Blue Note Tokyo
January 31 Tokyo Blue Note Tokyo
February 1 Tokyo Blue Note Tokyo
February 2 Tokyo Blue Note Tokyo
February 3 Tokyo Blue Note Tokyo
http://www.stevelukather.com/tour/2015/larry-carlton-steve-lukather-tour-2015.aspx

Steve Lukather official site : http://www.stevelukather.com/