Gus G.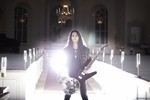 Photo by Patric Ullaeus
Gus G has an extensive career in the metal scene as the guitar player of FIREWIND, as well as numerous other bands. One of his high points in his career is definitely his role as the guitar player for Ozzy Osbourne, which has consolidated his position as a real guitar hero, following great guitar players such as Randy Rhoads, Jake E Lee and Zakk Wylde. Ozzy Osbourne's 2010 album "Scream" displays some great guitar work by Gus G with a combination of melody and technique. Gus G recently released his first solo effort "I Am The Fire", which features quality performances of Gus G both as a guitarist, songwriter and artist. MUSE ON MUSE asks Gus G about his solo album…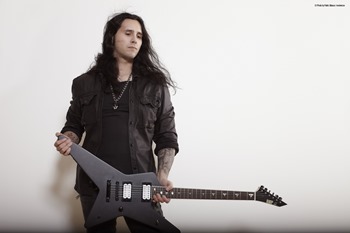 Photo by Patric Ullaeus
Interview / Text  Mamoru Moriyama
Translation         Louis Sesto (EAGLETAIL MUSIC)
Muse On Muse : "I Am The Fire" turns out to be your first solo album. Despite the fact that you've been in the music industry for quite long, it's a bit surprising that this is your first "solo" record. Tell us how you feel now that your solo album is out.
Gus G. : Yeah, somehow I never got around to doing a solo album as I was always busy with Firewind or the past 4 years with Ozzy. But I'm very happy that I finally did it. It was like a cathartic process for me writing this album. I think it came out in the right time.
MM : You have various musicians participating on the album. Why did you decide to have various musicians, unlike in a band situation where you would have just one musician for each part/instrument?
G : I've been in bands for my whole career, so I really needed to break out from that. After all, a solo project should be something completely different from what I'm used to doing. So, doing everything on my own and inviting guests seemed like the way to go with this, at least for this album.
MM : There are 3 instrumentals (one bonus track for Japan) and the rest of the songs feature vocals. Was there any particular reason behind this instrumental song to vocal song ratio?
G : Not really. I was even skeptical about adding the more heavier songs on it. The rest of the album has a more straight rock n roll vibe or modern rock. In the end I thought that probably my fans would have liked to hear me shred on some instrumentals and those tracks finally made it on the album. But generally, I wasn't interested in making a full instrumental CD, I'd be very bored if I did that.
MM : How was the song writing and the recording of the album done?
G : I just wrote and did demos in my home studio. I originally started writing with Mats Leven, we got 4-5 songs done pretty quickly. Then I thought it'd be cool to send some songs to other singers as well. It took a while to complete, as I had no idea who else to invite.
MM : Mats Levin, who also sang for Yngwie Malmsteen in the past, sings on 4 of the songs. How and why did you have Mats take part on the album?
G : I met Mats back in 2002 in Sweden when I was doing a gig with Dream Evil (my old band) and he was playing the same festival with Dogface. Thru the years we kept in touch and became friends. I always loved his vocals even since I heard him with Yngwie. In 2011 Firewind needed a singer on our European tour and Mats helped us out. We got along great and decided to work together when I would do my solo project.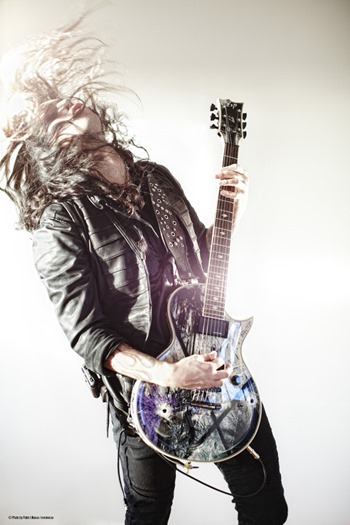 Photo by Patric Ullaeus
MM : The opening track "My Will Be Done" is very melodic and full of hooks. It certainly seems to pull the listener into the album's atmosphere.
G : Thank you. That's a song that came together very easily and quickly. It's simple and catchy. I thought it was a great opener for the album.
MM : "Blame It On Me" is the only song on the album that you are not credited for. Why did you decide to have this song on the album?
G : At some point I asked Mats if he had any extra material I could listen to. He sent me that song and I liked it very much. I decided to put it on the album as it was a great song.
MM : Based on the sound and vibe "Eyes Wide Open" and "End Of The Line" seem to have some kind of a connection, although they don't stand next to each other in the album.
G : Yeah those songs definitely have a certain atmosphere. I love both. Especially "Eyes Wide Open" it's one of my favorites.
MM : Alexia Rodriguez from EYES SET TO KILL definitely sets a unique vibe on "Long Way Down" creating a great accent for the album. Tell us about this song.
G : Actually my US label Century Media suggested Alexia for the collaboration, after I told them I wanted to do a song with a female singer. I really liked Alexia's voice when I heard her. So, we both flew to Las Vegas to work with producer Kevin Churko and we wrote the song together and recorded it in 2 days in Vegas.
MM : Michael Starr from STEEL PANTHER delivers some powerful vocals on "Redemption". What was the reason behind having Michael sing on this song?
G : Cause he's an awesome singer! I wrote that song with Mats, but I was also speaking to Michael at some point and he said he was up for appearing on my album. So I thought 'Redemption' would be the perfect song for his vocal style.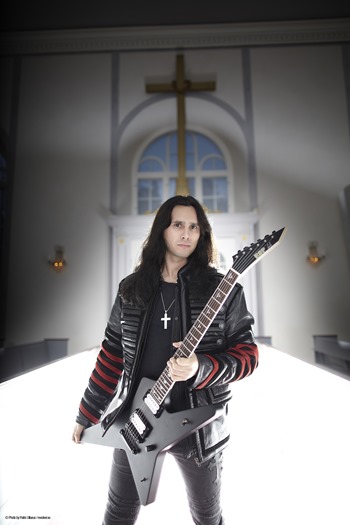 Photo by Patric Ullaeus
MM : "Summer Days" sung by Jeff Scott Soto definitely is a pleasure to the melodic rock lovers. The long tones in the guitar solo somewhat reminds me of Neal Schon.
G : Yeah I think that song definitely has a Journey vibe to it, or maybe some Thin Lizzy influence. I love the 80s feel on that song.
MM : Your melodic guitar solo on "Dreamkeeper" is absolutely impressive.
G : Thanks! It's actually the 1st song I ever played such a long outro solo. I really like the dreamy feeling of this song. I actually heard the melody in my sleep, that's crazy!
MM : You have David Ellefson of MEGADETH playing on "Vengeance" and Billy Sheehan playing on "Terrified". David and Billy have different styles of playing. How was it playing with both of them?
G : It was a dream come true! Those guys are legends and I grew up listening to their records. Jay Ruston who mixed my album suggested them and I thank him so much for bringing these opportunities to the table.
MM : Is there anything in particular you keep in mind when writing music for instrumental songs, in comparison to songs with vocals? Any differences when you are actually writing the songs?
G : Well, I want my instrumentals to also have a strong riff and theme, I don't like them to be just backing tracks and I solo over. That's why I rarely write instrumentals. I prefer songs with vocals.
MM : All of the guitar solos have a very melodic feel, while also having thrilling technical aspects. Please tell us what kind of approach you take when creating your guitar solos.
G : Just like you mentioned, I like my solos to have both aspects and try to mix the melody and the technique the best I can. Of course the most important thing is to play the right notes for the song. Usually I will jam over the song a few times and record a few takes. Then I'll keep the best parts and re-learn the solo and record it again.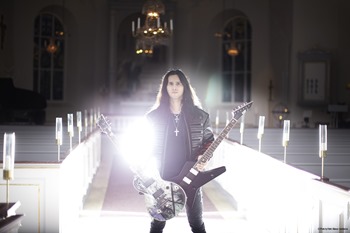 Photo by Patric Ullaeus
MM : Please tell us about your gear. What guitars, amps, effectors, foot pedals did you use for this recording? 
G : I used my ESP Signature guitars, the NT-II FM, NT-III, NT-III 24 and my EC Rock Art. I also used LAG 6-string & 12-string acoustic guitars. Amp wise, I used my signature Blackstar BLACKFIRE 200, but also used a Blackstar HT-100, a Marshall JCM 2000 and a Bogner amp. Pedal wise, I used my BBE G Screamer signature and a Morley wah.
MM : Having many different artists with very distinct characteristics on one album could be risky in the sense that it may cause the album to sound out of focus. Nevertheless, this album seems to have a consistent vibe and atmosphere to it. In regards to that, was there anything in particular that you kept in mind in the making of this album?
G : I was also afraid that this might happen to my album. But in the end there was a very nice flow on the songs. I didn't really think about it when I was writing, I just wanted to make sure I loved all songs and was happy with it. I know there's probably a little bit for everybody in this album, from shred to classic rock, to acoustic mellow tracks, but there's homogeny.
MM : What do you have coming up next? Tell us about your upcoming schedule.
G : I'm touring Europe this Spring on a co-headline tour w/ Marty Friedman called "Guitar Universe 2014". Then in the summer I'll be playing a few festivals and hopefully I'll continue touring the rest of the world this Fall.
MM : Do you have any plans to record another album with Ozzy Osbourne?
G : I definitely have a lot of material ready for the next album, but that's Ozzy decision on when and where the next album will happen. I hope it's soon.
MM : Please give a message to your Japanese fans.
G : Thank you all for supporting my solo effort and for your love all these years! I hope to come back to Japan and play soon!
Gus G. official site : http://www.gusgofficial.com/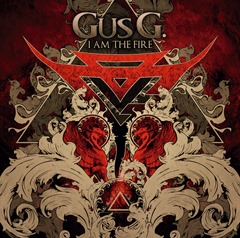 I AM THE FIRE / Gus G.
King Records KICP-1683
1. MY WILL BE DONE
2. BLAME IT ON ME
3. I AM THE FIRE
4. VENGEANCE
5. LONG WAY DOWN
6. JUST CAN'T LET GO
7. TERRIFIED
8. EYES WIDE OPEN
9. REDEMPTION
10.SUMMER DAYS
11.DREAMKEEPER
12.END OF THE LINE
13.WITHOUT YOU (Exclusive Japan Bonus track)