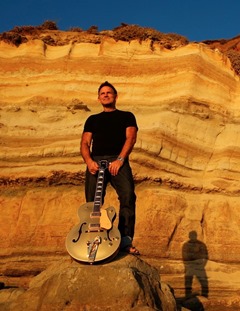 Choosing the right equipment..and ones that got away.
In the beginning of my invitations into recording sessions, I had very little in the way of gear choices to bring along with me to the recording studio..My main electric guitar was a 1976 Fender Stratocaster with a maple neck which I had butchered to varying levels of distress and I had a 100 watt Hiwatt stack as a main amp..
I also had another Fender Stratocaster from the same era as a back-up and a bowl backed Ovation acoustic guitar..And that was about the extent of my gear collection..Woefully short and lacking in diversity..But when you are young, you tend to miss these certain requirements..
A few hectic years later, I was at least paying enough attention to acquire a nice 1964 Fender Stratocaster while touring in the united states, and a few more amps, the best buy being a 1970's marshall 50 watt combo amp with 2-12 inch speakers..The amp was beat up and a bit of a mongrel in that someone had put a funky master volume knob on it and it had mismatched speakers..but it sounded great! I subsequently used it for several recording sessions after that.. I also brought it on tour for a few years and later in the 1980's I made a more involved effort to try to find new (old era) pieces of gear, reason being that my sound needs began to change again..We borrowed a nice candy apple red 1965 Fender Strat to play on a session for the recording of Bryan Adams' "Reckless" . It was an important record session for us in a lot of ways, but also in that we began to grasp the idea of trying new things sound and gear wise..The red guitar was offered to us at that time after the session for 800.00$ with the case..We both passed..like idiots..We couldn't forsee what was coming as values would begin to skyrocket and maybe thought another would be available easily…A few years later the guitar was offered up again it was quickly nabbed by Bryan who still has it.. At the same time, I passed on a refinished 1957 les paul goldtop..At the same price! With mostly original parts including PAF pick-ups..i wasn't so lucky with that one later..it was sold by then. Point being is that we did feel that another would come up for sale soon..
Of course values did start to soar in the years ahead..And we paid a premium for whatever we had a yen for..I wished I still had a few of the guitars I owned in my early years too. Maybe not great playing examples, But more for nostalgia's sake.
Alas we have to move on..And see what else is on the horizon..!
Hopefully another fine sounding gem!
Keith Scott