Michael Landau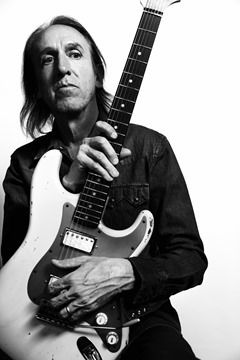 Photo by Austin Hargrave
Michel Landau has released his live album "Liquid Quartet Live" which was recorded at Baked Potato Jazz Club in November 2019. The fantastic live album contains true live feeling and full vibes by four of real musicians, Michael Landau(guitar), Abe Laboriel Jr.(drums), Jimmie Johnson(bass) and David Frazee(vocals, guitar). We had a chat to Michael Laundau, who has been treated with respects from underground music lovers to professional guitarists by his expressive and dynamic play and excellent guitar sounds, about the album "Liquid Quartet Live".
Interview / Text  Mamoru Moriyama
Translation         Hiroshi Takakura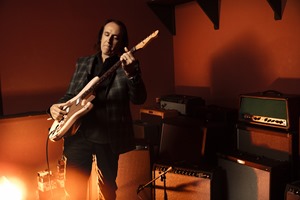 Photo by Austin Hargrave
Muse On Muse : "Liquid Quartet Live" is an outstanding live album which you four demonstrated real musicianship with live feelings.
Michael Landau : Thank you very much. We're able to book the Baked Potato for two nights at the end of last year. I brought in one of my favorite engineer's, John Paterno to record the two nights. We played four 75 minute sets of music in total and then we chose the best performances from the two nights. We used John's remote recording setup that consists of high quality mic preamps and A/D converters. John also mixed and mastered the record, the overall sound quality turned out powerful and very beautiful in my opinion.
MM : You have previously released two solo live albums "Michael Landau Live 2000" and "The Michael Landau Group-Live". What led up to you releasing a new live album this time?
ML : Abe Laboriel Jr. had a break in his touring schedule with Paul McCartney, and whenever I can get the line up of Abe, Jimmy Johnson and David Frazee together it's a special night of music for me. David and I have been working on a new studio record, a follow up to the 'Rock Bottom' record, but when Abe became available to play live, we jumped at the chance to record the shows, I'm very glad we did, it's a very special line up.
MM : The set list consists of tracks from your solo album "Rock Bottom" and tunes from Burning Water and Renegade Creation's album. How did you select those songs for the live?
ML : At this point I have a large catalog of songs to choose from since I've written songs for so many bands over the years. I like to mix it up when we play live. With David in the band, it makes it possible to play some of the old 'Burning Water' tunes, a band from the early 90s with Carlos Vega and my brother Teddy on bass. I have a nostalgic love for that band, and it keeps it fresh to mix things up. Also, when we play live, I like to shift gears between the rough and rowdy songs like "Bad Friend" from the Rock Bottom record and then do a quiet ballad like "Killing Time" from the Burning Water days.
MM : You also performed new songs "Well Let's Just See" and "Can't Walk Away From It Now". Please tell us about these two brand new tracks.
ML : These are both new songs that David and I had written last year. We've been playing them live since the middle of last year so it made sense to have a couple of new songs on the live record to keep things fresh and interesting. I love David's lyrics on "Can't Walk Away From It Now", they are simple, and to the point.
MM : We could feel the power of live performance with Rock vibes through the album especially tracks like "Bad Friend" and "One Tear Away".
ML : I'm definitely a Gemini in the sense that I have a very rowdy, almost 'Punk Rock' side of my personality, and then also a quiet introverted side that needs to bring the mood down and play something soft and beautiful to balance the night out. I prefer a wide variety of dynamics in my music, I need to do that for balance.
MM : "Tunnel 88" starts with beautiful introduction and ends with striking and intense guitar play.
ML : This is a new instrumental song, and again this is my Gemini personality coming through. This song has both the loud intensity and the quiet beauty within the song itself. I love music that takes you on a journey, and sometimes on a long journey you hit some rough patches in the road, music can reflect this as well.
When we toured in Hong Kong a couple of years ago, we met a nice couple of gals that came backstage after the show. They were quite intoxicated, but in a fun way. They had been drinking something called "Tunnel 88"… I was inspired to write an instrument with that title.
MM : The tone, dynamics and sounds of your guitar are extraordinary even though live recordings. Please tell us how to brush up such astonishing sound in terms of techniques, mentality and gears.
ML : I use a volume pedal with a Voodoo-1 and a Maxon SD9 overdrive before the volume pedal. One of these pedals is always on at any given time. With this technique, I have a limitless amount of volume levels combined with distortion and clean tones to quickly draw from, this keeps the music very dynamic. I also use the fingers on my right hand very often instead of a pick, this also adds to the wide verity of tones I can achieve.
MM : Please tell us about your gears. What guitars, amps and pedals did you use for this live?
ML : I used a Fender Custom Shop Stratocaster with (2) Lollar Imperial Humbuckers. The two amps were a 50 watt Dumble 'Slidewinder' through a Kerry Wright 4×12 cabinet with vintage Celestion G12-65 speakers. A Fender Hot Rod Deville ML 212 was the second amp.
(See photo attached for the pedals)
Dry PB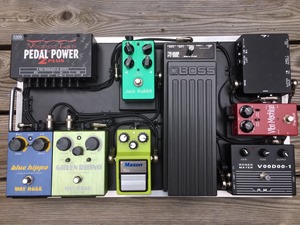 Wet PB

MM : Your works for other musicians are undoubtedly amazing but when you play for your gigs, it is something different. You are off the chain and running wild to rock people with a solid improvisation. Studio recording and your gigs, what do you consider about each of them?
ML : Well, I didn't start out wanting to be a 'session' musician, when I was 10 years old, I wanted to be in the Beatles… and I still do… HA! The music that I play with my bands reflect my influence from all the music I heard growing up: The Beatles, Cream, Jimi Hendrix & Led Zeppelin. I also had a jazz influence growing up because my grandfather was an alto saxophone player and arranger during the swing era with the Dorsey Brothers and Benny Goodman, so I'm a blend of all these influences. Most of the pop music I did as a session player was very different from the music I preferred, with the exception of artists like Joni Mitchell, Pink Floyd, B.B King and James Taylor to name a few. But I found ways to appreciate all types of music and I've always tried to bring a musical integrity to all of the records that I've played on.
MM : You have worked for numerous albums of so many other artists and some of classic tunes are known for your stunning guitar solos. "A Whole New World" is an example. Did artists ask you to play with certain melodies or did you extemporize by yourself when you made these famous guitar solos?
ML : On most of the big Pop records, the producer would prefer that the guitar solo be similar to the vocal melody. The solo would start out with the melody of the song in mind, the second half of the solo would usually loosen up and I was then able to improvise more and play a bit more freely.
MM : Covid-19 rapidly spread all over the world and the impact for the music industry is also huge. Baked Potato Jazz Club is not the exceptional. What is your thought on current situation?
ML : I don't have an answer for this very complex situation that we are all in. I do believe that this is a new beginning in many ways, hopefully we will come together and solve this problem that we are all in.
For me, there is always music, I love it more than ever and Covid-19 is no match for the power of and joy of music!
MM : What does Baked Potato Jazz Club mean for you?
ML : The Baked Potato is a unique place for sure. The tiny stage is in the center of the room and the audience surrounds you from both sides. The sound in the room is also unique because the sound system surrounds the band as well… it's like everyone is inside of the P.A., the close proximity of everything gives the effect of everyone wearing headphones but together in the same room, and you can hear every tiny detail. It also has a very low celling which adds to the intimacy and the sound, it's a very dry sounding room, you can't bluff your way and hide behind a large washed out venue sound, every note is heard. Playing with Abe, Jimmy and David at the Potato is always a proud moment for me… we don't
rehearse very much… we like to keep it fresh and loose and let the music take us all for a ride. I've played there so many times with many different bands so the Baked Potato has been, and continues to be a major part of my musical life.
MM : Please leave a message to your fans.
ML : I like to think that our live shows and our recorded music can be viewed as a shared musical experience. It means everything to enjoy life and to enjoy friends and family. Our time on earth is short, so let's enjoy every sandwich!
Michael Landau official site https://mikelandau.com/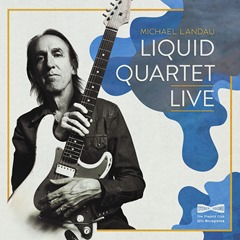 Michael Landau / Liquid Quartet Live
1.Can't Buy My Way Home
2.Well Let's Just See
3.Greedy Life
4.Killing Time
5.Bad Friend
6.Can't Walk Away From It Now
7.Renegade Destruction
8.One Tear Away
9.Tunnel 88
10.Dust Bowl