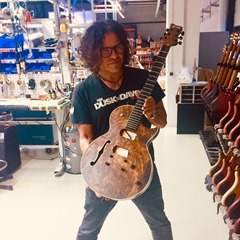 Since my career started I have always been lucky to work with some great guitar companies. In 1990 I started to also work on some of my own designs.
In the year 2000 I told myself I was never gonna wear white socks again and if possible not play anymore guitars with shapes that looked like normal safe guitars or guitars that looked like versions of a Les Paul or a Strat.
A few years ago I flew to Germany to go to a party and I started talking to the owner of Warwick/Framus named Hans Peter Wilfer.
He told me a story about his father who had started Framus guitars way back in the old days and that it was his dream to bring Framus guitars back out as a tribute to his Dad so I asked him if he would like me to fly to the Framus factory and design a new guitar and he said YES….So I flew to the factory and met with head designer Marcus Spangler and we designed my signature Framus IdolMaker. Since then, Marcus, PhilX and myself have designed several new Framus models including the new Pantera 2 and the Television.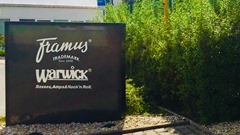 This week I flew to Germany to do a little work on a few of my new IdolMakers and to also start the new re-design for a Framus model called the Diablo 2.
I flew in from Austin Texas to the Warwick Custom shop in the Far East of Germany. It's a state of the art factory where Warwick basses and Framus guitars are dreamed up, designed then built and sold. It's an amazing place indeed.
I got in and was a little tired but I am so busy these days and never have time to rest so I got right to work. Hans Peter met me out front and gave me the keys to my car I would drive for the next two days ( I only had 2 days to be there and we had a lot of work to do).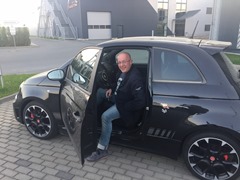 I then went into the factory and ran into Hans Peters son Nik who was working on some new basses. We were also working up a IdolMaker bass for my old bass player Juan Alderete who now plays with Marilyn Manson BUT most remember him from his old band The Mars Volta ( and google Stevie Salas Fuji Rock 99 to see him playing bass for me ).
– Designing guitars –
Before I could start working on a the design for the new Diablo 2 I needed to film some promo bits for my IdolMakers and also finish checking out some electronics on a new African Korina IdolMaker I had built.
And I also checked out a new body for the William DuVall Framus guitar ( William is the lead singer of Alice In Chains).
I then popped into the paint room and checked out some cool custom finishes for a new IdolMaker going to a buyer in Europe as well as a few other guitars.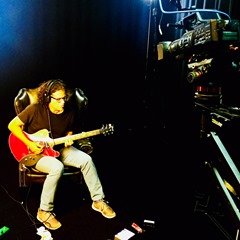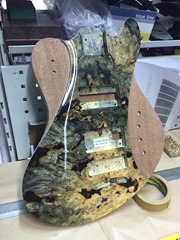 After all that was done Marcus Spangler and I got deep into the designing of the new Framus Diablo 2. It's really hard to come up with a guitar shape that is original with a artistic touch but still contemporary. We spent hours and hours drawing and cutting out templets.
Soon we got some shapes that we liked. We are trying to capture a guitar that can rock but have single coil sound and even a strato style or Floyd Rose tremolo bar.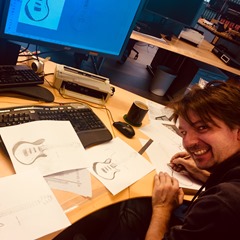 After two 12 hour days of work it was time for me to leave back to America but now we have a rough body shape to work with.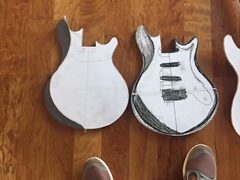 I will return in a few more months and soon we will have a prototype. I will make sure and send an update!
We will also have a couple other new models by then too like this one
Until then check out a couple of my new Framus IdolMaker that I took on tour to Japan last year.
Stevie Salas
Stevie Salas official site : http://www.steviesalas.com/
Stevie Salas official facebook : https://www.facebook.com/StevieSalasOfficial
Stevie Salas official Bandcamp : https://steviesalas.bandcamp.com/music