KEE OF HEARTS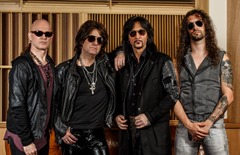 A Collaboration project Kee Of Hearts is comprised of a formerly guitarist of Europe, Kee Marcello who has just provided he is still strongly thriving by his solo album "Scaling Up", and a singer from Fair Warning that is popular in here Japan as well, Tommy Heart. They finally released their debut album.
In their debut set "Kee Of Hearts", even though all tracks are produced by mainly Alessandro Del Vencchio and other outsourcing producers, It seemed easy for those originators to translate those tracks to their Kee Of Hearts language undoubtedly by Kee's emotional, clever guitar that has a great taste, and Tommy's rich and powerful singing.
This noteworthy piece must captivates not only their own fans, but also all Hard-Rock fans.
MUSE ON MUSE asked Kee and Tommy about their debut album "Kee Of Herts".
Interview / Text  Mamoru Moriyama
Translation         Hiroshi Takakura
Muse On Muse : The debut album of Kee Of Hearts is wonderful piece which has captivate melodic hard rock fans who likes bands such as Europe, Kee Marcello Band, Fair Warning. How was this Kee Of Hearts project born?
Kee Marcello : I was simply contacted by the label asking me if I would like to embark on a joint venture project with the Fair Warning vocalist Tommy Heart. Of course I was interested! My only condition was that the excellent bass player Ken Sandin (Kee Marcello Band) should play on the record. I've worked with him for many years, and our playing works so well together.
Tommy Heart : It's funny. I was approached by Frontiers President, Serafino Perugino, back in 2005, asking me if I'd be interested in doing a melodic hard rock project and, at the time, I wasn't really interested. Now years later, the question came back up again, only this project would now be a joint venture with Kee Marcello, whom I have great respect for over the years. I felt this would be an exciting and interesting collaboration and I just couldn't say no.
MM : What was your impression of Tommy's music and vocal through listening Fair Warning and other his stuff?
KM : That he is an absolute World class vocalist. Except his impressive work in Fair Warning, with Zeno and his solo stuff, he can also effortlessly sing music of any other given genre. A truly awesomely talented guy with a remarkably strong voice. So I felt like – man, we just MUST work together!
MM : How about you Tommy, what was your thought on Kee Marcello before working together for this project?
TH : I'm a big fan of great guitar players and Kee is one of them. I have followed his career, both as a solo artist and with his time in the band Europe. He can write great, strong songs. There was no doubt in my mind that we would work well together. And we do !! Ha!
MM : All of tracks on this album were composed by other producers mainly Alessandro Del Vacchio. But both of you're not only great vocalist and guitarist, but also composers. How do you think about creativity of this project?
KM : For me it felt like a refreshingly different approach, to just go in and view it from a musicians point of view. I've indisputably written a lot of big hits in my career (also for other performers), so it felt like an interesting scenario to for a change doing it the other way around. To approach material that I hadn't been involved with as a composer, to see if there was perhaps something unexpected and interesting that might come out of it.
TH : I think if you know all of our own separate history and work from the past, then you can understand what we can bring to the table. I'm a singer who loves to sing great songs. Of course if you're the writer, then you will have the experience of also creating this musical "child". But if it's a great song and you have the opportunity to "adopt" it and make it your own, you can't turn it away. A great song is a great song. Period. Allesandro wrote some great songs for this project, and the from the feedback we are getting about the music, the fans agree. And this album turned out pretty well !! I feel positive in saying that this won't be the only time you hear us together. KEE OF HEARTS future is bright and wide open!
MM : How was the process of recording for this album and how long did it take to finish?
KM : It's hard to say since I was doing some other work in between, but about 10-12 work days. The starting up phase is always the hardest, when you're still trying to figure out what the overall feel of the guitar work should be. Once I've nailed that, the rest come easy.
TH : It took me around 4 weeks to work on the songs and record my vocals. I was taking small breaks in between, as I was also in the middle of finishing mixes and production for my own solo album. The breaks worked out perfectly and gave me fresh focus each time I recorded.
MM : listeners can feel melodic and clever Kee Marcello's guitar style on this album. Regarding guitar, How polished demo tracks did Alessandro Del Vacchio give you in terms of guitar solo and backing guitar?
KM : The guitars on the demos where normal, mediocre demo guitars. I didn't use much of the content from the rhythms, and nothing from the solo leads.
MM : How did you arrange your guitar parts from the demo tracks to your "Kee Marcello" style? Please tell me the detail of how you approached to play with your style.
KM : When I do projects like this, I listen through the demos and make notes of which are the "must" riffs, those that are "tied in" with the compositions themselves. After that I mute the channel of the demo guitar and never listen back to it again. Cause it's almost always just distracting.
Mostly when people send me "demo guitars", it really means that they send me crap.
People have to understand that there's a huge difference between playing on a demo and REALLY playing the guitar.
Then, listening to drums, bass, keyboards and vocals, I arrange my rhythm and solo guitars so that they make sense with the context: vocal lines, drum/bass lines, keyboard lines, etc. And when there are (as almost always guitars are done on demo recordings) endless meaningless power chords, I try to turn them into riffs, lines or hooks, anything that works to enhance the song, instead of mellowing it out.
MM : What kind of guitar play Alessandro want you to play when he gave you tracks?
KM : I have no idea! And that's not negotiable. When I perform on an album, I play the style I see fit for it, that's my terms for being part of any project. That's what I do. I am not a session guitar player. But I know Alessandro was very pleased with the result!
MM : When you sing for songs which was written and produced by other people, how did you build up and reflect your emotions for the tracks? Please tell me detail of how you approached from when you received tracks to finishing recordings.
TH : If it's something that I'm going to record, it needs to grab me straight away. I need to hear the connection of my voice singing those lyrics. The song has to make my heart sing and want to sing it. I then listen to how the story is being told and how I can tell it from my own life experiences. Sometimes, I'll need to change a few words or lines here and there, depending on how I can relate and tell the story in a way that makes sense to me. Not always, but if I need to then I will. What can I say? You have to put your pain, your love, your passion; your blood ,sweat and tears into everything you sing! You have to sing from a place of truth, otherwise, you're not only wasting your time trying to get by faking emotions, but you're also wasting everyone else's time who has gone out of their way to buy and listen to your music. At the end, the song do becomes a part of you because of the way that you have expressed them and captured it all in the recording.
MM : How did Alessandro want you to sing for this album?
TH : Alessandro just presented the songs and basically that was it. He put his trust in each of us to allow the freedom to do what we do best. He didn't ask any questions or try to push me in any other direction during the whole recording process. There was a mutual respect amongst us all, which made the making of this album a really great experience. I did all of my vocal tracks with an engineer in Berlin and Of course, I've been doing this for many years, so I know what is going to work, or not work ,when I'm recording vocals. Alessandro was more than pleased with the finished tracks. We all were!
MM : How did you think about collaboration of Kee & Tommy through this project?
KM : It's been a real joy meeting Tommy, getting to know him better. I think the two of us are pretty much made from the same mold so to speak, so it felt like we've known each other for much longer than we actually have. And musically, I think our "sounds" go exceptionally well together. His voice and my guitar sounds like one powerful unit!
TH : The feeling is mutual, Kee!! I honestly feel that there is so much more to come. Kee seems to think and feel the same way about music as I do and I'm excited to see what the future brings. For me, the whole project felt like Christmas and it was like we were all opening up presents with every song. I can't wait to start working on and writing new songs and getting us all in the rehearsal studio. Can you imagine the live set we can play? Insane Energy!
MM : Kee, which tune do you think Tommy expressed his style the most and why do you think so? Tommy, same question to you. Which track do you think Kee showed his style the most and why do you think so?
KM : It's hard to pick, cause his expression is remarkable on all the tracks! If I'd have to pick one, it's "A New Dimension". His soulful vocals and that haunting guitar line going through the whole song creates a magic atmosphere.
TH : Oh, that´s a tough one to answer for me as I feel this whole album is a melodic rock monster! Kee´s guitar playing just took these songs to another place. Even on simple melody parts, his sound is so powerful and breathtaking at the same time. I really can´t wait to get out and play these songs live!
MM : Do you have any gigs coming up as Kee Of Hearts? Please tell us your future plans.
KM : There are plans, but nothing official yet. I know we all want to get this show on the road, so we'll get back to you on that subject!
TH : Like I said before, the future is wide open and anything is possible. It's up to us and the fans now. We hope they love this record as much as we do. It's a new deck of cards with the KEE OF HEARTS. Let's play!
MM : Please give a message to your fans!
KM : Hi friends! Thanks to all my faithful Nippon fans for your support over the years! My long relationship with Japan started already in 1987 with Europe, and it's still ongoing, now with of Kee Of Hearts! I'm so grateful for your support! I can't wait until we can come and play for you … just wait until you see Kee Of Hearts live!
TH : Hello everyone!! I want to first say thank you, again and again, for continuing to support my music for these past 30 years. I am truly so grateful to all of you.
And the new fans who are just hearing about KEE of HEARTs, welcome aboard! It´s going to be a great ride for all of us, I´m sure. We are just as excited as all of you are! See you on the road!!!
KEE OF HEARTS facebook :  https://www.facebook.com/KeeOfHearts/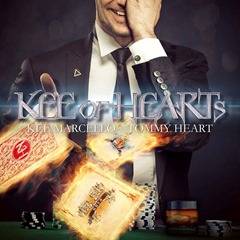 KEE OF HEARTS / KEE OF HEARTS
CD : AVALON MICP-11368 ¥2,600+tax
1. The Storm
2. A New Dimension
3. Crimson Dawn
4. Bridge To Heaven
5. Stranded
6. Mama Don't Cry
7. Invincible
8. S.O.S.
9. Edge Of Paradise
10.Twist Of Fate
11.Learn To Love Again
12.Invincible (Acoustic Version) JAPANESE BONUS TRACK
Produced by Alessandro Del Vecchio From Germany
<Member>
Tommy Heart (Vo)
Kee Marcello (G)
Ken Sandin (B)
Marco Di Salvia (Dr)