Carl Verheyen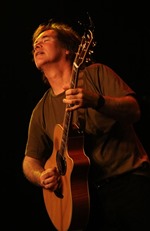 Carl Verheyen is undoubtedly one of LA's first-call session guitarists. While building up his carrier as a sideman for big-name artists such as Bee Gees, Little Richard and John Fogerty, he has also kept himself busy playing on movie soundtracks including Star Trek and Mission Impossible IV. Over the years, Carl has continued to allure avid music fans with a number of solo albums as well as with his band, Carl Verheyen Band, in the U.S. and Europe.
Carl's recent release, "Alone" marks his second solo acoustic album following the release of "Guitar Improvisations" that came out in 2001. With much intricacy and intimacy, Carl continues to explore his pursuit on an acoustic guitar by covering the pieces that have inspired him all these years. The unique-yet-beautifully-arranged "Last Train Home" (Pat Metheny) or "Mercy Street" (Peter Gabriel) will surely satisfy all of those who have waited long enough for the album to come out.
Muse On Muse asked Carl on the album "Alone" in depth, not to mention the secrets behind his one-of-a-kind acoustic guitar playing.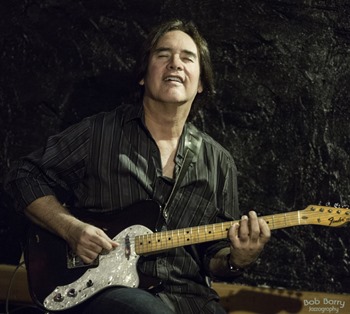 Interview / Text Mamoru Moriyama
Translation Yuichiro Chikamochi
Muse On Muse : How was "MUSTANG RUN TOUR 2014" in Europe last fall? How did that go?
Carl Verheyen : It was musically wonderful! The band seemed to get better each night and the crowds were very enthusiastic!
MM : What are some of the memorable events that took place during the tour?
CV : We played a guitar festival up in Scotland that was great fun. I was given the key to the city in a nice ceremony at the town hall in Amandola, Italy because I wrote a song about that place. There were many, many memorable nights!
MM : What makes a trio format challenging to you, do you think?
CV : It's a wide-open sonic space that can be filled with sound or left alone, and it's all up to my own manipulation of the tones from my guitar. There's never a dull moment!
MM : Guitar-playing and sound-making wise, what do you consider the most when playing in a trio setting?
CV : I use a stereo set up for my clean tones with stereo delays and sometimes stereo modulation like chorus or harmonization. For the solo sound I use two more amps in a "wet-dry" stereo setup. Then I use an A/B button to organically switch between the two sounds so nothing cuts off when I switch. The sounds hang in the air and the challenge is to use the four amp rig seamlessly.
MM : Are Stu Hamm and John Mader steady members for the time being, as far as Carl Verheyen Band is concerned?
CV : Stuart Hamm will be touring with Jennifer Batten this spring, so I'll be using John Mader and Dave Marotta. I also occasionally use Walfredo Reyes, Jr and Bernie Dresel on drums when availability becomes an issue. All these guys are working pros, so they get booked up fast!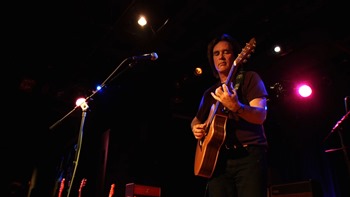 MM : Now, let's talk about your new album, "Alone". It is your second solo acoustic guitar album since the last one, "Solo Guitar Improvisations" (2001). What made you want to record the second acoustic album? How did you come up with the idea?
CV : For many years my fans would ask about a "volume 2" of "Solo Guitar Improvisations." I kept putting it off because my schedule would not allow the time. But over the years, as I played solo acoustic concerts in small theaters here in the USA, I began to develop more material and eventually had enough to record a whole CD. So a "volume 2" was born!
MM : How long did the recording take?
CV : About one month on and off. When I would get a new arrangement together I'd call the studio and my engineer and go down to record it while I was inspired.
MM : All of the songs in the album are beautifully arranged while making most of the original compositions. I reckon the superb arrangements will make the listeners rediscover the pieces as acoustic songs. How much time did you spend arranging them?
CV : The arrangements evolve over time, even after they've been recorded. I never play "Norwegian Wood" the same way twice because I believe a loose format where I can improvise various sections helps the music live an breath when I play it live.
MM : The original version of Pat Metheny's "Last Train Home" has that beautiful, haunting melody over the "hurtling-train feel" replicated by the rhythm section. What kind of approach did you take as it being a solo guitar piece this time?
CV : I used a finger style, Chet Atkins approach. On my first solo CD I played a Kinks tune in that style, which is a song about as far away from Chet's repertoire as possible. So this was another shot in that direction.
MM : What about Peter Gabriel's "Mercy Street"? What are some of the points you paid attention to upon playing a Peter Gabriel composition as a solo guitar piece?
CV : I find that song very haunting so I tried to keep the mystery of the song as the most important element. What a beautiful song it is…I'm surprised nobody has covered it as a solo piece.
MM : You also played the electric version of The Beatles' "All You Need is Love" on your live album, "The Road Divides". Are The Beatles always very special to you?
CV : My very first influence on the guitar, like so many of us, was George Harrison. His guitar playing and the Beatles music is still very magical to me, even though this music has been played so much. I had very real reservations about including those three John Lennon tunes because they've been done so much, but now I'm glad I did because people seem to respond very positively about those tracks.
MM : What are the things you need to beware of when you are turning "a vocal piece" into an instrumental piece? You did an amazing job at it although, generally speaking, just replicating a vocal line with the guitar wouldn't work sometimes, if you don't do it right.
CV : I believe a good melody is all you need, whether it's sung or played. So if you can capture the pure expression of the vocal with an instrument you're on the right track. I spend a lot of time learning to play slide guitar lines on my guitar without a slide! My goal is to express as much of their phrasing using fingers alone. It's really hard, and same with a great vocal!
MM : The sweet and clean tones are stunning on "Nordenham" which is originally from the album, "Atlas Overload" (2000). What made you want to record this piece once again?
CV : I've been doing a solo guitar version for many years in my concerts. I feel it is just different enough from the original band version. I used my 1958 Gibson ES-175 jazz guitar for this version. We mic-ed it acoustically and mic-ed an old Fender Princeton Reverb amp and blended the two sounds.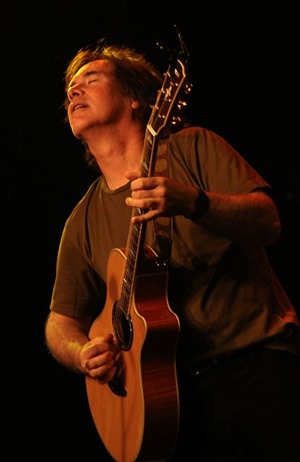 MM : The deep lower register of the baritone guitar on the "Last Days of Autumn" is strikingly characteristic. Could you share with us the story behind it?
CV : That guitar was a gift from Allan Holdsworth many years ago. It's made by a guitar builder up in Monterey, California named Bill Delap, and I've played it on many movie soundtracks. I also used it on a Joni Mitchell song on my first solo album called "Cactus Tree." It's tuned down a fifth, so not quite a bass guitar, but something very unique sonically.
MM : Your rendition of "Over the Rainbow" sounds very unique (very "you", in other words,) while many guitarists covered the song. What was your approach to this one?
CV : I only cover a song on my CD if I think I can do something new and different with it. An old teacher of mine named Joe Diorio taught me a very important lesson. He said, "Your job is to make music sound different." What a wonderful ideal to live by as a musician! Herbie Hancock makes music sound different. So does Joe Walsh and all my favorite musicians. So I take that and apply it to my solo guitar arrangements as well as my chords, improvising, lines and tone.
MM : What guitars and gear did you use on this album?
CV : I own around 20 acoustic guitars and used most of them. I used my 1958 Martin D-18 and my 1951 Gibson J-50. I also used my 1938 Gibson L-00 and an old Guild F-50. I have 2 Avalons, 2 Mark Angus custom guitars, 2 Breedlove guitars, a James Russell custom guitar and an old Ramirez nylon string. There are guitars for playing live and guitars for recording, and sometimes I record with the "live" guitars, too. On "Darn that Dream" I used my 1965 Strat.
MM : Going solo on an acoustic guitar requires a high level of artistry and techniques which are different from playing shred-type of stuff, for instance. What is your take on that? What do you think is the appeal of an acoustic guitar? How should one play it?
CV : You have to approach the acoustic as a totally different "animal." Some technique transfers over to acoustic guitar from electric, but for solo guitar there is quite a bit of different practicing that you need to do. I never practice technique or exercises of any kind, only songs. Before I solo concert I give myself two weeks out in front of the show date and play each song every day until it's perfect. It's a lot of work but it gives me the confidence to step on stage and know I'm going to make it!
MM : Including the micing and other recording tidbits, what is your secret to recording the best acoustic guitar sound? Any tips?
CV : I like to mic the neck at the 12th fret and the body a few feet from the lower, behind the bridge part. A blend of the two mics usually works for me, although I've had many engineers over the years do different things with great results. I guess it just depends on the guitar and the player. A big "room sound" is usually not what I'm going for, so a bit of baffling is also necessary to get the intimacy.
MM : Any upcoming plans or events?
CV : I have six solo shows coming up on the west coast of the USA, then a festival tour in Europe with my band in July. Following that my band will tour in the USA in September before I go on tour with Supertramp in October, November and December. It's going to be a very musical year!
MM : Please give a message to your Japanese fans.
CV : I still hope to come to Japan one of these days! I've been asked twice and each time something happened to cancel it. Once was with Chaka Khan in the 80s and the other was with Carl Anderson in the 90s. So I'm hoping I can make the trip with the CVB in the near future!

Carl Verheyen official site : http://www.carlverheyen.com/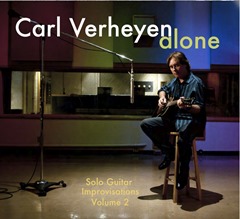 Carl Verheyen / "alone" Solo Guitar Improvisations Volume 2
01 Last Train Home
02 Mercy Street
03 Darn that Dream
04 The Gentle Rain
05 Good Morning Judge
06 All You Need is Love
07 Norwegian Wood
08 In My Life
09 Nordenham
10 Wheels
11 Going Home: Theme of the Local Hero
12 Last days of Autumn
13 Goodbye Yellow Brick Road
14 Over the Rainbow
Carl Verheyen official Store : http://www.carlverheyen.com/store-cds/