Philip Sayce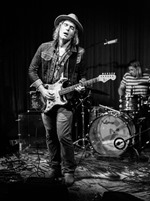 Photo by Chad Crawford
It has been 2 years since Philip Sayce released his last album "Steamroller". Philip is now back with his new album "Influence", which features tunes from artists that Philip Sayce was influenced by such as Little Feat, Graham Nash, Little Richard, etc. The album also includes 6 new originals co-written by Philip and producer David Cobb, creating a great blend of quality music.
Philip continues to fascinate the listeners with his emotional guitar performances, filled with a great feeling of dynamics and expression. Philip took time to talk to MUSE ON MUSE about his new studio effort "Influence".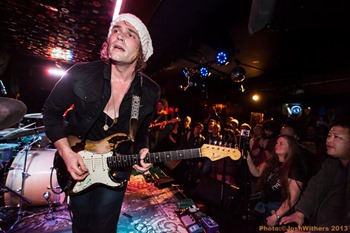 Photo by Josh Withers
Interview / Text Mamoru Moriyama
Translation Louis Sesto (EAGLETAIL MUSIC)
Muse On Muse : Last year, you played at the Eric Clapton's Crossroads Guitar Festival 2013. Tell us how you landed that gig?
Philip Sayce : Playing at Eric Clapton's Crossroads Festival was an incredible experience. My friends entered me into a contest being hosted by Ernie Ball, and incredibly I was selected to perform at Clapton's event! It was an incredible experience, one that I will cherish always. One that I am deeply grateful for.
MM : Many great guitar players took part in this festival. How was it being part of the festival, and were you inspired by any of the other participating musicians?
PS : There were so many incredible musicians at Clapton's festival. It was a true honor to be there, and to have the opportunity to perform his festival. I was inspired by each and every one of the musicians that was there! However, the main focus is about raising money to help people recover from addiction and other issues. The whole thing is about helping out others, and supporting Clapton's Crossroads Center.
MM : Please tell us about the "Influence" album. You have recorded material of various artists that have influenced you, featuring very emotional vocal and guitar performances. Why did you decide to record this type of an album?
PS : I recorded INFLUENCE almost 2 years ago. It was recorded during a tumultuous time, dealing with a difficult time on the music business side of things. Many of the songs are performances that reflect the place that I was in. Ultimately though, it's a very uplifting album, and I hope when people hear it they feel that. I hope they feel inspired & hopeful! That was my intention.
MM : You have Dave Cobb producing the album, like you did with the "Steamroller" album. What do you like about working with Dave?
PS : Dave Cobb is a good friend of mine and a very talented producer and musician. It's an honor and a privilege to work with him. We always have a great time and we share a lot of the same interests in vintage equipment recording techniques, and really respect a lot of the same music. We are very proud of this album and happy with how it turned out.
MM : Can you tell us who took part in the recording of this new album?
PS : The main core of this album is myself, Dave Cobb, and Chris Powell. On drums. From there we had great performances from people like Fred Mandel, Reese Wynans, Kristen Rogers, and incredible mixing and engineering from Vance Powell, Dave Cobb, Eddie Spear and more.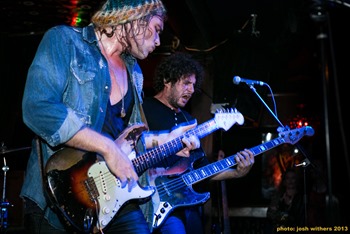 Photo by Josh Withers
MM : How was the album recorded?
PS : The album was recorded mainly in 2012, and a little bit in 2013. It was recorded over three trips to Nashville at Dave's studio. All vintage equipment, we were very particular about the tones, and we had a great time making this record. Lots of live recording!
MM : Ed Lewis and The Prisoners' "Tom Devil" is the opening track of the album, which was quite a surprise. Your guitar blended with the vocals definitely creates a very cool sound and vibe. Also, Ed Lewis and The Prisoners are credited for vocals. Can you tell us about this song?
PS : "Tom Devil" is extremely heavy to us. Our intention was to pay respect and homage to where roots music comes from. We really wanted to do something that honored the roots of where western music comes from. We went to the Alan Lomax archives, and they were very excited about this song and our intention to pay respect to this music and where it comes from. I certainly hope it resonates with listeners and serves as a reminder to look at where popular music today originates from.
MM : "Out Of My Mind" features a lot of your trademarks with the distinct power and groove. It's definitely a great sounding tune.
PS : "Out Of My Mind" was a lot of fun to record! It's a real tip of the hat to Mr. Jimi Hendrix, the Grand Master!
MM : Little Feat's "Sailin' Shoes" came out on Soundcloud prior to the album. What kind of musical influences did you get from Little Feat?
PS : We did sort of our own mash up of "Sailin' Shoes". The combination of the original written & performed by the great Lowell George & Little Feat, along with a great version sung by Robert Palmer, and another version with Stevie Ray Vaughan playing amazing guitar on it. It's such a cool song and we just wanted to do our best to have fun with it!
MM : The emotional vocals, as well as the passionate guitar solo makes "Fade Into You" a great song. We can feel some Hendrix vibes in this song.
PS : Thank you so much! This is one of the most sensitive moments on the record…and the outro guitar solo is an opportunity for healing. An opportunity to rip off the chains and break free. Empowerment! Of course there is a Jimi Hendrix influence here…Stevie Ray Vaughan too. Their touch, tone, vocabulary, intensity, compositions, and so much more has deeply influenced me.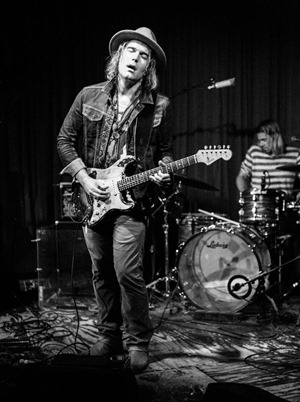 Photo by Chad Crawford
MM : Your guitar performance on Little Richard's "Green Power" featuring the wah pedal is very impressive.
PS : "Green Power" is one of my favorite songs on this record. Yeah, we used an old Vox Clyde McCoy wahwah pedal and it sounded real greasy and liquidy on this track. Little Richard is one of the greatest singers ever, so we just wanted to do our best have fun with it and pay respect to him and his importance and influence on music in general.
MM : Graham Nash's "Better Days" also show some expressive singing. Please tell us how this tune influenced you.
PS : "Better Days" is such a great song. Obviously written by Graham Nash, it reflected some things that I was feeling over the past couple of years…There's a lot of emotion in the performances, I'm glad that you liked it!
MM : "Triumph" is a very beautiful and emotional tune. Your guitar tones are very impressive as well, making this song a great instrumental.
PS : "Triumph", as well is a song about hope and getting through a very difficult time in this business. I hope that the emotion & the intensity shines through, and is a source of inspiration to the listener. I was doing my best to be honest in the performances on this record, and "Triumph" is definitely one of my favorites.
MM : On Thomas A. Dorsey's "Peace In The Valley" we can hear a timeless collaboration by Joe Savage's voice and your guitar. Please tell us about this song.
PS : "Peace In The Valley" is a bookend to the album. Just as "Tom Devil" is at the front end of the record we wanted to end it with "Peace In The Valley." Again it's about paying respect to where roots music comes from. Our intention was to really give thanks to our influences, and this performance by Joe Savage is as deep as it can possibly get. A truly beautiful vocal performance by Joe Savage.
MM : Beside the cover songs, you also have 6 originals co-written with Dave Cobb, which compare favorably with the other cover tunes. Was there anything you kept in mind when writing these particular original tunes for this album?
PS : The main thing we kept in mind was to tell the story of what I was going through during the times this record was recorded. "Fade Into You" is a great example of feeling lost, abandoned, let down, not sure what to do next… so a lot of that translates into these recordings. Again, I want to emphasize that I hope there's a sense of hope here, positivity, and rising above. It's all about getting through the storm and dancing in the rain…getting through the night and watching the sunrise, and still being whole and in touch with what's important to me as a person. I am deeply grateful to have the opportunity to make music in this lifetime.
MM : Please tell us about each original song on the album. How were the songs created and what kind of feelings lay within the song?
PS :
"Out Of My Mind":
"Out Of My Mind" is truly a song about just having fun being obsessed with something whether it's a woman, car, guitar, anything!
"Fade Into You":
"Fade Into You" is one of the heaviest songs on the record, recorded during a very dark time. Ultimately, this song is about feeling a sense of deep sadness, but when he gets to the guitar solo at the end it's about ripping those chains off and breaking through it and coming out victorious and empowered!!! So, it's really a song about healing, and renewal.
"Easy On The Eyes":
"Easy On The Eyes", is also a fun song. It's about a woman that you can't get out of your mind, or a car, or guitar! Sort of a cousin to "Out Of My Mind". It was a lot of fun to record and Kristin Rogers sings her ass off during the outro!
"Evil Woman":
"Evil Woman" … We wrote this one night after listening to the first Black Sabbath record. It's really not only about a woman, it's about anyone tries to sabotage things in your life… you know what I'm talking about. You got to keep them out!
"Triumph":
"Triumph" is a song about getting through very difficult time coming out the other side triumphant! Ultimately a song of inspiration.
"Light Em Up":
"Light Em Up" is a song about some dealing with difficulties in the music business and dealing with unscrupulous characters. Ultimately, it means light them up! Light up the fools, get them out-of-the-way & just jump over them and keep going. Don't let anybody get in your way just keep rolling… if they're going to try to get in your way, go right through them… right over, right around, whatever it takes, just keep rolling!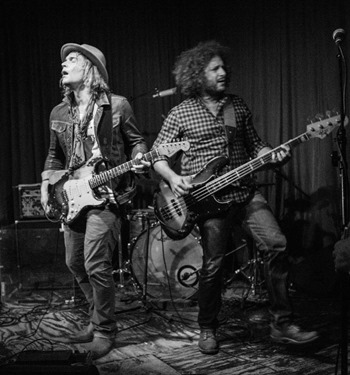 Photo by Chad Crawford
MM : In the previous interview, you told us that you like to use vintage gear. Please tell us what guitars, amps, effectors, foot pedals you used for this recording? Did you try out any new stuff?
PS : We used a lot of the same gear that I've used in the past, and my favorite old Stratocasters, old Telecasters, old Gretsch guitars, and vintage amplifiers voiced by Alexander Dumble, Tommy Cougar, old Fuzz Face pedals, old Tube Screamers and old Vox wah wah pedals. We had a lot of fun with the gear! Always trying out new stuff too…
MM : You have very rich expressions in your guitar performance. What would be your advice to players seeking to play guitar with a good expression like you? How did you acquire expression while building up your original guitar style?
PS : Thank you so much! I think the most important thing is to play what you feel. Always play what you feel. If you feel really happy on a particular day, let that translate into your playing. If you feel angry or sad or excited, whatever feeling you have let that come through your playing. Let your truthful energy come out when you're playing. I'm doing my best to do this, I am a student of this, but I'm working at it and trying to get deeper all the time.
MM : What do you have coming up next? Tell us about your upcoming schedule.
PS : We're working on releasing the music in North America and globally. We'll be doing a tour through Europe and the UK in November and December of this year. I hope to return to Japan soon too! That would be incredible!
MM : Please give a message to your Japanese fans.
PS : It truly is an honor to make music in this lifetime and I'm so grateful for this opportunity to speak with you about my music. Thank you, and to everyone in Japan for your continued support and interest in my music, I am deeply honored, thank you very very much. I hope to see you in Japan very soon! Play on everyone, and play it from the roots and from your heart. I hope you enjoy "Influence".
Philip Sayce official site : http://philipsayce.com/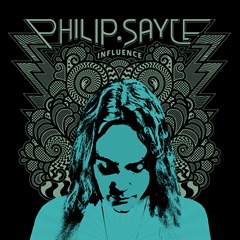 Philip Sayce / INFLUENCE
1.Tom Devil
2.Out Of My Mind
3.Sailin' Shoes
4.I'm Going Home
5.Fade Into You
6.Blues Ain't Nothin' But A Good Woman On Your Mind
7.Green Power
8.Better Days
9.Easy On The Eyes
10.Evil Woman
11.Triumph
12.Light Em Up
13.Peace In The Valley