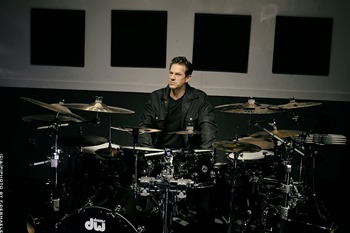 Text and Translation by Louis Sesto (Eagletail Music)

Part 2 features an interview with Thomas Lang talking about SPARK7 and touring in Japan! Thomas also shares some of his perspectives about drumming.

Louis Sesto : How was your tour with SPARK7?
Thomas Lang : I had a wonderful time. I really enjoyed playing the new Spark 7 material and I always enjoy playing the older material as well. It's a well-balanced show with plenty of room for interesting drumming. I was very happy with the organization and tour management and I enjoyed re-visiting the clubs we've played in the past with Spark 7. I had some great food and I felt very comfortable with our crew and tour management. All around it was a great experience and a lot of fun.
Louis : You also recorded some tracks for the upcoming SPARK7 album. What can we expect to hear on the new record?
TL : The new material is slightly heavier in my opinion, simply due to the fact that Isao san is using his 8-string guitar a lot more on the new tracks. The songs were written on 8-string with that beefier sound and vibe in mind. Despite all the heaviness the songs are very melodic and extremely catchy. I think that is a perfect combination for a progressive, heavy instrumental album. It's sweet and sour! It's dark and light, it's Ying and Yang- the perfect combination.
The drum parts are really interesting and challenging and I had a great time recording the songs. I can't wait to hear the finished mixes in a couple of months.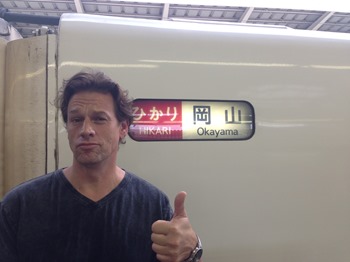 Louis : You played with many Japanese musicians during this visit. Anybody in particular that impressed you the most?
TL : I feel very lucky to have been given the chance to play with such an elite group of guests over the course of the tour. All of the guest guitar players were incredible in their own right. All of them were technically ultra-impressive and all of them had personality and a unique sound. It was a great "ride" to experience the different guitar players personalities in the Spark 7-context every night. The guitar battles with Isao were nothing short of explosive and stunning every single night. I especially enjoyed playing with Toshi Hikeda because we also hit it off on a personal level. I don't speak Japanese and couldn't verbally communicate with the other players very well, but Toshi speaks excellent English. That made his guest appearance a very special moment for me on the tour. He brought so much experience and a really great stage presence in addition to his incredible playing, and that made for a really high-energy and entertaining show in Osaka.
Louis : What's your favorite SPARK7 song?
TL : I really enjoy playing all the new songs, particularly "Cricket Chorus" and "Tri-Star". These songs are so fresh and remind me very much of my own writing concept and approach that I can very much identify with all the details of the music. These songs sound like they could have come from me! I totally understand Isao san's ideas and inspiration for these new songs and I feel very much at home in his style of writing and playing. I think the songs are extremely modern and slick. They are really well written and full of interesting twists and turns yet never pretentious and complicated for complexity's sake. They are JUST right. The have just the right combination of heavy and melodic, just the right amount of complex nuance and approachable simplicity. I love playing that kind of music.
Louis : Your performance on this tour definitely was impressive in every aspect. What's the secret behind being able to keep precise time, creating a great groove, and throwing in big complicated fills, all at the same time?
TL : Thank you very much. My focus is always groove and time, no matter how complex the music is. I concentrate 100% on the feel and where each note lands. I focus on every nuance of time and groove at every second of the music. Playing a big fill or more complex pattern is secondary. Those things are simply part of the music that needs to be played with precision and the right attitude. It's like verbally telling a story to an audience. You want every word to be understood and clear. You want every phrase and sentence to be pronounced correctly and articulated in order for the listener to understand exactly what you are saying. I apply the same concepts to my playing. I want to "say" everything very clearly and I put emphasis on the precision and accuracy of every note and phrase so the audience can easily follow. Especially when the music gets more complex, I focus on the accuracy and on time and feel. I want the audience to follow even the most complicated parts of the music because I want them to appreciate the nuance. My desire to play the complex parts of the songs elegantly and with the intention of the composition in mind, will always over-ride my "drummer-ego". I don't want to sound flash on the drums, I just want to play the parts in the most elegant and slickest way to convey the purpose of the music and support the composition with a great feel, solid time and the right dynamics.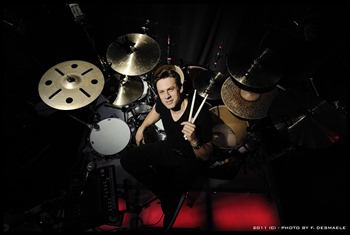 Louis : Who was your biggest influence as a drummer?
TL : I don't have a single "main influence". My inspiration and influence comes from a variety of players. Amongst my early inspirations are Buddy Rich, Ian Paice, Billy Cobham and Ringo Starr. Then I went through many phases of absorbing and analyzing everything from guys like Stewart Copeland, Steve Gadd, Vinnie Colaiuta, Terry Bozzio, Dave Weckl, Tony Williams, Chad Wackerman, John Hiseman and many more. I loved John Bonham as much as Peter Erskine or Max Roach. I always took from different styles of music and from different personalities. I was always inspired more by the variety of drumming- and musical styles, than by a single drumming personality.
Louis : What song/album has been played the most on your iPod/iTunes lately?
TL : Definitely Spark 7 demos and all the other guest player's songs I had to learn for the tour. Other than work-related music, I have listened to a lot of radio on iTunes and to some classic Rock music like the Eagles, Deep Purple, Black Sabbath. I listen to a lot of 70's music on the radio. Anything from that era has NO machines on it. It's all hand-made. It's all real. There is no computer or sequencer on any of those recordings. Everything is blood, sweat and elbow grease! I LOVE that. I love to know that what I am listening to is a human being performing at a high level of skill. I miss that very much in a lot of today's music that is so enhanced and altered by technology. I very much like to avoid Beat Detective and Sound Replacement and Quantization etc. Anything that takes the human element out of the performance makes the performance sterile and generic. I want to hear the nuance of the drum tuning of the individual drummer. I want to hear the ambience of the room, the sound of the microphones and pre-amps, the EQ and quality of the mixing console etc. I want to hear PERSONALITY and PERFORMANCE so I listen to a lot of music from that era. I mostly listen to "70's on 7" or to "ABC Disco Funk". Great songs and great performances.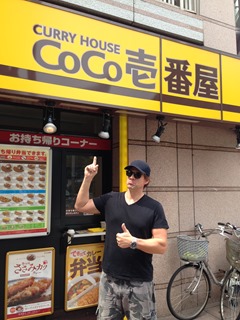 Louis : You seemed to be enjoying Japanese food during the tour. What dishes did you like most during this tour?
TL : My highlight was definitely the raw beef (Yukke) I had at Ginza Koso and beef Sashimi along with some very good red wine. I love ALL Japanese food. I love pretty much everything everywhere! I really enjoy every aspect of Japanese cuisine. I love the way it is cooked, the quality of ingredients, the flavors and spices, the seasoning, the presentation, the dishes, the chopsticks, the Japanese table etiquette and I even like sitting on the floor! I like Sushi, Sashimi, Tempura, Ramen, Okonomiyaki, Teriyaki etc.. It's ALL working for me!
Louis : What do you have coming up next? Tell us about your upcoming schedule.
TL : Right after the Spark 7 tour I am recording an album with Brazilian guitarist Vitor Campos from the band "Midas Fate". Then I am starting work on writing new material for a solo album in August while on holiday with my family. I am also going to Croatia in late August for a drum camp, then to Korea, Columbia and Switzerland in September for studio sessions and for drum camps or drum festivals. In October I am going to do a lot of recording sessions in Los Angeles and I will be recording some instructional videos for Drum Channel. I am taking November and December off for some rest and recreation!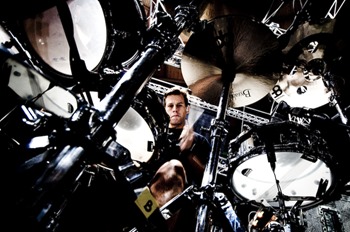 Louis : Please give a message to the Japanese fans.
TL : I would like to express my gratitude to all my Japanese friends and fans who are such loyal and wonderful supporters of what I do. I am always inspired and very touched by the Japanese appreciation for high-end music and performances. I am always honored to come to perform in Japan and I love the Japanese mentality that is based on respect, politeness and consideration of others in every aspect of daily life. It really translates when I come to perform in Japan and I very much enjoy that wonderful energy from the Japanese audience.
I hope to be back in Japan from more touring very soon!
Arigato-gozaimas!