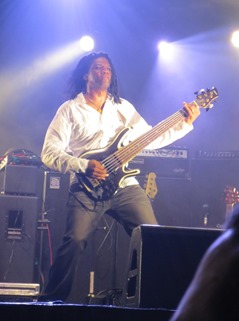 Hi this is Philip Bynoe, bassist for the Steve Vai band. For those of you unfamiliar with me, I've been to Japan with a number of artists over the past 23 years.

It started in 1991 with a hip hop band called World Premier. We spent three months performing in Osaka, and to this day Osaka is still my second home. I returned to Japan with Vai in 1997 on the Fire Garden tour. It was a wonderful experience. Not only did I see many new parts of the country, I was able to return to Osaka to visit old friends–and make new ones. I also began playing Yamaha basses at this point.
I used then—and still do—the TRB-6 string basses and a BB 5000 fretless with Steve. On the Fire Garden tour, I was also playing a bass I built with a friend. It had a keyboard controller attached to a Hohner five-string headless bass. Many people marveled at this bass and found it to be an entertaining addition to an already theatrical show.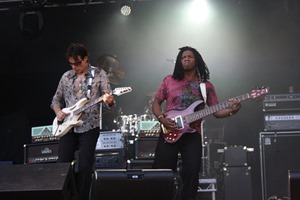 I returned to Japan two more times in the 90s: once for Rock around the Bay where we played with Zakk Wylde and Motley Crew (see clips of this great concert on YouTube); and the next time in 1999 on the Ultra Zone tour. Again, we had a successful time and took many bullet train rides from city to city to perform.
My career kept bringing me back to Japan throughout the following decade, including a 2003 tour with Ring of Fire. We played only three shows on that one-time-only tour, but recorded a live DVD featuring Mark Boals, Tony MacAlpine, Virgil Donati and Vitalij Kuprij. Next up was a tour with Nuno Bettencourt in 2005. This was fantastic as we went to many places I'd not been to before. Hiroshima was a beautiful, mysterious place for me to see and I was glad to have the privilege of performing there.
Just two years later, I was back in your great country with the band Slavior for a release and a few shows in Tokyo. By this time, I was playing a different TRB 6 bass on which I changed the pick-ups in for a bigger sound. I had an alembic pre-amp and pick-ups installed—and that bass is a hot rod!!
I returned again to play with Japanese guitarists Isao Fugita and Masaki Watanabe for the
2010 Sparks 7 tour with Mike Mangini on drums and Kiyomi Otaka on keyboards. Then later that same year, I returned to play jazz fusion with members of the Abingdon Boys School band and Masaki Watanabe.
Here in the U.S., I play with many other artists including two children's music bands. One is called PB & Deb. It's comprised of me and my writing partner, Deb Snyder, create fun songs for children to sing along with. And the other is a roots band called Jambo, for which I play upright bass. I also play with the Steve Fister Band, and we do nothing but rock out with orignal blues songs and the occasional cover.
As some of you may know, I rejoined Steve Vai on the Story of Light tour this past year. And next up for me will be a short tour with the metal band, Warlord, featuring Mark Zonder (Fates Warning). I recently recorded their latest CD and we will tour Germany and Greece in the month of April.
In July, Vai's Story of Light tour resumes and I hope then to come back to Japan to play and see old friends. If you catch a show, you'll hear me on a different bass, the Music Man Bongo six-string. It's a brand new design and sound for me, so I'll look forward to getting feedback about its tone, style and aggression. It's gonna be loud so bring your ear plugs and I'll see you all soon.
Philip
Philip Bynoe