Steve Lukather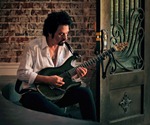 Photo : Rob Shanahan
With a career of close to 40 years in the music world as a top musician and guitar hero, Steve Lukather continues to keep busy, participating in tours such as the G3 Tour with Joe Satriani and Steve Vai, as well as Ringo Starr and His All Starr Band. Steve Lukather is back with a brand new solo album titled "Transition". The new album displays a collection of quality tunes, along with great vocal and guitar performances. Luke took time to talk to MUSE ON MUSE about his new masterpiece.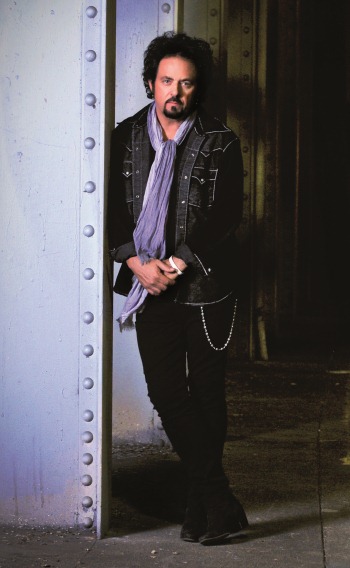 Photo : Rob Shanahan
Interview / Text  Mamoru Moriyama
Translation         Louis Sesto (EAGLETAIL MUSIC)
Muse On Muse : How was it touring and performing with Joe Satriani and Steve Vai on the G3 tour?
Steve Lukather : It was an honor and GREAT fun. Those 2 cats are SO good it's humbling. I was very nervous at first cause it is THEIR audience and I brought my band and did my thing and people liked it alot so I was happy and we all had such a great time.
MM : How did you feel being part of a project such as the G3 tour that has featured numerous guitar heroes?
SL : It was a ' bucket list' thing for me. I mean to have my name with all the GREATS that have done G3 before me.. wow I never thought I would be thought of in those terms. I am greatly honored ansd Joe was very kind to ask me. Steve and John Petrucci are also on a genius level. I learned alot but we also laughed hard and it was really cool cause everyone supported everyone else. It was a lovefest and ALL the musicians on the tour were amazing as well.
MM : You are scheduled to play in Japan in February with RINGO STARR & HIS ALL STARR BAND. You also took part of the US tour last June. How did you end up getting this gig?
SL : They called me. A guy named Dave Hart scouts for Ringo and I am also friends with many of the guys already IN the band and they asked me. I jumped at the chance. It was the best summer vacation in my LIFE!
MM : How does it feel to be performing as part of RINGO STARR & HIS ALL STARR BAND? What kind of show can we expect to see this coming February?
SL : Man, hit after hit after hit.. everyone gets to shine. Ringo is most gracious. Really a ' must see show' Every song is a smash hiot and we all play each others tunes in a new and fresh way. SO much fun. can;'t wait to get back out on the road. Best part.. Ringo is my friend. ALL the guys in the band became a close little family. It was a highlight of my career.
MM : All songs on "Transition" have a very distinctive and beautiful melody, and the guitar performance and sound match each song perfectly. Your vocals are also very impressive, creating an amazing album. What was the concept behind the album?
SL : Give it my ALL. That was the concept. haha I worked very hard on the vocals, been studying with a new teacher Gary Catona and it REALLY made a difference. Clean living also helps, no smoking or drinking now for 3+ years.. I am different person for the better health wise and also I have been working very hard on my guitar playing. Refining..
MM : Most songs on the new album were co-written by CJ Vanston, just like your previous album "All's Well That Ends Well". How is it working with CJ?
SL : We have a thing you cant buy. It just IS! So easy to work with and we think the same way. I gotta say CJ brought the best out of me and is SO talented as a player/writer/producer and co writer.. it was one stop and he did a GREAT mix for the record as well. I sat behind him but he did the heavy lifting. It was a joy.

Photo : Rob Shanahan
MM : How does the actual songwriting proceed when working with CJ? Do you two have separate roles within the process?
SL : NO rules.. we just went with the flow and we write a song a day.. then I went away and wrote lyrics, we co wrote some of those, My son Trev co wrote Right the Wrong, FeeWaybill helped with Lyrics on Creep Motel, Randy Goodrum on Last man standing.. had some old friends ya know.
MM : Certain songs such as "Judgement Day" and "Transition" seem to be more for the musicians, whereas songs such as "Once Again", "Last Man Standing" and "Do I Stand Alone" sound appealing to a wide range of listeners. Did you have a certain balance figured out in which audience you were directing your music at?
SL : I just write. I dont over think it. I am not trying to write for musicians. We just wrote what WE liked and this is what came out. I love melodies and structure. I mean there are SO many great guitar players and instrumental records.. I do MY thing and maybe that separates me from the bunch. I am a fan of guitar music but others do it better. haha
MM : There are many great musicians such as Chad Smith (RHCP), Phil Collen (Def Leppard), Tal Wilkenfeld, and Richard Page taking part in this album. Can you tell us how they ended up playing on your album? 
SL : They are all friends. In some cases ran into Chad somewhere.. asked him, he came in the next night and killed it.. the rest are close old friends. I asked and they came and really added so much to the music. I am very grateful.
MM : It sounds as your singing has grown to have more expression.
SL : I REALLY worked hard as the voice is the hardest instrument. I needed to improve also for LIVE. I dug very deep into my soul for those vocals. CJ , again, really helped here. I need a partner in all this..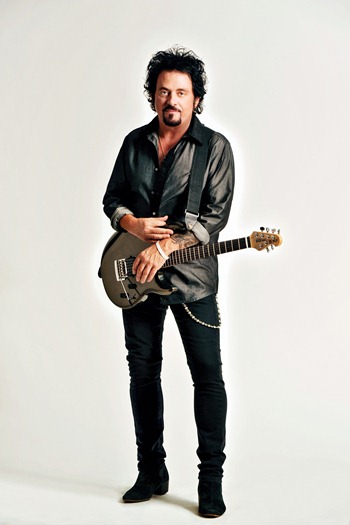 Photo : Rob Shanahan
MM : Your guitar seems to have more warmth and dynamics, while still maintaining a very clear sound.
SL : Organic sounds, passive pickups ( New DiMarzio Transition pickups) Cable straight into a Bogner Ecstasy amp with my new L-III Music man guitar. All reverb and echo or anything was done as a plug in as to NOT disrupt the clean sound, LESS gain more time and more refined playing. Less bullshit fast stuff.. I played from the heart not the mind and tried to play interesting notes and phrases as opposed to super fast flashy stuff. There are guys that just so THAT better so I played to my strong suit. A more mature approach if you will.
MM : Your guitar performance and sound definitely enhances the songs on the album. What is your concept or idea when it comes down to finding the appropriate sound and performance to match each song?
SL : Really it came very naturally and without much thought. I dont OVER think anymore.
MM : Please tell us about each song on the album. How the song came to be, what you feel about each song, and/or any episodes while you recorded that particular song, etc.
SL :
"Judgement Day"
1st song written and funny thing IS the running order of the record is the order in which we wrote and recorded them. Didnt think about it till after but it is what it is. haha One of my faves and tells a dark story of a ' guy' who writes hateful shit on the internet only to find out HE was wrong, It happens. Great opener.
"Creep Motel"
Again.. the internet haters get there just due here. A psycho blues ala Steely Dan but with more balls. Love the sing along chorus. Just cant let my 5 year old sings it at school. haha
"Once Again"
Lost love.. the end of my marriage. A sad song but also the truth. Inspired by Clapton on thins one. Not unlike you look wonderful tonight.. but NOT the same. My oldest daughter told me to never play this song for someone going thru a break up I said wait. I DID go thru that? haha
"Right The Wrong"
My son Trev co wrote and played on this one. That's him on the muted guitar and he also co wrote lyrics and melody.
Just looking at life via TV and social media. SO much is wrong in our world and the young inherit the mistakes.. sadly. Huge production and one bad ass Chad Smith on this one.
"Transition"
Steve Weingart co write this with us. best keyboard solo ever by him. Fun track. Tal on Bass.. my nod to told 70's prog rock ala YES but harder edged, nod to Becko as well.
"Last Man Standing"
My Joe Walsh Tribute. Joe is a pal and also a huge influence as a musician. Loved him and still do. Randy Goodrum co wrote this with us and it a happier more hopeful song in a major  key haha
"Do I Stand Alone"
A straight up rock anthem. About living thru the worst of your life.
"Rest Of The World"
The only cover song on the record. CJ co wrote this one with a guy in Nashville. I wanted a blus cover ala Joe Cocker and shows a blusier side of my singing and playing. a Very commercial song
"Smile"
Such a beautiful melody I dedicate this one to my Mother who passes away 2 years ago.. one take live performance by me and Steve Weingart and CJ messed with the keyboards afterwards and made it into this little mini epic.
MM : Please tell us about the modifications made on the newest version of your signature MUSICMAN LUKE III guitar. What kind of differences will we see and hear, in comparison to the previous models? Why were these changes made?
SL : The body is bigger, DiMarzio non active Transition pick ups and a 10db active boost button on the volume pot.. neat little addition. Love this new version but I still love them all.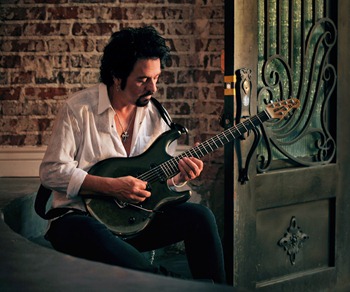 Photo : Rob Shanahan
MM : We hear that you still do your morning practicing. What kind of practicing do you do? 
SL : Everything.. refining, study of improvisational options.. just PLAY and try to get better at at it. haha I have many books in my office I can grab depending on the mood. Right now just getting ready for the 3 massive tours I have this year with Ringo/ Solo and Toto 35th anniversary which will go on for the next 3 years or so..
MM : Many artists are starting to release albums on vinyl again. The "Transition" album will also be release both on CD and vinyl. What's your opinion on this movement of releasing on vinyl again?
SL : YES! Vinyl rocks. I was with Mike Landau last night at dinner and we were talking about all this HE has a new system with turntables and all. it really DOES sound better for so many reasons.. pure fat and real.
MM : Besides the Japan tour with RINGO STARR & HIS ALL STARR BAND, what do you have coming up with TOTO and/or your solo activities?
SL : HUGE year all the way into 2014 and beyond. Ringo FEB, Me solo in Europe March April.. Toto 35th anniversary start end of May thru Sept, Me solo USA then Ringo in the Fall again..repeat 2014. I am very blessed to have so much fun stuff to do!
MM : Please give the Japanese fans a message.
SL : Can't wait to see you in FEB! Great show with Ringo and please enjoy my new record and thanks for 35 years of love and support. HUGE love back.
 
Steve Lukather Official Site : http://www.stevelukather.net/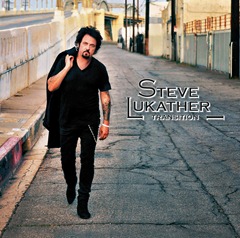 TRANSITION / STEVE LUKATHER
VICP-65104  \ 2,625  Victor Entertainment
1.JUDGEMENT DAY
2.CREEP MOTEL
3.ONCE AGAIN
4.RIGHT THE WRONG
5.TRANSITION
6.LAST MAN STANDING
7.DO I STAND ALONE
8.REST OF THE WORLD
9.SMILE