Derek Sherinian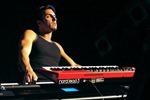 Derek Sherinian is the Ex-DREAM THEATER keyboard player currently playing for BLACK COUTRY COMMUNION formed by Glenn Hughes, Jason Bonham and Joe Bonamassa. Derek is also known for working with Billy Idol and is know releasing an album featuring a hard rock oriented fusion sound.
Participating in the album are Steve Lukather and Simon Philips, who just finished a successful tour to Japan in September as members of TOTO. Steve Stevens, Joe Bonamassa, Tony MacAlpine, Doug Aldrich, and others also take part in the album, all contributing excellent performances.
Derek talks about his album "Oceana" and about the various musicians taking part in the recording.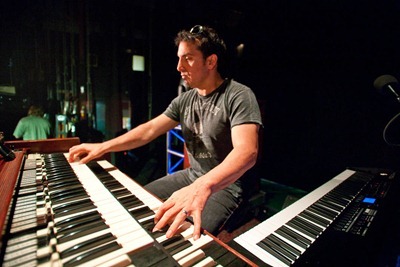 Interview / Text  Mamoru Moriyama
Translation         Tomoko Kikuchi


Muse On Muse : About the album title "OCEANE", please tell us why you chose this title and what the concept/theme of this album is.
Derek Sherinian : Naming the songs and the album is always the final detail for me in making a record. As Simon Phillips and I were in the mastering session, we had to come up with three song titles, and the title of the record so we could send the master to the record company. We looked At all the song titles and agreed that OCEANA would be A cool title, and we could have great imagery in the artwork.
MM : The artwork of album cover is impressive with sinking ship and piano. What was your thoughts on choosing this design?
DS : Yes it was. I thought that the OCEANA could have been a great luxury liner like the TITANIC. At the bottom of the sea floor you will see all of the classic keyboards and synths from the 60's and 70's.
MM : Some amazing guitarists take part in this album, and they are showing great play with you. I could hear their originalities in your songs. Did you consider their parts when you were writing songs?
DS : Yes. Simon and I wrote five songs together. We always imagine Steve Lukather playing the guitar melodies. On the other songs, I wrote with Steve Stevens,Joe Bonamassa and Doug Aldrich.
MM : Many keyboardists write songs with guitar and some instruments, but the keyboards like piano and synthesizer are the main part of the songs. In your works, hard/technical rock fusion guitars feature prominently, and it makes great effect with your keyboard. Please tell us why you work on this type of music with guitarists.
DS : I am a great fan of great electric guitarists. My keyboard style is very influenced by the guitar. I have worked With the very best. It is challenging for me to be able to write a piece for example with Al DiMeola,go into his world and stll maintain my keyboard identity. The the next day play with Zakk Wylde, or Yngwie. All of these great players and more are part of my sound.
MM : Simon Phillips, Jimmy Johnson, and Tony Franklin participate as drummer and bassists. How did you ask them to work with you?
DS : Simon and I started working together on my INERTIA record in 2001. He is a great musical mentor to me. Tony Franklin is the only musician besides myself to play on all seven of my solo records. Jimmy Johnson also played bass on many tracks on my solo records starting as far back as IINERTIA.
MM : Why did you choose Tony Macalpine to play "Five Elements" and "Mercury 7"?
DS : Because Tony is great, and we knew that he could come in and burn on these tracks. It was cool to work with Tony outside The context of Planet X.
MM : The heavy guitar riff and the melody line are impressive in "Five Elemets". Did you write the guitar riff, or did Tony write it? What do you think about the sound balance between the heavy guitar and your beautiful piano solo?
DS : I wrote the heavy riff. I love the contrast in this song, that is what makes it great.
MM : I can hear your distortion sound like guitar with shuffle beat and Tony's heavy and technical solos. The melody is catchy, and all music fans including the ones who don't play the instruments can enjoy the songs. How do you make the technical parts for players and the popular parts for general listeners?
DS : I made a point to make sure that all of the melodies were strong in every song. A lot of people get bored with instrumental music because there is no vocal. You have to overcome that by putting great melodies in there in place of the voice.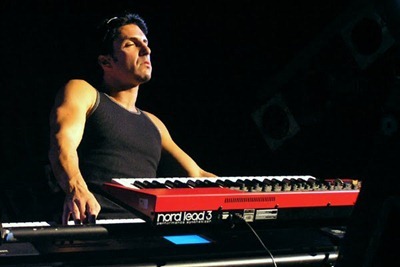 MM : Steve Lukather played in "Mulholland", "Euphoria", and "Seven Sins". Why did you ask him to play these songs?
DS : Steve Lukather is one of the most "lyrical" guitarists around. He makes the melodies sing like a voice.
MM : "Euphoria" is a beautiful/touching song. Your play and Steve Lukather's guitar are very emotional and impressive. Did you write the detail of the song before recording?
DS : Simon and I wrote this song together on the second day of writing. We knew that Luke would be perfect for Euphoria.
MM : Steve Stevens, co-player with Billy Idol, is playing in "Ghost Runner" and "Oceana". What did make you want him to play these songs?
DS : I have been working with Steve for almost 10 years in Billy Idol's band. He co wrote 3 songs on my MYTHOLOGY record in 2004.
MM : Steve Stevens plays the entire song in "Oceana". How did you give him this song first? Did he make his riffs after listening to your demo with chord and melody?
DS : Steve wrote the initial verse chords and the basic structure of the melody. I wrote the chorus chords, and melody. Simon and I tweaked some of Steve's melodies and we wrote the bridge. It was a great collaboration between the three of us. Steve really shines on this track.
MM : Doug Aldrich plays in "El Camino Diablo". His play in this song differs from Whitesnake. Why did you ask him to play this song?
DS : Doug and I became friends last year playing a guitar festival in Italy. I thought that it would be cool to work with him so he came to my studio and we started throwing ideas around. The result was "El Camino Diablo".
MM : Joe Bonamassa plays in "I Heard That". You are playing with him in Black Country Communion. What did you expect him to play this song?
DS : Joe and I have become great friends during the course of BCC. I thought that it woud be great to write a song with him and have him on my record. Joe rarely does instrumental songs, so this is a treat for his fans.
MM : It is difficult to make an album with so many musicians who have their originalities, but your album has a sense of unity and it is really amazing. How did you draw out the merit of those musicians and create a great album?
DS : Because I am a master visionary!! No, just kidding. I have been doing this a long time, and I stay true to the sound that I hear in my head.
MM : Is there any episode or story that impressed you through recording?
DS : Everyone that contributed to the record impressed me. I am very fortunate to have access to such great musicians.
MM : What is your plan from now on? Any tour or recording?
DS : There is talk about a Euro tour in 2011. Stay tuned to dereksherinian.com for details.
MM : Please leave a message for your fans in Japan.
DS : It has been far too long since I have been to Japan. I hope that I can come see you soon. Domo Arigato!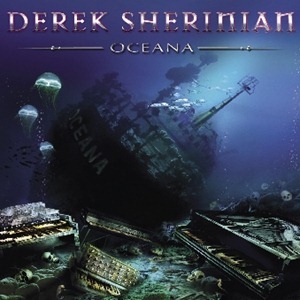 OCEANA / Derek Sherinian
1. Five Elements
   Tony Macalpine
2. Mercury 7
   Tony Macalpine
3. Mulholland
   Steve Lukather
4. Euphoria
   Steve Lukather
5. Ghost Runner 
   Steve Stevens
6. El Camino Diablo
   Doug Aldrich
7. I Heard That
   Joe Bonamassa
8. Seven Sins
   Steve Lukather
9. Oceana
   Steve Stevens
Derek Sherinian Official Site :   http://www.dereksherinian.com