Paul Mahon (THE ANSWER)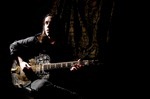 Produced by Grammy nominee producer Chris Frenchie Smith, THE ANSWER have released their 3rd studio album "Revival". Paul Mahon is the guitar player of the band, making up an important part of the band's sound with his thrilling and energetic performances. Paul talked to us about the new album "Revival".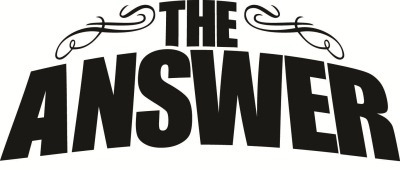 Interview / Text  Mamoru Moriyama
Translation         Tomoko Kikuchi


The band's debut album "Revival" succeeded with selling over 125,000 copies, followed by another successful 2nd album "Everyday Demons" in which the band achieved the status from the fans as the successor for authentic hard rock music. Now after experiencing 2 years on the road as the supporting band for AC/DC, THE ANSWER delivers their new album "Revival" with a larger scale of musicianship that has been reflected in their melodic style of music.
The band's guitar player, Paul Mahon showed on the first two albums a blues oriented style. Added to that, on the new album Paul delivers more dynamics to his guitar style, bringing about a 80s guitar hero feeling as well. Paul talks about taking a step forward into establishing his new guitar style in this interview.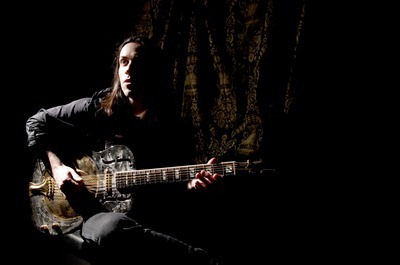 Muse On Muse : We can see footages from 18-months AC/DC Tour before making the new album "Revival" in Live CD/DVD "412 DAYS OF ROCK' N' ROLL". What did you get/learn from AC/DC Tour?
Paul Mahon : We learnt how to captivate an audience for 2hrs,how to pace a show and what type of song the audience will react to in those big arenas.
MM : The guitar play of Aungus Young has his presence and originality, and it is legendary for hard rock guitarist. Did it influence your guitar play or writing music to tour with such a guitarist like him for long term?
PM : Yes it did,angus has always been an influence to some degree and inspired me to play in the first place. His commitment to each note he plays and all the energy he puts into a performance where some of the things I learned about from watching him every night!
MM : What concept did you have during making the new album "Revival"?
PM : Initially the concept was just to make the album we had always wanted to make,there were no stylistic boundaries in place and everyone was encouraged to dream big and experiment. AS the album went along there was a loose theme that maybe this could be the album to revive the rock scene and I think during the writing and recording of the album we rediscovered who the answer were and got even closer to the full expression of what we want musically.
MM : How long did it to make the album?
PM : We spent 5 wks in sonic ranch el paso and 3 wks in Chris frenchie smiths own studio the bubble in austin texas.
MM : What did you think about working with the producer Chris "Frenchie" Smith? Was there any difference in recording between last two albums and this album?
PM : Frenchie was fantastic to work with,he was in young heart attack not that long ago so he understands making records from both the perspective of band and producer. He encouraged us to experiment and to find as many hooks in the songs as possible. He was great with the guitars also and gave me plenty of space and helped me to create my best guitarwork yet! He also brought a great deal of fun to the process and I think the record certainly sounds like we were having a good time!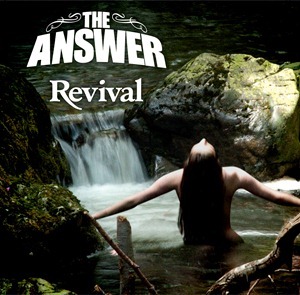 REVIVAL  / THE ANSWER
01) Waste Your Years
02) Use Me
03) Trouble
04) Nowhere Freeway
05) Tornado
06) Vida (I Want You)
07) Caught On The Riverbed
08) Destroy Me
09) New day Rising
10) Can't Remember, Can't Forget
11) One More Revival
12) Lights Are Down
13) Piece By Piece
14) Faith Gone Down
UNIVERSAL MUSIC
MM : This album has many great songs that have impressive melody line and hook. Of course, there are many great songs in previous albums. Previous albums have 70s improvised and jamming atmosphere, and this albums has live sound and steady structure at the same time. How did you make new songs? Any new approach to making songs?
PM : We took more time to write the album than everyday demons and really got into the details of the songs before we even got to the studio. Frenchie was instrumental in helping us find as many hooks as possible in each song whether it was avocal hook or a guitar hook,bass even drums. I think this combined with the powerhouse live machine we have become helped make the songs as good as they are.
MM : I think this album continues the blues based hard rock that attract real core hard rock fans, and it will be widely accepted by more fans like casual rock fans too because it is dynamic and catchy hard rock. How do you feel about this new album?
PM : I think its the album we've always threatened and wanted to make! I think it will attract new fans because of the pop appeal it has but at the same time I think we have been successful in keeping the hard edge of the band,it has its poppy moments but I don't think we have done a slippery when wet!Not that theres anything wrong with slippery when wet!
MM : Your guitar play in this album has groove of guitar riff and melodic/flashy/bluesy guitar solos, and it is amazing. I think you had improvised/bluesy sound in previous albums, in addition, you have melodic/flashy atmosphere that 80s hard rock guitar heroes have in this album. What do you think about this?
PM : First of all thats very nice of you to say as thats exactly what I was trying to achieve! I grew up in the 80's and my heroes were mick mars,jake e lee,kirk hammett,steve vai,joe satriani and evh! It was later on that I got into the bluesier side of things with jimmy page,paul kossoff,leslie west,eric claptonand Srv.The earlier part of the answer called more for the blues side of my playing and people seemed to react to that so I maybe pursued that more on the 1st 2 records,though I was always trying to get the,for want of a better phrase,80's side of my guitar playing in there,there are hints of it on the 1st 2 records but only now have I been able to make the blues and the flash work together for the good of the song.Maybe I'm starting to find my own voice on the guitar.
MM : I can hear big scale and dynamic guitar play in the opening song "Waster Your Years" in this album. Is there any influence by playing in big arenas with AC/DC?
PM : Yes we learnt very quickly which of our songs translated well in the big arenas,those big open chords in the chorus work in the arenas!!!But What really makes that song tick is the jump from the sparse verse to the riffy prechorus and then opens out fully for chorus.I learnt how that works from watching back in black every night!
MM : In the next song "Use Me", I can hear the development of guitar play that matches to the song. Not only this song, but also other guitar solos in this album are well-balanced with live energy and structured parts. Do you improvise your solo? or planning the structure before playing? Please tell us how you make guitar solos.
PM : I write guitar solo's each and everyway you can imagine. Some solo's are improvised and then refined,for example use me was improvised over a few takes,as was revival,waste your tears and trouble. Vida and caught on the riverbed were something I heard in my head and worked to get out on the guitar. Solo's like destroy me,nowhere freeway,newday rising and cant remember cant forget were worked out note for note before recording,in this instance I will loop the solo section and sing stuff over the top and then work it out on the guitar.
MM : "Destroy Me" has cool development and impressive guitar phrase. I thought it was new aspect of the band that I could not hear from previous albums of The Answer. How do you feel about this song?
PM : Yes I think its a new step forward for the band,I really like the tonality of the verse,its a kinda phrygian dominant thing. I like the development of the song and the orchestral nature of it with the mellotron.I had fun doing the intro,its a nod to steve howe and the intro of roundabout with the reverse reverb and stuff.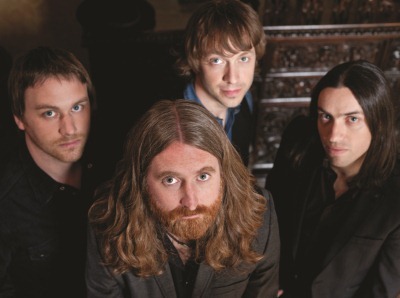 MM : The main part of song is rhythm guitar. What do you keep in your mind when you make guitar riff and think ensemble of the band?
PM : Initially I'm just looking for a cool riff or rhythm and sometimes it just develops naturally from there.What I have started doing differently on this album is when I have a riff or progression I'll start singing melodies over it,they may have nothing to do with the final vocal,but I find by doing that I can develop the riff into a song and take it somewhere more interesting and it doesn't just sound like a collection of riffs. I used to play drums and record and engineer r stuff at demo level so when I get a structure together I do start to think of the bigger ensemble picture,songs like cant remember cant forget,nowhere freeway and trouble came together in this way and then it was  matter of cormac doing his thing and we would all rearrange the songs a little.On the other songs some will suggest overdubs just by the type of song and then there are some cool discoveries in the studio like the beginning of vida and verses of lights are down.
MM : I can hear your hard/dynamic guitar sound in this album as usual. What is your concept of making guitar sound? How do you invent guitar sound?
PM : It starts very simple,just a les paul and a marshall,an overdrive for solo's,a delay,phaser and wah. Thats my greenwich meridian.There are lots of possible combinations within this. But my 1st thing is to get a cool rhythm sound happening, similar to acdc but with just a little more dirt. On this album frenchie brought in his knowledge of guitar alchemy and taught me more about volume pedals and delays,this allowed me to create some more unique sounds on stuff like vida,destroy me and lights r down though there are touches throughout the album.
MM : What kind of guitars/amps/effectors did you use in this album?
PM : I was spoiled with guitars and amps on this record,sonic ranch has a great selection. The main amps were a soldano head,I'm not sure of the model,think its similar to the one warren haynes uses.A little watkins dominator,a fender harvard, a marshall plexi,vox ac30,mesa boogie dual rec and a bogner uberschall.90% of the guitar solo's were recorded through frenchies marshall bluesbreaker combo with a klon centaur overdrive. Guitarwise I had my 2 les pauls,a gibson futura that belonged to billy gibbons,an fender esquire that once belonged to srv, a 70's strat, a beautiful 335,frenchie had 2 vos les pauls named chocolate cherry and cherry cherry that I used a lot and his gretsch. I  experimented with a volume pedal to shape a lot of textural sounds with my trusty boss dd3,evh phaser,crybaby wah and vintage flangers.
MM : What kind of guitar string and pick do you use?
PM : I use ernie ball strings,the gauge depends on the tuning,if its drop d or open g I go 11-52,if its standard tuning I use 11-48.I use dunlop tortes 1mm. I tried jazz3s but they move too much in my hand when I run around the stage!Jazz3 els are good though.
MM : What is the plan of the band from now on?
PM : The album is being released in oct and then we hit the road so lots of touring for the next year.
MM : Please leave a message for your fans in Japan.
PM : Thanks very much for all the support you have given us through the years,thanks for your patience waiting on the new record which I hope you all like!Japan is a country that is very close to our hearts,it has incredible cuisine,style and culture!And the best motorbikes! The music fans are some of the most knowledgeable and supportive in the world!We would like to offer our love and support to everyone in japan and let you know we were thinking of you during the recent disaster,we would like to help in some way and look forward to coming back to japan very soon to play! Arigato!!!!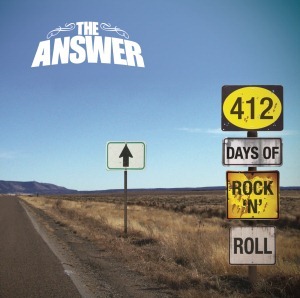 412 DAYS OF ROCK N ROLL / THE ANSWER
DVD
01) TONIGHT (live in Houston)
02) ON & ON (live in Houston)
03) DEMON EYES (live in Dallas)
04) TOO FAR GONE (live in Dallas)
05) COMFORT ZONE (live in Dallas)
06) COME FOLLOW ME (live in Belfast)
07) WALKIN' MAT (live in Belfast)
08) UNDER THE SKY (live in Belfast)
09) PREACHIN' (live in Belfast)
CD 
01) TONIGHT (live in Houston)
02) ON & ON (live in Houston)
03) DEMON EYES (live in Dallas)
04) TOO FAR GONE (live in Dallas)
05) COMFORT ZONE (live in Dallas)
06) COME FOLLOW ME (live in Belfast)
07) WALKIN' MAT (live in Belfast)
08) UNDER THE SKY (live in Belfast)
09) PREACHIN' (live in Belfast)
10) KEEP BELIEVIN'(live in Belfast)
11) WHY'D YOU CHANGE YOUR MIND (live in Belfast)
10) ROCK 'N' ROLL OUTLAW
11) FOOLED ME (Demo)
The Promo videos:
Keep Believin
Never Too Late
Under the Sky
Come Follow Me
Be What You Want
On And On
Tonight
Comfort Zone
Rock n Roll Outlaw
UNIVERSAL MUSIC