Joey Tempest (EUROPE)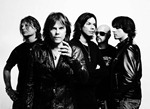 EUROPE will be releasing its 3rd live album since the reunion, "LIVE AT SHEPHERD'S BUSH, LONDON". We asked frontman and main songwriter, Joey Tempest about the latest release.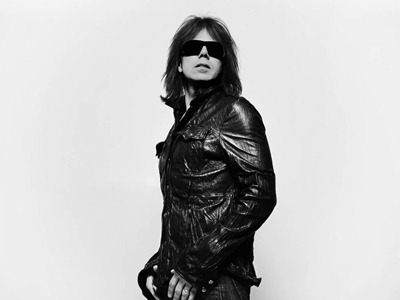 Interview / Text    Mamoru Moriyama
Translation           Tomoko Kikuchi


EUROPE will be releasing its 3rd live album since the reunion, "LIVE AT SHEPHERD'S BUSH, LONDON".
EUROPE is known from the 80s for its success with the mega-hit album "THE FINAL COUNTDOWN", selling 6.5 million copies. Nevertheless, guitar player John Norum decided to leave the band at its peak due to the band's music changing to a more pop oriented style. The band recruited Kee Marcello as the new guitarist and went on to release "OUT OF THIS WORLD" and "PRISONERS IN PARADISE" which were both quality rock albums, but the band literally ended up splitting after that.
On Dec. 31, 1999, the band re-united for a one-time millennium show. In 2004, EUROPE officially reunited with John Norum on guitar, releasing "START FROM THE DARK". The reunited EUROPE portrayed a more heavy and dark style of music, surprising many of their long time fans from the 80s. Nevertheless, the band did not plan to rehash any of its old music and went on to release "SECRET SOCIETY" in 2006 and "LAST LOOK AT EDEN" in 2009, continuing with their newly developed post-reunion style. Gradually, the old fans realized the catchy lines and melodic essences within the new heavy style, also bringing a new fan base especially in Sweden among younger generations, thus establishing and justifying the new EUROPE sound.
We were able to talk to Joey Tempest, frontman and main songwriter of the band, regarding the new album.
Muse On Muse : "LIVE! AT SHEPHERD'S BUSH, LONDON" is the 3rd live album released after the reunion. Would you tell us what made you decide to release the new live album?
Joey Tempest : We'd done a lot of gigs since the last dvd and felt we were progressing as a band. Getting pretty good at our job. It was time!
MM : Can you tell us why you chose London for recording?
JT : We looked at a couple of other alternatives. Warsaw being one of them. London was a natural choice in the end. A rock city where we know how everything works. It just happened.
MM : How did the recording go? I suppose the band could perform live naturally as you have done this before, could you tell us how it was? Do you have any stories about the day of the recording?
JT : It gets very intense on a day like that. It's a "loaded" atmosphere. 15 cameras rolling. You know you have to make it matter. But its a great band so we ride a lot on experience. It turned out to be a pretty good gig though.
MM : What kind of concept did you have when you chose the set-list for this live album? It must have been very hard to choose well-balanced mix of the songs for the live show, because you have many hit songs to choose from, also you keep creating wonderful songs after the reunion.
JT : We wanted to make it slightly different from the last dvd and also throw some surprises in there. Like the new song DOGHOUSE and Norums tribute to Gary Moore. And of course throw in the old classics. Who knows in a few years when we do the next dvd some of those older big tracks may not be in the set-list anymore………
MM : For this tour, how many songs did you prepare in advance during rehearsals? Do you decide the set-list on the actual day of each live show during the tour?
JT : We always decide the set-list on the day. Sometimes just a few minutes before the gig. It messes our crew about a bit cause they want to be prepared, but we do things the way we do things……
MM : After the reunion, you released a live album "LIVE FROM THE DARK" in 2006. And it has been 5 years since. I guess the band is strengthened compare to 5 years ago. How do you feel about it?
JT : Yes indeed. And like i've always said – One day this band is going to amount to something special.
MM : When you reunited and released the album "Start from the Dark", fans from 1980s seemed a little confused with the hard music. This was because they expected re-creation of 80s. However your new music after the reunion is understood and accepted by them through songs like "Secret Society" and "Last Look At Eden", and now you are capturing new generation of fans. Listening to the live, the music after the reunion compare favorably with the music before, and it stands out in the live show. Could you tell us how you feel about these?
JT : It's been a long road. We've done things the hard way. However, today it seems like the fans have caught up with us and accepted our new start and that we always want to push the limits. But It aint over yet. just wait till the next record.
MM : I think you have to have hit songs of your band for the set-list, but some of the songs you must have played hundreds of thousands of times. Do you do anything to keep your mind fresh when you play those hit songs? For example, in the 80s you used to play "SUPERSTITIOUS" or "Rock The Night" almost as it is on the album, but recently there are different variations when you play at shows.
JT : We just improvise a bit so we dont get bored. I'ts something you can do when you've done as many gigs as we have……
MM : The opening track for the live "Prelude" which is included in the live album "LAST LOOK AT EDEN" starts with a symphonic introduction. The introduction is effective at live shows. When producing the album "LAST LOOK AT EDEN", did you have a consciousness that it can be the song for opening track?
JT : Towards the end of the recording, when we started the mixing process, it started to become the obvious choice for an opening track. We didn't know from the beginning though.
MM : This album contains "The Loner" by Gary Moore. Does his music as well as his guitar have any influence on your music through John Norum?
JT : John played me all of Garys records in the early days. I also liked him as a song writer. He wrote some good stuff which I'm sure influenced some of our songs. Treated bad again from WOT springs to mind. It has a clear Gary influence.
MM : You are performing with your fabulous singing voice in this album as always. Is there any secret to keep that voice as a vocalist?
JT : There's only one rule that a singer needs to stick to if he wants to keep his voice. No alcohol before a show. After the show….another story…
MM : Vocalists take special care of throat and health during a tour or recordings, don't they? How do you look after your condition? Also what do you do to warm up your throat on the day you perform live?
JT : Just try to get some sleep and stay away from the dutch courage as much as possible.
MM : You play the guitar at shows. Do you also work on guitar riff and melody on the guitar solo part? If so, which songs have you worked on?
JT : These days I mostly write on guitar. Sometimes I come up with a melody line for the solo part. If Norum likes it he sometimes uses some of it. but he's a really natural and  tasteful guitar player. He always comes up with the right stuff himself.
MM : Do you write songs during the tour?
JT : I usually like to separate touring and writing. I do tend to collect lyric ideas and perhaps a riff or two on tour. However, I normally go in to writing mode after the tourings done. I lock myself up in a rehearsal place in London and let it rip day after day, till I get something i like hearing over and over again. Then chances are someone else will like it as well. Or We meet up in Stockholm and jam on ideas all of us together. Songs like Only Young Twice and Run With The Angels came up that way. I really like those songs.
MM : Since your debut, you have been writing songs as a song writer. What is the tip to maintain your imagination? To be creative like you, what would it take?
JT : Lock yourself up in some rehersal place and let it rip day after day, till you get something you like hearing over and over again. Then chances are someone else will like it as well.
MM : Live albums from before the reunion which is not released today, such as "EUROPE IN AMERICA" "Perfect Live 1987", is there any plan of releasing them once again?
JT : Dont think so. We've got such good stuff on the go right now. The book/cd/dvd "Live Look At Eden" and the dvd "Live at Shepherds bush".
MM : Your band will be recording a new album which will be released in April 2012, have you already decided the concept or the direction of the album?
JT : It will be something different again. We like to keep our audience riveted. We always said there is a hell of a straight forward "rock" album left to do. It will be passionate. Thats for sure.
MM : You will use a producer Kevin Shirley for next album, what is the reason of the choice?
JT : He's got the right stuff. All that experience! What a sound he created on Bonamassas Ballad of John Henry. Amazing! He will know how to handle a bunch of rock-heads like ourselves.
MM : Please give me a message to your fans in Japan.
JT : Amazing! From the start you've been there for us. We're there for you………..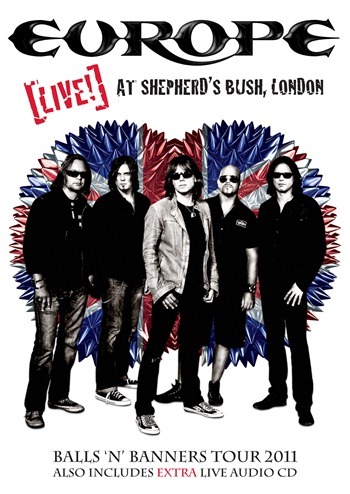 LIVE! AT SHEPHERD'S BUSH, LONDON
<DVD>
1. LAST LOOK AT EDEN 
2. THE BEAST 
3. ROCK THE NIGHT 
4. SCREAM OF ANGER 
5. NO STONE UNTURNED 
6. CARRIE 
7. THE GETAWAY PLAN 
8. GUITAR FEATURE – THE LONER 
9. SEVENTH SIGN 
10.NEW LOVE IN TOWN 
11.LOVE IS NOT THE ENEMY 
12.MORE THAN MEETS THE EYE 
13.DRUM FEATURE – WILLIAM TELL OVERTURE 
14.ALWAYS THE PRETENDERS 
15.START FROM THE DARK 
16.SUPERSTITIOUS 
17.DOGHOUSE 
18.THE FINAL COUNTDOWN
Live At Stockholm ice stadium "Hovet" 2009.12.28
1.LAST LOOK AT EDEN 
2.LOVE IS NOT THE ENEMY 
3.SUPERSTITIOUS 
4.GONNA GET READY 
5.SCREAM OF ANGER 
6.NO STONE UNTURNED 
7.NEW LOVE IN TOWN 
8.THE BEAST
Live At Grona Lund Amusument Park 2010.09.17
1.LAST LOOK AT EDEN 
2.GUITAR FEATURE 
3.SEVENTH SIGN 
4.START FROM THE DARK
MUSIC VIDEOS
1.LAST LOOK AT EDEN 
2.NEW LOVE IN TOWN
<CD>
1. PRELUDE 
2. LAST LOOK AT EDEN 
3. THE BEAST 
4. ROCK THE NIGHT 
5. SCREAM OF ANGER 
6. NO STONE UNTURNED 
7. CARRIE 
8. THE GETAWAY PLAN 
9. SEVENTH SIGN 
10.NEW LOVE IN TOWN 
11.LOVE IS NOT THE ENEMY 
12.MORE THAN MEETS THE EYE 
13.ALWAYS THE PRETENDERS 
14.START FROM THE DARK 
15.SUPERSTITIOUS 
16.THE FINAL COUNTDOWN
(VICTOR ENTERTAINMENT)