Steve Lukather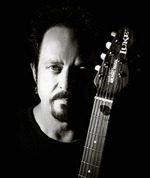 PHOTOGRAPH BY ASH NEWELL
Steve Lukather is currently back with the re-united TOTO, scheduled for a Japan tour in September, 2011. Steve Lukather talks about the new best of TOTO album, as well as about playing guitar, his music, and other topics.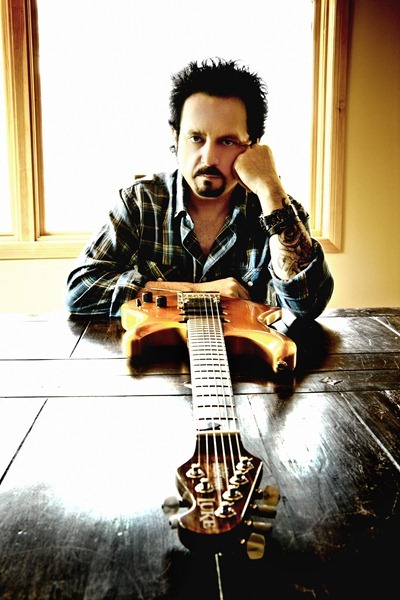 Interview/Text                     Mamoru Moriyama
Translation                         Tomoko Kikuchi
Photographs                        Carey Brandon, Ash Newell
Steve Lukather has been well known for recording with various artists on numerous albums, as well as being a member of the legendary band TOTO. TOTO has left its name in the history of modern music, winning a Grammy with the "IV" album in 1982. Steve Lukather's rock-oriented emotional guitar performance has been a core to the music of TOTO, fascinating countless music fans and guitar players all around the world.
 
TOTO broke up in 2008, but re-united in 2010 in an effort to benefit the band's bass player, Mike Porcaro, who was diagnosed with ALS. Steve Lukather, who currently leads the re-united TOTO, talks about the new best of TOTO album released in May. Still fascinating millions of Luke fans around the world, Steve Lukather gives his insights on playing guitar and his music.
TOTO  "IN THE BLINK OF AN EYE 1977-2011"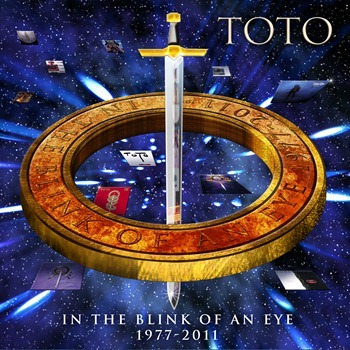 Muse On Muse : At first, please tell me about TOTO the best album "In the Blink of An Eye 1977-2011" which was released on May 10th in Japan.  Your fans consider that it is a special album because you selected the songs, and it is with comments from you and the other members from TOTO. How was this album released? Is there any story behind the album?
Steve Lukather : I was in NYC playing at the Blue note with Bill Evans, Keith Carlock, Will Lee, and Steve Weingart, our side project 'Toxic Monkey" And my dear old friend Charles Mikami ( Chuck san) from Sony Japan was there and we met for lunch as old friends do. I started talking about the Toto reunion tour in Japan to help Mike Porcaro, and us.. and thought MAYBE a new bst of with songs WE pick and aside from the real obvious HITS we must put on there, some more band written songs to help Mike $ wise and maybe educate the casual person into the other parts of Toto's music history besides the hits.  It was pretty much Chuck san and Me putting it all together. I came up with the title. It SHOULD be 1977-2012 for the 35th anniversary, cant even BELIEVE THAT .. but 34 now. haha
MM : Did you have any concepts about selecting songs for this album? It seems difficult to select because TOTO has many great songs.
SL : I wanted to have more band written songs and some music from the members that are now touring, which is mostly my high school friends and family. THIS has been the best part of it all. Rather bittersweet as Mike Porcaro is so ill with ALS… It is hard to pick from so many records and so many years. I tried to NOT pick the obvious ones aside from the hits or songs that have been on the many other 'best of's".
MM : Which song from this album do you have emotional attachment most? and why?
SL : Perhaps Wings of Time. It was a band song and Jeff and Mike are part of it and the words mean alot.. a song that a casual fan would not know but a personal favorite of mine.
MM : Is the setlist for the reunion show in September in Japan going to be mainly from this best album?
SL : Well we HAVE to play the hits and we are doing that BUT there are some surprises . The band has NEVER sounded better. We are on FIRE and excited to come to Japan and Europe and South America over the next few months.!!
MM : Do you have a plan to record TOTO Reunion Tour and release live CD/DVD?
SL : Yes, we are filming and recording in Italy this summer at a castle, 10,000 people.. gonna be killer and for a worldwide release!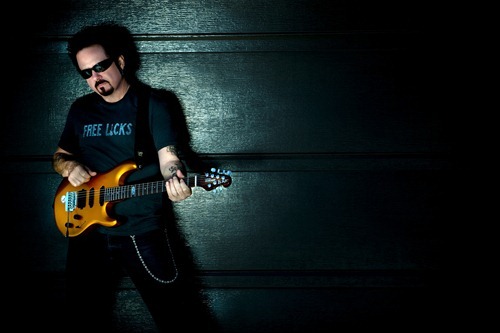 Guitar Play,  Songwriting
MM : Second, let me ask you about your guitar play and songwriting. So many fans from all over the world admire you as top guitarist.
SL : Ok. haha
MM : You are the first guitarist who plays with emotional/passionate rock feeling, intellectual/cool phrasing, and advanced techniques. The original play style has been admired by many guitarists and music fans. How did you create the originality?
SL : Really? I thought I was rather forgotten these days.. all the young shredders and all. I LOVE all that stuff.. the truth be told I have been REALLY practicing, I changed ALL my gear and I am in a fill 're-invention mode". I think people will be very surprised by the "NEW Luke san"!! I have been working VERY hard. It is a never ending work in progress. I lost myself for a few years in a haze of booze and internal pain.. so much I cant write. BUT I am healthy and have ben for almost 2 years, My whole LIFE has started again. I feel great and I am playing better than I ever have. So I guess YOU guys be the judge.. I am sorry I lost my way. 35 YEARS on the road can do that to a man.. I am not a unique story BUT the good news I am BACK 1000% !
MM : Your guitar sound also influences many guitarists, and it is their goal to make excellent sound as you do. Do you have any concept or image to set up the amp and the effect when you make the sound from drive to clean tone? How do you make the sound close to your image?
SL : I am in Total rebirth in this area. I am playing thru 2 Bogner extacy amps, a new stomp box ONLY pedal board of which I use very little.. NO racks or digital stuff.. I hate it now.. VERY organic sound, not too fuzzy and overdriven, No fuzz boxes etc.. I have a tube screamer but I dont even use it anymore.. New LUKE III Music man guitar that are VERY different. You will see. I am still working on the proto types BUT I will have it for this upcoming tour!
By the way, I used my old Valley Arts ROBOT guitar. I have the ONLY REAL ONE!! SOME A**hole IN JAPAN ARE SELLING FAKE ONES WITHOUT MY PERMISSION mnor am I getting paid!! Fakes and should be illegal but I cannot do anything about at is Japanese law is different than USA.
MM : There are many guitarists who can play tricky shred guitar now, but I think there are less guitarists whose sound have convincible presence like you, Jeff Beck, Eddie Van Halen, and Gary Moore. What should we learn and practice to make that kind of sound?
SL : I am not worthy to be mentioned in the same breath as the people you mentioned, I LOVE there sound , in many cases are or were friends.. I am a guitar fan as well remember. haha I love the shredder kids and the guys that INVENTED it. They are my friends in many cases as well.
MM : Is there any guitarists who catch your attention in the new generation?
SL : I like anyone who is a great player in EVERY style!
MM : Needless to say, you are one of the best guitarists but you have been making great songs as songwriter. Do you often use your guitar when you make songs? Or any other instruments like piano?
SL : Thanks for the kind words.  I use both the guitar and piano to write.. no particular way, just how I feel that day..
MM : I know it depends on the song, but do you make guitar chords first then decide detailed melody line in the studio? Or do you make detailed melody line before you hit the studio?
SL : Oh it comes in many ways. mostly music first and I hum melodies and a lyric may pop out and I go from there. I co wrote alot cause it makes me finish the songs.
MM : You might have to set the key with the vocalist's range of voice. How do you decide the key when you make instrumental songs? For example, I think there are some choices like Em, Am and Gm in the same song.
SL : No ONE way.. all of them really. If I write for ME , I know my voice so I wrote in that key, for someone else we can easily change the keys.
MM : To become an excellent songwriter like you, what is needed to improve the skill in making song?
SL : Well I have ben doin it my whole life so it all seems 2nd nature to me now. It just comes, a gift if you will. I don't know. I don't want to  figure it out or it may stop haha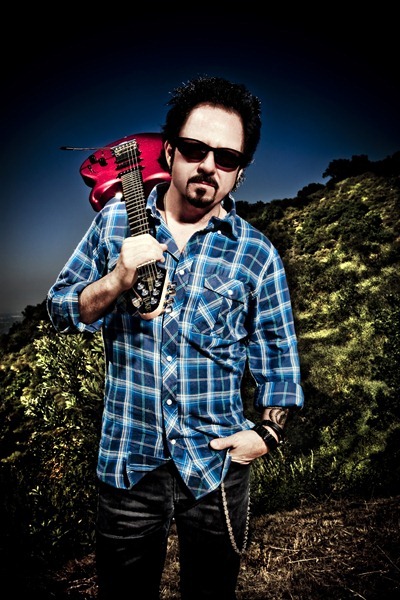 MM : Finally, I would like to ask your plan from now on.
SL : To live life with a smile, be happy and healthy and maybe find love again. I am divorced again, sadly, and I am single, no girlfriend or anything. 4 great kids but i am done there. Just try and make some good music and have fun in life  in a VERY healthy way.
MM : You must be very busy with touring on Steve Lukather Band Tour and TOTO Reunion Tour this year. Do you have any favorite shows that you have a good impression so far?
SL : I am VERY lucky to be so busy and have so many things to do musically in my life. I have the best of BOTH worlds. Not unlike a few people I know like Paul Gilbert who does both solo and band stuff. Plus I do a lot of side projects which keep life interesting.
MM : Do you have any plan after those tours?
SL : I will be on the road til March 2012 so far and then write and record a new solo record. Many other side projects as well. More Toxic Monkey next year, Hopefully Larry Carlton and I will do another record and tour and so many other possibilities right now. I am VERY VERY lucky to be so busy doing so many cool things. Hopefully I will come back to Japan solo. I have a KILLER live band!
MM : At last, please leave a message for Japanese fans who are looking forward to TOTO Reunion Tour. We are praying for Mike Porcaro. Best wishes for his recovery.
SL : I love and respect you all, my dear Japanese friends. We have ben thru so much together. I am still praying for your country to heal and we will bring our music and our love to you very soon!