Francis Dunnery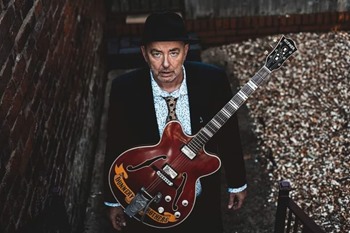 Many rock guitarists notice the blues as the root and foundation of their playing style. Francis Dunnery has released a genuine blues album, "THE BLUES OF TOMBSTONE DUNNERY," that tackles this music head-on, expressing its full range of emotions and striking directly at the listener's heart. Francis Dunnery, who shone as a guitarist and singer in the progressive rock band IT BITES during the 80s, continued to create a multitude of artistic works that added further brilliance to his creativity as a musician after leaving the band. Starting in 2023, he also reignited under the name IT BITES FD, releasing the live work "Live From The Black Country." We asked Francis Dunnery himself about his latest blues album "THE BLUES OF TOMBSTONE DUNNERY" and his and his upcoming plans.
Interview / Text  Mamoru Moriyama
Translation         Hiroshi Takakura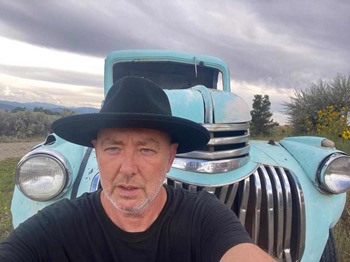 Muse On Muse : "THE BLUES OF TOMBSTONE DUNNERY" is a full-scale blues album. What inspired you to create a work of blues?
Francis Dunnery : I like to learn new things all the time and I wanted to get into the deeper side of the blues. Listening to people like BB King, Albert king, Freddie King I was inspired by their lack of thinking. There was no thought behind what they were playing. They almost seemed to place their trust in something deeper than their mind. It was this spiritual aspect of guitar that I went in search of.
MM : The blues that we hear in this album, whether through your soulful voice or through the guitar played by your fingertips, is very emotional and resonates directly with the listener's heart.
FD : There is no thought in it. I never know what I am going to play next and I never played the same thing twice. I think that's what people will pick up on. It opens a door to the soul.
MM : In the album liner notes, you've expressed gratitude towards great bluesmen like B.B. King, Albert King, Freddie King, Albert Collins, and Robert Johnson to name a few. What influence have you drawn from their blues music?
FD : No thought. No ego.
MM : In this album, you composed, arranged, and produced every song. While blues is a deep, profound genre, are there any specific things you kept in mind while composing, arranging, or playing the blues tracks?
FD : It was very important to stick to the blues templates. You can't change the blues. You have to stick to the blues templates otherwise it's not the blues. Many people have tried to change the blues but as soon as they change it the songs aren't blues anymore. I am always looking to push my boundaries with music but this was one project when I had to stay inside of the templates.
MM : How was the writing session for the lyrics for the blues music?
FD : It was all spontaneous. I just picked blues templates and sang my own lyrics over the, There's nothing new about what I've sang or played. Its all been done before and I respect that immensely. I wasn't trying to change anything. I just wanted to fit in.
MM : Can you tell us about the band members who participated in the album?
FD : I had my friend Phil Beaumont on drums. Phil is usually my tour manager but he wanted to play on the album so I said yes. Paul brown on bass who plays on everything I do. Nigel Hopkins on keyboards and Deanne Blazey on backing vocals. I also had Nick on brass but I've forgotten his last name ha ha
MM : Please tell us about the recording process for this album.
FD : I recorded a lot of demos for the album. I recorded about forty tracks in total and then picked what I thought were the best songs. We recorded a lot of the tracks live and then dubbed the vocals after we had recorded the music live.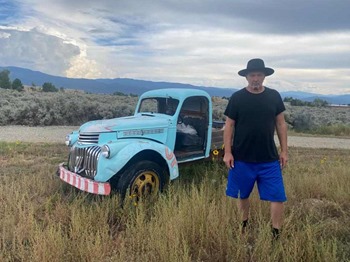 MM : It's mentioned that you didn't use EQ, plugins, or digital enhancements in the recording of this album. Could you share the reason behind this?
FD : I hate the sound of digital plug ins. They ruin music. The kids nowadays don't know any different and most people don't listen to music deeply enough to care. They think that is what music sounds like. But the difference between todays music and the music from the seventies that was recorded on tape, mixed to tape and mastered to vinyl is a whole different experience. Its not just the sound, its the experience. Theres something really wrong with digital, synthetic recording tools. They add something to the music that is not good. Its the difference between orange juice and coca cola.
MM : The sound of your blues guitar playing is fantastic. Could you share details about the guitars, amps, and pedals you used for this album?
FD : and a Laney Lionheart amplifier. I use Laney because they don't have cheap Chinese components, they are good quality.
MM : Could you share the story or inspiration behind each blues song included in the album?
FD :
"She Left Me With The Blues"
Its a classic divorced mans song. When you are a man and you go to court for divorce the Judge always rules heavily against you, The women get everything and the men lose everything.
"Poison Woman"
Men and women fight differently. The man lifts his sword of power and the female ejects her poison. IT also happens in reverse if you get a masculine woman and a feminine man.
"Boys Running Wild"
This is a song about the stupid American government encouraging young girls not to live with the fathers of their children. The single biggest problem that young boys have is an absent father. All the kids end up in jail and the government still supports the policy of supplementing young girls and their babies instead on encouraging the m to stay together and have a father in the home.
"Take Me Joy Away"
This is song about two people trusting each other even though they are different.
"Don't You Cry
people who complain and blame and judge other people always end up miserable. Its the worst thing you can do if you want a nice life. Living in complaint is like drinking your own poison. It destroys your life.
"The Town Where Nobody Feels"
The classic story of the loneliness of being misunderstood. A deep feeling person living in a town of intellectuals.
"Danglin Man"
This is a typical story of Samson and Delilah where the man was once powerful and strong but was reduced to nothing by his love for a woman.
"My Whole Life"
Its a story of a man who has had enough of crying and is ready to live a great life.
"Blues Falling Down Like Weather"
This is a story about depression. You cannot get away from it. Everywhere you go it is there. Like the weather, like the sky, you cannot get away from depression, you have to go through it.
"It's Hard To Love Another Woman"
This is a story about a man who has a women who is better looking than him and can get anyone she wants. About the difficulty of dating a woman who has the eyes of the world.
"The Comeback Boy"
This is everyone's story. Life always delivers difficult times but we always manage to get back up because we don't know what else to do. I was inspired by the masculinity of Donald Trump who has had every government and media person in the USA repeatedly try to destroy him and he just kept going. Even if you don't like Trump you have to admire his tenacity. It is truly inspirational. He never fell, he never allowed anyone to beat him and everything they threw at him just bounced off. I find that inspirational for anyone who has had hard times in life.
"Riding On The Blues Train"
When you accept life as it is the pain goes away. The pains of life are created by our resistance to 'what is'. When you stop resisting the pain goes away.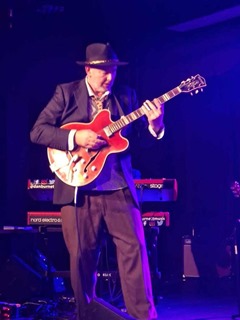 MM : By the way, regarding the album title "THE BLUES OF TOMBSTONE DUNNERY", could you explain why it's "TOMBSTONE DUNNERY" and not "FRANCIS DUNNERY"?
FD : Because when I first left It Bites I wanted a band name, I didn't want to be called Francis Dunnery. The first band name I came up with was 'The Dunnery Tombstone'. And then I thought it would be more poetic to call it 'The Tombstone Dunnery'. And one day my manager saw me with a big black coat and a black hat and he said I looked like a ghost from a movie and should call myself Tombstone Dunnery and we all laughed. He said it was the best blues name for a blues artist he had ever heard. So my band used to make fun of me and call me 'old Tombstone'. So when I came to do my first blues project there was only one name I could call it… Tombstone Dunnery! I love it.
MM : Apart from this work, live albums like "FRANCIS DUNNERY'S IT BITES FD / Live From The Black Country" have been released.
FD : It was a concert I recorded and filmed in January 2023. It is probably the bestt Live versions of the songs that exist. It's very good.
MM : Please tell us your upcoming plans.
FD : I am about to record a brand new It Bites cd. I have chad Wackerman on drums, Paul brown on bass and I am still trying to find a great keyboard player. Brand new It Bites songs. I am recording it at Rockfield studios in Wales. It will be released in January.
MM : Please leave a message for your fans.
FD : Hello fans, I hope you are all happy and healthy and ready for the final third of your life. I will be right there with you. Ha ha
Francis Dunnery official website https://francisdunnery.com/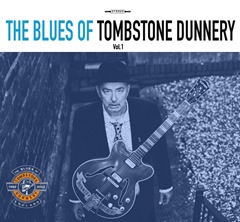 Francis Dunnery  / THE BLUES OF TOMBSTONE DUNNERY
01. She left me with the blues
02. Poison Woman
03. Boys running wild
04. Take my joy away
05. Don't you cry
06. The town where nobody feels
07. Danglin man
08. My whole life
09. Blues falling down like weather
10. It's hard to love another woman
11. The comeback boy
12. Riding on the blues train
https://francisdunnery.com/shop/
https://francisdunnery.bandcamp.com/