Carl Verheyen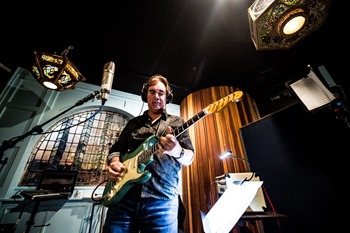 Carl Verheyen's latest album, "RIVERBOAT SKY," has been released. His authentic guitar tones, brought to life by his genuine guitar playing, are truly the marks of a master. Of the eight tracks on this album, seven feature vocals, with the remaining track, "APRIL SURPRISE," being purely instrumental. The core group consists of Carl's familiar tour band: John Mader on drums, Dave Marotta on bass, and Troy Dexter on keys. Additionally, they're joined by Jim Cox on keyboards, Chad Wackerman on drums, and Alex Acuna on percussion. Notably, the title track "RIVERBOAT SKY" features a vocal duet between Carl and Sophia James, who is known from the U.S. audition show, American Idol.
With such a strong lineup, this album showcases Carl's distinctive and comforting vocals and masterful guitar play. Beyond that, it's enriched with spontaneous improvisations from all the instruments. It's a well-balanced work that will appeal to fans who love vocal tracks, as well as those who prefer instrumental numbers.
We had a chance to chat with Carl about his latest album, "RIVERBOAT SKY."
Interview / Text  Mamoru Moriyama
Translation         Hiroshi Takakura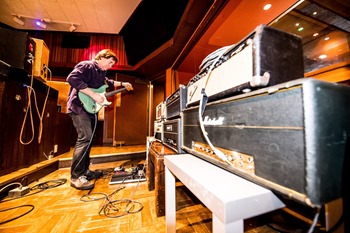 Muse On Muse : The cover art for "RIVERBOAT SKY" is truly breathtaking, featuring a beautiful sky and a boat. Can you tell us about the inspiration behind it?
Carl Verheyen : During the pandemic there was a "grand pause" in the touring schedule for so many of us musicians, and for me it was the perfect time to write, practice and reflect on the next phase of my career. But after about 8 months I felt like I was abandoned downstream and needed to be rescued and returned to my former life. And being "saved" by a big paddlewheel riverboat was the metaphor that I envisioned.
MM : Why did you decide on "RIVERBOAT SKY" as the title for the album?
CV :  That idea came after we had recorded the song. It's one thing as a singer-songwriter piece on acoustic guitar, but it took on a much bigger presence when I added piano, B-3 organ, acoustic guitars, bass, drums, a big guitar solo and 6 background vocalists. It became the centerpiece of the album.
MM : Mark Hornsby is credited once again as the producer alongside you for this album. In what ways has he contributed to the final product?
CV : Mark is a fantastic collaborator in the studio. I come in with multiple ideas for each song and bounce them off him. We end up weaving a tapestry of textures and tones that, in the end provide for "multiple listenings" of the album. He's an excellent vocal producer and mixer too. I find his input to be invaluable in the studio.
MM : Could you introduce the musicians who collaborated with you on this project?
CV : My regular touring band of Dave Marotta on bass, John Mader on drums and the recent addition of Troy Dexter on keyboards and vocals was the core group. But I expanded that lineup with Jim Cox on keyboards, a fantastic musician that has been on every one of my albums since 1988 except for "Atlas Overload." I have a deep musical relationship with drummer Chad Wackerman so I used him on three tunes. And over the years I've worked quite a bit in the studio with percussionist Alex Acuna who you'll remember from Weather Report, one of my favorite groups.
MM : How did the recording process for each song go?
CV : We did the basic tracking over two days at Village Recorder, a big studio here in LA. I like "Studio "D" which is the large room built for Fleetwood Mac. There's a separate piano room, but other than that everyone is out on the main floor with me in the "Stevie Nicks vocal booth" laying down scratch vocals and temporary guitar. Then we moved to Sunset Sound where I had many guitars, amps, pedals and other effects delivered for overdubs. We worked there for 3 days before it was time to sing.
MM : The album delivers an immersive feel, as if the musicians are playing right next to the listener. What techniques did you employ to capture such a live ambiance during recording process?
CV : With the exception of just two of the songs, the band had been playing this music on the road for over a year, so we had our parts worked out well in advance. We knew how good it could sound after many shows in clubs and theaters all around the world. Sonically we were captured by Mark Hornsby's realization that he has a great live band in the studio, so he was inspired to get it "on tape!"
MM : In this album, "APRIL SURPRISE" is only an instrumental, while all other tracks are vocal. With soulful and pleasing vocals and rich instrument improvisations, it seems like the album strikes a balance that appeals to both vocal and instrumental music enthusiasts. Would you agree?
CV : Yes! April Surprise began as a vocal tune, then became an instrumental shuffle. But try as I might with a Texas style shuffle, a Chicago style shuffle or even a straight ahead jazz swing feel, I couldn't get it right. It was only when I found the right groove that the song came alive. I practice playing through difficult chord changes all the time, but for years I've performed live with a trio so nobody ever heard me play over changes. Having a keyboard player in the band opens up so many possibilities.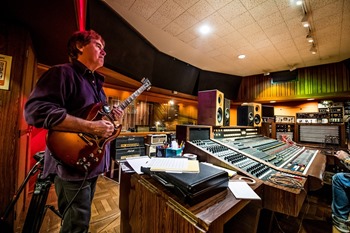 MM : Your guitar work, as always, stands out in the vocal tracks. Riffs in "DRAGONFLY" and "ELECTRIC CHAIR (STUDIO TOUR)" and the solo in "QUEEN BEE" are especially captivating for guitar enthusiasts. Can you discuss some of the highlights and thought processes to build solo phrasing?
CV : With "Dragonfly" and "Riverboat Sky," my goal was to play a simple solo that you could sing along with after one or two listenings. My inspiration came from Eric Clapton's solo on "While My Guitar Gently Weeps" on the Beatles White Album. "Electric Chair," "Queen Bee" and "Spike the Punch" are just improvised in the studio. My thought process when building a solo is based on a theory I read in a Contemporary Keyboard Magazine article by Chick Corea many years ago. He said "the best of us are only truly improvising 30% of the time. The other 70% we are stringing together lines we've worked out." So I have hundreds of lines worked out for every minor, major and dominant key and every possible chord or key of the moment. It's like money in the bank I can draw on when I need it.
MM : "RIVERBOAT SKY" features a beautiful vocal duet between you and Sophia James. How did the collaboration with Sophia come about?
CV : Sophia James is Chad's daughter and I've known her since she was born. Her late mother was Naomi Star, and she was on many of my albums. In fact, Naomi sang a duet with me on the song "Higher Ground" from the Trading 8s album. So I thought it was very fitting that she sang the duet with me on the title track. She is truly a rising star here in the USA, she reached #11 on a big TV singing contest called American Idol.
MM : While 7 out of the 8 tracks are your original compositions, you've also included your cover version of Jackson Browne's "JAMAICA SAY YOU WILL". What was the reason behind this choice?
CV : When I was about 17 years old my uncle told me Jackson was looking for a guitar player. I went to the audition and lugged my Fender Twin amp and my Les Paul up a steep staircase. But when Jackson showed up with the rest of his band he said, "what are you doing here?" I told him I was here for the guitar audition. He said, "we're not looking for a guitar player, we're looking for a piano player." My uncle apparently had the wrong information. But I've always loved that song and now I can look back on that misinformed audition day and laugh about it!
MM : Could you provide some insights or stories behind each of the songs on the album, from their creation to the emotions they convey?
CV :
"SPIKE THE PUNCH"
A fun song about the joy of making, listening and dancing to music.
"DRAGONFLY"
This song is based on a riff I play using my wang bar, and can only be done if you set up the guitar's springs in back the way I do. Check out Carl Verheyen: Whammy Bar Setup Secrets on YouTube.
"ELECTRIC CHAIR (STUDIO TOUR)"
I list 24 Los Angeles recording studios in this song, all of them "Temples of Tone" that I've been working in since 1980. So many of them have closed over the years that I felt like writing a little memorial to them.
"RIVERBOAT SKY"
A song of redemption during the long pandemic years. It's mostly about hope and not giving up.
"APRIL SURPRISE"
I've always been a big Weather Report fan and Joe Zawinul is one of my biggest influences as a composer and soloist. I used Alex Acuna on percussion on this track who played with Joe for many years.
"QUEEN BEE"
I wrote the main riff on my 1960 fender telecaster a few years ago and forgot about it. But I had filmed myself playing it and when I came across the video I decided I should turn it into a song. I call that "delayed inspiration!"
"GENERATIONS"
This is basically a letter to my son.
"JAMAICA SAY YOU WILL"
I came up with the arrangement in Jamaica while attending a friend's wedding down there.
MM : an you tell us about the guitars, amps, and pedals you used for this album?
CV : I had a rare opportunity to buy a Dumble Overdrive Special amplifier for a lot less than they are currently selling for. But after I scored it, it took me a while to "tame the beast!" Eventually it found it's place in my arsenal of 45 amps and became a nice texture against the Marshalls, Fenders, Dr Z, HiWatt and Vox amps I always use. The "Queen Bee" solo is my '68 Gibson ES-335 and "April Surprise" is a Framus Mayfield, which is like an ES-330 with P-90 pickups. I also used my '66 SG and a whole lot of Fender Strats, Telecasters and my LsL Signature Strats.
MM : Apart from your solo work, you've also contributed to film soundtracks and other artists' projects as a session guitarist. How's that side of your works going lately?
CV : I seem to be playing on a lot more records lately, as well as producing them. I enjoy that part of being a musician, too. It's fun to contribute to somebody else's musical vision once in a while.
MM : What are your plans for the near future?
CV : Right now I'm preparing for a BIG record release concert here in LA with some special guests followed by a European tour in April of 2024. I still want to come over to Japan with the band…
MM : Please leave a message for your fans.
CV : I hope you will enjoy the "Riverboat Sky" album! It represents a very enjoyable time in my life when I can wake up each day and work on getting better. I believe you can hear that in the music and I hope it brightens your day!
Carl Verheyen official website  https://carlverheyen.com/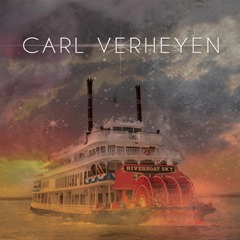 CARL VERHEYEN / RIVERBOAT SKY
1. SPIKE THE PUNCH
2. DRAGONFLY
3. ELECTRIC CHAIR (STUDIO TOUR)
4. RIVERBOAT SKY
5. APRIL SURPRISE
6. QUEEN BEE
7. GENERATIONS
8. JAMAICA SAY YOU WILL