Steve Stevens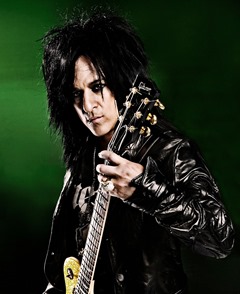 The brand-new EP of Billy Idle "THE CAGE" has been released. Billy's longtime collaborator Steve Stevens hugely contributed to this record as guitarist and co-songwritter. Steve proved his ability as a Rock guitarist and his developed music taste. He still strongly has an aura which he built up through his career working with many top artists including Michael Jackson.
Steve's guitar is famous for bigtunes with Billy like "Rebel Yell" and "White Wedding (part 1)" which both milestones in Rock guitar history. No need to mention that he contributed his beautiful and aggressive guitar to "Top Gun Anthem" which is the theme song for the classic film "Top Gun" in 1986. We can watch countless video which young guitarists cover Steve's tunes on YouTube.
As a solo artist, Steve Stevens has released a Hard-Rock piece "Steve Stevens Atomic Play Boys", Flamenco guitar project "FLAMENCO.A.GO.GO" and the great Rock guitar instrumental album "Memory Crash". Those albums speak to all music lovers how Steve is an expert of songwriting, arrangement, production and of course musician.
Muse On Muse had a chat with Steve himself about Billy Idol's new EP "The Cage", "Top Gun Anthem" and DynlR product "the Steve Stevens Platinum Collection" on Two Notes.
Interview / Text  Mamoru Moriyama
Translation         Hiroshi Takakura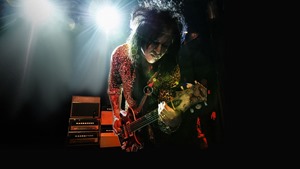 Muse On Muse : Your friend and long-time collaborator Billy Idle has released his brand-new EP "THE CAGE" and you contributed to this project as a producer and a guitarist as usual.
Steve Stevens : My contributions to this record were as guitarist and co songwriter. I was not the producer of the record. The record was produced by Tommy English and Joe Janiak. They were both co-writers as well. It was fantastic to work with these young really talented musicians, the writing was done as we always have, with a bunch of guys sitting around playing acoustic, guitars, and coming up with ideas, we have always felt that the best ideas work well on acoustic guitar and then can be translated to electric and drums.
MM : "Cage" and "Rebel like You" are proper Rock songs which we all can sing along with. Your dynamic guitar riff and the modest guitar solo contains a sense of freedom and the coolness of Rock Guitar.
SS : Rebel like you was actually written about Billy's granddaughter, who came to one of our shows dressed as Billy Idol. It was absolutely an incredible experience to watch his love for his granddaughter. Cage was written as a celebration of breaking out of a year and a half of Covid isolation.
MM : Beautiful piano followed by your guitar sequence phrases go on to the beautiful and melodic guitar solo with emotion on "Running From The Ghost".
SS : "Running From The Ghost", is probably one of the most experimental Billy songs ever. You can't always plan these ideas, you just have to follow where your heart takes you. I think that day we were feeling a very symphonic mood. We almost approached this as if it was an orchestra accompanying us, even though it's all rock 'n' roll instruments.
MM : The ear candy "Miss Nobody" contains groovy bassline and stylish arrangement.
SS : "Miss Nobody" was cowritten with Sam Hollander. It definitely has a bit of a late 70s disco feel to it which is something that we perhaps avoided. I absolutely love this song. I love the story the details and stylistically and harkens back to perhaps a bit of a Rolling Stones feel. I think in my mind I was trying to emulate Ernie Isley who was trying to emulate Jimi Hendrix.
MM : We realize that the chemistry between you and Billy still stays strong after listening the record. Billy's melodies, your guitar and arrangements merged into an artwork of Rock Music then this EP is undoubtedly dedicated to countless Rock people.
SS : I feel that we always try and do what comes to each other naturally obviously after such a long partnership, we can always second-guess each other for me first and foremost is always to play what is best for the song and convey the message of the song.
MM : Billy Idle released 4 track EP called "THE ROADSIDE" in 2021. Didn't you (he) think of releasing these 2 EP as a full album?
SS : Our idea was to get these songs out to the fans as quickly as possible because an album would have taken much longer. We really like the idea that the songs were completed and in the ears of the fans very quickly. We will continue to do and then of course package it as a complete album.
MM : Please tell us about your gears. What guitar, amps, effectors, and pedals did you use for this album?
SS : A great deal of the gear on this record was what was available at Tommy English 's studio. Of course, I brought my signature Knaggs Guitars with me. I have one Steve Stevens Knaggs that has the Jimmy page wiring in it so I can get single coil out of phase just about every sound imaginable out of that one Guitar. Amp wise I use Friedman Amplification Amplifiers. For me whatever does the job and sounds right for the song…in some cases that may be to use plug-ins or to crank up a real world amp to deafening volume. There are no rules as far as I'm concerned.
MM : Two Notes released "The Steve Stevens Platinum Collection". Please tell us about this product.
SS : This is a collection of speaker cabinets I have had in my possession since 1979. Some of these cabinets have appeared on multi-platinum records such as "Rebel Yell" and "Top Gun Anthem" among others. We were able to capture these speaker impulses at Studio 606, which features the very famous Sound City, Neve recording console.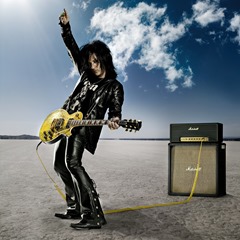 MM : The sequel of the film "Top Gun", "Top Gun: Maverick" has been released 2022 and became a smash hit. Harold Faltermeyer and you won Grammy over the big tune "Top Gun Anthem". I know you got this kind of question for hundred times, but please tell us how this anthem was born for younger generation.
SS : Harold was brought in as the keyboard player for the Billy Idol album. Whiplash smile. Harold approached me one day and told me he was working on the soundtrack for a new film, called "Top Gun", which with star and upcoming actor Tom Cruise. One Saturday after we were finished with the Billy Idol session, Harold put up the master tapes for "Top Gun" and I believe it took us about two or three hours to complete, of course you can never predict the success of these kind of things. I was happy to win a Grammy award, and I felt like I was representing rock 'n' roll.
MM : What gears (guitar, pedals, and amps) did you use for the "Top Gun Anthem"?
SS : All my gear was set up for the Billy Idol album we were working on which was my 67 Marshall 100W plexi amp and guitar wise, it was a Charvel San Dimas…for sustain I used a boss compressor pedal. I still own the amp and guitar. They have served me very well over the years.
MM : People have been covering your guitar play on "Top Gun Anthem" and numerous videos are on YouTube. Have you watched any of them?
SS : I actually try and avoid watching people play my music, I think the only time I will watch is when it's a very, very young person and I try and encourage them. I will say most of the time when I've seen people play what for me is a quite simple progression like "Rebel Yell" they always seem to get it wrong – haha
MM : Please tell us how did you play and record on 2:06 of Top Gun Anthem? Did you add harmonics on fifth fret on 3rd string then used the Floyd Rose whammy bar?
SS : The guitar was equipped with a Floyd Rose whammy bar. I honestly can't remember exactly how I produce the harmonics because I play, so instinctively, even if I listen to it now, sometimes as I was improvising back then I honestly can't remember.
MM : Please tell us about the tribute song to Randy Rhoads "Crazy Train (A Tribute to Randy Rhoads) feat. Steve Stevens" by String Revolution. It's on their YouTube channel ( https://youtu.be/Ffir3iP2dfc ). You played flamenco guitar with your style.
SS : The main reason I agreed to contribute to the track was that I was very happy to see Randy Rhodes inducted into the Rock n Roll Hall of Fame. I knew that Randy was a lover of classical and Flamenco guitar, so I felt he would've appreciated our interpretation…I believe the first time I saw a photograph of Randy was in music life magazine from Japan. He was an absolutely brilliant musician.
MM : Please tell us your thought about the current music business. Streaming took over the industry and how we listen to music has hugely been changed these days.
SS : I honestly don't think about the business of music first and foremost. I have to please myself, and if I make myself happy then hopefully that'll translate to other people. I think it's a huge mistake to try and predict what styles or trends will be. One thing I do love about the Internet is that you have the ability to get your music out to fans without relying on a record label or a massive budget.
MM : We can release tunes on digital format easily these days. Therefore, artists have an opportunity to let the world listen to their music. Please tell us about how Japanese Rock musicians can get their fans and play on a global stage rather than doing everything inside Japan?
SS : I feel that music is a universally understood language obviously artist like Yoshiki have had massive success all over the world. I think that the Internet and sites like YouTube, to give international artists a forum to present the music.
MM : Many fans are looking forward to hearing your solo album or your own projects like ATOMIC PLAYBOYS. Do you have any plans?
SS : In 2022, I really dedicated my energy towards Billy Idol recording and touring. I hope to diversify some of my energies in 2023.
MM : Please leave a message to your fans.
SS : First of all, Japan is my favourite country in the world to visit in the past I spent quite long periods of time they are touring with Himuro. I got to see cities that most western artist never get to see. I love the fact that I always felt safe in Japan, I love the fashion of Japan and the sensibilities of the Japanese people while the large cities are super modern. They were such a respect for the history and traditions. I hope I can return to Japan in 2023 obviously with Covid it has been very difficult to travel. I thank all of my Japanese fans for continuing to support me and my music and to write me.
Steve Stevens official website https://www.stevestevensguitar.com/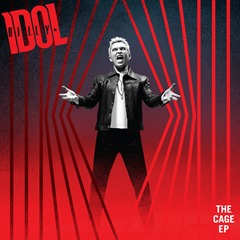 Billy Idol / The Cage EP
1.Cage
2.Running From the Ghost
3.Rebel Like You
4.Miss Nobody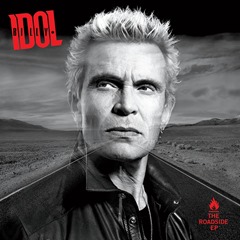 Billy Idol / The Roadside EP
1.Rita Hayworth
2.Bitter Taste
3.U Don't Have To Kiss Me Like That
4.Baby Put Your Clothes Back On