Jamie West-Oram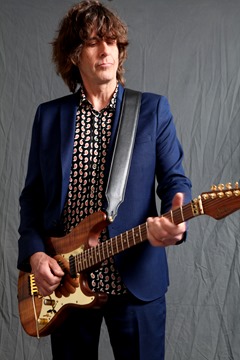 Photo by C. Jansen
There is no need to explain how big the British New Wave Rock movement was. The Fixx was a part of the movement but they had an original style and unique sounds therefore which led cult followers.
The catchy and melancholy vocal of Cy Curnin emphasizes the track produced by Jamie West-Oram. Cy reminds us The Edge from U2 and Andy Summers of the Police. The guitar driven production of The Fixx has had followers not only core intellectual people, but also all music lovers. Their prominent album "Reach the Beach" reached number 8 on Billboard album chart, and the album's 1st single "One Thing Leads to Another" reached #4 on Billboard Hot 100. They have released the brand new album "Every Five Seconds" which consists of the iconic vocal by Cy, diverse guitar sounds by Jamie and the aesthetic deep musical space made the album all killer, no filler. They demonstrated how creative and evolving they still are.
We had a chat with Jamie West-Oram about his musical background, how he built his signature style, how he met The Fixx, and the brand new piece "Every Five Seconds"
Interview / Text  Mamoru Moriyama
Translation         Hiroshi Takakura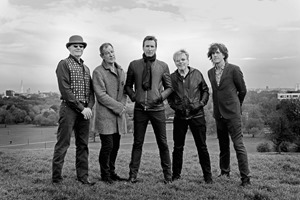 Photo by C. Jansen
Muse On Muse : You played an important role in the big UK New Wave Rock movement in 80s with your unique
style and sound as a guitarist of THE FIXX. Please tell us about your musical background. What
made you to start playing guitar?
Jamie West-Oram : I was the youngest of 4 in a lively household with lots of instruments and records played all day. My father played songs from the 'Great American Songbook' on the piano and loved chords. When he found a chord
that he liked he would stay on it for ages, playing sweeping arpeggios and embellishments freeform. His
enthusiasm was infectious. He had a huge black acoustic steel-string guitar that I would put flat on the floor and try to play when I was very small. The first tune I tried – by ear – was Leadbelly's 'Where Did You Sleep Last Night?'. He also had a banjolele and when I was 9 he taught me some chords. I discovered more by myself and became
unstoppable. Hooked. It was an instrument that he had been given when he was 9. I still have it. A bit later
my brother Stephen bought a Spanish guitar and became proficient on classical pieces by Tárrega, Villa-Lobos and Sor as well as Bach. I played his guitar a lot and learned 'Hey Joe' and started improvising.
MM : Which musicians or guitarists were your influences?
JW : Back to my older brother and sisters…they would buy the latest pop records: Beatles, Stones, Kinks,
Yardbirds, Bob Dylan… One day my brother, Stephen, told me about a loud song with a stammering singer
and said: 'I'm going to buy it!'. He did. It was of course 'My Generation' by The Who. I was 11. I think it
was Pete Townshend's playing as well as the controlled chaos of the track that turned me into a guitar player.
Others influences: Keith Richards, Jeff Beck, Mick Ronson, Jimi Hendrix, Jimmy Nolen, Tom Verlaine,
David Byrne, Neil Young…
MM : You have your signature sound which is colorful and dreamy. Your solid and versatile rhythm guitar is a key of THE FIXX music. How did you build your originality?
JW : When I first joined The Fixx I played a '55 Gibson Les Paul Junior straight into a Marshall – everything on
11. The others liked my playing but kept encouraging me to go for cleaner sounds which I did, reluctantly at
first but I quickly saw the sense of it. I also started experimenting with smaller chords and effects pedals and
this fit better with what Rupert (Greenall, our keyboardist) was doing at the time. Rupert Hine, our producer,
also encouraged this approach. I discovered the joy of experimentation and it was largely due to my
bandmates along with Rupert Hine and Stephen Tayler, his brilliant engineer, that I found my own sonic
identity.
MM : You were in Phillip Rambow's band before you join THE FIXX. Please tell us about the band and that time.
JW : Phillip Rambow: a strong singer and songwriter who could have made it big. Kind of Van Morrison on
amphetamines and acid. (This describes the music rather than his lifestyle!) He had Blair Cunningham on
drums and Dave Cochran on bass, both from Memphis Tennessee. We were based in London and nobody
ever understood what these 2 were saying because of the Tennessee accents. They were wild characters – out
of control but hilarious! Always in trouble, but brilliant players and very nice guys.
The guitarist before me was none other than Mick Ronson. That was a big pair of shoes to fill.
MM : Then you became a member of THE FIXX. Please tell us how you joined the band.
JW : This was in May 1980. They were called The Portraits at that time and were trying to reinvent themselves
from power pop to something far more edgy and experimental. They advertised in "Sounds" music paper. I bought the previous week's edition by mistake but spotted their ad. I called them up and spoke to Charlie who was the bassist back then. He told me they'd auditioned 80 guitarists but had not found the right one. They asked me along. I liked them and they liked me. I didn't really want to be in a band but was looking for people to write with, so I decided to join. I liked their resourcefulness and 'can do' attitude. We rehearsed in a derelict factory in Vauxhall, London. Our power came from a generator that we took turns filling with petrol. The first time I filled it half the petrol spilled down my leg and soaked my jeans. For some reason they started throwing lit matches around and I burst into flames. Adam shouted: 'Lie down!'. I did and they smothered the fire with cushions from the bass drum
which probably saved my life.
The following week they discovered the city mains electricity cables down there under the pavement. I
wasn't there but apparently Adam hammered nails into the cables with the others holding his legs in case he
got electrocuted. He tapped into the mains that way and we had a permanent electricity supply.
We would meet there at 10 o'clock sharp every day, write and rehearse solid and often play a club in the
evening.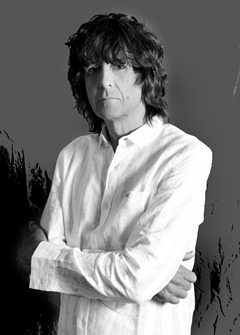 Photo by C. Jansen
MM : : 80s was the time of MTV and the British New Wave Rock was dominating the world. THE FIXX of course was the part of the movement. Please tell us about that time.
JW : Punk had torn everything apart in a great way. I'd just left music college feeling very clever only to find that
all you need is 3 basic chords and a lot of attitude.
Inevitably, a lot of people jumped on that bandwagon and soon something new was needed. Punk had exploded and left a big crater. It was time to fill it. John Lydon soon left The Sex Pistols and started Public Image Ltd. A typically smart move for him. Other post-punk acts in the U.K. such as Magazine, Wire, Cabaret Voltaire and Joy Division still had a raw energy but were experimenting.
We did not really feel part of a movement but we were certainly inspired by those acts and just kept writing,
gigging wherever we could and grabbing opportunities as they came along. Working with Rupert Hine and
Stephen Tayler was a turning point. Rupert Hine and his girlfriend Jeannette Obstoj offered to produce and
direct videos for us. MTV had started up and were desperate for videos. 'Stand Or Fall' went into heavy
rotation. This got us noticed in the USA. We toured the American clubs in a van in late 1982 for a month
while we were halfway through recording 'Reach The Beach'.
In 1983 Reach The Beach came out. We opened up for The Police on their Synchronicity tour. Huge
stadiums. This broke the band in America. We saw ourselves as serious socio-political commentators but
surprisingly we picked up a pop following in addition to our arty intellectual one. It was a great year for us.
MM : What is your perspective about current music scene?
JW : I like The Sleaford Mods because they are straight-ahead and exciting, and they comment incisively on
social and political problems. Hard to think of many other current acts that I like.
I don't understand the appeal of grown men breaking into falsetto and sounding as though they are crying. I
don't understand the appeal of women showing off their complicated vocal expertise and hitting painfully
high notes. I prefer the aggressive side which often involves guitars in low tunings and singers screaming
and sounding as though they are vomiting. But I wouldn't necessarily buy that either.
Production quality is very high these days, but armonic experimentation seems non-existent.
Grime is now the music of the street as punk was back then. Totally different of course. I appreciate it but
can't relate to it; it's for a new generation, not mine. Mind you, The Sleaford Mods combine the intelligent
working class punk attitude and message with Grime. My parents' generation didn't like my music and that
made us like it even more. I don't care for most modern music because to me it sounds a bit lame. Maybe
I'm missing something. Surely we need something exciting and real. Or surreal.
Streaming hasn't been great for most musicians. Record companies may have done well from it, but most
musicians make virtually nothing. Many good musicians have given up and left it to those driven by fame
rather than fortune. This has lowered the overall quality.
MM : Now please tell us about the brand new album of THE FIXX "Every Five Seconds". Your guitar sounds and keyboards by Rupert Greenall are very artistic and create a deep musical world.
What was the goal or concept of this album?
JW : We did not start out with a specific goal apart from wanting to be together, in person, in a rehearsal room, to start the writing process and most of the songs began that way. We let things evolve naturally but were all
very critical of each other's playing and paid forensic attention to arrangements and structures because we
knew that these were amazing songs that deserved maximum care and attention. Thanks for the compliments
on the guitar and keyboard sounds. As always, we were constantly experimenting. Some of the sounds typify
what we are already known for but mostly we were looking to try new things and didn't care whether or not
it sounded 'Fixxy'.
MM : The info says all songs were written by all band members. Please tell us about writing process in detail and how you share roles.
JW : Cy wrote most of the lyrics. He is very prolific. He would often come in with some lines and we would all
dive in and rearrange frantically. Or sometimes one of us would present a riff or chord sequence and he
would look through his archives and go: 'I've got something that fits'. For instance, 'Suspended in Make-Believe' was not started in rehearsals. I came up with the chord sequence and sent it to Cy who added his
vocal part. We then arranged it as a band in a studio as minimally as possible. It's a brilliant piece. Unique
and haunting. Nearly all the songs were written before the pandemic but many of them including
'Suspended in Make Believe' and 'Wake Up' could have been written about that subject. Eerie…
I wrote 'Woman of Flesh and Blood' including most of the lyrics. I arrived at rehearsals and said to the band:
'I'd like to play you a demo of a song I've written'. They said: 'Sing it live instead'. So I did. They all liked
it and helped rearrange it. Cy added some lyrics in the verse B sections. I'd imagined Cy would end up
singing all of it but they persuaded me to sing the verses and on the choruses Cy and I trade lines. He sings
the manic verse B sections. It is a love song to my crazy wife, Bibi! It goes between manic paranoia and
blissful dreaminess. It came out well.
MM : Your signature clean and sharp rhythm guitar can be heard on tunes like "A Life Survived" and "Closer", and it emphasizes the whole track.
JW : 'A Life Survived' was recorded much later, along with 'Lighthouse'. I believe that it is saying: 'Pull your
finger out and make the most of this short life and don't waste it!' but in a much more poetic way of course.
I added the clean and sharp chords quite late in the recording process.
On the other hand my rhythm part in 'Closer' appeared on day one and was always integral. I agree that
these parts are typical of what I'm known for. The vocal part is fast and relentless and to me it mocks
mankind's apathy in the face of urgent issues. Almost a rap. Written early on but just as relevant now as it
was when written.
MM : Take What You Want" has a music video released. Cy Curnin's vocal and dreamy sounds merged together to THE FIXX music.
JW : Dreamy verses and powerful choruses. It drives itself and the challenge was to enhance what was already
there from the start. It's probably the most 'pop' of the whole album but it's a serious song. The arrangement
tricks that we are proud of include the backing vocals and the way the final chorus was approached
harmonically. There is a mainly instrumental 4 bars with no resolve followed by a round of chorus that
resolves to an unexpected Eb chord adding a lot of energy. Then follows a double chorus with no resolve
(building tension) and a final round again resolving to the Eb and staying on it for 7 bars.
MM : Mysterious guitar leads the thrilling structure of "Wake Up".
JW : As mentioned, this could have been written about the pandemic (in my mind) but was actually written before.
It comes across as being about people getting into a routine or rut and being afraid to break out. The verses
are creepy and wistful. The choruses are celebratory and exciting. I was going for a bit of a Duane Eddy
twang in the verses. It doesn't really sound like him but I think it creates a dizzy feeling of vertigo and
works OK. The choruses obviously needed something more powerful but instead of power chords I went for
a skinny jangly part in a high register. The 'seasick' effect is still there.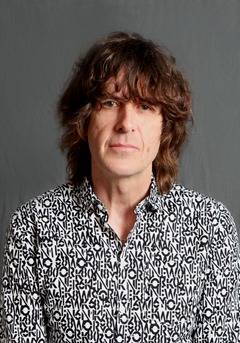 Photo by C. Jansen
MM : Layered rhythm guitar on "LONELY AS A LIGHTHOUSE" contribute to the deep musical
space. Also the guitar melody is compact yet touching.
JW : 'Lighthouse' was written years ago. We recorded it, but were never happy with the result. We played it a few
times live and it went down like a storm every time. So it became a song with a strong cult following. We
decided to have another go. There were some tricks that made it work this time such as a key change
between the 2 verses, the 'proggy' mid-section and the psychedelic coda. Most of the guitar parts were
unchanged from when we first recorded it.
MM : The music of THE FIXX has melodic parts in guitar and keyboards, and they both play chords. What are the important things for you to choose notes to get along with keys?
JW : I'm unusual for an old rocker in that my harmonic knowledge is strong and I have strong relative pitch. I
understand scales and modes and use modes all the time. I'm a total nerd in that way. But I'm not afraid to
throw paint around. In other words I can go from calculation to pure instinct and back again. Rupert is more
instinctive in terms of note selection and that works great, but his technical know-how is absolutely
incredible. He hears a sound in his head and knows exactly how to make it happen. A mad genius. And his
keyboard hooks are priceless.
MM : How about the color of the guitar sounds. How do you keep your presence along with various sounds of the FIXX?
JW : It's all decision-making. Respect the vocal. Rhythm and sound. Leave the right gaps. Create a sound and
play in a register that enhances what is already there and doesn't get in the way of existing parts. Create
contrast. A plain untreated part in one section and then a chorused or driven sound in another section. The
plain part makes the processed part leap out and vice versa. Looking for a guitar part is like digging for
treasure. Finding a strong hook is a wonderful thing.
MM : The powerful and emotional Cy Curnin's vocal can be heard within whole album. Especially his vocal on "Neverending" is a stand out.
JW : I agree. On 'Neverending' he's singing at the top of his range and really straining. We tried lowering the key
and it didn't sound as good. The phrase 'no pain no gain' is certainly relevant to that track. His pain was a
gain for all of us, him included! There is an urgency to the vocal delivery that was missing when we lowered
the key so he just had to suffer through it. But he was the first to agree.
MM : All tracks on the album have its own taste and it proves that THE FIXX is active and it's a current-going band with enormous energy and creative minds. Thoughts on that?
JW : When you've been together for as long as we have you can't afford to churn out something mediocre. We
will always try to surpass what went before and come up with fresh ideas. We are an unusual group of
contrasting personalities that somehow functions. This is a rare thing, and it was worth investing all that
creative energy.
MM : : Please tell us about your gear. What guitar, amps, effectors and pedals did you use for this album?
JW :
Guitars:
1. Custom-made Suhr S-Type made of Koa with EMG pickups. Made for me as a replica of the Koa Schecter Built by John Suhr at Rudy's Guitars in NYC that I bought in 1983 or 84.
2. 1961 Epiphone Olympic.
3. Fender Stratocaster '62 reissue.
4. Musicman Axis Super Sport.
Amps:
1. 2 x Fender Hotrod Devilles for clean stereo parts
2. An original 1962 Vox AC30
Effects:
1. Suhr Koji Comp
2. Ibanez Tube Screamer
3. Suhr Shiba Drive
4. Original 1981 MXR Stereo Chorus. (Bought new the day we signed our first publishing deal).
5. Boss Slicer
6. Boss DD500 delay
MM : How do you re-create various guitar sounds in studio on live stage?
JW :
• I have to use my feet a lot. I leave my amps on a clean sound and use 3 separate drive pedals for different
levels of distortion. Instead of the Tube Screamer I now use a Xotic SL Drive and also a Vemuram Jan Ray
and a 'Golden Eagle' by Fredric.
• I use the chorus, Slicer and Delay as above plus a beautiful-sounding U.A. Starlight Echo Station that
I didn't have when we were recording.
• Recreating recorded parts on stage can be tricky and sometimes involves a compromise but I'll do
my best to make it happen. The 'Stand or Fall' recording for example involved multiple tracking and
that is not possible live but it always goes down well because of the excitement of a live show,
getting the right settings and playing with conviction.
MM : Please tell us your upcoming plans.
JW : We are going to start new writing sessions soon. It will be very experimental.
MM : Please leave a message to fans.
JW : Thank you for staying with us all these years. For the new fans: welcome to The Fixx family. I look forward
to making it back to Japan again soon.
THE FIXX official site  https://www.thefixx.com/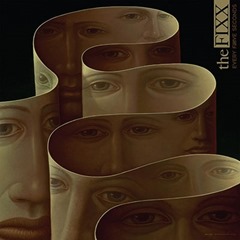 THE FIXX / Every Five Seconds
01.A Life Survived
02.Closer
03.Take What You Want
04.Wake Up
05.Suspended In Make Believe
06.Lonely As A Lighthouse
07.Cold
08.Spell
09.Woman Of Flesh And Blood
10.Neverending