Supersonic Blues Machine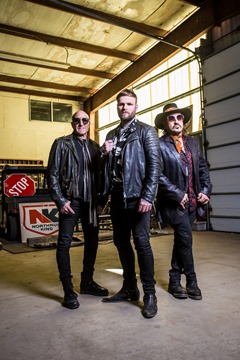 Photo by Enzo Mazzeo
The blues rock project. Supersonic Blues Machine consists of three members, Fabrizio Grossi, Kenny Aronoff and Kris Barras. Fabrizio is not only a bassist of the band, The multi-talented musician writes, produces, arranges and mixes for the band. The veteran drummer Kenny Aronoff is known for numerous works with legends like John Mellencamp, John Fogerty, Jon Bon Jovi, Celine Dion to name a few. The gifted British Blues Rock enthusiast Kris is in charge of guitar/lead vocal of the band.
The Blues Rock experts are famous for their signature Blues Rock sound with unique edges which is backed by their skills and vast experiences. Their sprit and passion for their music attracts their fellow musicians and artists like Billy Gibbons, Robben Ford, Steve Lukather, Walter Trout has worked together for past projects of the band.
Their brand new album "Voodoo Nation" has been released in June, 2022 and the album featured excellent guest guitarists like Sonny Landreth, Kirk Fletcher, Eric Gales, Joe Louis Walker and Ana Popović. The sound of the band is merged together with ones from those collaborators under the Blues Rock spirit.
We had a chat with each members about the new record "Voodoo Nation".
Interview / Text  Mamoru Moriyama
Translation         Hiroshi Takakura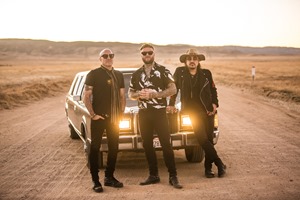 Photo by Enzo Mazzeo
Muse On Muse : Your new album "Voodoo Nation" has been released. It is the third studio album after followed by "Californisoul"(2017), "West of Flushing, South of Frisco"(2016). What was the concept for the album?
Fabrizio Grossi : The concept behind "Voodoo Nation" is a reality check of how we're conducting our lives today. It's kind of haunting since the record was set to be released in June 2020, while if you check out the thematics of the entire album, its "pissed-off-ness", one might get the impression that we wrote it doing the worldwide Covid scare and lockdowns, but we didn't. I guess we weren't as far off with our analysis. Music wise, we wanted to make sure that Kris role and "his own sonic element" were gonna be an integral part of the band's sound, by incorporating his own kind of Blues/Rock influence which is in tune with the great British tradition of Rory Gallagher, Robin Trower, Gary Moore, Clapton etc.
MM : Since Kris became a member of the band, your music started having a sort of British vibe in a good way.
FG : ou are right, but it wasn't because of a happy series of circumstances. This happened because we wanted it, and because we wanted Kris personality to shine through Kenny and I rhythmic antics. Most of my favorite artists have the "British sound" : The Stones, The Beatles, Cream, Led Zeppelin, Pink Floyd, Bowie, and on and on…I'll wear
your comment as a badge of honor.
Kenny Aronoff : I love the British Rock n Roll bands and music from the 60's, 70's, 80's and 90's. It's great having Kris in the band. I personally was influenced by bands and the drummers in those bands. The Rolling Stones, Jimi Hendrix with Mitch Mitchel and Noel Redding from the UK, Cream, The Who, The Beatles, The Kinks, Small Faces, The Animals, The Yardbirds to name a few.
Kris Barras : I think naturally, due to the way I play and sing, everything got a little heavier on this album. I've been influenced by all sorts of guys in the Blues world, but growing up Gary Moore was always my favorite Guitar player. I just loved his energy and passion and that's something that I've always tried to inject in to my playing.
MM : Not only you, Kenny and Kris, but also Serge Simic and Alex Alessandroni are credited. Please tell us about production process in detail.
FG : I generally start working on the next Supersonic's album the day after a new Supersonic Blues Machine album gets released, and Voodoo Nation has been under construction since Californisoul came out. I had a lot songs, and ideas laying around, and …a new singer guitar player fronting the band !!! So we ended up exchanging ideas more than usual, and got the other guys even more engaged than usual, since we wanted to make sure this record will sound like a natural progression for the album and not a re-do of something we've already done. Ideas and parts were exchanged over the net, but ultimately was when Kris came to LA in Jan 2020 that we started recording for real. While it's true that some parts that were created during pre-production ended up making the final tracks, everything was recorded between my studio and Kenny's room next door to mine. Same for the guests, we exchanged ideas but ultimately it was a face to face that documented what you now hear on the album.
MM : How was the recording process?
FG : As I was saying, we used the pre-production sessions as a foundation and we've recorded everything else on top of it once we were all together in LA. Acoustic guitars, some additional keys and backing vocals were recorded after we were done with the big bulk of the tracks, but for the majority. I did most of the tracking, while during drums recording we had some additional help from our to go to guy Dave cuz it's kind of crazy to produce, play and engineer all at the same time. This record is a transition record I would say. We used a bunch of tools that we normally weren't using in our previous records. I did a lot of cut and past and loop creation out of some of Kenny takes , to add that kind of feel and we really went for a more 60's acid punchy fuzzy tone in general , more aggressive and contemporary , and definitely more in tune with the album lyrics.
MM : Please tell us about the mysterious title track "Voodoo Nation"
FG : The general discontent in the world at the moment is so widespread, we get told to embrace it because that's life, but that's not life !. "It's how we're forced to live nowadays. Voodoo Nation refers to the times we're living in, at least here in the States, but I guess the whole world can relate. We're getting to the point where we're living out life almost as Zombies. We're little machines. Voodoo is a very recurrent topic of the American Folklore, specially in the South, I would say Louisiana of all places. On of the most famous Voodoo traits, it's that the witch-shaman-sorcerer (however you wanna call it) was able to turn people brain into mush and basically subjugate the subject, basically turning him/her into a de-facto zombie. We didn't like the term Zombie, since it's too cliche' and been used plenty, so we went for Voodoo which is even more connected to Blues urban legends. Voodoo Nation is us today !
MM : "You and Me" featured King Solomon Hicks and the impressive chorus and drums on the 2nd part of the song reminds me "We Will Rock You" by Queen.
KA : lol yes. I love the amazing perfect Rock n Roll Beat from "We Will Rock You". That beat sounds and is the spirit of Rock n Roll. The song "You and Me" is a soulful powerful and spiritual song to me. It feels like a song I would perform in a stadium, a church or in a recording studio….. which I did.
MM : The groovy bass line and guitar riff on "Coming Thru" sounds like Jimi Hendrix.
FB : Musically and sonically speaking, Jimi is definitely one of the biggest influences for myself and the guys. Jimi was able to capture tonal mayhem, blues sensibility and in your face unapologetic delivery, all combined together. I cannot deny that that was a major influence, not only on this song, but throughout the whole album and even some of our previous works. Lyric wise the song is about being unapologetic when you're trying to accomplish the tasks you need to complete, and you always have someone in the way that either delays, boycott or preclude things to properly happen. That doesn't necessarily mean that people are malicious by standing in your way, never the less, specially in our business , you need to be able to plow thru all red tape, bureaucracy, obstacles and other bullshit that are daily placed in front of you, if you wanna gets things to move forward. And that's in music as much as in life !
MM : You played stunning bend and vibrato guitar towards fantastic slide bar master Sonny Landreth on "8 Ball Lucy". How was the collaboration with him?
KB : Sonny is an incredible player. I first met him at festival in Poland where we were both on the same bill and he just blew me away with his sound and technique. I was very excited to have him as part of this record. Unfortunately due to covid restrictions we couldn't actually get to jam as we wanted during the recording process, but I really feel that his parts helped elevate the song to the next level.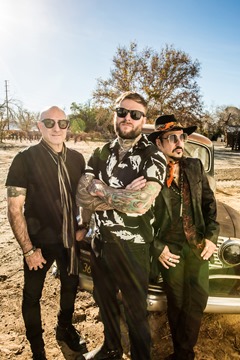 Photo by Enzo Mazzeo
MM : Jamming between Kris and Ana Popovic on the up-tempo rhythm of "Do It Again" sounded awesome.
KA : I love this song. it has a lot of energy.. Rock, funk and blues which is the vibe and spirit of Supersonic Blues Machine. We embrace all these styles of music in this song.
My favorite line up for a Rock n Roll band is 2 guitars, bass, drums, keyboards, background singers and a powerful lead singer. Ana and Kris crush this song.
MM : What are your tips to play drums which fit and emphasize the song?
KA : I always serve the song, the band or the artist.. It's not about ME, it's about the SONG. As a drummer, I listen, I learn (the song), I lead (keep the beat, keep time and groove), but the song is the boss, the leader. The song dictates to me what I should play.
MM : Kris played "Is It All" with Joe Louis Walker, "Devil At The Doorstep" with Eric Gales and "I Will Let Go" with Kirk Fletcher. How were works with those fantastic guitarists?
KB : Joe Louis actually did a few live shows with us in 2019 and he is such a great guy, both personally and as an artist. He's a real Blues legend that has literally seen and done it all so he's a very inspiring guy to be around. Same with Eric Gales. That dude is absolutely incredible. Every time I jam with him or see him perform live, he just blows my mind.I had to try and bring my 'A' game with these guys! Kirk as well, is fantastic player, a real true Blues sound and feel.
MM : As a producer's perspective, What do you want from guest musician who joins Supersonic Blues Machine? And do you do any special thing in production when you have guest musicians?
FG : All the "so called" guests that end up recording with us, are friends and colleagues that we've worked and played with already. Even the new ones, are artists that we admire and were able to connect to at a personal level, so whenever we complete a song featuring a guest, you can bet it's the result of a great time together. As a producer, but mainly as one the Supersonic guys, I only have one requests to whoever ends up playing with us : bring your best game around and play like this was a song of yours. We give total freedom to everyone of our friends. Freedom to show their "Sound" and personality, and that's the result is so pleasant. These are real "artistic" conversation that we're having with our guests on these songs, they are not commercial arrangements between megastars record companies…it's honest, real and fresh. That's the difference !
MM : I know it is difficult to chose one song from the album, but please tell us about the most impressive song of the record?
FG : It's impossible for me to isolate a single track. It's like saying which one of your kids you love the most. They are all special in different ways. For personal reasons/experience I would say that maybe "Devil at the doorstep" is the most autobiographic one, but that's just a personal take. Otherwise I am personally proud and happy of the whole album.
KA : If I have to pic one song I pick 8 Ball Lucy.I love the whole concept and the song structure which constantly evolving.
KB : It's always really difficult to pick a favourite track! I don't think I can single out one favourite song, however there are a few that I am looking forward to playing live. I think the title track 'Voodoo Nation' will be a lot of fun. That riff is going to sound heavy live and there's a lot of room to jam and have fun with the track.
MM : You all do solo works or/and other projects, Please tell us about your upcoming plan of your own projects.
FG : We'll right now we're all focused on promoting Voodoo Nation and booking our come back Tour for 2023. Kenny will be touring with Joe Satriani in the fall, and early in the spring. Kris will be touring EU with his own Kris Barras Band in the beginning of 2023, and between the fall and early spring I'll be touring and recording with my own band Soul Garage Experience, with a bunch of pretty awesome cats like Tash Neil, Mike Miley from the Rival Sons, Corey Glover from Living Colour and many many more, but as I said our focus now is to get everything together for Supersonic to properly tour supporting Voodoo Nation!
KA : Beside looking forward Supersonic Blues Machine tour, my up coming plans are sessions in my recording studio Uncommon Studio's LA, Joe Satriani US tour promoting the last 2 records we recorded, Jimi Irsay Collection shows, speaking events I do for corporations, finishing writing and editing my second book (first book is "Sex Drums Rock 'n' Roll) and a drum book for Hal Leonard.
KB : I've got a big UK tour coming up with the Kris Barras Band, 26 dates throughout the UK, then hopefully in to Europe after that, and ultimately a long long stretch in EU and USA with Supersonic. I'd love to get over to Japan one day too!
MM : Please leave a message to your fans.
FG : Thank you for allowing us to do what we like and play music for you all over the world. That's the biggest sign of love any artist could ever receive and I am so grateful and humbled about it. Please follow us on all of our socials, comment, like us and request us, wen want to play in every possible place about the world that would have us !
KA : Live your life with Purpose, your truth, your passion and your deepest desires!!
KB : Thanks for the continued support! It's been a while since we've been out there rocking with you guys, but know that we miss you and are working very hard on bringing you some live dates very soon!
Supersonic Blues Machine official site https://www.supersonicbluesmachine.com/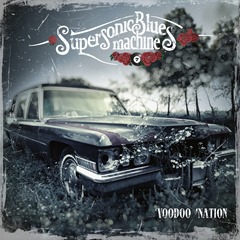 Supersonic Blues Machine / Voodoo Nation
1. Money
2. Too Late
3. Coming thru
4. You And Me (feat. King Solomon Hicks)
5. Get It Done (feat. Josh Smith)
6. 8 Ball Lucy (feat. Sonny Landreth)
7. Devil At The Doorstep (feat. Eric Gales)
8. Is It All (feat. Joe Louis Walker)
9. Do It Again (feat. Ana Popovic)
10. I Will Let Go (feat. Kirk Fletcher)
11. Voodoo Nation
12. All Our Love (feat. Charlie Starr)