Jeff "Skunk" Baxter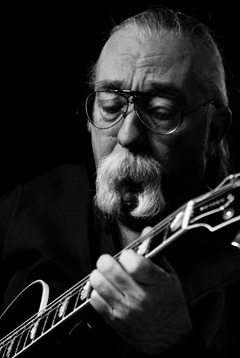 The legendary guitarist Jeff "Skunk" Baxter is famous for not only taking important role in Steely Dan and Doobie Brothers, but also have been working as music producer, composer and session guitarist for tremendous projects and his contribution to the music industry is invaluable.
Jeff has recently released his first solo album "Speed Of Heat" and the record is filled by straightforward Rock feelings and his guitar with sensitive emotion give a life to instrumental tracks. Rich and musical melodies on this album touch the people who are in various different situation.
Jeff "Skunk" Baxter teamed up with his long musical friend C. J. Vanston and wrote, produced and arranged together. The synergy effect of those 2 of greats brought its sound, arrangement and melodies to the next level. This album is not a solo album of guitarist, it is a masterpiece for all music lovers.
We had a chat with the legend himself about the crucial album "Speed Of Heat"
Interview / Text  Mamoru Moriyama
Translation         Hiroshi Takakura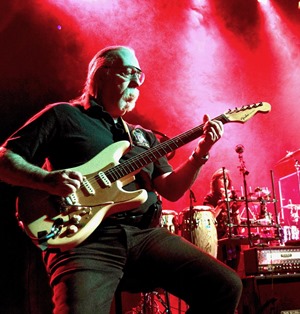 Muse On Muse : You are a legendary musician not only as a guitarist who has worked for Steely Dan, The Doobie Brothers and many others, but also as a great producer. You released your first solo album "Speed of Heat" and its straightforward Rock feeling and the emotional guitar play are really impressive. All tracks have superb melodies and arrangements. This album does not sound like a solo album of a guitarist, it is a masterpiece for all music lovers. What was your aim/goal for this project?
Jeff Baxter : My focus and goal was to create an opportunity to play the guitar utilizing the many styles that I have, explore musical areas and styles that I love and make the best album possible.
MM : C.J. Vanston and yourself produced most of the tunes of this album. What was the background story of you and him working together for the album?
JB : CJ and I have been friends for many years. We have done many recording sessions and live shows together and have enjoyed playing together for a long time. We met in Chicago, IL many years ago doing recording sessions for various producers and we realized that we had a very special ability to work and play music together.
MM : Michael McDonald, Jonny Lang and Clint Black also joined forces with you. How come they joined this project?
JB : Michael, Jonny and Clint are all very good friends and they all expressed a strong interest in working with me.
MM : Please tell us details of the production/recording process for this album.
JB : Most of the album was recorded in CJ Vanston's studio, The Treehouse, in LA, CA over a period of years. We would get together when our schedules permitted to write and record songs and ideas.
MM : The album starts with dynamic Rock instrumental track "Ladies From Hell" which features different types of guitar like Electric, Dobro and others and guitar and keyboard got woven in a good way. The drum marching on the outro is very impressive as well.
JB : This song was created to make a musical tapestry and construct a musical tribute about Scotland, where my ancestors come from and to give the listener a feel for Scottish culture and history. The bagpipes and drums are such an important part of Scottish history and I wanted to showcase them and include them prominently in this piece of music.
MM : You were in Steely Dan in the 70s and you covered "My Old School" in this album with your Rock guitar manner in this album.
JB : I was an original member of Steely Dan and had always wanted to record a much more rocking and stronger version of "My Old School." I used to be the one who sang it when Steely Dan performed live and every time we performed it, the song gained more energy and power. The version on the album is my feeling about how powerful that song can be.
MM : You also covered Steely Dan's "Do It Again" as an instrumental track. The original has vocals but you highlighted the groove and energy of the track without putting vocal sound.
JB : CJ and I liked the song but wanted to see if we could give it a very different interpretation and give me an opportunity to explore more free-form guitar playing.
MM : The beautiful melody and pleasing sounds on "Juliet" and "Giselle" are almost healing and therapeutic.
JB : Both these songs are a product of the exceptional musical communication abilities that CJ and I have between us and our ability to write and compose music as we play. Both songs started with a drum track and we wrote the songs as we played them. I love the clean sound of the Fender Stratocaster and used "Juliet" to showcase what a beautiful voice it can have. When my daughter first listened to "Juliet" she told me, "Daddy, this song sounds like a sunrise to me." That made me smile!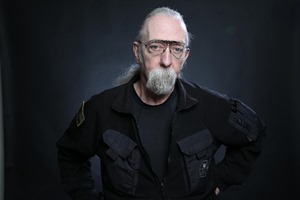 MM : The combination of blues guitar between you and Jonny Lang is well exciting. Please tell us about this number.
JB : Jonny is such a great guitar player and our styles are very different so we wanted to create a song where we could showcase our different styles and intimately interact musically with each other. It really is a musical conversation between two guitar players.
MM : Please tell us the reason why you did "Apache" by Jeremiah Patrick Lordan.
JB : "Apache" has been one of my favorite songs since I first started playing guitar at age 9. It is beautiful, powerful and noble and I wanted to give my best interpretation of how special if feel that song is and to give it the power and majesty that I think is inherent in the song.
MM : Beautiful vocals of Michael McDonald and your emotional guitar work well together on "My Place In The Sun".
JB : Michael and I have been friends ever since he played with us in Steely Dan and I brought him into the Doobie Brothers. We discovered many years ago that we complemented each other musically and I felt that this album would give us the opportunity to demonstrate how special that is and give us the opportunity to explore the special musical relationship that we have.
MM : You covered Amanda McBroom's "The Rose" as a lovely guitar instrumental song. What's the most important thing when you replace vocals with guitar?
JB : One of the first bands I ever listened to was the Ventures. Their special talent was that they always concentrated on giving the best interpretation of any melody they chose to perform, showcasing the melody in it's detail. I think the pedal steel guitar has the most beautiful voice of all the stringed instruments and I feel that the melody of "The Rose" is a perfect opportunity for people to hear how beautiful the pedal steel can be. I did this song also as a tribute to honor my father.
MM : The country Singer-songwriter Clint Black is featured on "Bad Move".
JB : Clint and I have been friends for a very long time and he has always been a big fan of Steely Dan so, in keeping with the philosophy CJ and I applied to all artists that would perform on this album, (Michael, Jonny and Clint), we asked that they would compose with CJ and I and that they would be open to trying something that was very different than the usual style of music that they we identified with. Clint came into the studio and as soon as he had plugged in his guitar, started to play a guitar riff that was very different than anything I had ever heard him play, very Steely Dan. It is the opening guitar riff of the the song "Bad Move" and I feel he provided an exceptional performance and feel and truly demonstrated what a talented musician he is.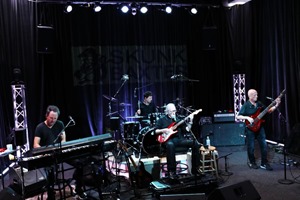 MM : The funky track "Insecurity" has fresh sounds and open minded atmosphere.
JB : This track was one of the first songs CJ and I recorded. It was recorded in 1989. We went back to listen to it some years later as we were constructing "Speed of Heat" and we realized that it still had a strong, funky, R&B feel, still felt fresh, and how much we loved the feel and especially Rick Livingston's vocal performance.
MM : The album ends with hard rock instrumental track "Speed Of Heat" The dynamic guitar sounds stunning.
JB : This song started out as a riff I started playing on the piano. CJ came back into the studio that day and said, "what is that riff?", and I told him it was just an idea that I had. We immediately started to compose a song around that riff and "Speed of Heat" was the result. I wanted to have the opportunity to be as completely free and wild as I could be and not hold back.
MM : Please tell us about your gears. What guitar, amps and pedals did you use for this album?
JB : The main equipment I used was the Boss/Roland ME-10 Guitar Multiple Effects unit, something that I had helped Roland design many years ago and most of the guitar recording was done by patching the ME-10 directly into the recording console. I also used the Roland GR-55 Guitar Synthesizer, the Roland G-5 Fender Stratocaster Modeling Guitar, my Sho-Bud D-10 Super-Pro pedal steel guitar, VGA7 Guitar amplifier-Bedell Acoustic guitars, and a Peavey lap steel, among other things, as well as a number of Roland and Boss products. I have been with Roland for over 45 years and have always been very impressed by their vision and quality for making musical equipment.
MM : The whole album is well produced in small detail and listeners can feel your arrangement/production skill as a musician through this album. What have you been doing/practicing to be a great musician, producer and guitarist?
JB : Thank you very much for the compliment! I play guitar almost every day and I think that during the 60 years I have spent as a studio musician, live player, composer, producer, engineer, guitar builder and product designer, that I have gained a tremendous amount of knowledge and experience that has made me the musician that I am now.
MM : What is your thought on the current music scene and guitarists? What is your perspective for the future?
JB : I think that the guitar is becoming more a part of today's music. Guitar sales have never been stronger and I can hear there is a great deal of music that is being composed on the guitar. I think that is a trend that will be around for a long time.
MM : Please tell us your upcoming plans.
JB : I am looking forward to my upcoming US West Coast tour this July and August and coming to Japan to tour, in August, as well. I am still working as a studio musician, playing live shows with other musicians, composing, working, customizing and doing R&D on guitars and musical instruments and taking advantage of every opportunity to play and grow musically. I look forward to more touring and recording in the future.
MM : Please leave a message to your fans.
JB : I thank you and very much appreciate so much for all the support and interest you have given me over so many years and look forward to seeing and playing for all of you in Japan soon!
Jeff Skunk Baxter official website: https://www.jeffskunkbaxter.com/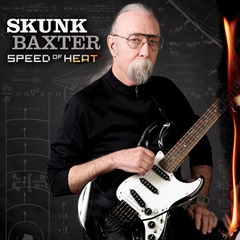 Jeff Skunk Baxter / Speed Of Heat
01. Ladies From Hell
02. My Old School
03. Juliet
04. I Can Do Without
05. Do It Again
06. Apache
07. My Place In The Sun
08. The Rose
09. Bad Move
10. Giselle
11. Insecurity
12. Speed of Heat