Keith Scott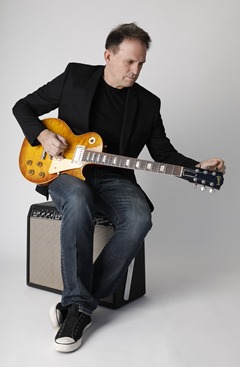 Keith Scott has been playing guitar for both for gigs and recordings of Brian Adams . His impressive guitar with a Rock spirit is one of key factor to the sound of Bryan Adams. It's like when you are listening to Bryan, you also are listening to Keith's melodic guitar. Even though Bryan played most of parts by himself for his latest album "So Happy It Hurts", which has a strong Rock feeling, but you can hear Keith's solid guitar on crucial parts of the album. The credit said Keith played his guitar on five songs (lead guitar for 4 and rhythm guitar for one) but Keith himself said he did not play guitar on the title track "So Happy It Hurts". We had a chat with Keith Scott about the latest piece of Bryan Adams and his surf-music project The Fontanas.
Interview / Text  Mamoru Moriyama
Translation         Hiroshi Takakura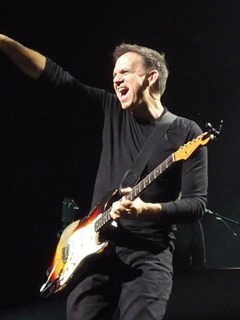 Muse On Muse : Your gigs and tour schedule for Bryan Adams were massively affected by the pandemic, weren't they?。
Keith Scott : Yes they were..sadly the world has gone through some extremely challenging times..looking forward to getting back closer to where we were prior to the onset of the covid pandemic.
MM : What were you doing amid pandemic to keep your musical things alive?
KS : Mostly providing for my family and caring for their well being and safety..thankfully we all navigated through it without much issue.
MM : You played guitar for 5 songs of the new album of Bryan Adams "So Happy It Hurts". How Brian offered you to join the project?
KS : I knew Bryan had written some music since he had been in contact..and he added that Mutt Lange a songwriter/producer from years prior, was involved..we were able to record my guitar contributions from three separate places in the world via new remote recording software.
MM : Bryan Adams himself is a multi instrumentalist who played most of part for few tunes of the album by himself. Do you think how he divides guitar works between you and himself?
KS : In the past we had recorded in a traditional way, as in musicians playing in a recording studio room and playing arrangements of song ideas, then maybe overdubbing extra parts..recently Bryan is more comfortable doing the initial work himself which includes as much guitar as he can..then he may feel I cab add to what he has done..if they keep something I have played I am happy!
MM : The rhythm guitar stroke for the title track of the album "So Happy It Hurts" is very impressive. How did you and Bryan took a part of rhythm guitar layers?
KS : I have to mention I did not play on that recording it was all Bryan himself..so when we play it live I try to play the main rhythm part and the middle solo which he played on the recording. Something that happens when Bryan is focused on singing.
MM : I feel your own taste and style from the guitar solo and backing guitar melodies behind the vocal on "You Lift Me Up"
KS : Well that song was one of the songs with contributions from mutt Lange so with both Bryan and mutt providing guidance I was able to play with that in mind, and they would suggest approaches along the way..with a melodic song sense like they both provide, it becomes a pleasure to play along with and contribute.
MM : The emotional guitar chops on "Always Have, Always Will" sounds awesome and reminds me of Reggae. There also is short guitar solo which emphasize the song very well. Please tell us about this track which has wicked Music Video as well.
KS : I think that is my favorite track from the new songs..it has a lot of good feeling to it..an honor to be part of it.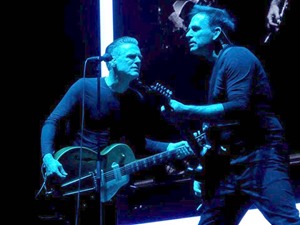 MM : The tune "Kick Ass" reminds me of "Kids Wanna Rock" which has a sort of bad boy vibes and I feel like "You and Bryan are back in the business!!".
KS : I think songs like this are so valuable as a live performer and over the years we have noticed that they are a great source of energy and fun for us and the audience..so happy to have a song like that to play.
MM : Your guitar part for "Let's Do This" sounds very unselfish and highlights the whole track very well.
KS : Again another mutt Lange influence..its always great to have song ideas like this to play with..this is what I enjoy playing guitar to since the message is simple and effective for our audience.
MM : What kind of things do you keep in your mind to play guitar in an unselfish way but make sense to emphasize the song?
KS : First I ask the singer or artist how they would prefer it to sound unless they say do what you feel..
Then its just interpretation of the song's feeling.. if I am lucky, I get an effective idea recorded in a short time!
MM : Please tell us about your gears. What guitars, amps and pedals did you use for the album?
KS : Since the recording of my guitar was initiated in my home studio I have a limited amount of support to obtain sounds that may be necessary.. so that is where source recording can be of use..the artist can use a plug in or rerecord with an amp of their own choice with that idea..I used a 64 Fender Stratocaster which I've used with Bryan's recording for years and a sustainer strat made by Fernandes..plus a Divided by 13 for 37 amp and a Vox ac30..some ideas I used a Marshall 20 watt amp with a 4 by 10 cabinet from 1970.
MM : The Europe tour of Bryan Adams is coming soon. Please tell us about your upcoming plans after that. What is the situation of the Surf music/Instrumental project "THE FONTANAS"?
KS : So much preparation is needed to get my hands back into tour shape so I'm playing as much as possible..Fontanas 2nd recording is being mixed now and hope to be finished very soon!
MM : Please leave a message for your fans
KS : Hello and thank you to all Japan fans! Hope we can get to your country very soon. Thank you for your long time support!
Keith Scott official fan club website : http://www.keithscottfanclub.com/
Keith Scott official fan club facebook : https://www.facebook.com/theauthorisedkeithscottfanclub/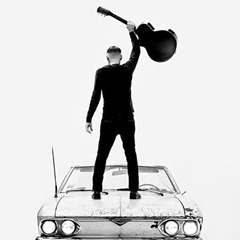 Bryan Adams / So Happy It Hurts
01.So Happy It Hurts
02.Never Gonna Rain
03.You Lift Me Up *
04.I've Been Looking For You
05.Always Have, Always Will *
06.On The Road
07.Kick Ass *
08.I Ain't Worth Shit Without You
09.Let's Do This *
10.Just Like Me, Just Like You
11.Just About Gone
12.These Are The Moments That Make Up My Life
* Lead Guitar : Keith Scott