Robben Ford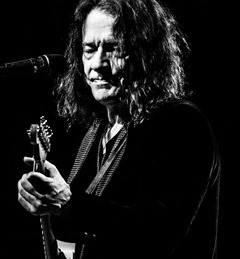 Photo by Mascha Photography
Robben Ford is well known for his sophisticated play style, production skill, and precise dynamics when he is on it. No need to mention that he has been supported by hardcore listeners and guitar enthusiasts. He has released a new instrumental album "Pure" since his last inst piece "Tiger Walk".
He had to change his usual production procedure because of the pandemic. Co-producer, Casey Wasner and Robben started writing songs together then got Bassists/Drummers replaced their parts. Fortunately, to do this, He perfectly managed to control quality of production which is the most important thing for him. This brand new album fascinates us with his rich guitar tones and border-crossing tracks.
We had a chat with Robben Ford himself for the latest record "Pure".
Interview / Text  Mamoru Moriyama
Translation         Hiroshi Takakura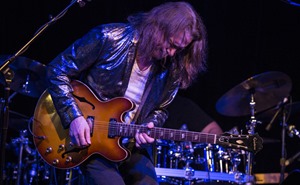 Photo by Mascha Muenzesheimer
Muse On Mus : Your new album "PURE" is a full instrumental album since "Tiger Walk". Please tell us the story behind this album.
Robben Ford : I'd been making instrumental music thru 2019 and 2020 with others and was focused on the guitar and writing without lyrics. I was producing as well, and when the virus hit, everything stopped. Because I couldn't work with others I decided to make my own instrumental record.
MM : You said the recording procedure was different from your past albums.
RF : Casey Wasner and I built the tracks in the studio and sent them to drummers for real drums and brought in bass players to overdub base. This was a huge change for me with record production. But it allowed me to have complete control of the music, which was very important for me with this record.
MM : You recorded at the studio The Purple House with co-producer Casey Wasner which is same as last album "Purple". How do you like working at The Purple House?
RF : It's so easy to work there. Casey really knows his rooms and gear and we have a very comfortable way of working together. Especially with Purple House having been done together.
MM : Do you produce/write vocal tracks and instrumentals differently?
RF : Not really. Of course, lyrics are difficult to write, certainly for me. Music comes pretty easily and playing is just a joy. Lyrics are the work.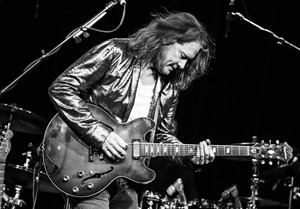 Photo by Mascha Muenzesheimer
MM : Please tell us about the title track 'Pure (Prelude)".
RF : One of the first two things I wrote. The melody just came to me and I fleshed it out from there. With the solo I challenged myself to play something akin to the Indian Raga style. It worked out pretty well.
MM : Contrast between raw guitar sound and minimal sound in the middle on 'Balafon' is so cool.
RF : Different amplifiers and guitars: The melody was a 64 SG thru a Little Walter 15w "King Auther" head. The solo was a PRS thru a Little Walter 50w head. They were also recorded in different studios.
MM : The soulful guitar on 'White Rock Beer…8cents' and 'Blues for Lonnie Johnson' is pretty impressive.
RF : White Rock is just a Freddie King type of instrumental. Lonnie is a complete improvisation over a slow blues in C. The horns were overdubbed. Both were done on a live Instagram feed, so, they are one shot, live performances, which gives them a special energy.
MM : 'Milam Palmo' starts with a little bit unusual yet catchy melody and whole song is addictive.
RF : It's a love song to my girlfriend who's Buddhist name is Milam Palmo. That's some nice writing and I'm very proud of the guitar solos and sounds.
MM : Combination of Funky groove, sax and guitar on "Go" is standing out.
RF : Written for the drummer Nate Smith who had just moved to Nashville and I wanted to record with him. Figured he could really play that particular feel.
MM : Mysterious atmosphere and the relationship between arpeggio and main melody in the middle on "A Dragon's Tail" is outstanding.
RF : It started with the opening line, which went thru some iterations. Then it's all about keeping the mood right and having a beginning, middle and end. You feel your way thru a song as though you were the listener while your writing.
MM : The album ends with melodic number "If You Want Me To" which has rich guitar tone.
RF : It was a riff I had come up with years ago and I liked getting a little New Orleans feel into the song. Super distorted guitar which I enjoyed.
MM : Please tell us about guitars, amps and pedals which you used for this album.
RF : Mainly studio reverbs, delays, etc. I played all of my guitars on that record, too much information. Mainly used my 50w Little Walter head with a single 12" cabinet, The Dumble head and cab for the solos on White Rock, Lonnie, Go and Dragon's Tail.
MM : Please tell us about your upcoming plans.
RF : I'm working primarily on the Guitar Dojo (robbenfordguitardojo.com). A little playing here and there but not a lot. Really concentrating on The Dojo.
MM : Please leave a message to your fans.
RF : Much love to all. Wishing you a healthy and prosperous 2022.
Robben Ford official website  https://www.robbenford.com/
Robben Ford official youtube  https://www.youtube.com/c/RobbenFordofficial/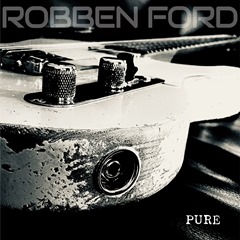 Robben Ford / Pure
1. Pure (Prelude)
2. White Rock Beer … 8 Cents
3. Balafon
4. Milam Palmo
5. Go
6. Blues For Lonnie Johnson
7. A Dragon's Tail
8. Pure
9. If You Want Me Too