Dom Brown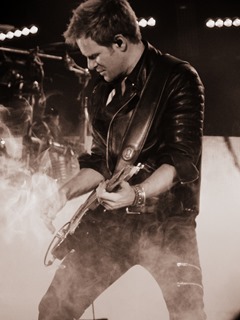 Photo by Andy Ciparis
Dom Brown is a UK based guitarist, song-writer and producer, who is known for the work with big name Duran Duran. Dom joined forth with the band's world tour for four times, their recording for 3 full albums and he co-wrote over 20 songs with the crew on "All You Need Is Now" and "Paper Gods". The talent has released his new solo album "In My Bones" and has proven his skill as a multi-player who writes, arranges, produces and plays guitar and other instruments. All tracks on the album are top-notch and it has a potential to reach wide variety of music fans. We had a chat with Dom Brown himself about his musical background and new solo album "In My Bones".
Interview / Text  Mamoru Moriyama
Translation         Hiroshi Takakura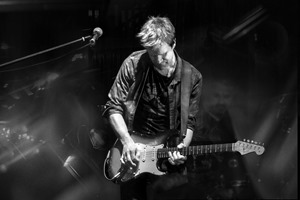 Photo by David Tweedie
Muse On Muse : Please give us your short bio and how did you start getting involved in music?
Dom Brown : I always loved music from a young age. In primary school I was introduced to bands like Led Zeppelin, Deep Purple, Black Sabbath, AC/DC by my PE teacher who was an ex-hippie. He was very cool and used to have the class warm up to music by these bands. One day he played 'Welcome To The Machine' by Pink Floyd and I was blown away and new that I wanted to make music my life.
MM : You are a multi-instrumentalist who plays guitars, bass, drums, piano and keyboards and you also sing. Besides you write/produce songs, arrange brass and strings section… Have you professionally trained as a musician? Please tell us the process of building your musical style.
DB : I'm pretty much self taught. When I was 13 I received my first guitar and had about 5 or 6 lessons with a teacher called RayMajor who really inspired me. I then went on to teach myself by ear. After 6th form college I went to Salford University to study Popular Music With Recording where I learnt about the studio and also had some basic training in musical theory and arranging.
MM : When did you realize to chose your career as a professional musician? And how did you build your career path since then?
DB : The seed was first sown the moment that I heard the Pink Floyd song as mentioned above. I had such a strong reaction to that experience. Within a couple of years of getting my first guitar I started jamming with a drummer called Matt McCoy (son of John McCoy the bassist with Ian Gillan's band). We went on to form our first proper band called Nexus and did our first gig in the back of The Turk's Head pub in Twickenham when I was 16 . After a slight lineup change the band continued and lasted a couple of years whilst I was at 6th form college. After Salford University I went straight to my first proper professional engagement as part of the house band at Butlins Holiday Camp in Wales. I did this for about 3 months and took the place of one of the teachers from the University who couldn't do it that year. The first few weeks were challenging and fun but I soon got bored with the monotony of playing the same songs every evening whilst being stuck in one location. I'd gone into this job thinking it was a good way to get into session work but it actually turned me off the idea for quite a few years to follow.
During my 20s I had several original bands that did pretty well but never quite made it to the next level unfortunately. I even went to live in LA in the mid 90s for a year and had some minor success with a new band I'd formed out there. I regularly played at The Whiskey, The Roxy, The Troubadour and Viper Rooms etc.
On my return to the UK I started to consider getting into session work. As I'd played in a lot of covers bands over the years, to help financially support my original band projects, I was quite used to learning new material and often at very short notice. By around 2000-2001 I had joined a few session agencies and started to get regular work. At first it was mainly doing TV promotion with some very popular household names including: Elton John, Rod Stewart, Lionel Richie and many others. This was mainly mime work and although it was a lot of fun and a great way to meet other professional musicians it was a little frustrating. I knew I was capable of coming up with parts as good as the ones I had to learn and really wanted to play live and record with these artists.
One of my first live breaks was when a friend asked me to stand in for him for a few weeks on a Go West tour. Go West were also the house band for Curiosity Killed The Cat and Nick Heyward so I had to learn over 30 songs in 2 days. We didn't get to rehearse other than at the soundcheck before the first show. This all went very well and helped reinforce my reputation as being a professional guitarist who could learn quickly and under pressure. This helped with the next phase!
MM : You have worked with big names, DURAN DURAN, Liam Gallagher and Justin Timberlake to name a few, as their tour musician or a producer. How did you get to work with them?
DB : In 2003 I was the guitarist with the band Appleton (the 2 sisters from All Saints). We did a lot of live performing and some touring including slots at the V Festival that year. Nicole Appleton was living with Liam Gallagher (from Oasis) so I got to meet him regularly at shows and socially. I did some recording with him for his solo project that year but he ended up not releasing the meaterial. It was a great experience being in the studio with Liam.
I got my break with Duran Duran one Wednesday morning in October 2004 when I was called by their management and asked if I could perform with the band that coming Friday. Andy Taylor, the guitarist was very ill and needed someone to stand in for him. I met with Roger Taylor and John Taylor that Wedsnesday evening and jammed through some of their songs. It went well and they gave me a bunch of CDs with about 20 songs to learn before the next day. I stayed up most of the night and then got together with John and Roger the next day to run through the songs. Simon Le Bon and Nick Rhodes were both in Europe doing promotion and I didn't meet them until the soundcheck on the Friday.We had just enough time to top and tail the songs before the show. Fortunately it went really well and I didn't make any major mistakes so after that show the band invited me to go to the US with them a few days later. Of course I agreed and we were away for about 4 weeks. My first US show was in Atlanta to about 18,000 people. I was loving it…
I got to work with Justin Timberlake whilst working on the Duran, Red Carpet Massacre album as Justin co-wrote and produced a song called Falling Down with the band. That was a great experience and I very much enjoyed going to the final mix sessions that Justin was at. He was very kind about my contribution and my guitar solo in the song.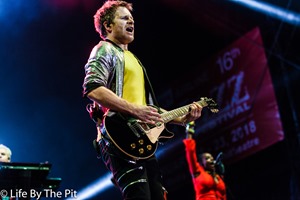 Photo by Life By The Pit
MM : Please tell us about your new album "IN MY BONES". You have shown your ability as a producer, song-writer, arranger, multi-instrumentalist and of course as a guitarist. For me all songs on the album reach high degree of perfection and it would be widely accepted by music fans. What was your goal for this album?
DB : Before the pandemic and subsequent lockdown I hadn't any real plans to do a solo album. Just before lockdown I played some tracks that I'd written to a production music executive who loved one of the tracks and asked me to do a shorter version. Whilst editing this song a vocal melody and a lyric just came to me out of nowhere. I was really inspired and wrote the lyric in the morning and then laid down the vocal after lunch. It became the song 'Leap Of Faith' and I had enjoyed writing and singing so much that I thought maybe I should do an entire album. I listened back to a bunch of ideas that I already had started over the last few years and decided about 4 of those could be great for the new album. They all needed a lot of reworking and redoing of parts but I was soon on a roll. I then wrote quite a few more songs over the next 9 months and chose 5 of those new ones to go on the album.
I played most of the instruments myself though I had some contributions from some fantastic musicians, including: Darrin Mooney (drums – Primal Scream), Andy Treacey (drums – Faithless), Ian Thomas (drums – Eric Clapton, Mark Knopfler), Anna Ross (BVs – Duran Duran), Jessie Wagner (BVs – Lenny Kravitz, Duran Duran), Chris Worsey (cello), Dan Carpenter (trumpet), James Walsh (Bvs – Starsailor) and Jennifer Ann Keller (BVs).
MM : I feel a sort of oriental vibe from "MERCURY ASCENDING" and "BABY, DON'T WORRY".
DB : These two are probably the lightest in tone lyrically. They are playful, fun and very positive. People have said they think the Arabic strings on 'Mercury Ascending' sound a bit reminiscent of Led Zeppelin's 'Kashmir'. I've always loved Eastern and Oriental scales and experimented quite a bit on my debut album 'Touch The Flames'.
'Baby, Don't Worry' is quite an exotic song and features a dulcimer playing Greek influenced scales in the introduction and the chorus. There is also a Mariachi influenced trumpet that gives a cool vibe to the verses. The song has been described by one reviewer as sounding like it would work in a James Bond movie.
MM : Moody Dobro and dope slide bar sounds on "RIPPLES IN THE WATER" seems to have made the whole song special.
DB : Yes, this is probably the most bluesy song on the record but it also has a real gospel feel with Anna Ross's voice stacked up on it. I love the dobro and it adds a really cool moody feel to the song. I wrote the music but co-wrote the lyric with Jennifer Ann Keller. It's the only lyric with a political message to it. I think the music and lyric work really well together on this.
MM : The title track "IN MY BONES" or "SHADOWS" consists of catchy vocal melody, clean rhythm guitar, and driven guitar solo. The structure is very simple but they are striking Rock songs.
DB : Yes, these are both up-tempo and bouncy tracks. 'In My Bones' is probably the most rock based on the album. There are some interesting guitar tones on this track including the counter melody played with a slide on the electric. This song has quite a dramtaic breakdown in the middle before it crashes back in with a guitar solo into the final chorus.
I had most of the backing track to 'Shadows' done before lockdown. I knew one day I'd finish this song and so I co-wrote the lyric with Jennifer Ann Keller via Zoom towards the end of lockdown. It was the last vocal to be written and recorded. Due to the almost country rock feel of the track we decided to write a story based lyric. It's set in LA, where I lived for a year and have visited dozens of times. It was fun delving back into my many fond memories of the city.
MM : The beautiful piano sounds, choruses and dreamy guitar phrases on " WHISPER TO THE WISE" are very touching.
DB : This song was written with James Walsh (singer from Starsailor) and began with just vocal and acoustic guitar. I built this up and added instruments over a period of time as the song developed and eventually I replaced the acoustic guitar with the piano. There are some lovely textural backing vocals by James, Anna Ross and Jessie Wagner (BVs with Lenny Kravitz, Steven Van Zandt and Duran) in this song.
MM : The emotional guitar solo on "WHERE YOU GONNA RUN TO" is spectacular and can move listener's soul.
DB : It's probaly the biggest guitar moment on the album, it's pretty intense. It's actually one of my favourite songs on the album and not because of the guitar solo. I like how it really builds and develops from just guitar and vocal the the middle 8 and into the solo.
MM : The dramatic number "LEAP OF FAITH" followed by the moving song "LET IT WASH AWAY" which has a magnificent chorus work and the album comes to the end.
DB : I mentioned how 'Leap Of Faith' came to fruition above and I agree it is quite a dramatic song that starts with a unison guitar and piano part and then builds into quite an epic number.
'Let It Wash Away' is the mellowest track on the album. One journalist described it as sounding a little Crosby, Stills, Nash and Young with it's layered harmonies. It seemed like the perfect song to end the album with. It completes the journey the listener has been on through the album and ends on an optimistic note. Let all your troubles wash away and don't worry. I co-wrote the lyric with my father, Rob Brown and Jennifer Ann Keller.
MM : Please tell us about your gears. What kind of guitars, amps and pedals did you use for this album?
DB : My main electric guitars that I used are my '63 Fender Strat, my mid '60s Epiphone Riviera, a Fender Telecaster and several Les Pauls.
There aren't many acoustic guitars present but I used my Martin HD 28 and Gibson Dove Artist when needed.
I mainly used my Ghetto 310 amp and Audio Kitchen's Big and Little Chopper amps.
Pedal wise mainly used the Audio Kitchen Big Trees and Flying Squirrel pedals, Roger Mayer Voodoo 1 and Blues pedals.
MM : Please give an advice to the people who wants to be a multi-skilled musician who can write, produce, arrange and play several instruments just like you.
DB : Practice and getting experience is the only way to really develop these skills. Everyone's journey is unique but I'm mainly self taught and when I started out as a guitarist I just played with as many different people and bands as possible. Dedication and focus are vital if you want to succeed.
MM : Please tell us your upcoming plans.
DB : When the time is right I'm hoping to one day perform some of the songs from my new album but want to do it with great musicians who can really pay justice to the songs.
I'm currently developing a new band called The Stand-Ins. It's made up of world class musicians and we perform songs by some of the greatest bands of all time. We are performing shows in London to the public and also doing private functions and corporate shows.
Also I'm waiting for touring to resume with Duran Duran. It's been almost 2 years since we last performed in Novemeber 2019.
MM : Please leave a message to your fans.
DB : I hope to keep performing and producing music for many many years to come and would like to thank the fans for all their continued support over the years.
You can follow me on –
https://Instagram.com/dombrownmusic
https://Twitter.com/dombrownmusic
https://Instagram.com/thestand_ins
Dom Brown Official website  https://dombrown.com/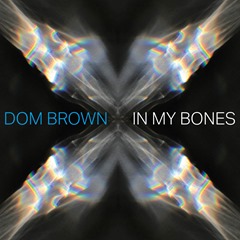 Dom Brown / In My Bones
1.Mercury Ascending
2.Ripples In The Water
3.In My Bones
4.Whisper To The Wise
5.Shadows
6.Where You Gonna Run To?
7.Baby, Don't Worry
8.Leap Of Faith
9.Let It Wash Away