Jeff Kollman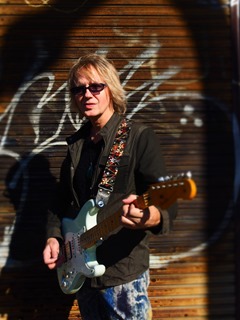 Jeff Kollman has released his new album "East Of Heaven". All of songs on this album are instrumental and the album completely differs from average Rock guitar instrumental album due to its cinematic soundscape and emotions. The album strikes listeners with warm and musical feelings. The beautiful sounds and atmosphere of the album are generated by the maestro, using his rich sounding acoustic guitar and driven electric guitar with appropriate amount of dynamics and sound effects.
We had a chat with Jeff Kollman himself about the great new album "East Of Heaven"
Interview / Text  Mamoru Moriyama
Translation         Hiroshi Takakura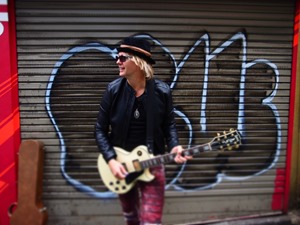 Muse On Muse : Your new album supposed to be your music diary of 2020 amid pandemic. Please tell us about this in detail.
Jeff Kollman : I wouldn't say a music diary. It was a way of taking advantage of the time where I'm normally on the road. The whole touring year had canceled so it was a great time to knock out a new release. Some of it is self reflective and introspective.
MM : This powerful album conveys a message to listeners and it is very touching.
JK : Thank you. I feel like it's a different feel than my other releases. It may be a bit less action packed but more melodic and almost kind of cinematic.
MM : Please tell us musicians who joined forth with you for this album.
JK : I had two drummers on the record. Shane Gaalaas who played 4 tracks. I've used Shane for years on my records. Also Jono Brown co wrote produced and played drums on 2 songs 'East Of Heaven' and "Hidden Dimensions'. He and I do quite a bit of film music together. I called on Guy Allison to play Keys on '67 XR-7'. Guy also plays with Eikichi Yazawa. On the bass I called my old friend Paul Shihadeh who played on the Guitar Screams Live disc.
MM : Please tell us about song-writing, producing and recording process of this album in detail.
JK : Some of the tracks are quite intimate therefore I approached them as solo pieces or maybe a few layers of guitar and bass. Whenever I come up with a melody or some interesting changes, I'll then evaluate if it should be a vocal song, or an instrumental with a full band or stripped down. It's just a process of production choices and building up the song to get the best interpretation of it.
MM : The track "Loss" opens this album with moody and thoughtful atmosphere.
JK : It started out as an idea for a TV show. It started with the moody string pad. I then improvised over the top with a Les Paul and some out of phase options with the pickups. It was written and recorded with in 10 minutes.
MM : the melancholy melody on the intro of "The Mass Exodus" is very impressive.
JK : The song starts with layers of lead guitar harmony and has a positive and bright sound like a sunrise. It then turns more dark and minor. It kind of reflects the current mood in Los Angeles. There are many people leaving the city and moving elsewhere because it's getting unsafe and difficult to live there. I feel the song reflects that sort of vibe. There's a feeling that the city is ready to boil over and there's a sense of desperation with the people during the pandemic.
MM : How have you paid tribute to Van Halen on "Homage To King Edward"? Please tell us about wonderful memories about him back in the days.
JK : I saw Van Halen back in the early days and Edward blew my mind. It was the 1984 tour in Detroit. He was truly the peoples guitar hero. I also saw the very last show at the Hollywood bowl. Edward touched so many lives with his unique style of guitar playing. He had so much fire. I also got to meet him in 2012. We were both playing a private party. It was exciting playing with him in attendance and talking guitar backstage. It was heartbreaking to hear the news of his passing. I recorded that piece the day after his passing on honor of the KING.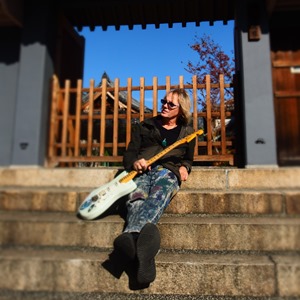 MM : Please tell us about the instrumental number "Superstring Theory". The tune is filled by Rock vibes and the music video is released as well.
JK : Yes it's one of the more straight forward rock songs for my writing style. I embraced the power rock
AC/DC approach. I think Shane's drum track really made this one special. The video was shot at Shane's studio in Los Angeles. Just like the song, the video is straight forward rock n roll fun.
MM : Song titles like "Ghostly" or "Insomnia" do not sound positive, but its beautiful atmosphere make us feel relieved.
JK : Yeah some of the songs are dark but still inviting. I love the dark moody kind of music. Ghostly is one of my favorite tracks on the record. I really like the changes in the B section and the counter melodies interwoven in there. 'Insomnia' was a song recorded at 5 am when I couldn't sleep. I touched on a different harmonic idea than usual for my writing style.
MM : Is the track ""67 XR-7″" about Mercury Cougar XR-7?
JK : Yes that's my favorite muscle car and the year I was born.
MM : Songs like ""Montecatini Waltz" or "So Long Ago" catch us up with expressive acoustic guitar sounds.
JK : 'Montecatini Waltz' is inspired from a town I visited in Italy while playing with MSG. It's really just a simple Italian melody and solos over the changes. I recorded it with a Martin 00018 acoustic. Paul Shihadeh has a great bass solo in that song. My dear friend Carla Buffa added a bit of Accordion doubling the melody to get that Italian sort of vibe. 'So Long Ago' has a sense of longing for something like a memory of a time that you know isn't coming back. It's sort of melancholy and bittersweet. I added a bit of nylon string for the melodies and solos.
MM : Effective guitar sounds and emotional play on "Isolation 2020" and "East Of Heaven" have your original vibes.
JK : "Isolation 2020" has a bit of slide guitar and a lot of layers. It reflects someone hearing voices and living on the edge of insanity. On 'East of Heaven' I used a bit of delay in post production to get the vibe I needed. I used the Echo Boy plug in for that one. It's a cinematic, ethereal vibe until the solo which builds it up to a frenzy. On the solo I used an Electro Harmonics micro chorus for a different sound with my Les Paul and old 59 paf pickups. That's my favorite solo on the record.
MM : Hidden Dimensions" and "The Darkness Resides" sounds beautiful yet it make us feel a bit anxious to be honest.
JK : Yes both songs are harmonically more dissonant. I love when I reflect a different sort of mood. 'The Darkness Resides' kinds of has the vibes of the old 50's horror movies. That track was recorded with a Carvin electric acoustic guitar. 'Hidden Dimensions' was written with Jono Brown. It has a few different movements that sort of feel like a gateway to more tension. It's unsettling at times and that was the intention.
MM : You have shown gratitude to your only siblings and ex-band mate of EDWIN DARE, Tommy Kollman on "See You On The Other Side".
JK : This song is a tribute to brother Tommy who passed away in 2012. It's mainly a solo acoustic piece until a soulful electric guitar solo near the end recored with a Hamer semi hollow body. The acoustic guitar was a baritone tuned Taylor 414. I thought this was the perfect closing track for the record.
MM : What guitars, amps and pedals did you use for this album?
JK : The pedals are Free the Tone Time delay, avatar chorus, and the Free the tone reverb. I also used the Kollmanation pedal for gain. For the fuzz face I used the F Bomb 3. I often use the Digitech EX7 for the uni-vibe sound. The Guitars i Used were the Fender Wildwood Strat, Les Paul, Hamer Semi Hollow body, Fender 1960 Tele, Martin 00018 acoustic, Taylor 414. I use a Kenny Hill Nylon string and a Yari Nylon Alvarez. For amps I used the Marshall Mk 2 1978 head and also my Bogner modded Marshall that I call the Warhorse. I always use a 1968 or 1970 Marshall cabinet with the old Greenbacks too. For some of the clean tones I use a Fender twin or a 1967 Pro Reverb.
MM : In US, major sports like MLB are allowed to have limited fans to be back in their stadiums. How about the situation of music concerts? What is your perspective for near future?
JK : I can see that shows are coming back in June. I did play an outdoor benefit concert held by Alice Cooper.
I think we are nearly the end of the pandemic and life will soon get back to normal.
MM : Please leave a message to your fans.
JK : I really love the Japanese fans and their great passion for music. I look forward to playing there again soon. Thank you from the bottom of my heart for your support in my music. Thanks for listening!!
Jeff Kollman official site  https://jeffkollman.com/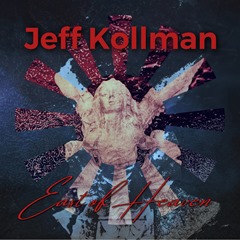 Jeff Kollman / East of Heaven
01. Loss
02. The Mass Exodus
03. Homage To King Edward
04. Superstring Theory
05. Ghostly
06. Insomnia
07. 67 XR-7
08. Montecatini Waltz
09. Isolation 2020
10. East of Heaven
11. So Long Ago
12. Hidden Dimensions
13. The Darkness Resides
14. See You On The Other Side