Carl Verheyen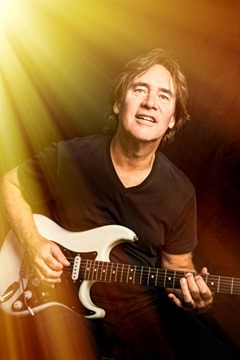 Carl Verheyen is well known as not only a guitarist of the British Rock band SUPERTRAMP, but also his works for many TV programs, films and numerous studio works in Los Angels. He has released his new solo album "Sundial" which contains various type of tunes from Rock to Funk to Ska to soulful ballad to Afro-Pop. The album starts a up-tempo yet soothing title track "Sundial". It goes to Afro-Pop inspired "Kaningie". "Garfunkel (it Was All Too Real)" is all about how he met Art Garfunkel in an unbelievable occasion. "Spiral Glide" is a tribute song to David Gilmour of Pink Floyd. These rich musical tracks are fulfilled by Carl's deep yet pleasant voice and dynamic yet technical guitar sounds/play and the whole piece became a supreme Rock album for adult. We spoke to Carl Verheyen himself about this masterpiece "Sundial"
Interview / Text  Mamoru Moriyama
Translation         Hiroshi Takakura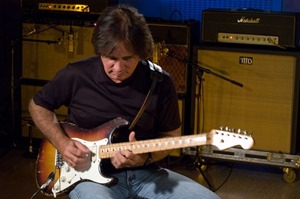 Muse On Muse : The release date of your new album "SUNDIAL" has been delayed due to the pandemic, but it is finally out! How are you feeling now?
Carl Verheyen : I'm feeling great, thanks for asking. I delayed the release of the album for about 9 months and in that time, I made it a little better. After living with the songs for a while I found there were a few small changes I could make that would make these songs sound more like they really belong on a Carl Verheyen album. A clean Stratocaster part here, a Rickenbacker 12-string part there…
MM : The album "SUNDIAL" displays various type of good music, especially for adult and I found them catchy. What was your concept or goal for this album?
CV : I wanted to make and present uplifting music. Music that makes you smile and feel good. And, as been a pattern all of my musical life as a solo artist, I am NOT bound by specialization! As much as I admire guitarists like Stevie Ray Vaughn, I couldn't limit myself to just playing the blues for the rest of my life. I enjoy so many other styles of music. Therefore my musical goal for the album was to combine these styles into a solid statement.
MM : Please introduce musicians who joined forth with you for this album.
CV : My touring band of bassist Dave Marotta and drummer John Mader played on a few songs. I also used Nick D'Virgillio on drums on the title track. He's very well known in the progressive rock field. And then I tracked 6 more tunes with another "band" I have here in LA called The Cranktones. That band uses two drummers: John Ferraro and Chad Wackerman and they really soar on the afro-pop style tune called "Kaningie." Jim Cox played most of the keyboards but I also used Mitch Foreman on a few songs on piano. Tom Child played some additional bass on the Cranktones tracks and my background singers were Craig Copeland, Kat Bowser and Beth Cohen.
MM : The opening track "SUNDIAL" also is the title track of the album and its well-thought structure, crystal clear sound and your voice gave us stylish impression.
CV : Lyrically it's about a person that has no sense of time in their life! Someone who says, "I'm going to the market, I'll be back in 15 minutes," when I know it takes 15 minutes to get to the market, 15 more to shop and another 15 to drive back! But musically it's very adventurous. It goes from a folk-like beginning to a jazz fusion solo to a jangly chorus at the end. The background vocals always make me smile.
MM : The combination of your soothing guitar melody and the swinging track sounds brilliant on "KANINGIE".
CV : I began playing that melody around the house while practicing using a wireless system that allows me to get out of the studio chair and walk around. Then I realized it would sound great with the two-drummer concept. My friends tell me it's very catchy, they call it an "ear worm!"
MM : Songs like "CLAWHAMMER MAN", "NEVER AGAIN" and "NO TIME FOR A KISS" are tunes which reach not only guitar music followers, but also all music lovers.
CV : "Clawhammer Man" was born from that little Cm7 guitar lick and grew from there. "Never Again" is a little more aggressive lyrically, it's what I sound like when I'm mad! I used one of my LsL Signature Strats to get the insane wang-bar intervals at the end of the song, and the same guitar on "No Time for a Kiss." That tune was actually written when I was 23 years old and I played it as an instrumental for years. When a few fans started asking about it I pulled it out, wrote some lyrics to it and transposed it to a new key I could sing in. Then I modulated back to the original key of Bb for the solo, which is just a very stylized version of them melody. I was inspired by Jeff Beck on that one.
MM : "PEOPLE GOT TO BE FREE", which originally made by The Rascals, is the tune delivers strong messages to the people.
CV : I'm a huge Rascals fan and always loved Felix Cavaliere's voice. The idea to arrange it as an up-tempo ska / reggae tune came from a jam I was doing with the Cranktones and the two-drummer format really sounded great. But when we recorded it in the studio, I accidentally told the engineer to give us a click track in our headphones at a much faster tempo than I intended. After we recorded the basic track I said, "we need to do it again, that's way too fast!" The engineer / producer said, "that's what I like about it!" so we kept the first very up tempo take!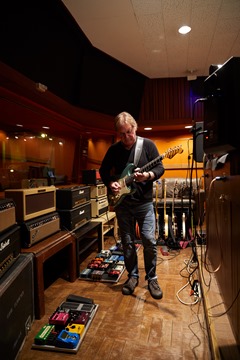 MM : The beautiful piano number "Michelle's Song" was originally performed by Elton John. Please tell us why you covered this song.
CV : Driving home late one night I heard this long-lost gem of a song on the radio. I decided to record it in a completely different style, more like country music meets the Allman Bros. After it was all finished, I thought it still needed a few clean Stratocaster fills in the choruses to balance out all those Les Pauls! So I recorded them at my home studio with the Kemper.
MM : The song "GARFUNKEL (IT WAS ALL TOO REAL)" seemingly is all about how you met Art Garfunkel in an unbelievable occasion. Please tell us about details.
CV : When I was 15 years old "Bridge Over Troubled Water" was the #1 tune on the radio and I had learned it on piano. Then on a driving trip / vacation up in Canada, Mom and Dad said, "Kids, we want to visit the Lake Louise Chateaux and have a drink in the bar overlooking the lake. You kids go out and skip some stones on the shore." Walking through the lobby I spotted a big white grand piano and sat down to play the song. At the downbeat of the first verse, I heard a voice over my shoulder and it was Art Garfunkel! He was probably checking in at the hotel desk and decided to give a young kid a thrill!
MM : Please tell us about the song "SPIRAL GLIDE" which you dedicated to David Gilmour of Pink Floyd.
CV : When I joined Supertramp in 1985 they had just finished an album called "Brother Where You Bound." The title track had a long solo by David Gilmour and it was my job to play it on stage during the world tour. I convinced the band that I should play my own solo while referencing the melodic strong points of Gilmour's, and to my surprise they let me! But it began a lifelong appreciation of David's playing, tone and musical concepts. "Spiral Glide" is a tribute to him and Pink Floyd's music.
MM : The album ends with lovely and dreamy number "SUNDIAL SLIGHT RETURN " which is the contrast to the opening tune "SUNDIAL".
CV : Sundial, the title song on the album was originally written as an instrumental. The words came later. But I decided the melody was nice enough to play slowly. I think it makes a fitting bookend to the album.
MM : Please tell us about your gears. What guitars, amps and pedals did you use for this album?
CV : I own a lot of guitars, amps, pedals and rack mounted gear that I've collected over the years. For many years I bought guitars and amps based on the popular sounds I needed for the studio work I was doing. But around 1997 as my solo career began to rise, I collected guitars and amps that gave me the tones that I wanted for my own personal sound. So, there are around 50 amps and 70 guitars to choose from in my arsenal, as well as hundreds of pedals. I like the usual vintage Marshalls, Fenders and Vox amps, but I'm also a fan of Dr Z amps. My 3 signature LsL CV Special Stratocaster style guitars got a lot of use along with vintage Telecasters and Les Pauls. That's my 1966 Gibson SG on "Kaningie," top to bottom with no overdubs. And my 1959 Martin D-18 plays the main theme on "Sundial"
MM : By the way, please tell us about Carl Verheyen Vintage Amp Collection Kemper Profile Pack which you produced with Kemper.
CV : My engineer / producer friend Mark Hornsby and I realized the amps that come with the Kemper are not very good, so we decided to profile 28 of my amps with five different microphones each! We used a Sure 57, a Telefunken M-80, an AKG 414, a Royer 121 and a Neumann U67. There are 140 profiles of all kinds of amps, and we did it at Sunset Sound Studio 2, where Van Halen recorded their first few albums. You can get the Verheyen Amp Collection for Kemper at Sweetwater.com
MM : Please tell us about your upcoming projects and plans.
CV : I'm hoping to tour the "Sundial" album in the fall. I have two big tours booked in the USA and Europe. And I'm already writing the next album to record in 2022. I never stop and never take a day off of practicing and writing. Midway through the pandemic last year I was talking to a fellow guitarist who is quite famous. I asked him if he'd been creative and productive during this "Grand Pause" in our touring careers. He said, "NO, I've been totally uninspired and haven't pick up a guitar in 6 months. That actually really inspired ME! I realized this was the perfect time to write new material and learn new techniques. I devote a minimum of two hours a day to write and at least another hour to practice.
MM : Please leave a message to your fans.
CV : Thank you for your support all these years! I hope the music on "Sundial" brings you joy and a few smiles!
Carl Verheyen official site https://carlverheyen.com/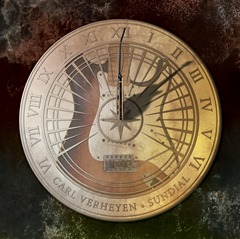 Carl Verheyen / Sundial
1. Sundial
2. Kaningie
3. Clawhammer Man
4. Never Again
5. Garfunkel (it Was All Too Real)
6. People Got To Be Free
7. Spiral Glide
8. Michelle's Song
9. No Time For a Kiss
10.Sundial Slight Return