Steve Lukather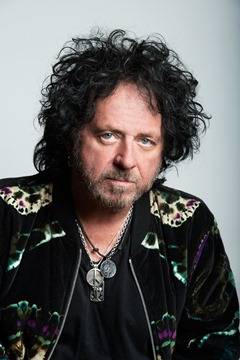 Photo by Alex Solca
Steve Lukather has released his long-awaited solo album "I Found The Sun Again". His Toto colleague Joseph Williams also released his solo album "Denizen Tenant" at the same time and David Paich has worked for both albums so this album can be considered as a product of TOTO with current members in a way.
"I Found The Sun Again" featured his family musicians like Gregg Bissonette on drums, Jeff Babko on keys, Jorgen Carlsson and John Pearse on Bass and those real musicians delivered fantastic performance which never bores us. There are also catchy melodic tunes like "Run To Me" which Ringo Starr played drums therefore the whole album can reach from casual Rock&Pops listners to Real music players/fans.
We had a chat with Steve Lukather himself about the striking new album "I Found The Sun Again"
Interview / Text  Mamoru Moriyama
Translation         Hiroshi Takakura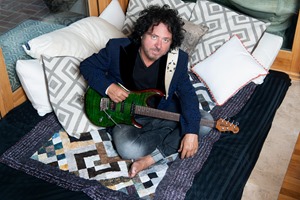 Photo by Alex Solca
Muse On Muse : Your long awaited new album "I Found The Sun Again" became the fantastic piece of music which filled by real live feelings, true musicianship, well thought arrangement and heart touching melodies. What was your goal and aim for this album?
Stevie Lukather : A trip back to the early 70's via 2020. I wanted it to be live in the studio. NO click tracks- NO computer fixes .. REAL. Solo's are all played live on the tracing session and kept intact. I only overdubbed vocals and a doubled guitar or some acoustics then the vocals.. song a day ready to mix- Next. Dis the record in 8 days.
MM : Your TOTO partner Joseph Williams also released his solo album "Denizen Tenant" in almost same time as your new album. Did you guys purposely release solo albums at the same time?
SL : Yes. We knew we wanted to continue on after the end of the last Toto in Oct 2019. Then Paich got involved and we settled the lawsuit and retained our name % so .. we should go play our music, those of us left that can and WANT to. Keep the music alive and Joe and I are far from finished !
MM : Joseph and David Paich played for your new album and David and you joined Joseph's album. Didn't you think of making TOTO's new album?
SL : NO for legal reasons and also cause they are very much solo records with the flavor of Toto cause we ARE members of the band. These guys are my brothers. Paich taught me how to make records!
MM : The first track of the new album "Along For The Ride" is a driven Rock number and it lures us into your original world.
SL : I had a quirky riff that I played Jeff Babko and we ran with it and wrote it fast with Stan Lynch from Tom Petty and the Heartbreakers and Joe helped as well as I remember…
MM : "Serpent Soul" has a heavy groove and sound and its music video captures scenes of recording. How was the recording process for this album?
SL : It is a tribute to the band Little Feat meets my other fave music of that early to mid 70's records that inspired me as a young kid. We all played LIVE , no rehearsal or click tracks or demos… show up, rereads the chart once, make corrections or rehearse a section then record and take 2 was every song on the record. We did minimal over dubs after the take if any at all then did the vocals same day after daytime tracking session.
MM : "Journey Through" is a fantastic instrument number and its beautiful melodies and emotional guitar sounds are very heartening.
SL : Jeff Babko wrote this for me. I would say my tribute to a hero and friend Jeff Beck in terms of my guitar approach. I will never be near JB but a guy can try… lol
MM : The beautiful title track "I Found The Sun Again" is very dynamic and it has dreamy atmosphere. Its music video has been released as well.
SL : Inspired by my girlfriend Amber. I was alone for 11 years and she fell in my lap .. I was very down after the end ope Toto and the lawsuits and some personal loss, deaths… a bad time and she came along right before the Pandemic. I have had someone to look after me and Love ad care for me. I would have withered. She inspired the song and Babko and Joe Williams helped me finish it.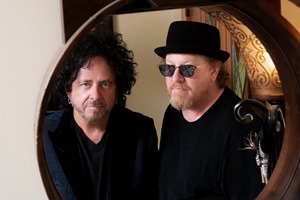 Photo by Alex Solca
MM : Ringo Starr has joined forth with you for the track "Run To Me" and this gratifying medium-tempo number has catchy melodies.
SL : This was written by Me, David Paich and Joseph Williams for Ringo's 80th B day. I got Ringo to play on it and asked him if I could use the track and video and he said yes ! He is my brother, hero and dear friend I am honored to say. 9 years with the All Starrs…. Wait till you hear his new EP!
MM : Alongside your original tracks, the new album "I Found The Sun Again" featured few cover tracks "The Low Spark of High Heeled Boys" by Steve Winwood in his Traffic ere, "Welcome To The Club" by Joe Walsh and "Bridge Of Sighs" by Robin Trower.
SL : I picked these before I wrote anything for the record as I wanted to capture this era of music in a 2020 way. It makes it great to jam within the context of a great song. Thats what I was going after for the whole record.
MM : Please tell us your gears. What guitars, amps and pedals did you use for this album?
SL : Simple. My new Music Man Luke III with new Music Man picks Ups thru 2 Bogner Helios amps, my live pedal board, just some stomp boxes as I didn't use much and when I did its obvious what it is… and Yamaha acoustics.
MM : We can feel your supreme guitar sounds again in this album.
SL : I set up my live gear and we recorded. No secret. I did get the best musicians for the job. The guys all brought their best and beyond… so much fun!
MM : There are new generation guitar players can play technically very well in the scene but not many have strong presence or powerful sound like you.
SL : Man… I can't ket up with how incredible some of these young players are ! Its unreal. I am an old guy now.. old school playing. I guess its time and age and I have been playing in a band since I was 9 years old. For real. I know nothing else. I am a product of everyone I every tried to play like starting with George Harrison on…
What comes out in the end is me.
MM : Who are your favorite musicians recently?
SL : My son Trev. His band LEVARA is killer. New record out now called Automatic, Check Youtube or Spotify. Album out soon. Same label as me. haha Proud Dad. GREAT music. check it out.
MM : We all are still in pandemic time and difficult to look at future.
SL : There is a lot on the books. TRYING to come back. =Until then we wait. I am going crazy.
MM : Please leave a message to your fans.
SL : I just wanna say I MISS YOU ALL! I have been coming to Japan almost every year since 1980. I have fallen in love with japan and its people and culture and also the best fans- friends is a better term… for almost 44 years. Thank you for that love and friendship and I send it back to you all. Counting the seconds till I can come back to play for you all again. xxxx
Steve Lukather Official Website https://www.stevelukather.com/

STEVE LUKATHER / I FOUND THE SUN AGAIN
1 Along For The Ride
2 Serpent Soul
3 The Low Spark of High Heeled Boys
4 Journey Through
5 Welcome To The Club
6 I Found The Sun Again
7 Run To Me
8 Bridge Of Sighs