Pete Lesperance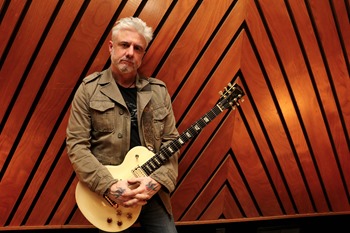 Photo by Rich McPherson
The new album from Harem Scarem is exactly what their fans want for Harem Scarem. This crucial Hard Rock product contains full of dramatic melodies, outstanding vocal by Harry Hess, beautiful choruses and stunning guitar play. Pete Lesperance emphasize these tracks by his perfect matching riffs and dramatic solos and added some sort of bounce feelings. We had a chat with Pete Lesperance himself about this attractive set "Change The World".
Interview / Text  Mamoru Moriyama
Translation         Hiroshi Takakura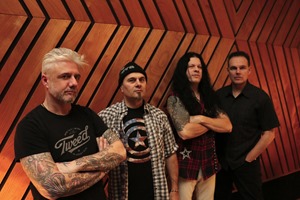 Photo by Rich McPherson
Muse On Muse : Your new album "Change the World" has everything your fans want for Harem Scarem like dramatic melodies, beautiful choruses and tasteful guitar plays. Please tell us about this supreme art which has your signature sounds.
Pete Lesperance : If we have a signature sound I think it's because a) we have been doing this for 30 years and b) because we don't listen to other music in this genre. I think after all this time we have learned what the fans like about us and NOW we always try and capture that while still trying to keep ourselves musically amused.
MM : Please tell us the concept for this album.
PL : There isn't really a particular concept for the album. We usually pick a song title that we feel would make a good album title. "Change The World" is one of our favorite tracks on the record and it seemed like a timely phrase because at this time more than ever we need to.
MM : The artwork which has a man and planets is very impressive. Please tell us about the artwork.
PL : We've been using a guy named André Blekkmark for our last 4 albums and he is a fantastic artist and a bit of a mad scientist. His concepts for the covers are all very in depth. We prefer to allow our fans to decide what it means to them.
MM : Please tell us the process of production and recording for this album.
PL : We took off a little more time than usual after touring for United. The most important part (and the hardest) of the process for us is the songwriting and we really took our time and didn't rush things. Harry and I started writing separately for the record and it was almost 6 months before we even got in the same room together. After the writing was completed it was a fairly quick process to get the album done. Drums were recorded with Creighton Doane at Vespa Studios, Harry went and recorded the vocals at his home studio and I took the tracks back to my studio to work on all the music. A couple months later, we get back together and Mix back at Vespa. Voila… new record.
MM : All of you tunes sounds very melodic and beautiful. They also have catchy melodies. How do you screen many tunes to ones for an album.
PL : We only write exactly what we need for the record. We prefer to vett and edit during the initial writing process. We only finish the ideas we believe are strong enough to make it through and when we have 11 good ones, we're done!
MM : Please tell us the meaning behind the opening/title track "Change the World".
PL : I think the sentiment speaks for itself. It's time to make some real changes for the future of our planet.
MM : The music video of "The Death of Me" was released beforehand. Please tell us about this footage.
PL : The live footage was recorded in a small studio in Whitby Ontario and the live action footage was recorded in Orillia Ontario. The point is to leave it open to interpretation. You never find out what the guy is running from. Is it a person, a thing or himself.
MM : The guitar riffs on the intro and the bass-line on "No Man's Land" are impressive.
PL : We actually had a Bass player named Justin Kudding play on that track. He plays with a Canadian country artist named Brett Kissel and I use Justin on many of my productions and I thought his style would fit the track perfectly. It happens to be one of my favorite moments on the record.
MM : The driven Hard Rock tunes like "Riot In My Head" and "Fire Gasoline" would be great to be heard in live.
PL : These songs are definitely 2 of my favs from the record and I agree that they would be good live choices. The opening riff for "Riot" came from a warm-up exercise I have been doing for years and I'm glad it finally made it into a tune.
MM : Vibes and energy on this incredible album let us listen to the opening track "Change the World" to the last tune "Swallowed by The Machine" without a stop. The new classic is born. What you reckon?
PL : I like the way you think… 😉 And thank you!
MM : Your guitar riffs on this album fit on tracks very well. Solos are not only dramatic and melodic, but also more vibrant than ever.
PL : Thanks again (you're full of compliments). As I said before, we just try and do the best work we can and that goes for every single part. I don't really listen to any rock music/guitarists so I'm just kinda doing my thing. Glad you like it!
MM : Please tell us about your gears. What guitars, amps, effectors and pedals did you use or this album?
PL : This whole album was done using the Kemper Profiler and Archetype Plini by Neural DSP (No amps whatsoever) and any other fx came plugins (post). I used my white Les Paul studio for everything except some clean stuff that was done on an old Kay guitar with a bigsby.
MM : Recently, there are many platforms to upload and share original songs on internet. On listening side, people stream tunes more than listening to records and CDs. What is your thought about these recent music scene and its changes?
PL : I think it's an incredibly exciting time for artists and their fans. It's never been easier to get your music out there and connect with the people that like it. I wish we had these opportunities when I was a kid.
MM : Please tell us about your upcoming plans.
PL : The album comes out March 6th and we will be doing a short European tour including Sweden Rock this summer! Can't wait!
MM : Please leave a message to your fans.
PL : Thanks so much for listening and we hope you love "Change The World"!
HAREM SCAREM official site  http://www.haremscarem.net/
Pete Lesperance official site  https://www.myremoteproducer.com/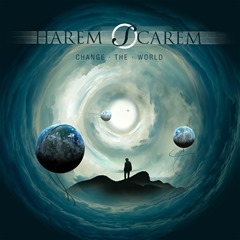 HAREM SCAREM / CHANGE THE WORLD
1. Change The World
2. Aftershock
3. Searching For Meaning
4. The Death Of Me
5. Mother Of Invention
6. No Man's Land
7. In The Unknown
8. Riot In My Head
9. No Me Without You
10. Fire & Gasoline
11. Swallowed By The Machine