Nili Brosh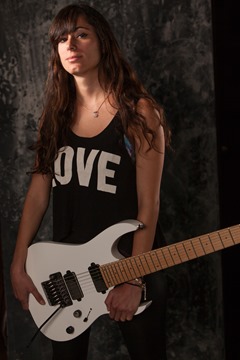 Photo by Dana Tarr
A female guitarist Nili Brosh proved her indubitable guitar skills through the works for artists like Tony MacAlpine. The emerging guitarist has dropped her 3rd studio album "Spectrum". Her supreme musical perspective, well detailed and balanced structure and of course expressive guitar play are displayed on this fantastic album and it pushes the boundary of Rock and guitar music. Muse On Muse had chat with Nili Brosh herself about her new set "Spectrum".
Interview / Text  Mamoru Moriyama
Translation         Hiroshi Takakura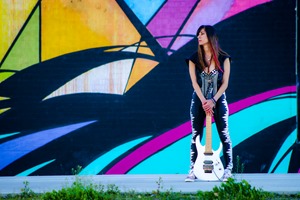 Photo by Jake Albrecht
Muse On Muse : Your brand new set "Spectrum" displays your supreme musical taste, well thought production to the detail and your expressive guitar play. I think this rich music pushes boundaries of Rock and guitar music.
Nili Brosh : Thanks so much! To me, it's a literal spectrum that blends from one genre to the next throughout the album. Every song has something in common with the song that came before it, and the song that comes after – whether it's a shared sonic character, instrumentation, or a harmonic move – to show that genre doesn't matter and music is music.
MM : What was your goal for this project?
NB : My goal was to flow from one genre the next as seamlessly as possible, giving the listener a feeling that the twists and turns of the songs snuck up on them. I wanted people to listen to this album from the beginning to the end and have the reaction of "how'd I get here?"
MM : Please tell us about the artwork for "Spectrum". It is as beautiful as the its music.
NB : The artwork was done by a Canadian artist named Nick Flook, and the original is acrylic on canvas. I think he's a phenomenal artist and we were looking to work together, so I told him the album concept and a couple of things I wanted included in the artwork (a person at a piano, accordion player, etc.). Other than that it was completely his vision – he had complete freedom to come up with whatever he saw fit and sent me the final product. He hadn't even heard most of the music, and when I first saw it I couldn't believe how well it fit the album. I think we had the right chemistry and intuition in working on this and I'm very happy with how it came out.
MM : The production is well thought, structured and arranged. Please tell us about production process including arrangements.
NB : My co-producer/keyboardist Alex Argento and I worked on the songs in this way: I programmed complete demos of every song (with all the instruments and scratch guitars) to send to him, then he re-built the tracks from the ground up expanding and improving upon the ideas and sounds that were in my demos. We decided together which instruments/songs we wanted real players for and which ones we wanted programmed (like the sounds the more dance-oriented songs required), and put the remaining pieces – such as my final guitars – in place.
MM : The opening track "Cartagena" followed by "Andalusian Fantasy" with Spanish guitar. It musically is very unexpected in a good way.
NB : Thank you! I know it was unexpected to most of the listeners who have heard my music before. All of the melodies on the album are ones that I'd heard in my head, and then asked myself what instrumentation and arrangement the song was asking for. In some cases it was obvious to me from the start – like what I did on Andalusian Fantasy – and some required a lot of experimentation, like Cartagena – I kept trying to expand it into a bigger arrangement with a lot of instruments until I realized it was meant to be a simple song with just guitar, bass, and percussion.
MM : Accordion and violin sounds add colours and flavours on "Circus Wedding" and "Rachel In Paris".
NB : Same as the previous question – once I'd heard these melodies in my head, I knew that the melodies weren't meant to be played on guitar. My first priority is to always serve the music, not write music that only leads an electric guitar to play too many notes. So if I come up with a melody and it sounds to me like an accordion melody, I go after that idea and see if I can make it work. If I feel like it needs my guitar playing, great. If not, also great.
MM : Groovy rhythm guitar and emotional and clever phases of your guitar solo on "Solace" pull listeners into the original "Nili Brosh" world.
NB : The main melody for "Solace" came to me at the tail end of a challenging time in my life, and I found literal solace in having come up with this chill melody, taking it as a sign that times were about to get better (hence the title). Both from a musical perspective and to reflect the meaning of the song, I thought it called for a triumphant solo section. It's also the halfway point of the spectrum – the middle of the record – so that solo also represents the segue into heavier, more distorted music.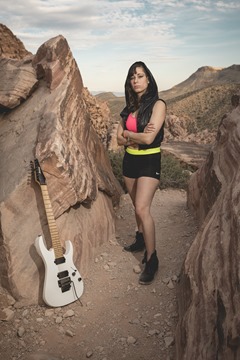 Photo by Derek Sampson
MM : Songs that flow into each other when it is in the right order. Progressive and dramatic "Retractable Intent" followed by "Desert Deja Vu"' which has technical shred guitar, then it goes into "Djentrification" which has the bright keyboard arrangements blends well with heavy guitar sounds. This is perfect transition and it proves your skills and abilities as a Rock guitarist.
NB : Thank you so much! If you think the transitions are smooth, then I did my job – the sequencing of the songs was such a big part of this project. I wanted to fade from the jazzier vibe of "Solace" into the more heavy-fusion, exotic vibe of "Retractable Intent". The next genre shift is using the dance elements in progressive metal, so I used "Desert Deja Vu" to connect between coming from "Retractable" and going to "Djentrification".
MM : The beautiful melodies on "Primal Feels" are impressive. Please tell us about this tune and also the released music video.
NB : The idea was to create a catchy instrumental guitar tune that also had additional elements borrowed from the pop/dance world, which is why it is also the single. Similarly, I wanted the pop connection to be conveyed in the music video as well. I asked myself, "if I made my own version of an MTV-style music video, what would that look like?" When it comes to the placement of "Primal Feels" in order of the record, it's meant to be the melodic and production climax of the album, and to smoothly carry over the dance influences from "Djentrication" to the end of the record with "Resistance Piece".
MM : Keyboard sounds on "Resistance Piece" goes along with guitar sounds very well. I often see guitar sounds occupy all of the track when I listen to instrumental albums by Rock guitarists. But your arrangements are well balanced and keyboard sounds are put in right places so it emphasize the track in a dramatic way.
NB : Much like the accordion and violin earlier in the record, to me the melodies are the deciding factor in what instrument I think should play them. So the melodies in "Djentrification" and "Resistance Piece" came to me as "keyboard melodies", which again meant that I had to figure out how the guitar should work around it. The guitar sounds were specifically built to complement the keys, not the other way around.
MM : This album does not sound like just an album by a guitarist. This is the crucial piece well constructed by a great producer, an arranger and a musician. Did you purposely produced like this?
NB : Sure, I didn't want it to just be a "guitar album". It's generally not how I think of music anyway. Like I said, I try to listen to what I think the music wants me to do, and if that steers away from the guitar a bit, I'm okay with that.
MM : Please tell us about your gears. What guitars, amps and pedals did you use for this album? Please also tel us about picks and strings.
NB : I used Ibanez electric guitars (RG1527, RG2727, RG550, AS93), a Cordoba GK Studio Negra nylon string guitar, Peavey JSX amplifier with an Egnater Tourmaster 2×12 cabinet, Xotic effects EP booster, Dean Markley Blue Steel strings (9-42, 54 on the 7th string), and Dunlop Big Stubby picks (2 mm).
MM : Please tell us your upcoming plans.
NB : I am planning to do more clinics and shows with Jennifer Batten and Gretchen Menn, playing the music from this new album.
MM : Please leave a message to your fans.
NB : Thank you for reading this interview and listening to my new album, "Spectrum". I hope to see you on the road!
Nili Brosh official site  http://nilibrosh.com/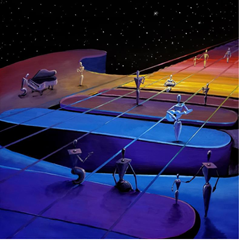 Nili Brosh / Spectrum
01. Cartagena
02. Andalusian Fantasy
03. Circus Wedding
04. Rachel In Paris
05. Solace
06. Retractable Intent
07. Desert Deja Vu
08. Djentrification
09. Primal Feels
10. Resistance Piece