Vinnie Moore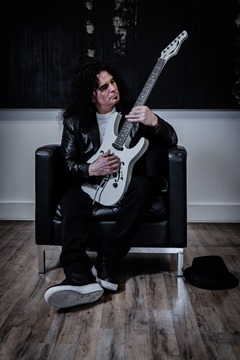 Vinnie Moore, who is well known as a guitarist from the legendary British Hard Rock Band UFO and his countless solo works, has released brand new album "Soul Sifter". Vinnie used to be recognized as a new generation highly technical guitar player in 80s. but then he broke the boundary of Neo Classical style and merged Blues, Country, Jazz, Fusion and other music which Vinnie grew up with into his play style and established his original musical style. In "Soul Shifter", He adopted with Funk, Blues, County and other elements into his style and his emotional and dynamic guitar play expresses himself deeper than ever. We had a chat with Vinnie Moore himself about his new album "Soul Shifter".
Interview / Text  Mamoru Moriyama
Translation         Hiroshi Takakura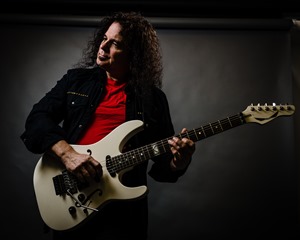 Muse On Muse : Your new album "Soul Shifter" is fantastic guitar instrumental set which displays depth and catchiness at the same time and could reach from music fans to musicians. Please tell us about the concept of this album.
Vinnie Moore : I started writing songs for this record and as usual didn't have much of a plan. At some point in the process, I realized that I had some very emotional songs that were really deep. Things took on a life of their own so to speak. I am inspired by what's going on around me and this comes out in my writing. I will get into writing mode and will come up with lots of ideas, but there is never a preconceived plan. It just happens and I go with the flow.
MM : We reckon some of your fans looked forward to hearing tracks like ones on "Mind's Eye" from you. What do you reckon about it?
VM : Yes people seem to still want to hear songs from that record. I have always played DAYDREAM onstage, and over the past few years I added a couple other songs such as IN CONTROL, SAVED BY A MIRACLE and HERO WITOUT HONOR because it seemed people really wanted to hear more. It's a great feeling that this record still resonates with people after all these years. I was 22 when that record came out.
MM : We reckon your current mood and vibes reflected this sublime album which contains wonderful production and expressive guitar play.
VM : Yes my songs always come from what I am feeling. Music has always been my way to express my moods. When I pick up the guitar, whatever I feel at the time usually comes out in what I play or write.
MM : How was the production process?
VM : I had 11 songs that I had written for the album. My drummer Richie Monica and I went into Sound Spa Studio in Edison, New Jersey to record drums and some rhythm guitar. With some of the songs, we played together with me playing rhythm guitar. With other songs we played along with the demos I had made. Playing together definitely creates a cool vibe and feel. After we finished drums, I went into my studio with the drum tracks and recorded guitars and also bass on a couple songs. I had a few different friends play bass and they all recorded their parts in their own studios. Jordan Rudess recorded his parts in his studio and John Cassidy did his keyboard parts at my place. When it was all finished, I took the tracks to Stephen DeAcutis at Sound Spa and he started the mix. I don't like to be there for mixing because after sitting in the studio all day, you tend to lose perspective on how things sound. So he would do a mix and then send it to me and I would listen in my studio. I would make notes on things I wanted to change, and Stevie would make the changes and send a new version. I would listen again and make more notes, and he would do another mix. Usually after 3 or 4 mixes, he would get it just the way I wanted.
MM : Recently musicians can finish all of recording/production process with computer in a private studio. How was your recording process for this album?
VM : Yes I always wanted technology to get to the point where I could record at home and fortunately it happened. For my earlier records, I recorded in professional studios and it was never my favorite thing because there were things like time limitations that gave me a lot of stress. It's never good to feel nervous and rushed when you are recording. At home I am much more relaxed and can take as much time as I want until I feel good about my performances. Another thing is that I like being alone when I record. I get into a very focused mindset that i don't get into when someone else is present. Also, having to explain to an engineer what I want takes extra time, whereas if I am in control, I can do what is in my mind much quicker.
MM : As the name suggests, "Funk Bone Jam" starts with funky introduction.
VM : I had a couple of the parts for that song for years but I never finished it. I listened to it one day and got it inspired by it, so I started writing new parts and it took on a new life. So basically it started with a groove, a bass guitar line, a funky rhythm guitar part, and a little melody, and then I wrote more things and arranged it. The section in the middle is a big open jam where I could go off and improvise. A little in the style of the Allman Brothers or Santana. A lot of the long solo jam was my original improvised performance. It had a flow and I wanted to keep it. There were some phrases here and there that I didn't like, and so I just replayed those small bits. But it's pretty much my original solo.
MM : The groove from "Funk Bone Jam" continues to "Kung Fu Grip".
VM : That's one of my favorite tracks on the record. It has a funky vibe and is just a fun groovin' song. It's got the talking guitar bits in there and overall shows some of my crazy sense of humor. When I was a kid there was a toy doll called a G.I. Joe that probably most boys in the USA had. He was an army guy. Anyway, one of the dolls (these days they call them "action figures") was called GI Joe with Kung Fu Grip. He had a curled up hand and you could use it to have him grab things. Mainly Barbie's body…….hahahahahaha. You could try to have him slide down a rope but of course it never really worked. So it was more left to your imagination when you played with it. At the end of the song you can hear me say "with kung fu grip". That was me imitating the TV commercial from the 70's when I was a kid. It is a fun song and I was just having some laughs with it.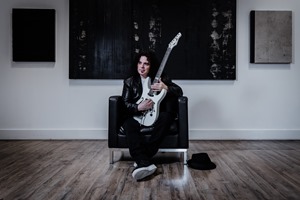 MM : Who are your influences in Funk music? Please tell us your favorite musicians and guitarists in Funk.
VM : I have always been into James Brown who is the Godfather of that whole thing. I also like P Funk, Sly and the Family Stone, The Ohio Players, Tower of Power, Earth Wind and Fire…….and many more. A lot of this stuff I grew up listening to as a kid before I even played guitar. It was popular and on the radio so it was just there. Motown was everywhere too. It was hard to not to be influenced by it all. I was also into swing music which has a similar thing going on rhythmically.
MM : Your emotional and sensitive guitar play on tunes like "Mystified" again reminds us how great you are as a guitarist.
VM : Thank you very much. That means a lot to me. This song was written the day I heard the news that Chris Cornell passed away. Very sad.
MM : Sharp Country-style guitar picking sounds on "Gainesville Station" are very impressive.
VM : This song is pretty much a blues song with some funky swing feel. It was inspired by one of my guitar heroes Steve Gaines from Lynyrd Skynyrd. It has a lot of country licks and phrasings. There are some really great country players out there. I love playing in that style. A lot of the song is the standard I-IV-V blues chord progression but I wanted to add a little more to it so it wasn't typical.
MM : Your guitar expresses yourself with a warm tone and right dynamics and I do not think only practicing theories like scales does not take us there. Do you think what is important to gain such non-technique things?
VM : I think it's important the learn scales and about music theory, but you should not think much about it when you play. You should feel what you are doing and express yourself. This comes from playing a lot. Dynamics and contrast are very important. People don't always operate at the same speed, and we don't feel just one emotion. It's very important to mix it up and let things breathe. A lot of this comes naturally, but you do have to be aware of it.
MM : Please tell us about your gears. What guitars, amps and pedals did you use for this project?
VM : I use Rotosound strings and for this record it was mostly 9 gauge tuned to standard tuning. My picks are made by Pick World and are mediums with the standard shape. I have a signature model Dean called the vinman2000 and I used about 5 or 6 of them. I also have a Dean Stratocaster, as well as a Fender Strat that I used on parts here and there. In the song Soul Rider, a lot of the melodies were done with my Les Paul using the neck pickup. Most of my Deans had my signature DMT humbucker, but in a couple I put in some other pickups so that I would have some variety. I used a Marshall JMP 100 watt head through an Engl 4×12 cabinet with Celestion V30's for most of the record. Somewhere in the recording process, I bought a 1966 Fender Super Reverb and used that on some things too. With the Marshall, I would set it up to have a crunchy sound, and then use an overdrive pedal to push it a little harder. The 2 pedals I used most are the JD Rocket Archer, and the Analog Man King of Tone.
MM : Please let us know your upcoming plans.
VM : I have a European solo tour that starts in Italy in January, and then a UFO tour that starts in the USA in February. I am also doing South America with UFO in May. So the year starts off with a lot of touring.
MM : Please leave a message to your fans.
VM : Hello people of Japan…..it's been great knowing that you have listened to my music over the years. It's always a highlight for me to play there, and I hope to do a tour there soon.
Vinnie Moore official site  http://vinniemoore.com/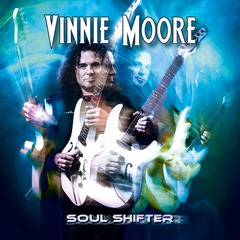 Vinnie Moore / Soul Shifter
01. Funk Bone Jam
02. Same Sun Shines
03. Kung Fu Grip
04. Mystified
05. Brother Carlos
06. Gainesville Station
07. Soul Rider
08. Mirage
09. Heard You Were Gone
10. Across The Ages