Jan Akkerman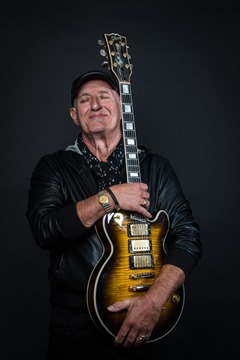 Photo by Paul Bergen
The original guitar giant Jan Akkerman needs no introduction. his supreme guitar techniques and such creative and expressive works for his legendary progressive band Focus and numerous solo works have been attracting music fans and even musicians all over the world. He released new solo album "Close Beauty" for the first time in eight years. The brand-new set showcases varieties of songs powered by his unlimited musical talent and extremely stunning guitar techniques and it proves Jan, the legend has never bored his listeners and never been backwards in his creation and musical excursion.
Muse On Muse had a chat with Jan Akkerman himself about this fantastic instrument album "Close Beauty".
Interview / Text  Mamoru Moriyama
Translation         Hiroshi Takakura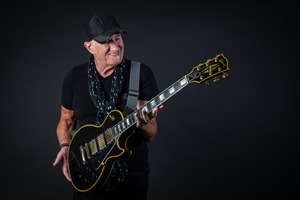 Photo by Paul Bergen
Muse On Muse : Your studio album "Close Beauty" has been released for the first time in 8 years. This fantastic work of art includes rich musical elements, beautiful various guitar sounds and your signature "Jan Akkerman" sounds. How did you start to make this album?
Jan Akkerman : Ed van Zijl [CEO of Mascot records] & I spoke about working together like 10 years before which didn't happen because of some management issues but 1 year ago we had an invitation for a Guitar festival in the Netherlands where Joe Bonamassa was performing and had dinner with Joe ,Ed and the organizers of that festival where among Jean Paul Heck who's working on my biography as a journalist and writer.
Anyway, I just had a box released of 26 solo cd's and actually didn't expect an offer from Ed van Zijl for another cd/double LP which resulted in Close Beauty as our first project for Mascot/Provogue Records.
During the Knight of The Guitar a friend was working in a remote studio near my hometown and offered me to use the studio. I called the band in and we started working on some songs and eventually recorded all the songs there because the atmosphere felt great.
Most songs were done in a live setting, something you can feel while listening to the album.
MM : Please tell us a concept for this album.
JA : The title was inspired from a simple notion, that when you are close to an object you cannot see the real value in other words, if you stand an inch away from a camel you don't see it's a camel, that goes for a lot of things.
MM : Please tell us production/song-writing process for this album in detail.
JA : The devil is in the details, It was the painstaking precision it took to construct the songs send them over to the producer and to the musicians because I didn't want them to read in order to get a more emotionally involved version of the songs otherwise you get the guaranteed swing free version.
another example is -"Don Giovanni"
It's a bit odd how it came about, a friend used to call me Giovanni Agriuomo, which is my name in Italian. Later on, a tour through Brazil a member of the band called me a lady killer. I told him that as soon the relationship ended with the lady they always tried to kill me which triggered the idea that the Mozart opera "Don Giovanni "suited the occasion because I'm a Knighted by the Queen in the Netherlands[sir] which in return means "Don" and my name is "Giovanni".
MM : Opening title "Spiritual Privacy" has the mysterious vibe and the song pulls us into the original Jan Akkerman world.
JA : To start off, I put a kind of castanet rhythm in the computer and asked the band to improvise on the chords which are secret otherwise it's not private anymore, it's kind of an absurd/realistic approach just like the album cover done by Michael Cheval.
The title is more like a paradox with a little secret in there or more like a cognitive resonance and in the hope, I'm typing this right.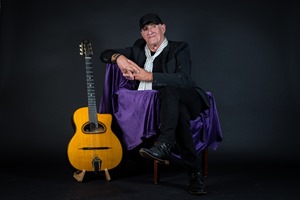 Photo by Paul Bergen
MM : "Retrospection" is well arranged and structured and it stands out. The track opens with guitar played by volume swell, followed by acoustic guitar sound with beautiful melodies and dynamics, then continue to emotional electric guitar sounds.
JA : As a kid I was infected by all kinds of music which extended later to the classical guys but my first love was all folk type of music and particularly R&B and R&R -Django Rheinhardt, and still do love old Elvis or Fats and later Miles ,Wes too many to mention but I feel privileged to get to know all the worlds music.
the first piece called "Emotional Debris" comes from the Bartok era I used to listen to a lot and has to do with my band live. Second song is "The power behind the throne" as an answer to "House of the King". Third song is based on a BBC story about the 1st WW where 2 soldiers marching while smoking a fag on their way to the Somme and one says to the other "Hear the trees whistle for the dog" it touched my soul. Last song is a composition from Moving wave or nowadays Moving wave's "Euridice"- end of the story.
MM : We can hear your expressing guitar play and feel dynamics on "Beyond the Horizon" and "Meanwhile in St. Tropez".
JA : "Beyond the Horizon"
This is my style AND blues feel throughout the song rerecorded it with the band in the studio. I missed the timing and feel of the solo etc. because I'd recorded it at home a year previous and recorded it in 1 take as with all the songs on this album and.to get the vibe back because that moment will never come back again. So, what I did together with Coen Molenaar [the producer] is take the initial recording and fit it in the band/studio version, which was recorded slightly slower but with a little appliance of science we straighten that out.
and "Meanwhile in St. Tropez"
One among of my favorite hangouts is the south of France and the song is reflecting that.
It's carefree song about hanging out on the many terraces and coastal places sun-sea Having a glass of red wine and see the sun shining through the glass with a little drop of red wine on the edge of the glass and you have never seen this …..You missed it .
MM : Rhythm guitar and code progression on "French Pride" are brilliant.
JA : It was a mistake or misunderstanding between me and the producer and it looks like he took the title "French pride" because he thought the song was quite revolutionary in harmonies and a heavy beat under it or at least about resistance but the original title was "French fries". I felt like a dyslectic rabbi singing "Yo".
MM : The album opens with "Spiritual Privacy" in mysterious way then excellently ends with hopeful tunes "Fromage" and "Good Body Every Evening" with catchy vibes.
JA :
"Fromage"
The original title was "Fromage a trois" and I'd wanted to dedicate it to the 3 kings in blues "BB-Freddy and Albert King" but for the same reason as the previous epistle it got lost in administration of things but that doesn't mean that the playing was wrong "au contraire"! I love this song it has an almost vaudeville air to it, like the good old days.
"Good body every evening"
The song is based on a gospel feel with a different solo effect, some people call it Jazz but that's not it, it's the Rhythm guitar that gives the flavor to the song and forces the lead to take another approach then standard blues licks and it worked. The title is borrowed from Benny Hill :"Good evening everybody"!
MM : What guitars, amps and pedals did you use for this crucial album?
JA : I use the line 6 Helix so in every environment I have the same sound in the hope it comes out at the same end but I always choose 1 sound of 127 presets but only use one sometimes 2 As an Amp I use 2 Voxes the AV 60 Watts.
MM : What did you try to reach the ideal guitar sounds for this project?
JA : I don't use gadgets and get a clean tone first and have a Guitar that just sounds good clean so that gives me more expression with a clean Amp sound that you can crank up later not changing the in or output of the Amp, in other words Use the lower volume and still sounds bright on the Amp with maybe a little bit of Amp noise which I like and when you turn it on loud it really screams, a good example is the end of the Guitar solo of Tommy's Anniversary.
MM : Even though you are a true guitar legend and respected by top guitarists all over the world, you have never sat on past success and your spirit of creation, innovation and evolution still exists so your fans can dig not only your past classics, but also new music. What are your inspirations for creation?
JA : I don't want to get bored playing 2nd hand blues licks and take a course in looking difficult through rimmed glasses with or without the glasses.
MM : You have been doing this business for such a long time. New artists can release their music to the world-wide market easily by new platforms like streaming now days. More and more people listen music on streaming sites than listening to record and CDs. What do you reckon about current music scene?
JA : Yah it's taking an interesting turn ,Music becomes more fluid in comparison to the carriers it uses [tape-Vinyl etc.] ,In the old days I did an LP called "Moving Waves" but nowadays it's called "Moving Wave's" from one usb stick to another and actually that's fine with me , Quality still will always stand out between all the noise and no sequence.
MM : Please leave a message to your fans.
JA : Please stay as beautiful as you are and hope to see you again soon.
Jan Akkerman official site  https://www.janakkerman.com/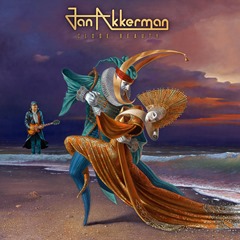 Jan Akkerman / Close Beauty
01. Spiritual Privacy
02. Beyond The Horizon
03. Reunion
04. Close Beauty
05. Retrospection (Emotional Debris-The Power Behind The Throne-Hear The Trees Whistle For The Dog-Euridice)
06. Passagaglia
07. Tommy's Anniversary
08. Don Giovanni
09. Meanwhile in St. Tropez
10. French Pride
11. Fromage
12. Good Body Every Evening