Tyler Bryant and the Shakedown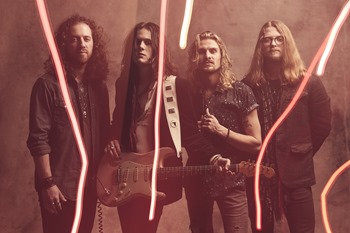 A promising Rock guitarist / Singer / Songwriter Tyler Bryant and his band The Shakedown has released their 3rd original studio album "Truth and Lies". Tyler has been working for Rock kings like Jeff Beck, Aerosmith, AC/DC and Guns N' Roses as a tour musician and build his solid skills and confidence.
The new album "Truth and Lies" displays his signature Blues Rock sound, uplifting Hard rock tunes and supreme Rock ballads, and it fascinates wide range of rock fans than ever.
Of course guitar performance Tyler Bryant himself stands out in those tracks. The outstanding solo in the end of "Couldn't See The Fire" sounds like the guitar itself sings emotional melodies and it proves why he is considered as a future generation guitar hero. Graham Whitford who also plays a guitar in the band must also be mentioned for his beautiful play alongside Tyler.
Tyler took some time to talk to Muse On Muse about the real Rock album "Truth and Lies"
Interview / Text  Mamoru Moriyama
Translation         Hiroshi Takakura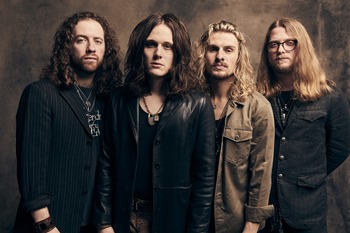 Tyler Bryant and the Shakedown l to r : Graham Whitford[Guitar], Tyler Bryant[Lead Vocals/Guitar], Caleb Crosby[Drums], Noah Denney[Bass]
Muse On Muse : Your fantastic new album "Truth and Lies" just came out. It is based on Blues rock but it also showcases your versatility and skills of playing from Hard rock to emotional ballads. What did you aim for when you were working on this project?
Tyler Bryant : We just aimed to be as true to ourselves as we could. I consider the Shakedown to be a pretty eclectic band and none of us wanted to shy away from that to fit within the confines of one particular genre. I'm very proud of how versatile this record is and believe that the sound of the band provides enough musical continuity to tie it all together.
MM : A producer/engineer Joel Hamilton, who is famous for works with The Black Keys, Highly Suspect, Tom Waits and many others, joined forces with you for this project. What did you expect from working with him?
TB : I knew from listening to records that he'd worked on that he was a vibe guy. That's really all I knew going into it, but it was all I really needed to know. I think he did a great job at capturing the Shakedown.
MM : We heard you made 55 demo tracks for this album. What and how was the process to make such many demo tracks?
TB : I'm constantly writing and recording, so these sorts of things just happen. I prefer to work quickly and instinctually and sometimes think of writing as "throwing paint." Sometimes you end up with something beautiful and sometimes you don't. I spend so much time making demos, but I do believe that us having a lot of the ideas sorted out before going into the studio allowed us to be more in the moment with our playing and singing.
MM : How did you narrow down from 55 to 13 tracks?
TB : We sat at my kitchen table and all wrote down our favorites. The four of us agreed that 27 had potential, so we learned and rehearsed all 27. The lucky number 13 made themselves obvious once the Shakedown got hold of them.
MM : The album displays superb sounds which have a real rock feeling and musicianship. How was the recording process?
TB : Thank you. We tracked the bones of the album live and did hardly any "fixing." To me it gives the album that dangerous quality that I love in rock and roll.
MM : You have toured with Hard Rock giants like AC/DC and Guns N' Roses. What kind of influences did those have on you?
TB:Those bands drove home the idea that it's all about the song. They've influenced our live show, our songwriting, and our overall work ethic.
MM : The music video of "Shock and Awe" is stunning. Please explain about this tune.
TB : We wanted to tie the "On To The Next" single cover in with the actual album cover. Caleb has a huge love for snakes and brought up that he'd love to see snakes slithering to the "Shock & Awe" riff. I called my friend Josh Kranich and within a couple of days, the video was done. Going back to that idea of "throwing paint," sometimes it turns out beautiful.
MM : Groovy vocal melodies on "On To the Next" are very impressive.
TB : That track started with the drums. The guitar riffs, vocal melodies, and lyrics were inspired by the groove. I've always been a fan of rhythmic vocals as Chris as Robinson is one of my favorite writers. This song is tip of the hat to that style.
MM : As the song title suggests, "Drive Me Mad" is the real driven Rock track.
TB : Talk about working quickly and instinctually, Graham and I wrote this song in about 10 or 15 minutes. We felt like making a fast rocker, so we did just that.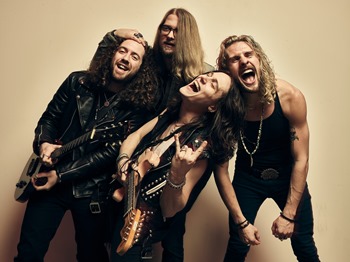 MM : The emotional guitar solo towards the end of "Couldn't See the Fire" is in motion and outstanding.
TB : This is one of my favorite moments on the album. I finished this solo and felt dizzy cause I had forgotten to breathe. This happens often when I get carried away by the music. I wanted to re-do it after my second take and Joel told me no. I'm glad he stopped me because the emotion behind the solo is exactly what it needs to be. The band builds so beautifully and I run out of frets and the strength to bend any higher. Then the record is over. On to the next.
MM : The album takes listeners to a journey from punchy Rock to beautiful ballad "Out There" and "Shape I'm In". How did you manage to make an up and down story of this album?
TB : The arch of the album was very important to us. We chose the songs that we felt like would take the listener on a journey. It's a very versatile record, but the sound of the band provides enough continuity that I think we can get away with it. The thought of being confined to one genre seems boring to me. We love rock, we love blues, and occasionally we love to break it down.
MM : There are two guitarists in your band, Graham Whitford and yourself. I could hear the differences between Strut sound from you and Graham's Les Paul but how did you assign roles when you write songs?
TB : It happens naturally. We've spent so much time playing together that it all kind of happens without much conversation. I feel grateful that it happens that way. Also, Graham takes the first solo in "Couldn't See The Fire" and it's totally sick.
MM : Please tell us your gears. What kind of guitars, amps and pedals did you use for this project?
TB : The pedal that appears on every single song is actually my signature overdrive pedal. It's called the TB Drive and is made in Germany by a company called Rodenberg. As far as fuzz pedals go, I used some Jext Telez devices, a ZVEX Mastotron, a vintage Dallas Arbiter, and the natural sound of this old radio that was turned into an amp by a company called Square Amps. Lots of small Fender amps were used and my guitars were the usual suspects. My two main pink Strats, my white Strat (The Judge), my '59 custom shop Tele, the '31 National Duolian reso, and my D'Angelico Deluxe DC were my go to guitars for this album.
MM : Please tell us your upcoming plans.
TB : We're about to kick off a co-headlining tour with The Temperance Movement and are planning to get back to Europe in the fall. We have so many shows we need to play. I can't wait.
MM : Please leave a message to your fans.
TB : To all the shakers out there, I can't wait for you guys to sink your teeth into this album. Come sing it with us when we come to a city near you. Thanks for your continued support.
Tyler Bryant and the Shakedown official site : http://www.tylerbryantandtheshakedown.com/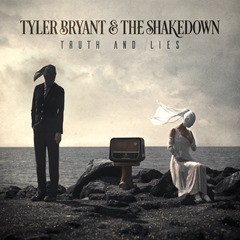 Tyler Bryant and the Shakedown / Truth and Lies
01. Shock and Awe
02. On To The Next
03. Ride
04. Shape I'm In
05. Eye To Eye
06. Panic Button
07. Judgement Day
08. Drive Me Mad
09. Without You
10. Trouble
11. Out There
12. Cry Wolf
13. Couldn't See The Fire