Michael Thompson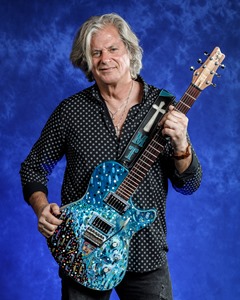 Photo by Tommaso Barletta
Michel Thompson, who is known as one of the best session guitarists, has been working for legends like Celine Dion, Shania Twain, Phil Collins, Mariah Carey and Madonna, have just released new album "Love and Beyond" as his own band Michael Thompson band.
The album open with emotional guitar instrumental number "Opening" and the set showcases wonderful vocal tracks filled by quality melodies, supreme arrangements and tasteful guitar play by the legend Michael himself. The album also contains guitar Interludes which displays Michael's identity as a guitarist and those interludes gives his very own worldview to the album.
Interview / Text  Mamoru Moriyama
Translation         Hiroshi Takakura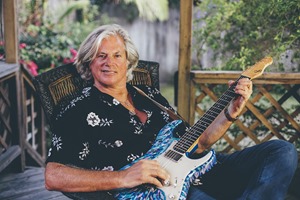 Photo by Lindsey Mejia
Muse On Muse : You have released new album "Love & Beyond" as Michael Thompson Band for the first time in 7 years. Why and how you started working for this album?
Michael Thompson : I got the idea to do this album when I realized that it had been exactly thirty years since the release of the original '88 Geffen release MTB How Long. I thought that it would be great for the fans to hear some new MTB music written in the spirit and vibe of the original MTB record.
MM : This is the 3rd album of Michael Thompson Band. What was your goal of this project?
MT : My goal for this record was to write the best songs that I could and to make a statement that will hopefully be a favorite with fans of melodic rock.
MM : Larry King is featured on "What Will I Be Without you" "Starting Over" as a lead vocalist. Could you introduce other artists who joined forces with you for this project?
MT : This record really started coming together when my friend, Larry Antonino gave me a song that he had written called "Save Yourself" and asked me to write a bridge or a new section to the song. I was so happy with how the song came out I wanted to write a whole record with that caliber of song. I had known Larry Antonino as a bass player and a great singer but I was unaware that he was such a great songwriter. We ended up writing 7 of the songs together. Mark Spiro has been a friend and a writing partner from the early 90s but I hadn't talked to him in a long time. I sent him the music track for "Supersonic" and he killed it so I sent him another track and that became "Flying Without Wings"…. Of course, Larry King and I were already partners and we wrote "Starting Over" together.
MM : How was production/songwriting process for this album?
MT : The writing process for most of the songs was this: I would write a music track, complete with most of the overdubbed guitars. Then I would give my co-writers the track and they would write melody and lyrics to it and sing it. The tracks were initially cut with programmed drums and later on we replaced all the programmed drums with real drums by either Tim Pederson or Serge Gonzalez. When we had all the parts done, I gave the tracks to my friend, Wyn Davis to mix and master.
MM : The whole album displayed quality vocal tracks which contain good melodies and incredible arrangements and your guitar play which sits on tracks well and adds edges. This is what your fans really wanted.
MT : I'm glad that you like the arrangements and vocals etc. Originally I was going to have Larry King sing all the songs but I loved how Larry Antonino sang his songs and I loved how Mark Spiro sang his songs that I decided to have three lead singers!
MM : Please tell us about title track "Love & Beyond". The music video of your band played on the beach, which you shared before the release date, was impressive as well.
MT:I like our little video. There's been some criticism that it wasn't as professional looking as other videos that are out there but I love it. I wanted to have my son Zach and daughter Sahara in it so that's what we did. It was shot and edited by my daughter in law (Zach's wife Lindsey) so it was a "family affair"….
MM : This album contains not only vocal tracks, but also melodic and impressive guitar instrumental tracks including "Opening" interludes and final track "'Till We Meet Again". You set those instrumentals effectively on the album and they emphasize the whole album. How and why did you build structure like this?
MT : I always liked records that flowed from one song into the next so I kept writing little interludes to go between the songs on the record. I have put out a couple of solo albums that were mostly instrumental so this was kind of a nod to those records.
MM : "Forbidden City (Interlude)" has a touch of Asian feelings.
MT : Forbidden City was actually inspired by traveling to China on tour with Nathan East and visiting the Forbidden City in Beijing. I play the Japanese instrument Koto and I wanted to incorporate that into the Asian feeling of that instrumental. I love a lot of traditional Chinese and Japanese music.
MM : Some people said that recently people do not want to hear too much guitar solos on vocal tracks anymore. What is your perspective of this?
MT : Of course, I still love to hear guitar solos on vocal songs – I'm a guitar player! I feel that if the solo is part of the song and it is melodic it's like a lead vocal…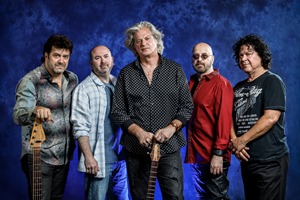 Photo by Tommaso Barletta
MM : Please tell us about your gears. What guitars, amps, pedals, guitar picks and strings did you use for this album?
MT : My gear for the album was fairly simple: For all the leads and power chords I used the painted guitar that's on the cover of the cd. It was made by my friend, Greg Back. I have about 10 of his guitars and he has worked on all my guitars. That guitar has Lollar Imperial pickups. I use Ernie Ball Regular Slinky 10-46 on all my guitars. I use Dunlop heavy "max grip" picks and I play with the pick on the side – not the point. For amplification, I used a Synergy Syn 2 with the Syn 5050 power amp. It's a modular preamp system that I think sounds fantastic. I mostly used the 800, Plexi and Bassman modules. The system has a stereo effects loop. In the loop I have a Strymon Big Sky, DIG and Deco. I also have a Walrus Julia chorus and a Neo mini vent leslie pedal. For all the clean parts I used my Performance strat that I've had since '84. It's the guitar that I've played on every single record that I've done…..
MM : Recent technology made guitar amp modelers possible to sounds very realistic. What do you reckon about those sounds?
MT : I personally like tube amps and I shy away from modelers of any type. I've heard very good sounding tracks that were done with Kempers and Line 6, etc. but I like real amps!
MM : You have been working with so many top musicians in studios and tours for decades. Do you have any episodes with them like when you were recording in the studio?
MT : I have many studio stories from 35 years of doing sessions….maybe I will write a book about my experiences someday.
MM : Please give advice to people who want to be top session guitarist like you. What are important things to play guitar, make music and what kind of attitude they should have for their works?
MT : When I came to LA in '79 I didn't know anybody and I had to start at the very bottom. I just had such a strong desire and drive to "make it" that I was going keep working until I got there. I always strive to play my best and to make a great impression so that people will remember me. I am very fortunate that I got a chance to realize my dreams. I give all credit for this to God. I would have been nothing without him!
MM : What is your upcoming plan? Are you planning any gigs as Michael Thompson Band?
MT : My plan is to keep making music and hopefully bring joy to people with my music. I would love to do some touring with MTB – we have a great band. I need to hook up with some concert bookers/promoters to try to get some dates.
MM : Please give a message to fans.
MT : To my fans – THANK YOU so much for listening! I've gotten a chance to meet a lot of my Japanese fans when I have played at the Blue Note and Billboard clubs with Nathan East. You guys rock!!!
Michael Thompson official site  http://www.michaelthompson.cc/
Michael Thompson facebook  https://www.facebook.com/MichaelThompsonBand/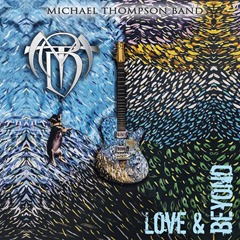 MICHAEL THOMPSON / Love And Beyond
1. Opening
2. Love & Beyond
3. Save Yourself
4. Passengers
5. Red Sun (Interlude)
6. Supersonic
7. La Perouse (Interlude)
8. Don't Look Down
9. Far Away
10. Penny Laughed (Interlude)
11. Love Was Never Blind
12. Black Moon (Interlude)
13. Flying Without Wings
14. Forbidden City (Interlude)
15. Just Stardust
16. What Will I Be Without You
17. Starting Over
18. 'Til We Meet Again
19. Love & Beyond (Acoustic Version)  JAPANESE BONUS TRACK
Guitars: Michael Thompson
Lead Vocals and bass: Larry Antonino
Lead vocals: Larry King, Mark Spiro
Drums: Sergio Gonzalez, Tim Pedersen
Keys: Guy Allison