Oz Noy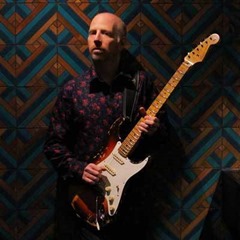 Photo by Cari Paige
Oz Noy admits himself of merging his music to eccentric Boogalo style on his brand-new album "Booga Looga Loo" just like Miles Davis adopted electric sounds on his classic album "Bitches Brew". The album consists of four original songs and four cover tracks by legends who are Thelonious monk, Ray Charles, The Beach Boys and The Beatles. The crucial album managed to display its musical depth and catchiness together for music lovers to real musicians. Oz Noy took a time to speak to Muse On Muse about his new set "Booga Looga Loo".
Interview / Text  Mamoru Moriyama
Translation         Hiroshi Takakura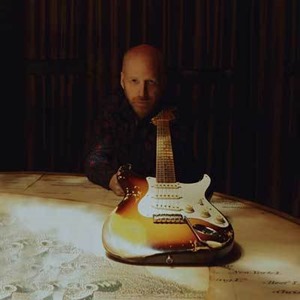 Photo by Cari Paige
Muse On Muse : Your wonderful new album "BOOGA LOOGA LOO" is a showcase of catchy yet deep tunes so different type of people from musicians to music lovers can enjoy the whole album. What was the concept of the album?
Oz Noy : The concept is Boogaloo meets Bitches Brew, it's like an electric Boogaloo record, that's what I had in mind.
MM : Please introduce musicians who joined forces with you for this project.
ON : Drummers- Steve Ferrone, VinnIe Colaiuta & Dave Weckl, Bassist- Will lee, John Patitucci & James Genus.
Organ & Keys- Brian Charette & Jerry Z, Piano- Kevin Hays, Flute-Ann Drummond, Trumpet- John Snider.
MM : Music on this album has real live feelings. What was the recording process?
ON : We recorded everything live like a real jazz record, that I have been doing my records since my first solo album. Then I overdubbed a few things like horns & strings.
MM : The album consists of 4 of your original tracks. Please tell us about those tunes.
ON :
"BooGaloo Fever"
I wanted to write a classic Boogaloo song with that Boogaloo feel.
"Chocolate Souffle"
I had this melody of the hook since I moved to NYC in the mid 90's, I re wrote the songs to fit this new album, it's got a very deep meaning to me, I think in a way it maybe the best 7 most important song I've ever wrote mixing blues grooves with jazz harmony and a very strong hook!
"A Soul Thang"
This is just a slow soulful song with this kind of 70's strings sound, real fun to play!
"BooGa LooGa Loo"
I wanted to write something like Lee Morgan's "Sidewinder" which is to me the ultimate Boogaloo song, so I wrote something with that feel but in 7/4.
MM : Not only original tracks, but also you covered classics from musical giants. Please tell us how and why you covered "I Got a Woman" by Ray Charles?
ON : Some songs you just play and they fit the guitar and the way you pay, that's one of those songs that once I played it once it was just perfect for me.
MM : Your version of "God Only Knows" originally by The Beach Boys has a beautiful string (violin and cello) arrangements which go along well with your guitar and it sounds emotional and touching. Please tell us about this beautiful track.
ON:I think God Only Knows is one of the greatest songs of all times, just brilliant harmony, melody & lyrics! I always wanted to play it and found a way to make it work for me. After recording, it in the studio as a quartet I thought it was missing something and adding strings made it much more special.
MM : The cover of The Beatles' "Eight Days a Week" displayed your crucial guitar sounds and real Rock'N'Roll vocal by Will Lee. Please tell us about this tune.
ON : We've been playing this song for years, a lot of times when I play with Will we'll do it as an encore cause it's so much fun! I just came up with this Texas shuffle groove that will work on this song.
MM : You have re-made music of Thelonious Monk before and new one on this album "Bemsha Swing" has impressive sound effect and your signature sounds.
ON : I always like re-record Monk music because there is so much freedom in his writing and you can interpret it so many ways, this was me thinking of mixing Bemsha Swing with Bitches Brew.
MM : Please tell us about your gears. What guitars, amps, pedals, guitar picks and strings did you use for this album?
ON : I used my Fender Custom shop 68 strats-rosewood & Maple, Les Paul 59 custom shop & 58 custom shop Tele.
I use D'Addario 0.11 set strings on all my guitars. Dunlop 2.00mm pick.
Amp are- Two Rock TS1 & Classic Reverb & Marshall 50W 68' Plexi
Effects are- LINE M9, Xotic AC/AC OZ signature pedal, Vemuram OZ Fuzz signature pedal, Boss DD7 delay, Vox Oxbow Studios Wah, Dunlop Phase 90, TC Electronic Poly Tune, Ibanez TS808, Sweetsound Ultra Vibe & Electro Harmonix Memory Man.
MM : Some people say that it won't sound same as your favorite musicians even if you use same gears as them. What is your opinion about connection between sounds, gears and techniques?
ON : I think you need to know how things are working in terms of getting a good guitar tone and having good technic on the instrument but if you let 10 guitar played to use some guitar and same amp and pedals , they will all sound different so… it means that the sound is in your head and you need to learn how to get that sound out to the world on music.
Oz Noy official site  http://www.oznoy.com/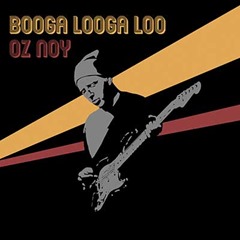 Oz Noy / Booga Looga Loo
1.Boogaloo Fever
2.Chocolat Souffle
3.A Soul Thang
4.Bemsha Swing
5.Booga Looga Loo
6.I Got a Woman
7.God Only Knows
8.Eight Days a week