Steve Stevens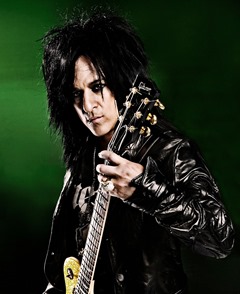 The brand-new EP of Billy Idle "THE CAGE" has been released. Billy's longtime collaborator Steve Stevens hugely contributed to this record as guitarist and co-songwritter. Steve proved his ability as a Rock guitarist and his developed music taste. He still strongly has an aura which he built up through his career working with many top artists including Michael Jackson.
Steve's guitar is famous for bigtunes with Billy like "Rebel Yell" and "White Wedding (part 1)" which both milestones in Rock guitar history. No need to mention that he contributed his beautiful and aggressive guitar to "Top Gun Anthem" which is the theme song for the classic film "Top Gun" in 1986. We can watch countless video which young guitarists cover Steve's tunes on YouTube.
As a solo artist, Steve Stevens has released a Hard-Rock piece "Steve Stevens Atomic Play Boys", Flamenco guitar project "FLAMENCO.A.GO.GO" and the great Rock guitar instrumental album "Memory Crash". Those albums speak to all music lovers how Steve is an expert of songwriting, arrangement, production and of course musician.
Muse On Muse had a chat with Steve himself about Billy Idol's new EP "The Cage", "Top Gun Anthem" and DynlR product "the Steve Stevens Platinum Collection" on Two Notes.