Bill Champlin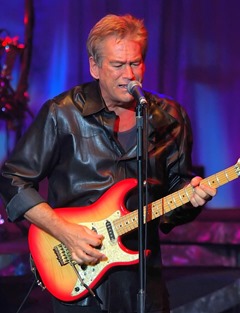 CWF featuring Bill Champlin, Joseph Williams and Peter Friestedt has released their self-titled studio album, which has definitely lived up to the expectations of the AOR fans. The album showcases a collection of melodic gems with beautiful vocal lines by Bill Champlin and Joseph Williams, accompanied by Peter Friestedt's great guitar performances that finely enhance each tune on the album.
Bill Champlin, known for his work with Chicago, as well as winning a Grammy Award with his songwriting contributions to Earth Wind and Fire's "After The Love Has Gone" and George Benson's "Turn Your Love Around", still has a worldwide following to this day. MUSE ON MUSE asked Bill Champlin about the new CWF project and album.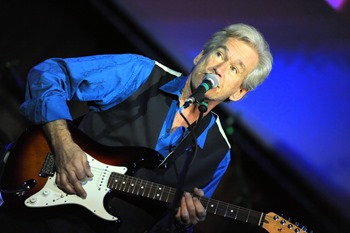 Interview / Text  Mamoru Moriyama
Translation         Louis Sesto (EAGLETAIL MUSIC)
Muse On Muse : The "CWF" album turned out to be a magnificent album displaying a great collection of melodic tunes. How was it making the album with Joseph and Peter?
Bill Champlin : I've been working with Peter on and off for his last 3 or 4 albums and a few years ago we toured with Peter, Joseph, Me, and my wife, Tamara through Sweden and a little bit of Norway. I've always enjoyed his dedication to "West Coast" music and he's done a great job writing/producing/playing on these albums. When he came over to California a few years ago he had a handful of great songs and the idea of a 3 artist album. We went into my garage, where I had a pro tools system set up and me and Joe went to work on Peter's stuff and I played "Evermore", "Two Hearts at War", and "Rivers of Fear" for the guys and we added them onto the list of songs for the CD. We added "Lavender Moon" and an instrumental of Peter's onto the list for the Japanese release. Always fun to work with Joseph. We'd done a ton of background record dates and did "West Coast All Stars" together years ago so we approached "Rivers of Fear" that way and came out with a cool a cappella piece for the album. We got Will to sing on it also, since he co wrote the song.
MM : You and Joseph obviously take part as the singers on the album. Besides the singing, how were the other production obligations split between the 3 members?
BC : Most of the songs were already written on the album so it was just a matter of figuring out who should sing lead on what song. That was pretty much Peter's job, as producer. A few songs needed other voices so I had Tamara and Will in a few spots. I know that lyrically Randy Goodrum was involved in some songs, for sure he co wrote "Evermore" which is beautifully written lyrically and his piano playing and musicality is at the top of the heap.. Any time I can get with Randy is a great thing. He's written a handful of songs with Peter over the years and I've done a few songs with him. Always a pleasure. Arranging vocals with Joseph is always a pleasure; Joe's got a great take on where backgrounds should be sung and the two of us have a little different approach to it and the two of us together always works really well.
MM : Great A cappella performance on "River Of Fear". Tell us about this song.
BC : When Will and I wrote the song it was right after 9/11'2001 after the attacks on New York and Washington and that's what the song is about. Will did a version of the song with 2 acoustic guitars and a few backgrounds and I always thought the song needed to be heard so I played it for Joe and Peter and said we should cut it a cappella with a re-arrangement which is what we did. It really shows off how well Joe does this kind of thing. All the "Drum Parts" are Joe; the only thing on the record that's not vocally driven is the finger snaps. This one was really fun to do and Peter and his engineer mixed it really well; not an easy mix cause the original engineer, me, wasn't the world's best. The lyrics are very timely for the stuff that's going on in the world lately, especially in Scandinavia and Europe. Unfortunately the lyrics will probably be timely for a good while in the world. Lotsa' angry people out there.
MM : Your son, Will Champlin took part in the songwriting and also sang on "River Of Fear" and "Two Hearts At War". Tell us about that.
BC : Will is an awesome artist/singer/player/programmer and, since he co-wrote those two songs, it was a natural to have him sing on them a little. He co-wrote "Two Hearts at War" with a Nashville writer, Marc Beeson, who in my opinion, is one of the best there; his lyrics on the chorus are as good as it gets. Will and Marc always write great songs together. I played "Hearts" for Joe and he immediately loved it so we sang on Will's track and sent it over to Peter who pulled a few of Will's lines out of the original to get it happening. Will's writing is always great. I've had him come in and play bass on other projects and when I need a really good piano player I always call Will first.
MM : What are your favorite tunes from the album?
BC : I kinda' like all of our performances on "Still Around" but every song on this album has a little something different. I had almost forgotten about the dates in my old garage that we did until Peter started sending me mixes online. I found, with the great mixes, that the players on the CD are great and the engineering and mixing is as good as it gets. Hey, it's one of my favorite albums, especially the Japanese version because of the bonus tracks. "Lavender Moon" is written by me, Paul Peress, and Brenda Russell, who is as good a songwriter as there is…..anywhere. It was a pleasure to write with her. I've known her for years but Paul put us all together and we ended up having a great time and I think we got a good song, too. It's nice to hear Peter playing an instrumental 'cause you get what a great player he really is. I'm proud to be involved with this project and we're looking forward to playing live in Scandinavia and Europe, and, I hear rumors of some gigs in Tokyo, and hopefully Osaka. I haven't been to Japan in a while and I'd love to go back to see all the friends I've made over the years. Probably this summer. There are rumors.
[*Note: CWF shows in Tokyo have been confirmed to be held at the Blue Note Tokyo on June 8 – 10, 2016.]
MM : Please give a message to your fans.
BC : I hope to see all the CWF fans at a live gig in Japan probably this summer. Come on out and say "Hello". Keep listening to good music, there's more out there than you think; you just have to find it. Projects like CWF are put together because of the artist's love of music and there are more of these kind of projects out there, for sure. See you soon!
Bill Champlin official site : http://www.billchamplin.net/
Bill Champlin facebook : https://www.facebook.com/billchamplinmusic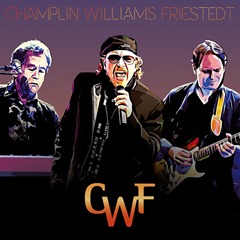 CWF / Champlin Williams Friestedt
PCCY.01985 PONY CANYON
01. RUNAWAY
02. NIGHTFLY
03. ARIA
04. TWO HEARTS AT WAR
05. STILL AROUND
06. RIVERS OF FEAR
07. ALL THAT I WANT
08. AFTER THE LOVE HAS GONE
09. CARRY ON
10. EVERMORE
11. LAVENDER MOON
12. OCEAN DRIVE