Steve Lukather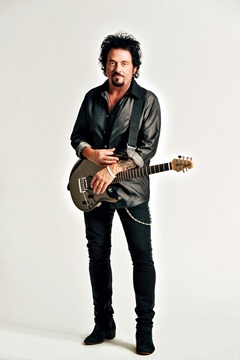 Photo : ©Rob Shanahan
2016 is here, and the TOTO Japan tour promoting their latest album "XIV" is right around the corner, scheduled for March. Each and every TOTO show in Japan has brought the best quality of music and entertainment to the fans, and the Japanese audience knows that this time won't be an exception either.
Steve Lukather sent us his annual new year message, and also talked to us about the upcoming Japan tour and his plans for 2016!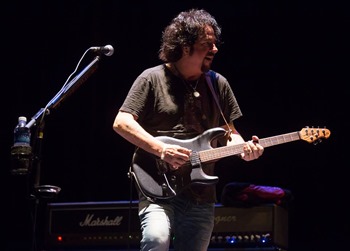 Photo : ©stevelukather.com
Interview / Text  Mamoru Moriyama
Translation         Louis Sesto (EAGLETAIL MUSIC)
Muse On Muse : How was 2015 for you?
Steve Lukather : One of my busiest years ever. Toto XIV was out and a big success for us and the tours were packed and I also did a tour with Larry Carlton, Jeff Babko, Keith Carlock and Travis Carlton in Japan in Jan 2015 ( DVD will be coming 2016) also did Ringo and the Allstarrs and Toto all year long and was on tour 200+ days this year alone.. it has been crazy busy but I love it like that.
MM : TOTO will be playing in Japan in March 2016. What can we expect to see at the show?
SL : Well we are still on the same tour promoting Toto XIV sop it will have some of that…some deep cuts from all our albums and also all the big hits. It is a great show and we are very proud of it and can't wait to bring it to Japan!
MM : Will there be any surprises such as playing some of the TOTO songs that haven't been played live yet?
SL : It is always different every night anyway but hard to say till we get out there on tour. Leland Sklar is coming out on bass this tour so that will be special and have a new vibe to the band. We are excited about that. Japan has not seen Lenny Castro on percussion with us since 1986 and he is back… we are ready to come over and show everyone we are at our very best right now!
MM : What do you have planned after the TOTO world tour?
SL : I am starting my book… autobiography and this will be out to coincide with the 40th anniversary in 2018.. I will do more touring with Ringo and perhaps a new solo project for 2017… it is early yet. I am always very busy.
MM : Please give a message to the Japanese fans that are looking forward to the show.
SL : Happy New Year to all my dear friends in Japan. I feel it almost a 2nd home now as I have made so many dear friends since coning the first time in 1980.. wow the time has flown by but I am feeling GREAT and healthy and happy and bathe music is flowing. I cant wait to play for you all and Toto has an amazing show lined up so don't miss it and thank each and every one of you for the love and support over all these years. I send it back to you all 100 times and I look forward to our tour in March 2016. Arigato!

Steve Lukather official site : http://www.stevelukather.com/
TOTO official site : http://totoofficial.com/

TOTO Japan Tour 2016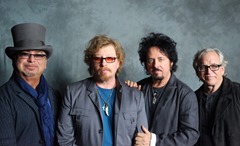 Photo : ©Heather Porcaro
Mar 03 Sendai Sun Plaza Sundai, Japan
Mar 04 Pacifico Yokohama, Japan
Mar 07 Nihon Budokan Tokyo, Japan
Mar 09 Zepp (Fukuoka) Fukuoka, Japan
Mar 10 Hiroshima Ueno Gakuen Hall Hiroshima, Japan
Mar 12 Archaic Hall Osaka, Japan
Mar 14 Festival Hall Osaka, Japan
Mar 15 Nagoya Shi Kokaido Nagoya, Japan