Dweezil Zappa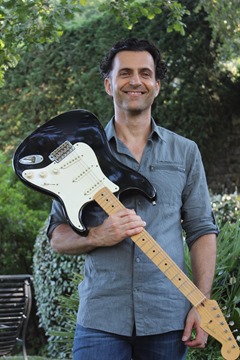 Dweezil Zappa has just released his long awaited new album "Via Zammata'". The new album showcases Dweezil Zappa's talent not only as a mere guitar player, but also in the field of songwriting, arranging and producing. The album definitely appeals to a wide variety of listeners. The album also includes a song co-written by his father, Frank Zappa, and should be a pleaser for the Zappa fans as well. Check out Dweezil Zappa talking to MUSE ON MUSE about his latest album "Via Zammata'"!!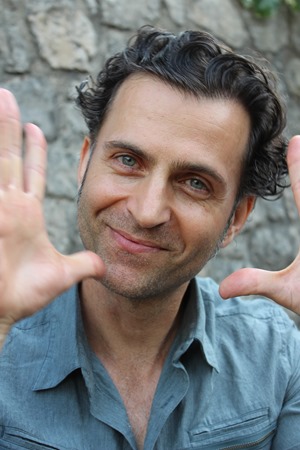 Interview / Text  Mamoru Moriyama
Translation         Louis Sesto (EAGLETAIL MUSIC)
Muse On Muse : Your latest album "Via Zammata'" unleashes your extraordinary talents to the fullest with very versatile and unique performances. What was the concept behind this new album?
Dweezil Zappa : Thank you for the kind words. I have been away from my own music for the past 10 years. In that time I have developed a lot of my own new musical vocabulary on the guitar and in my own songwriting and arranging. I wanted to make an album of songs that would allow me to integrate these new concepts. I did not really have a plan for what the album would be prior to going in to the studio. It all came together organically in the studio.
MM : Please introduce the musicians participating on this new album.
DZ : The musicians on the record are mostly from my Zappa Plays Zappa touring band. Scheila Gonzalez (sax, bg vocals) Chris Norton (keys, bg vocals) Kurt Morgan (bass, bg vocals) Ryan Brown (drums, percussion, bg vocals) and Ben Thomas (bg vocals). I also had some guest background vocalists, 3 talented female singers who go by the name "The Songbirds." I did utilize some extra musicians for certain songs. I had a string quartet and a guest trumpet and clarinet too.
MM : The album displays a variety of styles of music from instrumental tunes to heavy rock and pops. The music is very well constructed with in depth and detailed aspects. It seems as though the more you listen to it, the more you discover about these detailed aspects.
DZ : Thanks, I'm glad you feel that from the music. I tried very hard to create layers for repeat listening value. I grew up with an interest in that kind of layered approach because it was so much a part of my dad's music. The arranging for the album was probably the biggest challenge. I tried to make each song have its own sonic character.
MM : How was the song writing done for this album? Can you give us an insight of your song writing process and how you stock your musical ideas?
DZ : My songwriting process has changes many times over the years. It used to focus first on writing guitar riffs and arranging the song around a featured guitar. Because of my experience of playing in an ensemble these past 10 years my approach has towards arranging has changed. I now have more colors and textures available to me in terms of musical instruments. The timbre and attitude of the instruments can dictate the mood of the music. I now write and arrange with more of that in mind. For Via Zammata' there were many tracks that were more than 20 years old that I rearranged for the record. I wrote new material as well, songs like "Funky 15" which showcase my ensemble writing mentality. I do not have the ability to write with musical notation. When I teach the music to the band I usually have already recorded a part on guitar to show what is supposed to happen. Sometimes I will use midi instruments for this purpose as well.
MM : "Via Zammata'" stands out to be classified not only as a guitarist's album, but also as an outstanding song writer, arranger and producer's album with its overall musical integrity. Were you conscious about this aspect when making the album?
DZ : I appreciate that you view it that way. I was conscious of the elements you mention. My goal was to make a record that had depth and variety within the music as well as the production. As I said before, it was important to try to create a sonic character for each song.
MM : "Dragon Master" was co-written by your father. Do you have any episodes on this song with Frank to share with us?
DZ : My dad wrote the lyrics to this song in 1988. Metal music was still very popular on the charts. I saw him perform a version of the song at a soundcheck in Sweden. After the soundcheck he told I should take the lyrics and write the music. Over the years there were other versions of the song. Nothing that was ever released. For Via Zammata' I wanted to integrate the sound of the Arabic oud. I composed a little Arabic theme and infused it into the dark metal riff. Because the lyrics had a sense of humor to them I wanted to make the music sound very serious so that it would have a good juxtaposition against the preposterous lyrics.
MM : The vocal harmonies on "Rat Race" and "On Fire" are very impressive.
DZ : Thanks. I think Rat Race turned out interesting. I wrote all of the vocal lines on guitar and recorded each of the 4 parts separately. That way the singers would have a guide melody to sing to. It has the feeling of a Beach Boys/Queen/Bulgarian Women's Choir combination. "On Fire" was fun because my wife and kids sang some parts on there. For some reason that song reminds me of Elvis Costello. It's a quirky tune.
MM : The vocal songs such as "Just The Way She Is" are very compact, but nevertheless very melodic. The "cleverness" in the guitar solos is also impressive. Tell us about your approach to guitar solos when played in a vocal song.
DZ : That song has a melancholy story and feel in the verses and a more uplifting chorus. I grew up listening to music from the 60s, 70s and 80s. Much of that music has lush vocal arrangements. On this song and many others from the record I wanted to bring an element of that back to music in a way that felt familiar to me. There's almost a country music element in the vocal harmonies as well. As for the solo, I wanted to weave a melody into the solo but also be adventurous with some unpredictable scales. There's a lot more of a blues infusion into my playing on this record. I feel that overall the solos have more emotion than technical elements on display.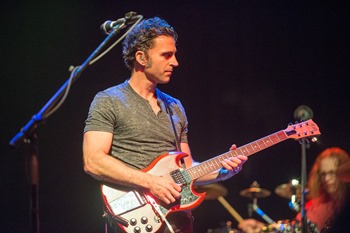 MM : Tell us about each song on the album. How the song came to be, about any background or meaning behind the song, etc.
DZ :
"Funky 15"
This song best represents the emergence of my new musical vocabulary. It is filled with complex rhythms but it has a good groove to it. It's called "Funky 15" because the main funky riff is in 15/8 time. It also features a foray into modern classical music with the addition of the string and brass parts that I wrote. It's got a very cinematic sound to it. The solo on this track was one of the hardest to capture. I worked on weaving major and minor melodies throughout. It's got a nice fuzz tone with an under biased dead battery kind of attack.
"Rat Race"
This song captures a driving feel. It has edgy distortion and unexpected harmonies. It is one of my favorite songs on the record because of the vocal harmonies and the little production surprises throughout the song.
"Dragon Master"
This song is unique because it is the only song I ever co-wrote with my dad. I wanted it to be a real old school metal song. I grew up listening to Black Sabbath and Ozzy Osbourne as well as some other heavy metal like Iron Maiden and Judas Priest. For me it was important to evoke the spirit of those late 70s early 80s metal records. I also wanted to add a middle eastern influence on the record and it worked well to infuse it into Dragon Master.
"Malkovich"
This song is the only other collaboration on the record. It features a spoken word vocal track from a very well known actor named John Malkovich. He was doing a photo exhibit project that he wanted to add a musical element to and his representatives reached out to me to see if I wanted to participate. This is the song that came from that. It appears on my record as well as his vinyl album release. On his record the song is called "Cryo-Zolon X." One of the things I like most about this track is the usage of an instrument called a Glissentar. It's like an oud. It's basically a fretless 11 string guitar. It used in the choruses to give a slightly out of tune effect to the riff. I really like how it blends with the fuzz bass.
"On Fire"
This song is an abstract story with some 60s style pop elements. It's a good example of how the guitar is used as more of a textural element and not a big feature. It has some strange rhythms in it as well. My wife and daughters sing harmonies on the song. There is also a cool special effect I created with finger cymbals. At the end of the solo/melodic interlude there are some finger cymbal hits that I tweaked with melodyne software. I turned it backwards and gave it a rise in pitch. It's an unusual sound.
"Nothing"
This song is one of my favorites. In many ways it is simple but then it has some complex harmonies added in at time. I played the Jimi Hendrix/Frank Zappa Stratocaster on the track for the rhythm and the lead. It is meant to evoke the late 60's with its production. The lead vocal is a little bit like John Lennon. During the solo I got some great guitar feedback that was very reminiscent of Jimi Hendrix. It's one of my favorite solos I've ever played.
"Hummin'"
This song is 20 years old. I like the lyrical message to this song. I changed a few things in the arrangement and added a few textures that were not included in the original demo. I always liked the dense harmonies in the chorus. The Songbirds add a nice vocal harmony sound in the bridge. I played a fretless guitar solo on the original demo and I liked that one enough to relearn and play on the album version as well. There is a lot of cool percussion on this track as well. It has a spy/sci fi sound to it.
"Truth"
This song is also 20 years old. In the early 90s I wrote a lot of songs that were kind of heading towards a singer songwriter sound. This song had lyrics but during the recording of the VZ album I reinterpreted this song as an instrumental. I wanted to showcase my fretless guitar playing and thought of playing the song in a way similar to what Jeff Beck might do. The melody has a very vocal quality to it because of the fretless sound. The string quartet at the beginning is an adaptation of the original intro from the demo which played all of the parts on the guitar. The strings were recorded by Geoff Emerick who engineered a lot of the classic Beatle albums. There is a definite Beatle influence in my own music. This song is particularly reminiscent of the Beatles. The fretless solo on this song is also right at the top of the list of my favorite things I have ever played.
"What If"
This too is an older song which has received an updated arrangement. This song has more of an early 80's pop infusion to it. It has an intriguing arrangement which features unexpected melodic interludes. There are a lot of guitar textures on this one. It has many jangly sounds and some acoustic guitar as well. It has one of my favorite bass lines on the record too. That is one thing I really tried to feature throughout the record. strong, hooky basslines.
"Jaws Of Life"
This song was born out of a few moments playing on an open G tuned telecaster. I had never tried playing on that tuning until last year. It has a straight forward feel that is evocative of the Rolling Stones. It also has a lot of arranged background vocals that help create the feeling of records from my youth. For some reason it has a Carpenters vibe to me. Scheila's voice sounds like Karen Carpenter on this song. I like the "broken" fuzz tone sound of the lead guitar on this track.
"Just The Way She Is"
This song is 20 years old as well. The interesting thing about it is that it always had saxophone and Wurlitzer on it. Back then none of my music feature keyboards or any instruments other than guitar bass and drums. The demo of the song really stood out at that time because of the instrumentation. I like the little half step bend in the bassline of the main intro riff. That was the foundation of the entire song. The story line is a little sad in this song. I wrote the lyrics long before I had any children of my own. When I hear the chorus of the song now I think of my daughters Zola and Ceylon. I like the blended clean sound mixed in with the fuzz tone in the solo. It reminds me of my dad.
"Billionaire's Son"
This is probably the quirkiest song on the record. It has a fictional story with a ending. It is filled with unusual textures and production surprises. The clarinet solo brings us all back to the roaring 20's when people danced the Charleston. There are other intriguing sounds on the recording as well. There are a few melodic lines that I played on Glissentar that answer the lead vocal. They have a very George Harrison type of sound. Of all of the songs on the record this one is most like an audio movie.
MM : You utilized crowd funding (Pledge Music) to make your latest album. What was the reason behind this decision and how was it using Pledge Music?
DZ : I heard about Pledge Music and thought it would be worth a try. I was planning to make the record anyway but thought it would nice to see if the pledge campaign could help with production costs. Rather than viewing it as a charity case asking for handouts I chose to run the campaign as an opportunity for fans to simply view it as a pre-order option. This way they could show their support by ordering the record in advance and having access to exclusive video footage during the recording process. If this type of opportunity existed in the 60s and 70s imagine what an amazing thing it would have been. You could be a fly on the wall at a Jimi Hendrix session or a Beatles session or a Frank Zappa session. It would have drastically changed how fans could interact with the artists. It has done that now in the decade. People are able to be part of the record from the ground up and it does make a difference in how the record gets made. When you have a flood of support it connects you with the fans and makes the process less insular and isolated.
MM : You offered very interesting footage such as guitar lessons and documentary footage to funders on Pledge Music. Do you have any plans to release any of this footage as a DVD?
DZ : I do have a lot of footage. I would like to make an official release of some sort. I think it would be a good thing to offer.
MM : What do you think of the current music scene? In what direction do you think the scene is heading towards?
DZ : I think the current popular music scene is very narrow minded. It is heavily marketed towards a very young audience and there isn't much variety to the offerings. Many of the top hits are written by super producers and not the artists. There is a formula to all of it. While these producers are quite good at what they do the focus seems to be less on musical or artistic value and more on disposable carbon copies of the latest greatest trend. Theoretically there is room for all different styles of music to exist but only a very narrow pipeline of music is exposed to the masses in traditional outlets. When you couple that with the fact that most young music fans are not really consumers since they have grown accustomed to getting music for free, the industry is in a precarious position. It is hard to generate income from selling records yet it still costs a lot of money to make good sounding records. That is why touring has become so important to so many musicians.
Dweezil Zappa official site : http://www.dweezilzappaworld.com/
Dweezil Zappa facebook : https://www.facebook.com/DweezilZappaOfficial/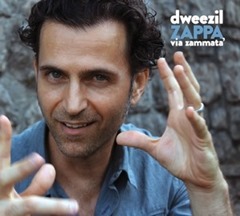 via zammata' / Dweezil Zappa
1. Funky 15
2. Rat Race
3. Dragon Master
4. Malkovich
5. On Fire
6. Nothing
7. Hummin'
8. Truth
9. What If
10. Jaws Of Life
11. Just The Way She Is
12. Billionaire's Son