Gustavo Carmo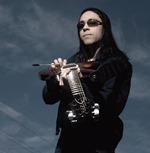 "Our Lives, 13 Years Later…" released in 2014, is a highly technical and melodic instrumental album featuring a mix of metal and fusion aspects by ex-ANGRA drummer Aquiles Priester and VERSOVER guitarist Gustavo Carmo. Many metal fans may know the name Aquiles Priester, especially with his success as a member of ANGRA, a band widely recognized internationally. But the name Gustavo Carmo may not sound as familiar to many yet? Listen to "Our Lives, 13 Years Later…" and you will hear what Gustavo is all about! The album features guest guitar players such as Tony MacAlpine, Vinnie Moore and Greg Howe. Listening to the album, you will understand that Gustavo Carmo proves to be no less than the highly renowned and technical guest musicians, and deserves equal recognition. Gustavo took time to talk to MUSE ON MUSE in detail about his musical background, about playing guitar and about "Our Lives, 13 Years Later…"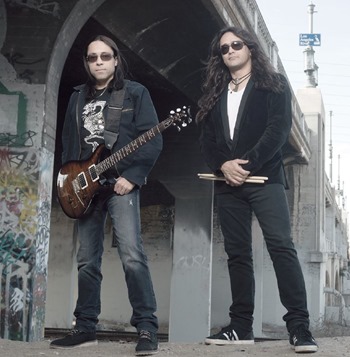 Interview / Text  Mamoru Moriyama
Translation         Louis Sesto (EAGLETAIL MUSIC)
Muse On Muse : Give us a brief introduction of yourself. Also, at what age did you start playing the guitar? What got you started?
Gustavo Carmo : I'm Gustavo, a guitar player, member of VERSOVER. My father was a professional musician and owned a radio station in the small town I grew up in. My mother was also highly involved with music while singing in the city's classical choir. Despite having music all around, I got started rather late, at the age of 12 on acoustic guitar, and at the age of 13 in electric. At the age of 15 I also started classical guitar studies, which were very intense until I was about 20. I never stopped playing electric guitar and it has always been my major instrument.
MM : Back when you started music, what kind of music and musicians / guitar players were your influences / heroes?
GC : My major influences during my starting years were Marty Friedman, Randy Rhoads, Zakk Wylde, Tony MacAlpine, Yngwie Malmsteen, Steve Vai and Joe Satriani. Later I went into Steve Morse, Jeff Beck, Frank Gambale, Greg Howe, Vinnie Moore and Eric Johnson. Those are the main musicians I looked up to and spent a lot of time dissecting their music and style. For classical guitar influences I can tell that Andrew York was a major source of inspiration, followed by Fernando Sor, Heitor Villa Lobos, Francisco Tárrega and others. Besides classical and metal, I also heard and occasionally played a lot of Brazilian popular music.
MM : You have a great sense of melody, along with a very high level of technical aspects too. What kind of practicing did you do in your early days, in order to acquire the originality that you have now?
GC : I believe that the early exposure to various types of music my father played and the music that his radio station broadcasted has a lot to do with how my music is translated today. Back in the day I had access to thousands of vinyls, something rare for that time, and I used to listen to all sorts of styles, from Brazilian popular music to Country, from Pop to Rock.
When I was developing my technique I used to divide my studies between 3 to 4 hours of classical guitar and 3 to 4 hours of electric guitar. I used to organize it in blocks of 30 minutes studying different technics and also learning music from other players. Very early I started composing my own stuff, so I devoted a lot of my time on this as well.
MM : You formed the band VERSOVER as you started your professional career. Tell us about this band.
GC : VERSOVER is my first non-cover band which was put together by me, my brother Rodrigo Carmo, and two other good friends, circa 1997. We used to live 2 blocks apart from each other, and we all had the same musical tastes and aspirations, so it was a natural fit.
The majority of the work that I have commercially released has been done with VERSOVER. We have released one demo tape, two studio albums, one EP, one live CD/DVD and a couple of appearances in other projects, all of them through Die Hard Records, one of the major Metal labels in Brazil.
We did many shows in our area and we also have opened very cool acts such as Blaze Bayley, Edguy and Angra, and we had an appearance in one of the most popular TV shows in Brazil, "Programa do Jô".
VERSOVER had a few stop gaps over the years, but now we're back in full speed while composing our new studio album, to be released next year. The band is back with ¾ of the original line up, me, my brother Rodrigo Carmo and the drummer Maurício Magaldi, and the bassist Leandro Moreira to complete the team, which was also part of VERSOVER in the past, around 2005!
MM : You also perform as a classical guitar player in Brazil and Europe. Tell us about your activities as a classical guitar player.
GC : When I was about 15 I started taking classical guitar lessons with one of the most prestigious instructors in Brazil, Henrique Pinto. Soon I applied for a few classical guitar competitions and got a few good prizes in South American level. This led me to some exposure, and I had a very active period of concerts and teaching.
I also had a duo with the great lyrical singer Claudinei Alves, which was also my theory/harmony instructor for a while. We also did a couple concerts and got second place in a National chamber music competition in Brazil.
My career as a classical guitar player was rather short but full of great achievements, and that laid down a very solid base for my current guitar playing and how I approach music and shape my studies.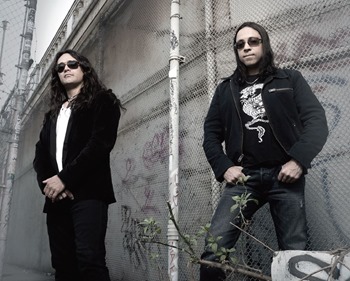 Aquiles Priester, Gustavo Carmo
MM : Tell us about the "Our Lives, 13 Years Later…" album you made with Aquiles Priester. How and why did you decide to make this album?
GC : Aquiles and I met during the recording sessions of Hamlet, a project Die Hard Records put together which involved many bands from the Brazilian metal underground. Right after we ended up its recordings, in 2001, Die Hard Records invited me and Aquiles for an instrumental project they wanted to release.
We started collecting some material for the album, but Aquiles was recruited by the great band Angra. Contractual issues and lack of time forced us to table this project and it ended up in the drawer.
Many years went by and Aquiles left Angra to focus on his career and on his band, Hangar. A couple months after that we needed a drummer to play in one of VERSOVER's concerts and we invited him. This is where we reconnected. We ended up forming a new band, HOUSE OF BONES, and this is when things sparked again. In the meanwhile I had the opportunity of touring with Aquiles in support of Vinnie Moore, and I also participated in one of the songs recorded for an instructional video Aquiles put out.
During the recording sessions of the EP we released with HOUSE OF BONES, I asked Aquiles to record a few grooves and drum fills. I said I'd be trying to come up with songs over the drum parts. At first I had the impression he did not think I'd be moving forward with this, but after I sent him two songs we soon noticed that it would be a great idea to bring back that project, which was left behind in 2001.
MM : The album is filled with superb tunes, featuring excellent melodic and technical aspects. Tell us how the song writing was done with Aquiles.
GC : This album had a very unusual writing process. Aquiles and I actually never met in studio to do it. The songs started from the drum parts. Aquiles would record grooves and ideas and then send them over to me. I'd work on getting melodies and harmonies over them. I'd sent them back to him for refining until we settled on a final arrangement and format.
This is the only way that this project would have ever worked. We both have tight agendas, and we live very far from each other. I currently reside in Seattle, USA, and Aquiles in Sao Paulo, Brazil.
MM : Musicians such as Tony MacAlpine, Vinnie Moore, Greg Howe, and Kevin Moore take part in the album as guests. How and why did they take part?
GC : The idea came naturally. Aquiles and I had this vision that it would be nice to have special guests like those. It would be a great artistic contribution, and such a pleasure to have all these stars with us on the record.
How they happened vary case by case. We already had contact with most of them, but with Kevin Moore, for example, it was a sudden approach. I have always been a fan of his work for a long time and we needed somebody for the keys in a specific song that seemed to fit very well with his style. His name came right away.
Aquiles is Tony's drummer, also Vinnie's drummer, and I had already toured with them in Brazil as a support guitar player, so it was a natural contact. I had studied with Greg for some time, so that's how we got in touch. And the list goes on.
MM : Did you send audio/recording files to the guests and have them record on their own? Is there anything you learned or were impressed about when working with the guests on this album?
GC : Yes, we sent the files and asked them to record over a certain part of the song. They all recorded on their own. We were impressed with each one of them. It is such a cool experience to get the results back and notice all those known stamps. It's their voice, you know? It's unbelievable when we hear it the first time and get that tone and voice we have been hearing for a long time.
MM : Your guitar performance on the album displays very impressive melodic aspects, while also being very technical and thrilling at the same time. You also have a versatile style from heavy and intricate rhythm guitar to groovy strums and riffs, such as in the mid section of the song "Carousel". Tell us about your approach on structuring guitar solos as well as your approach to structuring rhythm guitar phrases and riffs.
GC : Having all the songs starting with drums, we'd need at times to adapt and rearrange parts to come up with a more cohesive structure, but for the most part, the guitar work was improvisation over each rhythmic section until something cool would show up. I started with the riffs and rhythm parts and then themes, solos last. As I played each part a couple times the most relevant musical pieces stick and that's when things get definite.
From a creation and creativity perspective this is something new for us. Usually musicians are in a room and each one pitches parts one another and that's how the song takes shape. Or if working remotely, the songs usually start with riffs or lines. In our case, the only creative signals I'd get end to end were drum parts and fills, and the only signals Aquiles had were his imagination and vocabulary. One of the cool results of this approach is that we end up with arrangements, structures, phrases and forms that we'd rarely achieve with the standard composition mechanisms.
I was mostly worried with putting together an album that could be repeated without being boring, that would bring a good and immersive listening experience, something special for each song. It is quite a challenge to keep this mindset throughout a whole album, which is full of intricate and technical stuff. This is the main reason I have this ritual of re-polishing the song many times. If I get bored myself, it is an indication that it is not right.
MM : Please tell us about your gear. What guitars, guitar amps, effects, foot pedals did you use for this recording?
GC : I recorded the whole album with a single guitar, a PRS Custom 24. The guitar tracking was all done in my home studio here in Seattle, through a Digidesign Eleven Rack with Pro Tools, and then reamped later. Basically, I record the raw guitar signal and use the unit's simulation to have an idea on how it would sound in the end. When it was finished I went down to Orbits Studio to perform the reampings, which consists of reproducing the guitar raw signal through real amps and speakers and capture the final sounds.
For the rhythm tracks I used a Marshall 9100 Dual Monoblock power amp and a Marshall JMP-1 pre amp. Between the power amp and the pre amp I used a THD Hot Plate attenuator. I like doing that to get more of the power amp tube tone instead of getting more of the pre amp tone. The power amp tube distortion has more body and are more authentic, and the pre amp was dialed in to get the right amount of gain for each song. The power amp was literally maxed out so we could get the most of the big tubes, but then I controlled the attenuation level to match the speaker's sweet spot. The tubes used in the power amp were Sovtek 5881. The speaker cab used for the rhythm tracks was a JCM800 loaded with Celestion Greenbacks.
For the solos I used a 1979 Marshall JMP head, a rare unit I had acquired a few years before recording this album. The same story with the attenuator, between the head and the cab, which was a Marshall 1960B loaded with Blackbacks, from the 1979 stack. For effects I used the Marshall JFX.
Canare cables with Neutrik plugs were used on the guitar. Between amps, attenuator and speakers, Planet Waves cables were used. Send and return cables between the JFX and JMP-1 were Mogami.
The picks used were the Dava Control Multi-gauge, which have a flexible center and a rough surface. The flexible center is nice for more expression on certain passages where the picking pressure should be lowered, as we hold the pick farther from the strings. The strings used were D'Addario Nickel Wound EXL110, and Earnie Ball Slinky Cobalt 2721, both gauge 0.10 (10|46).
The mics for the guitars were C414BULS and a modified SM57. The mic preamps were Neve 1073 and Joe's Wunder Audio Pre.
MM : Please give a message to your fans.
GC : I would like to invite all of them to listen to this record and hope they enjoy it as much as we did doing it!
Aquiles and I will be working on a DVD with this record's songs, and we'll be doing live workshops real soon! We hope to see you all there! Rock on!
Gustavo Carmo facebook : https://www.facebook.com/gustavo.carmo.guitar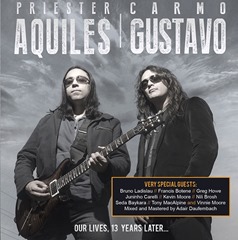 Aquiles Priester | Gustavo Carmo / Our Lives, 13 Years Later…
1. Elevator
2. Dolphin Race [Special Guest: Greg Howe]
3. Carousel
4. Our Lives, 13 Years Later…
5. Titanic: A Night to Remember [Special Guest: Vinnie Moore]
6. The Old Man and the Sea [Special Guest: Tony MacAlpine]
7. Cluttered Inbox [Special Guest: Kevin Moore and Seda Baykara]
8. The Bucket Is Full [Special Guest: Nili Brosh]
BONUS TRACKS:
9. Jubilation / Sunburst
10. PsychOctopus Drum Solo