Sonny Landreth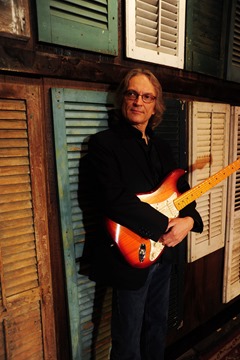 Photo by Robley Dupleix
Sonny Landreth is known for originality on the guitar with his detailed techniques and expressions using the slide bar, along with his dynamic and powerful performance on the instrument. Added to his trademark slide guitar techniques, Sonny also shows a great talent as a singer and songwriter, allowing him to continuously deliver quality music over the years. His new album "Bound By The Blues" is a tribute to his blues heroes, featuring a brilliant mix of blues covers and new originals. Sonny talks to MUSE ON MUSE about his new album.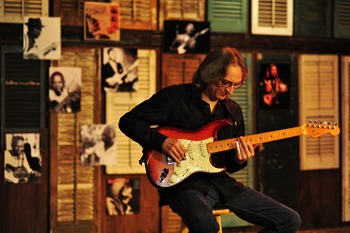 Photo by Robley Dupleix
Interview / Text  Mamoru Moriyama
Translation         Louis Sesto (EAGLETAIL MUSIC)
Muse On Muse : What was the concept behind the new album "Bound By The Blues"?
Sonny Landreth : I wanted to pay tribute to some of my blues heroes and their music by recording some of their classic songs that I grew up with and include new songs of mine influenced by all of them as well. I also wanted to acknowledge that the blues as a universal language speaks to people everywhere and binds us all through common experiences of hardships, overcoming challenges and finding grace in the face of adversities.
MM : You included songs such as Robert Johnson's "Walkin' Blues" and Elmore James' "It Hurts Me Too". Of the many songs by Robert Johnson and Elmore James, what was the reason behind choosing these two songs?
SL : Well, there certainly are a lot of other songs of theirs that I could've chosen but it was important to keep this personal. So, I picked some of the songs that inspired me when I stated out and have been playing all these years. In the process, I realized something very interesting. I was struck by how different I play these songs now compared to how I approached them early on and even later when I was traveling and playing gigs in my 20s and 30s. As I evolved and made new discoveries along the way, I would incorporate those new techniques and sounds into the arrangements. Also, the songs would influence how I used the new methodologies in a kind of beautiful exchange that had been taking place without me really noticing. That takes it to a deeper level and makes it a much richer experience.
MM : You recorded 5 original songs on the new album. How do you view instrumental tunes in comparison with vocal songs in regards to songwriting?
SL : I would say the biggest difference would involve the treatment of melody. Of course, melody is always important but even more so with an instrumental because the instruments are taking the place of the vocals. Since the essence of slide guitar is so much about having a lyrical, vocal quality that floats melodically, it's a natural fit for me as a player AND as a songwriter. I have always loved how a good instrumental song can fire up one's imagination with imagery that can be both detailed and abstract at the same time. In that way, for me, the sky is the limit. On the other hand, nothing touches the heart more than a good lyric delivered in earnest by an honest, soulful voice. Guess I'm equally hooked on both and have plenty of heroes who are too.
MM : Tell us about the song "Firebird Blues" which you dedicated to Johnny Winter.
SL : The news of Johnny's death came just before I went into the studio with my band to record the new album and it hit me hard. We'd done a lot of shows together in the past 5 years or so-including a great tour we did in Japan-and I got to play on his album, Roots in 2011. Since Bound By The Blues was thematically about paying tribute to my heroes, it was important to me to include him as part of that. I just told the band that we were gonna play the blues in the key of G and to think about Johnny and off we went. It was totally spontaneous, raw with some rough edges and honest in the way he always did it himself. I played my vintage Gibson Firebird through an original Marshall Plexi head and a 4 by 12 cabinet-pretty much the exact combination he used when I first saw him play in Houston, Texas in 1970. It's one of my favorite tracks on the album.
MM : The new album displays some extraordinary slide techniques with great feeling and nuances. What's your word of advice for guitar players that want to learn how to play slide guitar?
SL : On the gear side of things, I always recommend setting up a guitar dedicated to slide playing with heavier gauge strings and a bit higher action. I'm also in favor of tuning it to an open chord like E or G like most of the Delta blues men did. That opens up the sound of the guitar in a big way and actually makes it easier to lay out the chords when you're a beginner. It's also important to use a slide-glass, metal or whatever feels right to you-that matches up with your string gauge. If it's too light, you won't get the sustain needed. If it's too heavy and the strings are light and too close to the frets, it'll choke out. You want to find that sweet spot in between. On the music side, try thinking more like a wind instrument player whose phrasing is based upon taking a breath. That will give a warmer, more expressive quality to your playing that is different from most guitarists. It 's also important to listen to the masters who came before and those around today. Gleam everything you can but have a goal to focus it all towards developing your own singing, lyrical sound and style. Like anything, it takes time, work, dedication and, I would say, a certain sense of adventure.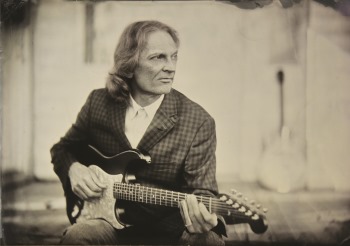 Photo by Bruce Schultz
MM : Your guitar sound on the album has a terrific warmth to it. I'm sure a lot has to do with technique and how you play the guitar, but is there anything special that you do with your gear (e.g. amps, pedals, etc.) to obtain your sound?
SL : Though I have effects, pedals and favor some amps and guitars etc., it's really more about touch than anything else. In fact, a finger style approach like Chet Atkins' or like the Delta musicians is a huge part of getting that warmth you mentioned. It also gives you control and more potential to unlock the sounds that make slide guitar so unique.
MM : Please tell us about your gear. What guitars, guitar amps, effectors, foot pedals did you use for this recording?
SL : Guitars…
Prototype Fender Signature Strats :
-Maple Neck (DiMarzio DP-181 bridge w/Fender Noiseless pickups in middle & neck) tuned to A or Am -Rosewood Fretboard (Lindy Fralin Hot Vintage Single Coil pickups) tuned to G
1960 Gibson Les Paul ("Simcoe Street") tuned to G
Robben Ford's 1958 Fender Strat ("Dust My Broom") tuned to to D
1930's National Duolian ("Bound By The Blues") tuned to Am
1997 Metal Body Round Beck Dobro ("The High Side") tuned to D
Pedals…
For Boosts Only:
Fuzzulator added to Hermida Mosferatu Drive
Otherwise:
Hermida Mosferatu Drive
Except: Hermida Dover Drive for "Where They Will"
Analog Man Compressor
Voodoo Lab Giggity
T.C. Electronics Chorus in Pulse Mode) for the second solo on "Cherry Ball Blues"
Fulltone Tube Tape Echo
Amp Heads…
Demeter TGA-3
Dumble Overdrive Special (Simcoe Street) Marshall Plexi 100 (Firebird Blues)
Cabinets:
Marshall 4×12 (most songs) with Celestion V-30s spkrs Or Fender Bandmaster Cab with Celestion K-100 spkrs Or Dumble 1×12 Cab w/Celestion K-100 spkr
MM : Please give the Japanese fans a message.
SL : My friends, ever since my first tour in Japan decades ago, I feel great admiration for you, your culture and your country. You have a deep and abiding passion for music and art that is uniquely beautiful and most inspiring. I am grateful and I am very much looking forward to coming back.
Sonny Landreth official site : http://www.sonnylandreth.com/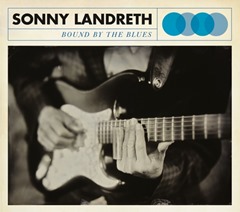 SONNY LANDRETH / BOUND BY THE BLUES
1. Walkin' Blues
2. Bound by the Blues
3. The High Side
4. It Hurts Me Too
5. Where They Will
6. Cherry Ball
7. Firebird Blues (in memory of Johnny Winter)
8. Dust My Broom
9. Key to the Highway
10. Simcoe Street