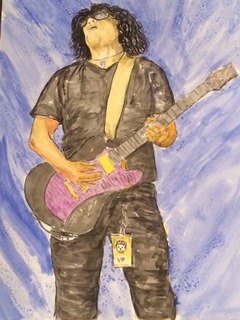 Today I am designing some new versions of my signature Framus Idol Maker guitar at the Warwick Framus Custom Shop in Markneukirchen Germany. I am working this week with the co-designer of the Idol Maker and head of Framus and Warwick R & D Marcus Spangler.
Last year I decided to come to Framus and create a new guitar…Why??? Well there are a couple of reasons.
First off I hadn't designed a new guitar since working on my Caparison Breadwinner style guitar in 1999 in Japan. I always LOVED that guitar but I thought I had been playing that guitar long enough feeling that I needed to create something new and original to wake up my energy and guitar play.
The other reason I came to Framus to design a new guitar is a sentimental reason. The owner of Framus, Hans Peter Wilfer is a friend of mine and one day he told me a story about how he wanted to make the Framus guitar line again find its glory and the reason he wanted this was not for money…It was for his late Father who loved Framus. My Father and I were VERY close as I am now with my Son so this touched my heart. I asked HP (that's what we all call Hans Peter) if he would like me to help and he said yes and later that year at the NAMM show in Anaheim we knew we hit a home run with the Idol Maker when it was chosen by most critics as The Best Guitar Of The Show. And almost right away the guitar started selling really well which was a great sign that we had done something special.
OK SO HOW DID WE DO IT?
The first thing I needed to do when I started to conceive the Idol Maker with Marcus was to create a shape that was original but still contemporary and that isn't easy to do since there have been SO many guitars designed over the years.
As always for me I wanted a guitar that was both Vintage and Modern and for the shape I wanted a guitar that my Metal, Funk, Rock and Jazz player friends would all wanna play (it's REALLY hard to find common ground there!)
I also based the wood and fundamentals after the first guitar I ever got as an endorser in 1988 which was my red Hamer Tele. That guitar is the proto type to almost all my guitars. It has a mahogany body, maple cap and a 24 fret maple neck with an ebony fretboard. It also has a pumped up PAF style bridge pick up and most importantly it has a rare Bill Laurence OBL neck pick up and that pick up would prove to be a big part of my tone over the last 25 plus years.
Once we picked the shape Marcus really took over by making the main mahogany body and maple top fit together like a tray creating a very modern geometric flow to the guitar. For the Idol Maker I used my go- to Seymour Duncan Custom Custom pick up in the bridge which is like a PAF on steroids BUT there were no Bill Laurence OBL neck pickups to be found so I used a Duncan Phat Cat that Evan Skopp at Duncan turned me onto when I was looking for a neck replacement pick up for one of my DBZ Imperials. The Phat Cat is a Straty bluesy sounding P90.
This combination so far is proving to be really popular with guitar fans. The final bit for me was to use my signature purple color and just like that The Idol Maker was born.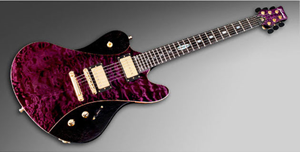 Well since then I have come to the Framus Warwick factory here in Germany to find ways to innovate with a goal of making The Idol Maker the coolest guitar on the market.
For this trip I am working with Marcus on some Idol Maker Jr's and Idol Maker Tele/Strat sounding hybrids as well as an old school high output Idol maker with an original Floyd Rose bridge. In this photo you can see the testing ground.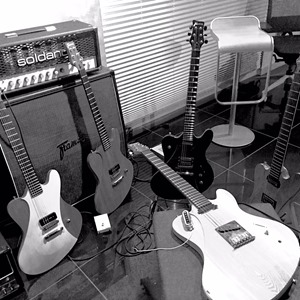 These guitars in this photo are all mock ups. Some have 22 frets and some have 24 frets, some have maple necks and some have mahogany necks. Some are bolt on and some are set necks, another words at the Framus custom shop I can try any combination possible to find the magic tone.
I have the most exotic woods to choose from too and since I am a Native American who cares about the planet I am happy to say Framus is a member of Climate Partner and the custom shop is carbon neutral. (Yes. Framus and Warwick care about the environment and they only use certified wood not endangered woods).
My goal for this week is to have some cool guitars ready for the July Nashville NAMM trade show.
First I will have a cool relic Idol Maker Jr. done in black with a mahogany body and thin maple cap, 22 fret maple neck with ebony fretboard and the pickups will be a Phil X P90 in the bridge and an OBL in the neck! YES, Hans Peter found some OBL pickups in a shop in Germany. Perhaps last ones available?
2nd I will have an Idol Maker Tele/Strat style hybrid made from swamp ash with a maple neck and rosewood fretboard. This guitar will have a cool Duncan Tele bridge pick up that the great Billy Gibbons from ZZ Top turned me onto (I am still not sure what I will use in the neck yet.)
3rd I have an old school Jackson style Idol Maker with an original Floyd Rose. This guitar will have an OBL humbucker in the bridge and a Strat size OBL in the neck a lot like my original Hamer Tele.
4th I will have an all Korina wood Idol Maker with a rosewood fretboard and 3 Firebird style mini buckers (I am still experimenting with these pickups now too).
SO by the time you read this these guitars will be in Nashville hopefully creating a bigger buzz!
OK. So now I will leave you with this….When designing your own guitar or even when modifying your guitar remember this…there are rules to be followed and rules to be broken…always do a bit of both.

Marcus Spangler with the test Floyd Idol Maker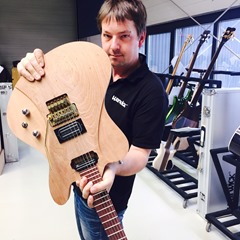 Swamp Ash anyone?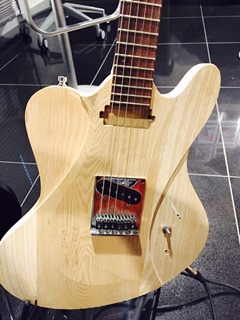 See how the maple and mahogany fit together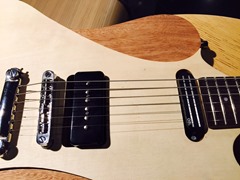 Hans Peter's son, Nik showing me some nice wood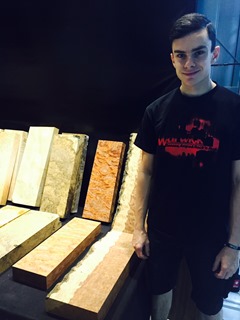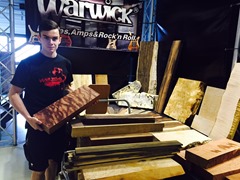 It starts with a templet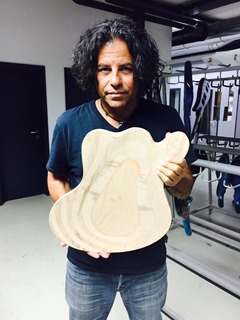 Any color I want….HOW COOL!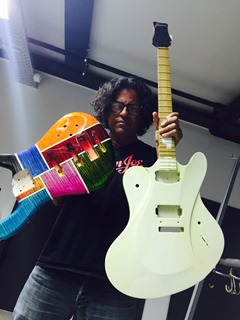 At the Framus Custom Shop, the sky is the limit for your imagination.

I found a couple of Phil X XG body's freshly cut and ready to finish…Phil will use these in September on the Bon Jovi tour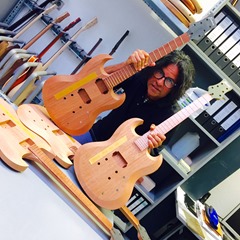 Too bad I suck on bass 'cuz there are some awesome ones being built here!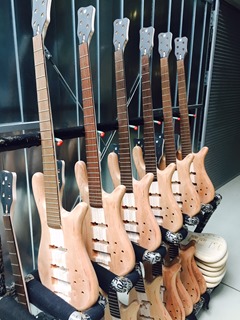 Stevie Salas
Stevie Salas official site : http://www.steviesalas.com/
Stevie Salas official facebook : https://www.facebook.com/StevieSalasOfficial
Stevie Salas official Bandcamp : https://steviesalas.bandcamp.com/music