Simon Phillips & Andy Timmons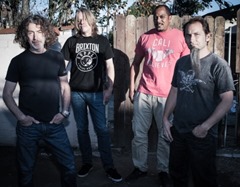 Simon Philips, one of the world's most popular drummers, has fascinated audiences worldwide over the years, performing with countless legends such as Jeff Beck, The Michael Schenker Group, The Who, and also fulfilling duties as the drummer of TOTO after the death of Jeff Porcaro.
Simon not only fascinates the world with his extraordinary drum techniques, but also displays his talent as an established composer, producer and recording engineer in the music industry. Recently, Simon has also built a new fan base in Japan as a member of the Hiromi Uehara Trio Project. Simon also leads a group of top-notch musicians, displaying his excellent techniques on the drums in a collection of some high quality hard fusion/jazz rock tunes. This project is known as PROTOCOL and they have just released their latest studio effort titled "Protocol III".
MUSE ON MUSE was able to talk to PROTOCOL leader, Simon Philips, as well as guitar player Andy Timmons, who has added an energetic feel to the music with his excellent guitar performances. Check to see what Simon and Andy have to say about "Protocol III".
Interview / Text Mamoru Moriyama
Translation Louis Sesto (EAGLETAIL MUSIC)

– Simon Phillips –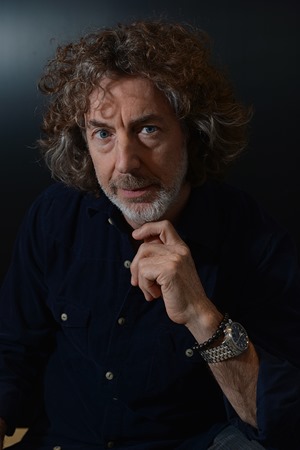 Muse On Muse : How do you feel now after completing your newest album "Protocol III"?
Simon Phillips : Very excited about the record.
MM : Please tell us about the concept of this album.
SP : Basically it was to record the band after having played many live shows with the same line up and playing some more intricate compositions but also introduce a change of style of some of the songs.
MM : Being a top drummer in the industry, your album obviously features material that fascinates the drummers. But added to that, the album definitely appeals to the non-musician listeners as well. How did you think out the perfect balance when producing the album?
SP : Actually I never write music from a drummer's perspective. It is all about the music and the concept of the project.
MM : Is there a difference in the songwriting process when you do all the songwriting on your own, compared to when you write together with the other participating musicians, such as with the song "Undercover"? Tell us about how the songwriting is done for both cases.
SP : There is a difference once the other guys get involved in the writing process otherwise up to that point it is the same. Once I have presented a part of a composition to the guys I then take more of a producer role in the process.
MM : When you do the songwriting on your own, do make demos to present the songs to the other musicians? How well produced are your demos? Do you also record completed bass, keyboard, and guitar parts on these demos too? Or just rough ideas?
SP : My demos are pretty complete – bass part, keyboard parts and even a simulated guitar sound and of course real drums. I am just used to doing it that way and it also helps to get more of a final picture of the song in question.
MM : Andy's versatile guitar performances definitely seem to be a good match to the tunes. What was your impression of Andy's performance on this new album?
SP : I love what he has done and how he has made all the melodies his own. But that's why I love to work with him – he is my first call. I feel I can write a melody for him and know that he is going to play it the best way for the song. On top of that he is a lovely person and we get on really well together.
MM : You have been playing together with Andy Timmons, Steve Weingart , and Ernest Tibbs for quite some time now, as you recorded and toured for "Protocol II" together. How was it recording with them again on the new album?
SP : It is always a special feeling when we get together to play. This album was maybe a little tougher on everyone as some of the material was more difficult than Protocol II but also they didn't have much time to learn the material. I was writing almost right up to the recording dates. However I think it came out wonderfully and everyone's performance has been captured in a fresh and vibrant way.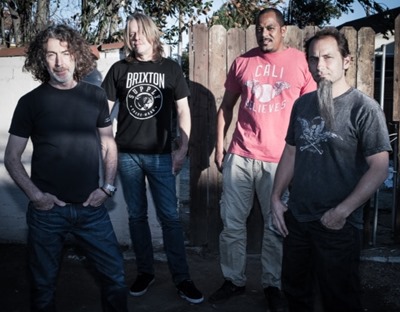 l. to r. Simon Phillips(ds), Andy Timmons (g), Ernest Tibbs(b), Steve Weingart (key)

MM : Tell us about each song on the album. How the song came to be, about any background or meaning behind the song, etc.
SP :
"NARMADA"
This was influenced by Joe Zawinul. I love his compositions and of course I am a big Weather Report fan. This has a World music vibe and originally I wasn't sure whether this would work with Protocol but once the guys heard it they wanted to do it. So we did!
"IMAGINARY WAYS"
I had been looking for this demo of a song that I wrote back when I was still living in the UK. It was unfinished but I always loved the vibe. I found it eventually and then basically re-wrote it and added other sections to it. I wanted a more bluesy approach to prog rock and I think it does that.
"OUTLAW"
This is a song that Andy and I wrote back in around 2000 when we were trying to put a rock band together. Unfortunately we never found the right singer so it was a still born project. I stumbled across a demo of this by accident whilst mixing Billie Rainbird's album. I needed to use my old DAT machine to record half speed from Pro Tools. I grabbed an unmarked DAT from the box that I keep them in and happened to press play just before I put the machine into record and lo and behold this demo blares out of the speakers. I thought it would be different and cool for the band to play.
"CATALYST"
This was written on a plane from Vienna to Tokyo last year whilst on tour with the Hiromi Trio Project. I didn't even have a keyboard so I had to enter all the notes in step time. I wanted to write something that was a progression of "Upside In Downside Up" from the Protocol II album. I sent a demo to Steve Weingart for him to add his magic and this is what we came up with!
"AMRITA"
I wrote this a few years ago one afternoon. It just came together in one session. It was originally meant for a solo album that I had started in 2007 but was just not happy with the direction. However I always loved this one.
"CIRCLE SEVEN"
This was Steve's composition and he sent me his demo to add my touches to it. Quite a bit of to-ing and fro-ing was done between us both and I think what we ended up with was really cool. Both melodic and jazzy with a wonderful Rhodes solo which showcases Steve's playing. This turned out to be one of my favourites on the album.
"YOU CAN'T BUT YOU CAN"
This was written for Mike Stern and originally recorded in New York City in 2007. Protocol II had been playing this on our tours and it sounded so good so I felt we should re-record it for this record. This was done in one take and I think it captures the essence of the band. We played it like we were on stage with an audience and that's something I am always trying to capture when recording in the studio.
"UNDERCOVER"
I had the basic melody and parts for the A and B section but I wanted to give this to the band to be a more organic and looser arrangement. It was more of an early Miles Davis approach a la "Bitches Brew". Quite different to anything I have done before.
MM : How do you decide the track order for the album? I'm sure that the impression of an album can change depending on the track order. What's your idea of a good tracking order?
SP : I actually start thinking about this very early on in the recording and the order does change even right up to the mastering stage. As I am making ruff mixes each day I'll burn them on a CD and play them in the car or when I travel and see how the track order works. It might even just be a question of one song sounds great going into another one so I might start there. Eventually it all falls into place. I think I made the last change just before the mastering session.
MM : You are also known as a professional sound engineer. What do you consider to be a good ideal sound for an album?
SP : I hope that what I have mixed IS the ideal sound for this album. The only shame is I wish that people could hear the 96k masters before it gets transferred to CD at 44.1k/16 bit. There really is a difference. However if I release a vinyl version then they will get to hear it then!
MM : What is essential in order to obtain a good drum sound within a band ensemble? Please tell us from a drummer's perspective, as well as from an engineer's perspective.
SP : In the recording environment the sound of the drumkit has to suit the music. However a large part of the sound does come from the way it's played. The drummer must be aware and listening to everyone so he can play exactly what the song needs. From an engineer's perspective it's about consistency. In other words the sound should remain consistent form the start of the song to the end. If that is achieved then it makes the mixing process much easier.
MM : Lately we see many artists releasing their albums not only as CDs and downloads, but also as vinyl. How do you view this current trend of having analog vinyl back again?
SP : I love it because as I stated earlier it is the only way that you can hear the original recording how it was intended. Of course you have other issues like surface noise and lower overall level but there is a sweetness that comes with vinyl. It also depends on the equipment you play the vinyl on.
MM : Have you listened to the new TOTO album that just came out?
SP : Not yet!
MM : What do you have coming up next? Tell us about your upcoming schedule.
SP : Protocol is about to leave for Europe to play a 20 date tour over the next 5 weeks which will include shows in Germany, Italy, Holland, Belgium, Austria, Switzerland, Hungary, Croatia, Bulgaria and Greece.
MM : Please give the Japanese fans a message.
SP : I am really looking forward to coming to Japan in June to play this new music. We had such a great time there last year and I hope you will all come out to hear this wonderful band.

Simon Phillips Official Website : http://www.simon-phillips.com/
– Andy Timmons –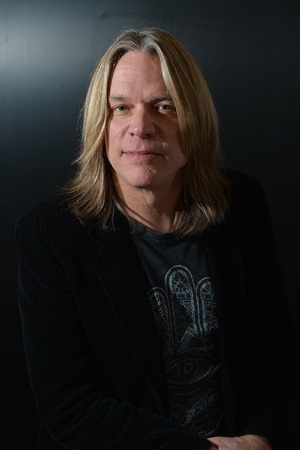 Muse On Muse : Your emotional and dynamic guitar performances have definitely added a lot of detail as well as a great liveliness to the songs on "Protocol III".
Andy Timmons : Thank you. That is a great compliment.
MM : This was your second time recording for the Protocol project. How did this recording go?
AT : As was Protocol II, the recording process was brief and intense. We had little to no rehearsal time and only 5 (?) days to record. To be honest, it was a bit stressful. That being said, I believe working in this fashion is a GREAT way to work. You don't have time to think or second guess. The music is very honest and alive because of that. This is the way ALL records used to be made. It's easy these days to become too precious about your art, and I am certainly guilty of this with my own records. This is why I love working with Simon so much. We tend to do it "old school".
MM : Were the recordings done in a 'live-recording' type of situation? Tell us about the recordings in detail.
AT : Very much "live", with fixes if necessary. "You Can't, But You Can" is one take, completely live. However, the more difficult tracks like "Catalyst" would require a lot more rehearsal takes and a few fixes. Again though, time was really short so you had to commit and move on.
MM : I'm sure there are many differences when approaching music highly influenced with fusion aspects, in comparison to regular rock music. What kind of approach did you take toward the recordings for the Protocol project?
AT : I always approach every musical situation the same way: What can I do to help the song, play to the best of my ability, be as musical as possible and maintain my identity in the situation while still playing what's appropriate for the music. It requires great respect for the music as well as the people you are working with. Fortunately over the last few years I've been back in "student" mode and have been practicing jazz everyday. This has helped greatly in being prepared for the Protocol recordings and tours.
MM : The song you co-wrote with Simon, "Outlaw" has an energetic heavy riff, while also having a mellow and subtle melodic part, creating a very great contrast within the song.
AT : I wrote that riff with Simon back @ 2000 when he and I were writing music for a potential vocal rock band we were thinking about forming. He came to my studio in Texas and we wrote and recorded for a week. Lots of cool song ideas came forth, but we never found a singer and then we both got busy with our other bands. He stumbled across the recordings before the Protocol III sessions and thought it could work for the record. He then wrote the verse and B section and I wrote the chorus the day we recorded it. Lots of spontaneity.
MM : Overall, the guitar sound on the new album sounds quite hard edged. What did you have in mind when creating your guitar sound for this album?
AT : I wanted something with more of an immediate attack to help with expression. It wasn't a conscious effort to move in a harder edged direction, it just came out that way. Of course, a change in sound will change the way you play. I enjoy those details and differences.
MM : Please tell us about your gear. What guitars, guitar amps, effectors, foot pedals did you use for this recording?
AT : As usual, my amplifier of choice is the Mesa Boogie Lone Star with 2×12 Rectifier cabinets. The guitar is my original Ibanez AT100, and also my new white AT100 with the rosewood fingerboard. Pedals: Keeley Blues Driver, JHS Angry Charlie.
MM : What is Protocol for you?
AT : A wonderful musical challenge and alternative means of expression compared to the music I normally play and compose on my own. It is also a wonderful education and experience to work with Simon, Steve and Ernest who all have such a vast depth of experience and musical knowledge. They are great friends and heroes.
MM : Please give the Japanese fans a message.
AT : I'm so happy to be returning to Japan in June with Protocol! I have been honored to play in Japan many times since 1990 and I really treasure the fans there. Thank you all so much!!!

Andy Timmons Official Website : http://www.andytimmons.com/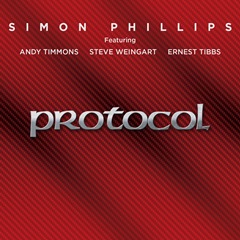 SIMON PHILLIPS / PROTOCOL III
1. NARMADA
2. IMAGINARY WAYS
3. OUTLAW
4. CATALYST
5. AMRITA
6. CIRCLE SEVEN
7. YOU CAN'T BUT YOU CAN
8. UNDERCOVER
Produced by Simon Phillips
Simon Phillips (Drums)
Andy Timmons (Guitars)
Steve Weingart (Keyboards)
Ernest Tibbs (Bass)