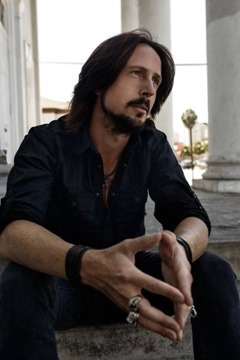 Hello Japan,
I just got off the road from a tour over in England in support of my new single "Gypsy Woman's Got the Groove" feat. The guitar great Eric Johnson, and wanted to say a few things about me that you may not know.
First off one of my major goals as a musician is to come to Japan and play for you great people so hopefully that will happen sometime next year.
I have 3 albums out now Comin' Home (2007) Daydreams In Stereo (2011), and my current E.P "Reagan Browne" released 2013. "Gypsy Woman's Got the Groove" was released about a month ago, and I plan on releasing a new song every other month then combining those songs with the ones off my E.P. They are all available on iTunes.
https://itunes.apple.com/us/artist/reagan-browne/id266054898
I grew up in Texas, and started music, and singing at a very early age. I started playing the guitar when I was around 14 from seeing Van Halen's Jump on MTV. Edward Van Halen changed my life like a lot of kids, and I still consider him one of my main musical influences to this day.
Speaking of guitar players I've been very fortunate to have some amazing ones on my albums like Marty Friedman, Eric Johnson, Monte Montgomery Billy Sheehan, and Phil X who is currently Bon Jovi's guitarist.
I'll be sharing some stories about them in upcoming columns for Muse on Muse. I'll also be sharing my tips, and tricks as a vocalist that may help you achieve the best sound you possibly can.
How to work with other musicians, life on the road, songwriting, and staying inspired when you are feeling down.
Sit back, and enjoy the ride Japan! It's going to be a fun journey.
Reagan Browne
Reagan Browne official site : http://www.reaganbrowne.com
https://itunes.apple.com/us/artist/reagan-browne/id266054898