Dweezil Zappa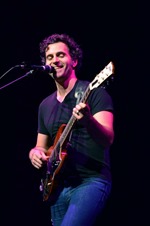 Born as the son of Frank Zappa, the great music artist known for his unique musical masterpieces featuring perfection in various styles of music, Dweezil Zappa also grew up to be an artist and guitar player, creating fascinating and remarkable music. He is well respected and has a strong following among devoted music fans. Dweezil Zappa is taking part in "The Experience Hendrix Tour 2014" while also continuing from 2006 the "Zappa Plays Zappa" project, in which Dweezil brings back Frank Zappa's music for the dedicated fans of his father. Dweezil Zappa took time to talk to MUSE ON MUSE about his ongoing tour projects, and about some of his past solo material.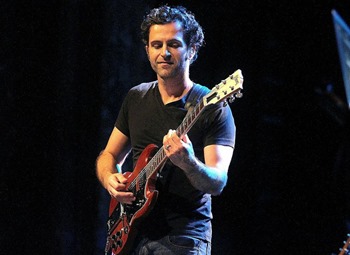 Interview / Text  Mamoru Moriyama
Translation         Louis Sesto (EAGLETAIL MUSIC)
– The Experience Hendrix Tour –
Muse On Muse : You currently play for The Experience Hendrix Tour. How did you wind up taking part in this tour?
Dweeizl Zappa : I was invited to play on the tour from John McDermott and Janie Hendrix. This was the second tour I've taken part in. Both were exciting and fun.
MM : Tell us how Jimi Hendrix influenced you.
DZ : I have always loved the guitar tones and album production on Jimi's records. I never really set out to learn that much of Jimi's guitar style until more recently. I have a great appreciation for his rhythm playing and his overall time feel. He's very groovy. I also love the fearlessness in Jimi's playing, he would just go for it. You hear that especially with the massive feedback stuff he did.
MM : If you were to choose, which Jimi Hendrix album would be your favorite one?
DZ : Are you Experienced and Band Of Gypsies are probably my 2 favorites. The combination of songwriting, playing and production on those records really stand out for me.
MM : Billy Cox, Buddy Guy, Eric Johnson and Zakk Wylde also take part in The Experience Hendrix Tour. How is it touring with such musicians? I'm sure it's very inspiring not only to play with them on stage, but hanging out with them backstage as well.
DZ : I often sat back stage with Eric Johnson trying to learn a few things from him. He's such an excellent and meticulous player. I shared a few ideas with him that he liked as well. I also spent time with Doyle Bramhall. Doyle is a very musical player with very good phrasing. We talked about Oud playing and different Arabic scales. There's a lot of joking around with players as well. It's really like summer camp for guitarists.
MM : Your father Frank Zappa actually owned a strat that Jimi Hendrix burned on stage, and also used this strat on one of his albums. From your perspective what was Jimi Hendrix and his music for your father?
DZ : My father was friends with Jimi. Jimi even appears on my dad's album cover "We're Only In It For The Money." I know he appreciated Jimi's playing. There is a famous story that my dad introduced Jimi to the wah wah pedal one day while playing together in New York. Thestrat you mentioned is still in my possession. I recently refurbished it back to the look it had on the cover of Guitar Player magazine in 1977. I've played it on stage a few times recently as well.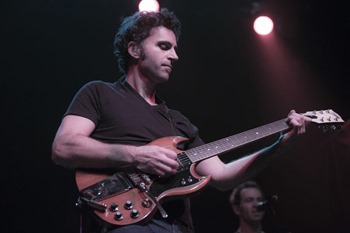 – Zappa Plays Zappa –
MM : The Zappa Plays Zappa project started in 2006, playing Frank Zappa music for the fans worldwide, and you still continue the project to this day. How do you feel being able to continue this wonderful project?
DZ : My father's music has always been a big inspiration to me. As a kid I dreamed of learning all of the intricate melodies on guitar. I knew it would be very hard! Back in 2004 I started studying the music and then I put Zappa Plays Zappa together and started touring. It was a way to introduce new generations of music fans to my father's music. I felt this was a very important thing to do.
MM : Were there any new discoveries in Frank's music through this project?
DZ : As I studied the music I discovered many exciting things about the ingredients that make up my father's music. The amazing thing is the amount of depth and variety in his compositions. I have noticed very little repeated ideas or devices. He had an amazing knowledge of rhythm and harmony. Studying his music has been the equivalent of going to a top flight music university. My own guitar playing has evolved in order to play this music and expand my vocabulary for improvisation. It continues to be a motivating factor for me to keep improving.
MM : Frank's albums all had a very high quality of music, and also demanded a very high level of musical performance from the participating musicians. There are musicians in the Zappa Plays Zappa project that actually played in Frank's band, but how did you prepare for this project prior to playing in front of the dedicated Frank Zappa fans?
DZ : My goal was to form a core band of young musicians with no previous affiliation with my father who could perform his music to his exacting standards. This was not an easy task. I did ultimately find some great musicians. Over the years the band has evolved and only features one original member besides me. As far as alumni, I really set out to avoid using alumni because to me the music is the real focus. Promoters wanted me to use some alumni and in the first few years of the project I did. It was fun to play the music with Steve Vai and Terry Bozzio. I prefer the project as it was designed, a core band of younger musicians.
MM : Zappa Plays Zappa released a self-titled album in 2008, followed by "Return Of The Son Of…" in 2010. You have also released "Live – 'In The Moment'" in 2011, as well as "F.O.H" and "F.O.H. 3 – Out Of Obscurity" in 2012. Tell us how Zappa Plays Zappa came to release this many albums.
DZ : Initially I had no plans to record or release any Zappa Plays Zappa albums. The plan changed when we saw the amount of bootlegs out in the market and the fact that we were hearing from a lot of fans that they wanted to have high quality versions of our performances. At that point I started to make plans for ways to get releases out into the market. I have many more releases planned for the future including several full concert DVDs but it is very difficult to find the time to get them finished. I hope to have a lot of stuff ready before the end of the year so that 2015 can see a lot more material spanning the life of the project.
MM : What would be the one album you would recommend to Frank Zappa beginners? There are rock fans, blues fans, jazz fans, classic fans…what would be your recommendation for each genre?
DZ : I always recommend "Apostrophe" and "Over Nite Sensation" a stepping stone into the world of Zappa music. Those records have a great combination of all of the elements you can find in my dad's music. Besides the impeccable Analog production of those records you will hear gutsy blues playing, funk riffs, amazing orchestration, wild rhythms, avant garde composition and a bit a sense of humor. These elements exist on all of my dad's records but these 2 in particular have the ideas micro encapsulated in a very digestible manner. Once you are familiar with these records it would be best to listen to a classical record like "The Yellow Shark" to see where his real music prowess lies. The fact that he made more than 80 albums in his lifetime is astonishing. There's something for everyone out there from doo wop to jazz to rock and classical and all points in between.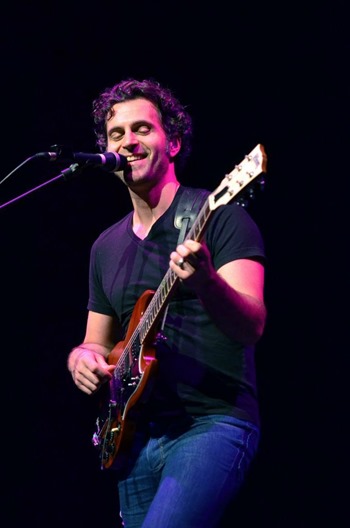 – Dweezil Zappa Solo –
MM : Your last solo release was "Go With What You Know", which was about 8 years ago in 2006. Do you have any plans or ideas for your next solo effort?
DZ : I am planning some new music for this year. I have been getting inspired for a while to write again. I am collecting my favorite bits and getting them ready for an album. It will be very different than anything else I have done before. It will mainly be focused on some specific grooves and specialized guitar tones.
MM : Your 1991 solo album "Confessions" featuring guest musicians such as Nuno Bettencourt, Zakk Wylde, Warren DeMartini and Steve Lukather, was an album that delivered some high quality hard rock music. There are many fans that still support this album to this day. How do you feel now, looking back on this album?
DZ : That record was fun to make and is still fun to listen to… at least for me.
MM : In 2000, you released "Automatic" which was a unique and well thought out instrumental album, also featuring Ahmet Zappa on vocals for "You're A Mean One Mister Grinch". What kind of ideas and visions did you have in mind when making this album?
DZ : When I was making that record I was really just thinking about some diversity and trying to show some different sides to my playing. "The Grinch" was one of the first mulit tracked orchestration projects I ever did. I transcribed all of the orchestral parts by ear and played them on the guitar like a Brian May orchestra. "Secret Hedges" was an interesting one because I tuned an acoustic guitar to an open chord and then pressed record. I improvised that piece having never played in that tuning. I added a few electric overdubs after the fact.
MM : With "Go With What You Know" you delivered songs such as "Love Ride" that has a pop and mysterious vocal melody that you sing, as well as "Noitpure" that resembles a bit of Eddie Van Halen, and "Preludumus Maximus" featuring orchestrations. Such songs definitely showed that you opened up some new musical boundaries. Also, songs such as "All Roads Lead To INCA" and "Peaches En Regalia" show a connection to Frank Zappa, and this album seemed to be a turning point in your musical career. How do you view this album in your career?
DZ : That record was another marker in my evolution. I made that during the period where I had begun to study my father's music. A little influence began to show on many songs. It was also experimental for me because it was the first time I had attempted any midi programming. Other than drums and bass I did everything on that record. It was a lot of work. I look forward to making a record in the future where I only play guitar and let the rest of the recording and other stuff get done by someone else.
MM : As a guitar player, what kind of daily practicing and studying do you do?
DZ : I don't have a set routine. I have been working a lot on hybrid picking lately. I've tried to incorporate some classical and flamenco picking styles into my right hand while still holding a pick. Some interesting things are becoming possible as a result. I take breaks between tours where I might not play at all for weeks or months at a time. This is good and bad. The good part is that I am able to focus on a specific new idea I want to learn. The bad part is my fingers don't callous easily and the first few days of playing can be painful. Recently I have also been learning a lot from a friend who is a great guitarist and instructor at Berklee. His name is Tim Miller.
MM : How do you engage in daily creative activities and studying as a musician and songwriter? 
DZ : Unfortunatley I don't have even free time to do it daily. I am trying to focus some more energy into that. I really need to.
MM : ou introduce your gear on your website. Does the FRACTAL create the main part of your guitar sound? Many guitar players seem to prefer amps with actual tubes along with analog equipment, rather than the recent amp modeling technology. What's your perspective?
DZ : For me the Fractal creates guitar tones that are as good as any amp I have ever played. I am able to be even more precise with tone details with this kind of set up. It has also drastically improved our live sound by reducing stage volume and having direct to PA set up. I have much more clarity in my live sound with very little on stage microphone phase issues. I have wide stereo effects and a much better live recording as a result. The Fractal gets better and better with each firmware upgrade and it always allows me to easily reorganize signal chains and where to store presets. I don't really ever play on regular amps anymore.
MM : Tell us what the Dweezilla Music Boot Camp is all about.
DZ : Dweezilla started as a camp that would teach multiple instruments. My whole band was involved in teaching. Over time it really became a guitar camp. In its current form it's a 3 day event where student get exposure to all of the most important techniques for modern guitar. I bring in guest instructors and we all have a great time. Anyone interested in becoming a better guitarist should definitely look into Dweezilla. I'm planning to do the camp in more places next year. Who knows maybe one day I could a camp in Japan. That would be totemo omoshiroi desu ne.
MM : What do you have coming up next? Tell us about your upcoming schedule.
DZ : I'm getting ready for another tour and learning some very hard pieces including "Sinister Footwear." That one has a lot of difficult poly rhythms. I'm also working on some DVDs and music of my own. It's a busy time!
MM : Please give a message to the Japanese fans.
DZ : I hope to come back to Japan again soon. I enjoy visiting and playing there. I have recently been introduced to a very fine Japanese guitarist by the name of Yugo Morikawa who records under the name Polygon Head. He has played some of my father's music very well and I respect his approach to learning and playing things like the Black Page #1 and Uncle Meat.
Dweezil Zappa official site : http://www.dweezilzappaworld.com/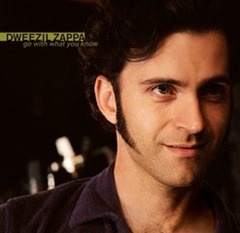 Go With What You Know / Dweezil Zappa
1.Love Ride
2.Noitpure
3.Fighty Bitey
4.CC$
5.Preludumus Maximus
6.Rhythmatist
7.Thunder Pimp
8.All Roads Lead To Inca
9.Electrocoustic Matter
10.The Grind
11.Peaches En Regalia
12.Chunga's Whiskers
13.Audio Movie
Return Of The Son Of…  / Dweezil Zappa
Disc 1
1.The Deathless Horsie
2.Andy
3.Magic Fingers
4.Broken Hearts Are For A******s
5.Bamboozled By Love
6.King Kong
7.Montana
8.Inca Roads
Disc 2
1.The Torture Never Stops
2.Dirty Love
3.Zomby Woof
4.Billy The Mountain
5.Camarillo Brillo
6.Pygmy Twylyte