MARAGOLD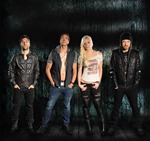 Many may image highly technical jazz and fusion music, knowing that this new band was formed by guitarist Greg Howe. But MARAGOLD reverses such speculations in a good way.
MARAGOLD features powerful, passionate and beautiful vocal performances by Meghan Krauss, versatile rhythm guitars and melodic/dynamic solos by Greg Howe, backed by some great groves created by the rhythm section of bassist Kevin Vecchione and drummer Gianluca Palmieri. MARAGOLD is a band that fascinates the listener with its impressive melodies that stick to your ears.
Meghan and Greg took some time to talk to MUSE ON MUSE about MARAGOLD.
PART1 – Meghan Krauss (Lead Vocals)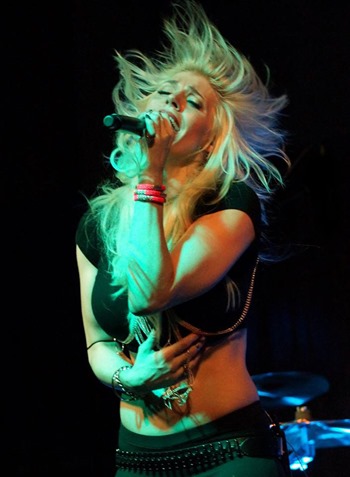 Interview / Text  Mamoru Moriyama
Translation         Louis Sesto (EAGLETAIL MUSIC)
Muse On Muse : How and at what age did you start to take an interest in music?
Meghan Krauss : I think I started playing and singing when I was about 2 years old. My Mom said I soon as I was able to speak I was singing "You Are My Sunshine" incessantly. That's when it all began for me.
MM : What did you listen to back then and who were your influences, and why?
MK : When I was young I had a pretty eclectic taste of music for a 10 year old. My parents had several records in their record collection, so I was listening to everything from KC AND THE SUNSHINE BAND to the GRATEFUL DEAD and ZEPPELIN. It made me appreciate every kind of music. My Dad is of the mindset that anything that is not classical music is country. So I grew up listening to classical music as well.
MM : When did you decide to become a professional singer? Please also tell us about your career before joining MARAGOLD.
MK : I think I always knew that I wanted to sing professionally. I wanted it to be my career in life. But it wasn't until later after I had done several other things that I decided to have reckless abandon and just go for it and make it my whole life. I was singing in a karaoke bar and was discovered by a drummer who was from a former band that I played with. That was the end of my normal life. I was singing almost every weekend and I never looked back. I just knew this was what wanted to do and supposed to do. I thought "This is what I'm gonna do!"
MM : Tell us about when you first played/sang with the members of MARAGOLD? How was it and what were your impressions on the members?
MK : I had known Kevin for a while. In the East Coast scene Kevin is such an incredible talent. He's actually an amazing singer and the best player that I have ever heard. Truly he's incredible! So I knew him from the scene, just hearing about him, going out and seeing him and being in awe of his ability. He called me in on the project and I was terrified to meet the guys. We had never met when we started recording the record, so (until then) it was all over the phone. Greg is so kind and outgoing, friendly that we were immediately fast friends. Gianluca is the nicest person on planet Earth. So it was kind of like kismet, it was serendipity when we met. It was awesome! It was electric in the studio. We all had goose bumps and massive head nods. It was great!
MM : Tell us about each member of MARAGOLD.
MK : Greg Howe, he's just so technical and so capable when it comes to guitar that you often don't see the slapstick side of him. But he is hilarious. He is ridiculous. One of the smartest person I've ever met, but also when he wants to be crazy he's crazy. I've seen him have a massive trip and fall in a crowd of people and people would come to his aid. It's ridiculous. He has no shame and I love that about him. Gianluca is a beautiful person. He is such a nice guy and a super talented drummer. He's also an amazing cook. He cooks for the rest of the band and we really appreciate it being that he's from Italy. It's nice to have some of that home cooked food. And then we have Kevin who is completely out of his mind. He has no shame. I heard a story once about how he licked dog pee to lighten the mood in the room, and it's probably my favorite story about him. That's just Kevin, no matter what the mood is he'll make it better by being him.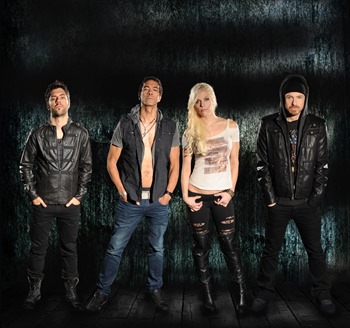 MARAGOLD L to R : Gianluca Palmieri(dr), Greg Howe(g), Meghan Krauss(vo), Kevin Vecchione(b)
MM : The first MARAGOLD album features very powerful and beautiful vocals, and definitely shows an impressive presence of you as a singer. What was your main focus in the making of this album?
MK : I don't think I really had a main focus when it came to creating this record. I just wanted to do something that I could be proud of and that we were psyched to get up and play. It was really easy. It didn't take much work. We just went into the studio and it was a magical experience. I know that might sound strange but it really was.
MM : How was it recording with the members of the band? Can you share any memorable episodes from the recording sessions?
MK : I was actually super nervous going into the recording sessions the first time because I hadn't met Greg or Gianluca in person, I only knew Kevin, so I wasn't sure what it was going to be like. But the guys were super fun and it didn't feel like work or effort at all. It just happened. And they were hilarious. Kevin was cracking jokes the entire time. Greg and I became huge fans of the game "Bobbit" and played to the death. It was a lot of fun. It was great!
MM : What's your favorite song from the album and why?
MK : It's hard for me to answer what my favorite song on the album is. I have a special connection with all the songs. But I think my very favorite song is "Oracle". It has got this anthemic stadium rock vibe that just takes me somewhere else. Lyrically and melodically I love it so much. Greg's solo is my favorite of all of his solos on the record. I just think it's so well executed and beautifully written. I really connect with that song.
MM : What do you see in the future of MARAGOLD?
MK : In the future, I just hope that we continue to create something as significant for each of us as we already have and that it's received well by people. I hope the people are moved by it in the way that it moves us. I just want to keep creating. I just want to keep doing what we're doing. It's amazing and it's just a life less ordinary. It's something that we're going to look back on in 30 years and just be so thankful for the memories and the art that came from it. I just want to keep doing it and do it bigger and bigger each time.
MM : Please give a message to the Japanese fans.
MK : I just want to thank all of our fans in Japan. Thanks so much for your support. Thank you for embracing our art. I look forward to meeting you soon!
PART2 – Greg Howe (Guitar)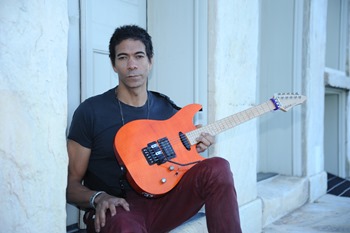 Muse On Muse : How did MARAGOLD form?
Greg Howe : I always wanted to have a vocal band. I've always wanted to do that. Kevin and I had been friends for many years and we had talked about forming a vocal band for a long time, but we never had the right situation. I was under contract with my record label and they were pretty dead set on me continuing to be an instrumental artist. Eventually when my contract was up I had an opportunity to put a band together. So I got together with Kevin and Gianluca who had played on my "Sound Proof" album. We also had a singer in mind, whose name is Elvio Fernandes. He now plays in the Chris Daughtry band. This was around 2009, but since Elvio had to leave we were stuck without a singer. Kevin had discovered this female singer Meghan Krauss who was performing on the East Coast with various different bands. Once I heard her voice, saw her and got an idea of what she was, she seemed like the right person for the band. So we asked her to join and she did.
MM : The 1st MARAGOLD album features very powerful and beautiful vocals by Meghan, as well as a great band sound. The tunes are very catchy and definitely cling on to the listeners' ears. What was your concept for this new album?
GH : The concept of the album took hold by itself. We really didn't have a concept in mind. We just wanted to write music that felt natural and that incorporated all of our influences. In a certain way the music dictated where we went. We didn't really try to force the music to be anything. It just evolved naturally the way that it did. So we really didn't have a concept in mind. The concept was just to be as sincere about what we felt as possible.
MM : Tell us about the song writing process for the album.
GH : As far as the method of songwriting, there really isn't any method. Sometimes I'll have a riff that evolves into a song. Sometimes I have a series of chord changes. A lot of times I'll just have a drum beat that inspires an idea. Sometimes I'll sit at a keyboard and it would get me outside of my guitar environment, so it gives me new ways of thinking about music. Generally speaking I don't write with the guitar. Usually the ideas that I personally come up with happen in my head and I then have to go find those on the guitar. So it's just a series of things. When it comes to lyrics…Kevin and I just got together. At the time he was living on the East Coast so sometimes we would just spend hours on Skype hashing around ideas, going back and forth. So there really wasn't a method to it. Some ideas came from older ideas that I already had lying around that never got developed, and we developed them. The opening riff from "Evergreen Is Golder" is an idea I had for over 10 years, but it was never fully developed. Again there really isn't any method. We just tried to go with our heart and see where things go.
MM : Is there anything in particular you keep in mind when writing music for a vocal fronted band, in comparison to previous instrumental material?
GH : I think the biggest difference between writing for vocal music and instrumental music, at least for me, is that with a vocal project I'm really trying to appeal to a bigger audience, an audience that is not necessarily guitar players or musicians. So, in a certain way it's a little bit more challenging writing vocal songs because on the one hand I want to be very creative and unique. On the other hand, I have to make sure that there's a level of familiarity enough so that it doesn't sound too outside the box for the average listener. So it's actually a lot more challenging for me to write for vocals, at least for a genre that is going to be radio friendly. That's really the biggest difference. It's a lot easier for me to write instrumental music because there are no restrictions. There are no barriers and I'm free to be as creative as I want to be. I also know that I am writing for listeners that like to hear unique things. It's a balance and it is challenging because I know that I have a lot of musician fans, so I'm trying to make sure that they're satisfied. But at the same time we're trying to incorporate a brand new audience. As I said before, finding that sweet spot where it's familiar yet unique and catchy all within the same thing is challenging.
MM : The rhythm guitars on the album sound very versatile and definitely enhance Meghan's vocals. What kind of approach do you take when creating the rhythm guitar parts, as well as your guitar sound, when working with a singer? 
GH : The guitar parts are always designed in a way to allow space for whatever is going to be featured. That's really the same thing with my instrumental albums. Again, I'm trying to find ways to come up with hooky musical ideas, but hooky ideas that are not going to step on the lead vocals. Or for instrumental music, that are not going to step on the lead guitar. This is often why you will hear funkier rhythm parts that my approach is sometimes a lot more comping than it is big chords. A lot of my rhythms are almost improvised, more like a jazz approach. But the main goal that I have is to just stay out of the way of the vocals and enhance the feel of the music.
MM : All of the guitar solos have a very melodic feel, while also having thrilling technical aspects. Please tell us what kind of approach you take when creating/assembling your guitar solos.
GH : My approach to soloing is a little bit strange because it's difficult for me to hear them objectively while I'm playing them. The approach that works most effectively for me in the studio is that I'll just play through the solo section a number of times until I start to feel a sort of outline or skeleton structure to it. Then I will more or less improvise my way through that outline. But also a lot of times I'll just play until I don't like what I've played anymore, or until I make a mistake. Then I'll listen back and if I like what I've got then maybe I'll leave it and come in afterwards. If not, then I'll just start over. But the main thing is that I want the solos to be "fire". I can't have a worked out solo. I can't plan a solo ahead of time because it never has the "fire" and it's really important for me to create that firey edge. As far as melody goes, in this particular instance, this is more of a commercial based rock band, so I am looking to make sure that the solos have a melodic appeal to it. That's probably subconsciously in the back of my mind when I'm playing. These solos are probably a little bit more melodic than a lot of the stuff on my instrumental albums, but the approach is the same. The approach is really trying to find that way to be "in it" and yet objective at the same time. It's actually a little bit difficult for my but it's fun. It's always a fun challenge.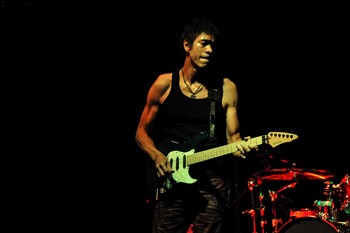 MM : Please tell us about each song on the album.
GH :
"Evergreen Is Golder"
"Evergreen Is Golder" is a song that which I had the opening riff for many years. I really wanted a mid tempo, very catchy song to start off the album. That's what it is, it's just a catchy mid tempo rock tune.
"Saturday Sun"
"Saturday Sun" was inspired by the idea that I wanted to have a really raucous song, almost like something that we would write during rehearsals. Loud and almost garage band sounding but organized. So I just wanted a really raucous tune because I like that kind of stuff. I listen to a lot of RAMONES and SEX PISTOLS and punk stuff over the years. Not that this song has that, but I wanted at least a hint of that feel, like the double time snare thing. That's really where that came from.
"Lullaby"
"Lullaby" was a song that started off as just the descending line that permeates the whole song. I thought it was an interesting staggered rhythm, but when we got totally finished with it, it always felt like there was something missing. Like it needed something to hold it together more. So at the very end I was playing around with that clean guitar part that you hear on top, which is almost like the musical hook of the song now. I really like the song because, from a composition place the song is structured really well. I like the fact that the chorus modulates and yet it doesn't sound inappropriate. I really like the way "Lullaby" came out because it has a lot of musical integrity and at the same time it has a lot of pop feel to it.
"Oracle"
"Oracle" was definitely inspired by an epic classic rock idea. I always envisioned a really big, fat, slow, heavy tune that would allow Meghan to sing in a soaring manner. I wanted a very melodic and intervallic vocal line for the verses. I was almost thinking Barbara Streisand for the verses. It's hard to explain where the song came from. It's almost like what would happen if I were listening to Barbara Streisand and Aerosmith at the same time. It's just a tip of the hat to the classic rock genre.
"Cry"
"Cry" was written in the very end and written very, very quickly. I'm used to doing instrumental albums where you have only 8 or 9 songs on it normally because they're 6 minutes long. So we were short on material when we started adding up the time. We were about ready to go into mastering so we had to quickly write a few songs and "Cry" was one of them. We figured we'd do something with a 6/8 feel. I think Kevin had mentioned something about a 6/8 feel. I like that groove, and he likes that groove, and I just started playing around with a riff. We quickly got together with some lyrics and melodies, and it just kind of fell together. We were under the gun with that song, but it came out cool.
"Paradigm Tsunami"
"Paradigm Tsunami" was a bizarre song. It went through so many different phases. I was originally in a different key and different chorus entirely. In fact, it wasn't really going to be a heavy tune. The chorus was going to be much more mellow and sort of melodic. But we couldn't find a way to make the verse work for Meghan and also have the chorus work. Whenever we got the verse to work for her, the chorus was too high. Whenever we got the chorus to be right, the verse was too low. We had to rewrite the chorus, and I thought it might be fun to have a really strong, powerful modern rock feel. I'm a big RAGE AGAINST THE MACHINE fan, not that this song sounds like that, but you can hear a little bit of that influence coming through. The chorus was written last minute almost because we had to come up with something. We had actually recorded a completely different version of that song. We may release that at some point in the future. We also played around with using that song as a remake of another song that I mentioned. But it actually worked well as a remake for a different song. But none of those ideas got used.
"Story's Ending"
"Story's Ending" is a song that I wrote about 10 years ago with a co-songwriter and friend of mine whose name is Casey Cavaliere. We were actually working with another female artist at the time. We both worked on the lyrics and I pretty much wrote the music for the song. The original version of that song was much more R&B and funky, completely different feel. I always thought it would translate nicely into a rock ballad, with an acoustic guitar and straighter groove. Once I heard Meghan, I thought she would be perfect for it.
"Magic Pain"
"Magic Pain" is another one of the songs that was written at the very end and it was written very, very quickly. When I say quickly I mean like within 45 minutes. It wasn't meant to be a radio friendly song. It was meant to be a live tune that could have an anthem quality to it. It also leaves room for improvisation and it's just a song that reveals more of my instrumental influences. I think it's a cool song. It's more in the Zeppelin feel, more in the classic rock genre feel again. I think I deliberately wanted to have something that didn't sound like we were trying to go for radio. And I think it fits nicely on the album.
"Boom Boom Tap (Dance On)"
"Boom Boom Tap" was a song that was almost entirely inspired by Kevin. Kevin had that chord progression when we were working together. He was really into it. I actually wasn't that into it when he was playing it for me because he was only playing it for me as chords. So It thought the chord progression was a little uncomfortable for my ears, but then once we started playing with it, he had told me to go ahead and play around with the chord progression to make it work. So I sort of created that riff out of it and it started to come together. Once he started to sing the idea he was imagining Meghan would sing, I really liked it and in fact I fell in love with the song. That song also was written during the time I was listening a lot of blues players and Hendrix, players that were influenced by Hendrix. It was an opportunity for me to get some of that influence which hasn't shown up on much of my albums. So it was really fun to record the song because it was something that a lot of my fans haven't heard me do yet. Also, almost the entire song was done in one take. I went back to re-record those guitar parts after we had the demo, I really couldn't capture the same feel I had when we were just throwing it together. So that song is pretty much a demo that became a cut on the album.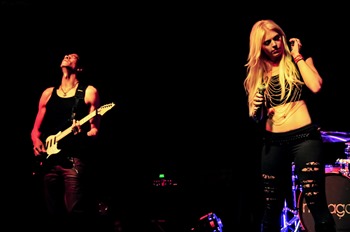 MM : Please tell us about your gear. What guitars, amps, effectors, foot pedals did you use for this recording?
GH : I used a lot of stuff. So much of this album has been the result of demos that evolved into real songs. When I'm experimenting and creating I'm always just trying things. If I plug into an amp and I'm not getting the guitar sound that I think the song needs, I'll plug into something else or grab a pedal and do whatever it takes until I find what I'm looking for. So, a lot of times it's hard for me to go back and retrace my steps specifically because it's all happening in the moment. But as far as equipment…a number of different amps: a lot of the heavier stuff I'm using the Cornford MK50, or I have some Marshall's. Particularly I like using the Marshall JCM 2000 dual channel version. Mine is slightly modified. I still have some of the old Fender Dual Showman amps from my earlier days and albums, which are cool especially for the more twangy Fender sounding stuff, single coil stuff. For the heavier stuff I use the Marshall, Cornford, sometimes I'm using the Axe-FX, which I used quite a bit on the album. The cleaner stuff I'm using often the Dual Showman amp and the Axe-FX. So, it's really a lot of stuff here. Pedal-wise, honestly I don't use too much stuff. I've got the Carl Martin PLEXI TONE, which is an amazing pedal that I would use sometimes just to slightly boost a clean Strat thing. The wah pedal that I generally use is the Dunlop Buddy Guy version with the polka dots. I've got a number of different Laguna guitars that I was using on this. That's the guitar that I usually use. For most of the Strat sounding stuff, I'm either using a Strat or my Strat version Laguna, which is just 3 single coils that has a pick guard, with DiMarzio Area series pickups in them that sound really cool. The single chain for me is always as clean as possible. A lot of times my signal is the guitar, a cable to an amp, the amp to a cabinet, a microphone on the cabinet right back into the console. I'm not one of those guitar players that like to use a lot of rack stuff. I don't have a huge pedal board. I really like to have as much of an organic approach as possible.
MM : What do you have coming up next? Tell us about your upcoming schedule.
GH : My upcoming schedule is going to include a lot of MARAGOLD. Everybody is relocating to Las Vegas, so that's going to be very cool. We have a lot of new songs that we've already recorded. We're probably going to be working on a new album. We're definitely gearing up to tour. We're doing a lot of touring this year. I have a new amp coming out called the "Maragold" that I developed with a company named DV Mark. That should be going into production in June this year. The amp sounds really cool. It's pretty much the tone that I always go for, which is a very fast attack, quick response. It's a very British sort of nature. It's a fairly low wattage amp, 40W. Two EL34's in the output. Very stripped down with no bells and whistles, nothing extra, no boost switches. 2 channels, bass, mid, treble, presence, foot switch, effects loop, and that's about it. I also have the first of a series of instructional videos that will be coming out hopefully by spring. So, it's a pretty crazy year but it will be fun.
MM : Please give a message to the Japanese fans.
GH : I just want to say you guys rock hard! Thanks a million for all the support and I can't wait to come over there and play in front of you guys!


MARAGOLD official site : http://www.maragoldband.com/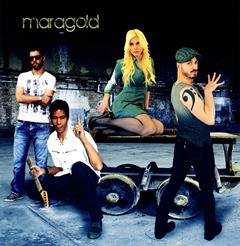 MARAGOLD / Maragold
1.Evergreen Is Golder
2.Saturday Sun
3.Lullaby
4.Oracle
5.Cry
6.Paradigm Tsunami
7.Penniless and Sane
8.Story's Ending
9.Magic Pain
10.Boom Boom Tap (Dance On)