Pete Lesperance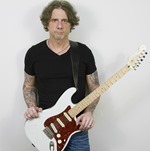 Photo by Tyler Weatheral
HAREM SCAREM, known for its high quality melodic hard rock music, is finally back in action after calling quits 4 years ago. The band re-recorded their masterpiece album "Mood Swings" aptly titled "Mood Swings II". Pete Lesperance, not only acts as the core of the band ensemble, but also fascinates many with his remarkable guitar techniques and musical talent. MUSE ON MUSE asks Pete about the newly released re-recorded "Mood Swings II" album.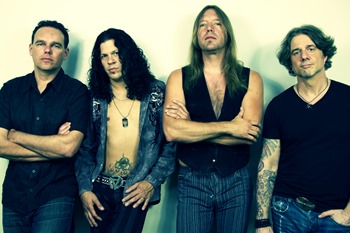 Photo by Tyler Weatheral
Interview / Text  Mamoru Moriyama
Translation         Louis Sesto (EAGLETAIL MUSIC)
Muse On Muse : HAREM SCAREM has re-united after breaking up 5 years ago. Why did the band decide to get together again?
Pete Lesperance : The idea to re-release and re-record the "Mood Swings" album came from one of our friends in UK who puts on the FIREFEST Festival. He suggested that we come to England and play the full "Mood Swings" album for the 20th anniversary which turned into us thinking about doing a tour, which also then turned into us recording the album.
MM : You have just released "Mood Swings II" which is a re-recording of "Mood Swings", an album considered by the fans as one of the best HAREM SCAREM albums. Why did the band decide to re-record one of the albums from the past, rather than recording a new studio album?
PL : It's been pretty clear to us over the years that "Mood Swings" has always been the fan favorite album. We wanted to make sure that we kept true to the original recordings of the record in the way of the parts that we played, or melodies, guitar solos…all that sort of thing. But we did want to modernize the production and approach it with whatever new skills we feel we developed in the past 20 years. So we basically wanted to do a very modern version of the record, but still keep the integrity of the originals as far as the songs.
MM : "Mood Swings" has been appreciated by the fans for a long time. With that in mind, how did you tackle the challenge to re-record your best hit album again?
PL : The plan was to definitely keep true to the original recording. If we wanted to do all new arrangements and new guitar solos, we would have probably recorded a new album, which we are probably going to do after all of the touring. After all this is done we will probably start working on a brand new Harem Scarem album. We wanted to keep true to the original "Mood Swings" record.
MM : You are credited for playing bass on the album as well. How did you end up playing the bass parts for the recordings?
PL : I also play bass on many of the projects I work on, and since Harem Scarem was defunct and not a band, it only made sense that I recorded the bass since Barry is out of the band and we don't officially have a bass player. Stan has come on board for the tour and who knows what's going to happen in the future, but for this particular project it just totally made sense that I played the bass.
MM : "Just Like I Planned" was originally a cappella, but you added a band ensemble to it. What was the reason behind making this change?
PL : We wanted to do something different with it. To do another exact a cappella version of it just didn't make sense. It's like the recording of "Mandy". It didn't make sense to do it identical, so I changed the background. We did the same thing with "Just Like I Planned". I also feel it's a much more intimate version without all the other back up vocals, really hearing Harry's voice in a different way. It's more focused on the vocal with just some acoustic accompaniments. It's just another version of the song.
MM : "Jealousy" seems to have more of a "hook" to the rhythm, and the rhythm guitars sound much more percussive and tighter.
PL : Well, it's funny you say that about "Jealousy", because "Jealousy" was for me really the one song that I think on the original version we missed the mark. I never felt good about the guitar sounds in that song. The arrangement always felt a little bit like we missed the boat, I think. But I think we got it right this time, and I like this version of the song much better. I enjoy the guitar parts more because of the new sound.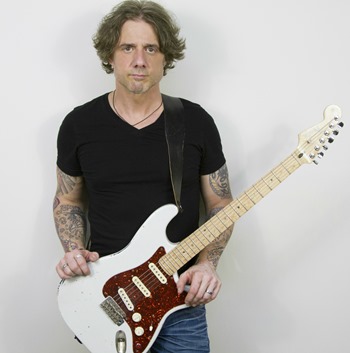 Photo by Tyler Weatheral
MM : There are 3 bonus tracks on the album. Were these songs newly written for this album? Or were they old songs that you pulled out of the shelves?
PL : The 3 bonus tracks on the "Mood Swings II" album are all brand new songs. They all started out as ideas for an instrumental guitar record I was going to do. When the idea came up to write some more Harem Scarem songs, we thought those ideas would work well. I had a bunch of ideas and played them for Harry, and these were the 3 that spoke to him the most. So we took the songs and turned them from instrumental into full songs. That's how it happened.
MM : Tell us about the bonus tracks, starting with "World Gone To Pieces". The hard driving intro riff with a touch of country music, and the melodic chorus for "Anarchy" sounds very impressive, as well as he melodic chorus and beautiful harmony vocals on "A Brighter Day".
PL : Harry was the one that wrote the lyrics for all of these songs, completely himself. So, the real ideas, and to get into the real depth of the songs you would have to be asking him this question. But in a greater sense, "World Gone To Pieces" and "Anarchy" both are sort of comments on the condition of the world right now, what is happening with the environment, people, governments. It's a bit of a commentary on what's going on in the world. "A Brighter Day" is the same in a way but also lensed to a "potentially we can fix this", or "we can help ourselves" idea. That's why we ended the record with that song. We wanted to end the record on a higher note, not all dark and gloomy. And that's very much probably the direction on the new record we are going to be recording.
MM : After listening to songs filled with all the HAREM SCAREM melodic trademarks, I would very much like to listen to a new studio album with brand new HAREM SCAREM material as well.
PL : It looks like after all the touring, Harry and I have decided that we are going to start work on a new Harem Scarem album. So it's going to probably take us a little while, because we are both busy doing many other things, but we are going to do one, and hopefully you can expect it some time in maybe 2014.
MM : How do you look at "Mood Swings" now that you have finished recording it for the second time?
PL : I would have to say in hindsight that I'm very happy with what we did with the re-recording of the record. I think it accomplished everything we wanted to do. We brought in all of our new skills, as far as production, recording and mixing. But I really do believe we kept true to the originals and fixed anything about the originals that we didn't like. I'm quite happy with it. I'm quite happy with the new bonus tracks and the way they fit into the mix of the whole record, and all and all it's been a very positive experience.
MM : Please tell us about your gear. What guitars, amps, effectors, foot pedals did you use back then for the original "Mood Swings", and what did you use this time for the new recordings?
PL : For the old "Mood Swings" guitar sound it was basically 2 parts. There was an amp and there was a direct sound. The direct sound was made from a ROCKTRON PRO G.A.P. and a Marshal preamp. I forget the name but it was a single space solid-state rackmount preamp. We ran both of them through Hughes & Kettner RED BOXes and then molted the sound together onto one track. And that is how the main direct part was done. The amp sound was a 50 watt Marshall head with a regular Marshall 4×12 cabinet. Quite simple. It was mostly direct. A lot of that sound was direct. As far as on the new album, I've been using a FRACTAL unit, they are an awesome machine. I love it. This one in particular on the record was an "ULTRA". I now have the AXE-FX too, but the AXE-FX ULTRA is what I use for the whole "Mood Swings II" recording. It's got everything, all the effects…It ran through a Marshall, I believe it was a 20 watt power amp into a Boogie 2×12 and it was mic'ed. I did not go direct at all this time. All the guitars were recorded with a ROYER ribbon mic through a manley VOXBOX right into Protools.
MM : The limited "Mood Swings II" CD and DVD set also includes special audio files of the separate instruments that can be played on DAW software. How did you come up with this idea?
PL : We wanted to make this a special package. That's why we added the audio/visual stuff, and that's why we added the 'making of' video. We're definitely not the first ones to offer tracks to people so they can mix them in their own work stations, but we just thought it would be a good idea because there are a lot of people on YouTube that have played the guitar solos, and we thought this would be a very cool way the guitar players would be able to play along with. If anybody wanted to put their own vocals on it, or even re-mix it…It just seemed like an added value to it for the 20th anniversary because we definitely wanted to do something more special for the fans than just re-record the record.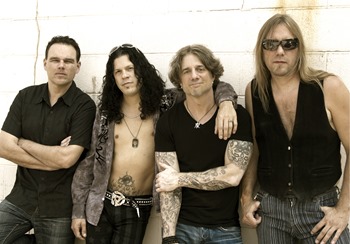 Photo by Tyler Weatheral
MM : When we interviewed you previously for the "Fade Into Stars" album, you mentioned that you were thinking of starting production on a guitar oriented album or EP. Has there been any progress on that?
PL : As I said earlier, the 3 bonus tracks all came from ideas that I was working on for an instrumental or guitar oriented album. So, no, there has not been much progress on that. I have some songs, about 5 finished songs that I want to record with me singing. And then I also want to put the instrumentals on as well. So, I have a bunch of the ideas but no, there's been no work on it. I've been too busy lately touring and getting geared up for the Harem Scarem tours as well. I don't know when I'm going to get around to it, but hopefully one day soon!
MM : Do you still continue studying and practicing to keep up your guitar skills? If so, what kind of studying/practicing do you do everyday?
PL : Well, I don't study that much. I wish I could find the time to actually learn how to read music. I don't read music. I'm self taught. I would love to learn how to read music and get into some different aspects of that. But I do practice a lot. There were a few years where I didn't. Now I pretty much have a guitar in my hands, I would say, on an average about 6 hours a day. I play, whether I sit there noodling as I'm hanging out with friends or actually putting in real time practicing things. I play a lot of guitar these days.
MM : HAREM SCAREM is scheduled to tour Japan in October. What kind of show can we expect to see? 
PL : As far as the shows in Japan, we're intending on playing the whole "Mood Swings" record, and basically some of our favorites. So, it should be a good show. We've already played it. We just played it at a festival in the States. It's a good set. It's fun, it's rockin' and it's all of "Mood Swings".
MM : What do you have coming up next? Any plans for a new original album with HAREM SCAREM? I'm sure the fans are waiting for one.
PL : As I said before, me and Harry have decided that, yes, we are going start work on a new Harem Scarem album. After the tour I have another record I'm going to be working on with a country duo named The Stellas, that I am actually their guitar player. So I'm going to be flying down to Nashville to be working on their record, and then there will be some touring with them in the new year. So I'm splitting my time basically between Harem Scarem and The Stellas at the moment.
MM : Please give a message to your Japanese fans.
PL : What would I like to say to the Japanese fans? Well…here we are 20 years after the "Mood Swings" record. That was the record for us that started it all in Japan when we were still on Warner Brothers Records. It's crazy…it just makes it feel like it has come full circle. You guys, our fans in Japan have always been such a huge part of our career and we're so thankful for that, and for how much interest you have shown in band. We can't wait to come back and play for you again! It's going to feel like coming home.
Pete Lesperance official site : http://petelesperance.com/
HAREM SCAREM official site : http://www.haremscarem.net/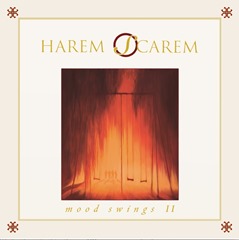 MOOD SWINGS II / HAREM SCAREM
MIZP-30008 \3,800 SHM-CD+DVD AVALON
MICP-11111 \2,700 CD AVALON
CD (MIZP-30008/MICP-11111):
1. SAVIORS NEVER CRY
2. NO JUSTICE
3. STRANGER THAN LOVE
4. CHANGE COMES AROUND
5. JELOUSY
6. SENTIMENTAL BLVD.
7. MANDY (INSTRUMENTAL)
8. EMPTY PROMISES
9. IF THERE WAS A TIME
10. JUST LIKE I PLANNED
11. HAD ENOUGH
12. WORLD GONE TO PIECES *
13. ANARCHY *
14. A BRIGHTER DAY *
DVD (MIZP-30008):
RE-MAKING OF MOOD SWINGS
AUDIO FILE: SAVIORS NEVER CRY
AUDIO FILE: NO JUSTICE
AUDIO FILE: CHANGE COMES AROUND
EXTENDED INTERVIEW FOOTAGE
* Bonus/New Tracks