Carl Verheyen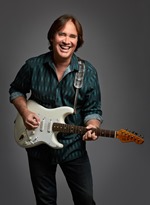 Carl Verheyen is not only known as the guitar player for recordings and tours with British rock band SUPERTRAMP, but has also taken part in countless soundtracks for film and television music. He is definitely one of the best guitar players/musicians in the LA music scene today.
Despite having a great career and being a very talented musician, it does seem unfortunate that many Japanese music fans are familiar with LA based musicians such as Steve Lukather and Michael Landau, but not with Carl Verheyen. We hope that Carl's new release "Mustang Run" will bring opportunities for new listeners to pick up his music. "Mustang Run" definitely portrays "real" music by a "real" musician, and should prove why Carl Verheyen's name is branded in countless works of music. MUSE ON MUSE asked Carl about his newest studio effort "Mustang Run".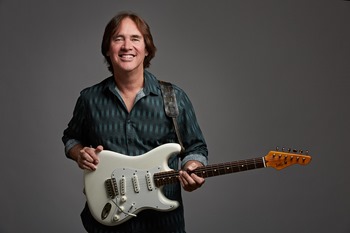 Interview / Text  Mamoru Moriyama
Translation         Louis Sesto (EAGLETAIL MUSIC)
Muse On Muse : "Mustang Run" is your first release since "Trading 8s" released in 2009. How do you feel now after your new album has been released?
Carl Verheyen : Like I've just given birth to a child! It was a labor of love from the first moment of inspiration in the composing process to the final mastering session. Now it's out of the hospital and running around screaming!
MM : What is the meaning behind the album title "Mustang Run"? What was your concept for this new album?
CV : There were 2 sources of inspiration: First , the reckless abandon of playing my music live calls to mind the movement of a pack of wild horses running across the open fields. The second inspiration was my 18 year old son's 1997 Ford Mustang convertible car. He gets so much joy from racing around with the top down I felt I could capture that feeling in a song. My concept was to make a CD that really bears repeated listening, not something you hear once and then file. I think good songs achieve this goal, and that's what I was after.
MM : On "Trading 8s" you had a number of guitar players guest on the album, whereas on this new album you play all the guitars and you have various guest musicians playing the other parts. What was the reason behind this?
CV : Having done the "guest guitarist" CD I felt a need to get more into textures from using many stringed instruments. Electrics, acoustics, dobro, mandolin, electric sitar and many different amplifier tones round out the songs in a very personal way because they were all played by me!
MM : Please tell us about the guest musicians participating on the album.
CV : The drummers were some of the best in LA, and most of them have played in my band at one time or another. Bassist Dave Marotta and Cliff Hugo have also played in my band and Stu Hamm is on the next tour. I used Jimmy Johnson on a few tunes, too. Walfredo Reyes, Chad Wackerman, Simon Phillips, Bernie Dresel and Gregg Bissonette played drums. Bill Evans and John Helliwell played saxophone and I used Jim Cox and Mitch Forman on keys. There are no better players than these guys and it's a great privilege to have musical relations with all of them.
MM : How long did it take you to record the album? How was the album recorded?
CV : I started in September of 2012 and finished in April of 2013. It was all done on ProTools in real studios, no home recording.
MM : The funky groove on "Julietta and the St. George" sounds great. The intro part with the Steve Morse, Dregs type vibe sounds impressive too.
CV : Thanks, the Dixie Dregs were a huge influence on me and Steve is a good friend. He was influenced a lot by John McLaughlin, and the intro to that song reminds me of something Mahavishnu would record.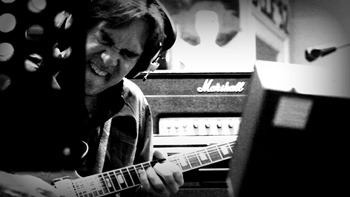 MM : The melody on "Amandola" has a swinging vibe and makes you want to hum the tune. Jim Cox's piano definitely adds a freshness and openness to the song.
CV : I asked Jim to be his own version of a cross between Keith Jarrett and Bruce Hornsby, that beautiful open "pastoral" sound. He does that stuff really well.
MM : The melodies on "Spirit Of Julia" and "Last Days of Autumn" really seem to sink into the listener's heart. The details and expressions on the guitar are also very impressive. Is there any particular approach you take when playing songs like these?
CV : Yes! I'm happy you picked up on these tracks and can hear my intentions. On "Spirit of Julia" I attempted to make my guitar sound like a lead vocal. On "Last Days" I played the entire electric melody on a '61 Fender Stratocaster using the vibrato bar and attempted to channel Jeff Beck! You get a very different style of phrasing when you used the bar instead of finger-bends.
MM : The thrilling progressions on "Fusioneers Disease" and "Fourth Door on the Right" seem to be a great pleaser for the jazz and fusion fans.
CV : Those are straight up fusion tunes. I have been listening to "Hymn of the Seventh Galaxy" by Chick Corea and "Thrust" by Herbie Hancock a lot lately. I play through Herbie's song "Actual Proof" almost every day.
MM : The interacting solos between you and Jerry Goodman's electric violin on "Mustang Run" are impressive indeed.
CV : It was a difficult song and progression for me to solo over….I finally tuned my guitar down a half step and it seemed to make more sense. Jerry played some amazing lines on that song! I plan on transcribing his solo and learning that crazy stuff!
MM : "Bloody Well Right" is the only song on the album with vocals, and is a cover of Supertramp. Why did you decide to have this song on the album?
CV : My band worked up a little arrangement for the song out on the road, so one night we decided to play it here in LA at the Canyon Club, a 600 seat venue near my house. After we played it Rick Davies, the composer, singer and leader of Supertramp came to the front of the stage and said, "Nice job, Carl!" That's all I needed, plus a number of fans asking for it to be included on the next record.
MM : Please tell us about each song on the album. How the song came to be, what you feel about each song, and/or any special meaning behind the song, etc.
CV :
"Taylor's Blues"
Guitar players love to play the blues, and this one is dedicated to my friend Jeff Taylor who played in bands with me when we were kids. I hoped to convey the fun we had together when we were both learning to play.
"Julietta and the St. George"
My grandmother Julietta gave me my first guitar and first lesson on my 11th birthday. It was a $30.00 nylon string called a St. George. This is dedicated to her memory and the great gift of music she gave me as a child.
"Fusioneers Disease"
This was the last song I wrote for the CD and a chance to get one of the funkiest bass players (Cliff Hugo) together with one of the most amazing drummers (Simon Phillips) on the planet. I wrote the melody as a line to use over an Fm7 chord, but it was so melodic I turned it into a song.
"Last Days of Autumn"
This ballad was written in the style of James Taylor, and the rhythm section of Chad Wackerman and Jimmy Johnson actually play with JT. The three voices: acoustic guitar, 'cello and electric guitar create a waning "sunset" vibe, and Chad's big, bold pocket feels great under the guitar solo.
"Amandola"
I wrote this melody early on and could not get it out of my head! I need a keyboard player to perform it live, but after one listening my friends are humming it.
"Bloody Well Right"
I believe the song lends itself to a bluesy, swampy treatment on slide guitar. Jesse Siebenberg and John Helliwell from Supertramp make it a bit more familiar to the listener that can't quite place where they've heard it before….
"Riding the Bean"
My ode to drinking coffee! This groove is a cross between "You Can't Hurry Love" by the Supremes and "Walking on Sunshine" by Katrina and the Waves. I played the whole thing start to finish on a Telecaster and overdubbed the slide guitar on my 1956 Supro Dualtone and a bit of '65 Rickenbacker 12 string and an electric sitar.
"Passage to Run"
This was a jam that occurred after the end of "Bean" where we just kept going. I overdubbed a few more guitars and the bass pedals from a Hammond B-3. Then I recorded the intro to "Mustang Run" on my Strat and connected them together to form a single "song." I think it's one of my favorite moments on the CD! Totally improvised…
"Mustang Run"
This started out as a ballad but when I speeded up the tempo it became another melody I couldn't get out of my head. I love the way Jerry sounds on there. He helps me to make the melody soar above the chord changes.
"Fourth Door on the Right"
6/8 time is one of my favorite feels to play in and I knew Chad would tear it up. Bill Evans has a great solo on the song, too. He is amazing and his tone is killer! If you listen to Jimmy Johnson under the second chorus of the guitar solo his playing just blows me away.
"Spirit of Julia"
One of our old friends passed away this year and we all miss her. I wrote this song as a "church" type of progression where I could truly bare my soul and sing to her memory with my guitar.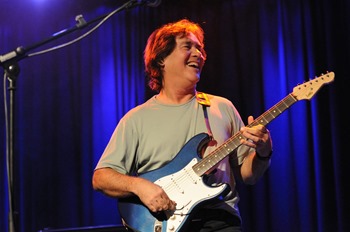 MM : Please tell us about your gear. What guitars, amps, effectors, foot pedals did you use for this recording?
CV : That would take many hours because I have over 70 guitars and around 45 amps. Les Pauls, ES-335, Gibson SG, Strats and Teles, Gretsch 6120, Rickenbacker 12-string and many acoustics were used. Dr Z amps, Fenders, Marshalls, Gibson amps….I like to incorporate the large pallet of tones I have available.
MM : We can hear some magnificent guitar sounds on the new album. Is there anything in particular that you keep in mind when making your guitar sound?
CV : I try to determine what sound will be the main tone that will carry the tune, and let all the other tones support that sound. You don't want a huge rhythm sound and let the lead melody or soloist sound like a weeny!
MM : LsL Instruments has issued your latest signature guitar "CV Studio". Tell us about how this guitar made it to the LsL line-up. 
CV : Initially they came to me about consulting on a strat design, knowing that I practically sleep with the damn thing! I own 13 strats or strat-style guitars and have my own way of setting them up. After I saw what they came up with, called the LsL Saticoy, I offered a few more modifications and now the higher-end model is the CV Special. There is also a CV Studio with special noiseless Seymour Duncan pickups that make the noise threshold silent for studio work. I use them both all the time!
MM : As a top-notch studio musician, you have taken part in numerous film music, television music, as well as recordings of many famous artists. Is there any album, song or particular episode that you remember the most?
CV : Recently I played on the movie "Cars 2" which was a lot of fun because of the surf guitar, spy guitar and country guitar that was part of the sound track. There have been hundreds of TV shows and record dates over the years, too. I remember the fun we had making Supertramp's "Some Things Never Change" CD. Any time you can "camp out" in a big studio for a month is wonderful!
MM : Is there anything you do in particular (or keep in mind) in regards to maintaining your long career and the current status/position you have in the music industry?
CV : I believe I operate within the spheres of 3 separate careers: Studio musician, Supertramp band member and solo artist. Under the banner of solo artist I can do many more things than simply perform live: I teach and do master classes all over the world, I produce records by myself and other artists, and I put out books, DVDs and other on-line educational products. Having a foot in the door of all these fields means multiple income sources, and in this day and age that's important!
MM : What would you advise to young guitar players that aim to become a top-notch musician like you are? Any tips on playing guitar and/or what you should have in mind in a work situation?
CV : At some point while learning the instrument, I realized just how many styles of music I truly enjoyed. At that exact moment I decided not to cut myself off from anything I liked for a silly reason like "I'm a jazz player." I decided to be a rock player, a shredder, a country player, a blues player and whatever else I could be. I became a good site reader and classical guitarist, a good steel string acoustic player and a good slide player over the years, too. It takes a while…..but with that mentality you'll always work!
MM : What do you have coming up next? Tell us about your upcoming schedule.
CV : The first half of the year has been involved with making the new Mustang Run CD. So the second half will be getting out there and playing it live! I have 2 west coast mini tours coming and then a 7 week European tour right after that. I really hope to come to Japan in 2014, too!
MM : Please give a message to the Japanese fans.
CV : Thank you for your support through the years! I really hope you enjoy Mustang Run!
Carl Verheyen official site : http://www.carlverheyen.com/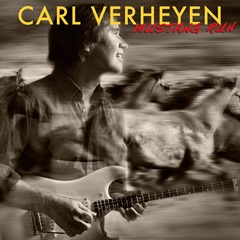 Mustang Run / Carl Verheyen
1.Taylor's Blues
2.Julietta and the St. George
3.Fusioneers Disease
4.Last Days of Autumn
5.Amandola
6.Bloody Well Right
7.Riding the Bean
8.Passage to Run
9.Mustang Run
10.Fourth Door on the Right
11.Spirit of Julia