Mattias IA Eklundh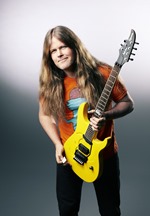 Photo by Lennart Sjoberg
Mattias IA Eklundh's is an artist known for his "out of the box" ideas and music style filled with a unique freedom, fascinating melodies that please the listeners' ears, and extraordinary guitar techniques that are matched by none. Mattias has succeeded in blending these various aspects of music, creating music not only for the guitar freaks, but also sublimates his music in an accessible manner for mainstream listeners.
Mattias has released his long awaited 3rd album of the "Freak Guitar" series titled "SMORGASBORD", and took time to talk to MUSE ON MUSE about his new studio effort.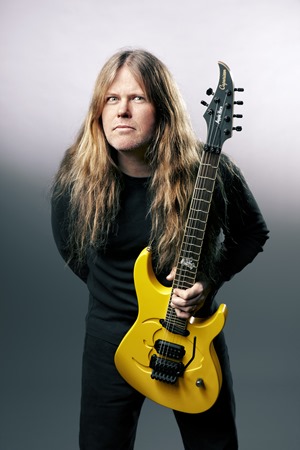 Photo by Lennart Sjoberg
Interview / Text  Mamoru Moriyama
Translation         Louis Sesto (EAGLETAIL MUSIC)
Muse On Muse : How do you feel now after releasing your new album "The Smorgasbord"? The album definitely shows a unique collection of songs with a wide variety over 2 discs containing 40 songs.
Mattias IA Eklundh : I am very glad about the album and that I managed to actually pull it off. There is so much work involved, years of it, and every once in a while you loose a bit of direction. You then have to take a step back and figure out where you went wrong. There are always things that could be done better, but I feel it is an achievement to have something like this released in the year of 2013. I am very grateful.
MM : What's the concept behind this new album?
ME : None really. Just many ideas and songs I have collected over the seven-eight years since Freak Guitar – The Road Less Traveled. Then of course you want to find some sort of thread that keeps it all together. 40 songs are many, many to produce but I think it turned out nicely.
MM : The album cover artwork is very unique and intriguing.
ME : Thank you. It is my buddy Anders Nyberg that did the two previous Freak Guitar albums that once again outdid himself. I love it!
MM : How did you record this album? It must have taken a long time for recording all those song?
ME : It is all recorded in my studio here in Sweden, except for some of the guest spots. Yes, it takes indeed a lot of time. Especially since I am recording and producing everything myself. To be both songwriter, musician, engineer and producer is tough… but I like the challenge!
MM : You play all the instruments on this album…guitar, bass, drums, and so on. How do you personally view the difference between a situation such as with FREAK KITCHEN where you play in a band, in contrary to when you do your solo material where you play all of the instruments?
ME : Freak Kitchen will always be my main thing whereas my solo stuff is more of an experimental playing ground. To work with Bjorn and Chris in the band is tremendous and a very smooth process. But working on your own also has certain benefits. I generally grab a cup of coffee and go into my studio (it is next to my house in our garden) and create something out of nothing which is still a kick after all these years.
MM : There are a few guest artists such as Ron "Bumblefoot" Thal and Andy Timmons taking part in this album. Can you give us some background as to how they ended up taking part in the album?
ME : All the guests are friends and I am very proud to have them on the album. They play extremely well, all of them, decorating my music with their fine musicality. I basically searched my gut feeling if a song wasn't going anywhere who could help out to make it glow!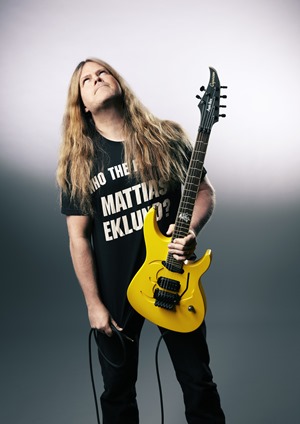 Photo by Lennart Sjoberg
MM : "Peter, I Won't Drive Another Meter" features exchanging guitar solos by Andy Timmons, Guthrie Govan and Kiko Lourerio. I'm sure this will be something really exciting for the guitar fans.
ME : It is quite cool to have these guys together in a single song, isn't it? A total overkill, of course, yet very neat!
MM : The music video for "Musth" displays an interesting and unique performance of playing guitar with a hair comb. How did you come up with that idea?
ME : Pretty much all the awkward stuff I use on the guitar springs from pure accident. In Musth I jerked around with an airline comb in a Spanish hotel room out of boredom (my luggage was lost). It turned into this crazy, microtonal tune.
MM : We know that you travel around the world a lot, touring and doing clinics in various countries. We also find that many of your songs have themes related to India and Asia. What are some of the aspects of Asia that inspire you?
ME : Indian music certainly has had a monumental impact on both my musical as well as personal life. Especially south Indian, so called Carnatic music which is filled with so much interesting rhythm and for a western guy like myself unorthodox tonality, it completely blew my mind when first exposed to it. The Indians know so much I feel like a beginner when playing with various musicians from the country. It is quite refreshing. There is also so much to learn from traditional Japanese music. I will never be an expert on neither sort but merely let myself get influenced in order to create something original.
MM : It's very interesting how you incorporate sounds such as the balloon on "Trumpet Lesson" and the frog sound of the Animal Keyboard of "Amphibians Night Out". Can give us some insight regarding your approach to incorporating and actually taking such sounds that we hear in our everyday lives into a different level?
ME : Basically it is about keeping your ears and mind open. That's it. I hear music, melodies and rhythm structures around me all the time and when I bump into something especially interesting I have to record it.
MM : "Mahavishnu John" obviously pays tribute to John McLaughlin. Can you tell us how he has influenced you and your music?
ME : A great deal! John is one of the few players out there that never ceases to amaze me. He is constantly on a journey to discover new directions. He is a true hero and deserved a song.
MM : Sense and talent are essential aspects in songwriting. But when it comes to writing tens and hundreds of songs, I'm sure it's not only sense and talent. What do you think is necessary, besides sense and talent, to be able to write hundreds of quality songs like you do?
ME : Thank you for your kind words. I really appreciate it. Of course song writing requires a certain talent and an urge to break new ground. But it is also a craftsmanship. You do get better at it over time, but is also harder, coming up with new ideas.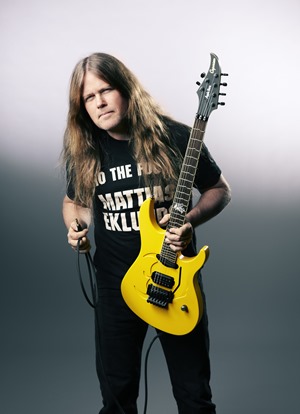 Photo by Lennart Sjoberg
MM : A lot of your music requires a high level of technique, but at the same time you manage to fascinate and entertain the listeners with your music. Is there anything you keep in mind to achieve this?
ME : I need to entertain myself when I write. If I feel I am getting repetitive I immediately scrap what I am doing. I am only interested in going where I haven't gone before, but without being too "out there". I want regular folks to be able to enjoy what I do. If you get really silly or strange in one song you have to balance that in the next one to make it accessible.
MM : Did you mainly use your Caparison Signature Guitar and Laney Amp for the recording? Tell us if you used any other guitars, foot pedals, etc. as well.
ME : No regular pedals, only a volume switch from Jim Dunlop. All the electric guitars are my Caparison Apple Horns and everything is recorded via my Laney amps, mostly the GH100L, but also the VH100R and the new Ironheart. I like to keep it simple.
MM : You seem to be very busy…Nevertheless, you are able to maintain your skills and are able to write quality music. How do you manage to keep time to practice in order to maintain your skills, as well as maintain time to write music? Tell us what a typical day for Mattias Eklundh is like. 
ME : I am quite disciplined, or else I would get nothing done ever. I own a house, some land, my studio, a bunch of cars. I am a husband and a father, have two big German shepherds and a crazy cat. I am also a family provider and have been doing this, writing and performing my own music, for no less than 25 years now. A typical day when I don't travel… I wake the family up around 07:00, take my six year old son Gabriel to school while my wife Camilla makes breakfast. After food I grab my coffee and go into the studio for approximately five hours before I pick my son up again. In the afternoon I usually do a bit of e-mailing or hang out with the family. That's it.
MM : What kind of music have you been listening to recently? Are there any particular artists that interest you?
ME : Gabriel and I just listened to Rite of Spring by Igor Stravinsky while building his Star Wars Lego he got for his birthday. Stunning music. I bought the new Black Sabbath the other day but mostly it's old Dean Martin and Ella Fitzgerald that sound in our house to cleanse the head.
MM : We hear that FREAK KITCHEN has started production for a new album. How is that going? Can you give us a little update?
ME : I got the singing still to do but then we are done! It is called Cooking with Pagans and I love it! It's going to be wild and heavy! First single, Professional Help l, will be released in November, then the entire album will be released very early next year.
MM : Can you tell us about your annual Freak Guitar Camp? What do you offer, and what can the participants expect from you this year?
ME : I am thrilled to say it is sold out for the fourteenth year in a row. Two weeks with guitarists from all over the world! An amazing gathering of talent! I love doing it! It is only getting more and more fun over time and I am eternally humble and grateful about the interest in this sort of thing. At the camp I teach everything I have learned until this point, everything from pure technique to how to make a living in show business. We have players attending from Japan too! It is great!
MM : What do you have coming up next? Tell us about your upcoming schedule.
ME : Right now I am laying the last work on this year's camp backing tracks down. Then I am off for a bunch of festivals with Freak Kitchen before heading for a couple of weeks of sailing the Ionian Sea (Greece) with the family. After that I going to Germany to mix a new album with Jonas Hellborg, lovely Indian drummer Ranjit Barot and myself, to be released later this year. Then a couple of clinics before the camp starts and then we will tour to left and right in between completing the new FK album the entire fall.
MM : Please give the Japanese fans a message.
ME : You have always been amazingly supportive right from the very start. I truly, truly hope to see you soon! Spread the word and stay freaky!
Mattias IA Eklundh official site : http://www.freakguitar.com/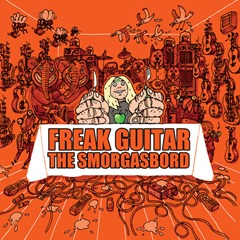 FREAK GUITAR – THE SMORGASBORD / Mattias IA Eklundh
Disc 1
1. Amphibians Night Out
2. Musth
3. Mattias – The Beautiful Guy
4. Hells Bells
5. The Smorgasbord
6. Friedrichs Wahnbriefe
7. Sexually Frustrated Fruit Fly Flamenco
8. Daily Grind Disco March
9. Lease With an Option to Buy
10. The Swede and the Wolf
11. Mambo Italiano
12. Mind Your Step (at Schiphol Airport)
13. Crossing the Rubicon
14. That's Amore
15. Keep It in the Dojo
16. Infrared Jed
17. Peter, I Won't Drive Another Meter
18. Larvatus Prodeo
19. Blaha Blaha
20. Lullaby for Gabriel
Disc 2
1. In the Goo of the Evening
2. The Dogs of Delhi
3. Special Agent Bauer
4. Mahavishnu John
5. The Harry Lime Theme
6. Dark Matter
7. Trumpet Lesson
8. Mandur and Morgan's Camel Safari
9. Shore Thing
10. Captain Smith's Moment of Truth
11. Mah Na Mah Na
12. The Nigerian Gynecologist
13. 6 Rue Cordot
14. Kali Ghat
15. Safe to Remove Hardware
16. Did You Actually Pay for That?
17. Those in Badiyah
18. The Essence of Emptiness
19. Meralgia Paresthetica
20. Guano Afternoon